iCrowdNewswire - Sep 30, 2016
One X – The First Nutritional Biosensor
Live a smarter and healthier lifestyle by monitoring your skin antioxidants level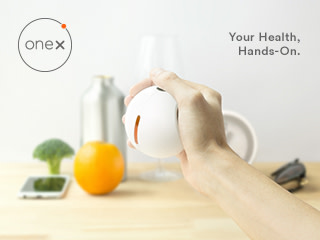 One X is the world's first real-time Nutritional and Health sensor, measuring your skin antioxidant level, directly from the palm of your hand. Your skin antioxidant status constantly changes in response to your diet and lifestyle habits. With One X, you can track how your habits impact your body, enabling you to make better, more healthful choices and reach your full antioxidant protection, path to long-term Health.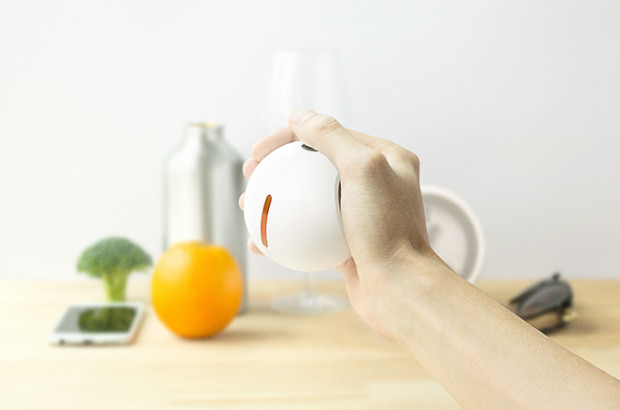 One X understands how your habits impact your body by measuring your antioxidant level, directly in the palm of your hand.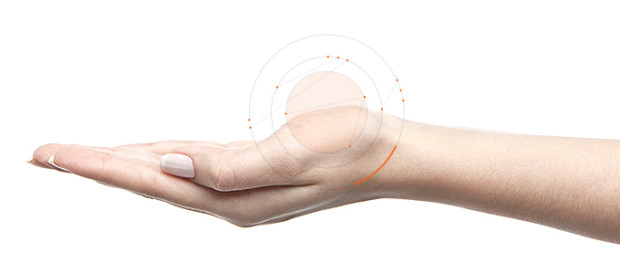 When it comes to improving our lifestyle, it's hard not to feel overwhelmed, let alone know what specifically works for us.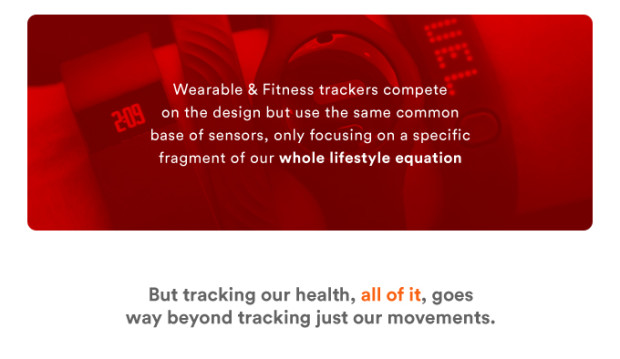 Nutrition is another key element of your health, but meal tracking apps mostly use manual input techniques (adding an extra chore to our already difficult dieting efforts). These apps merely focus on calorie counting, offering a limited scope of your health and nutrient complexity.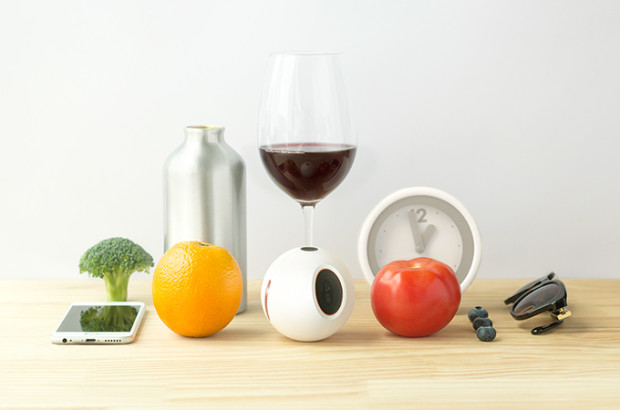 With real-time biofeedback, One X allows you to track the evolution of your antioxidant level.
Your antioxidant score actually reflects the healthiness of your different lifestyle habits, thus giving you insight on how habits such as Nutrition, Sleep, Physical Activity, Stress, Alcohol, Pollution, and Sun Exposure impact your body.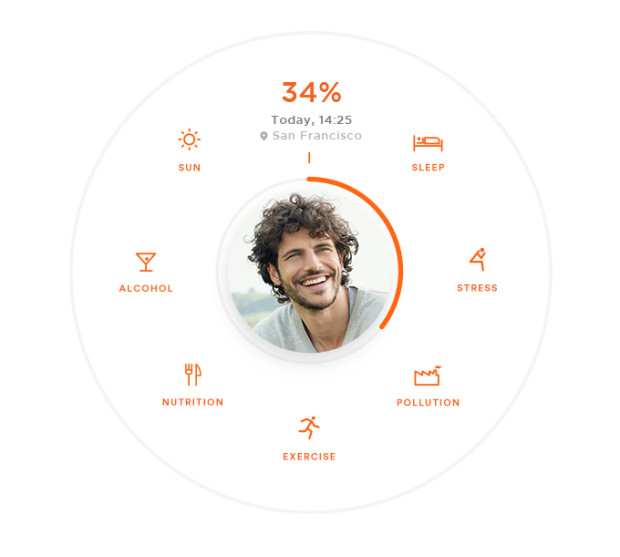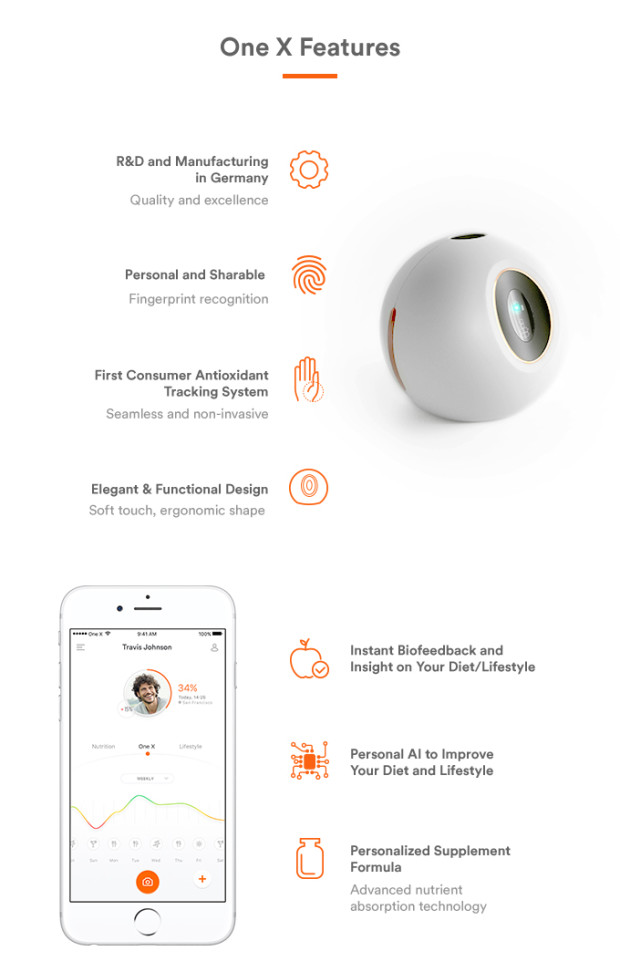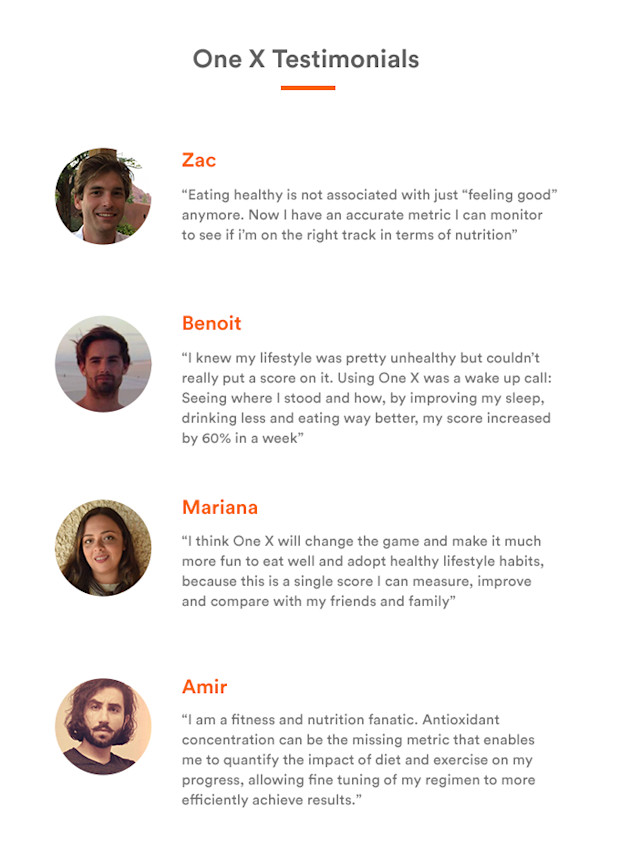 How does One X measure your antioxidant score?
One X tracks your score by measuring your skin concentration of carotenoids, a key cellular antioxidant that plays a central role in your body antioxidant network.
Great. But what are antioxidants, and why are they so critical to my Health?

Carotenoids play a critical role in the antioxidant network

An increasing number of studies have associated carotenoids level with potential risk to develop major health conditions such as cardiovascular diseases, certain types of cancer, neurodegenerative conditions or even metabolic issues such as diabetes and obesity (Check the scientific studies). Carotenoids level is also strongly related to aging and skin quality. Since most of these health conditions are "lifestyle-born" diseases, it is not astonishing to also see a strong connection between your lifestyle habits and your carotenoids level ("carotenoids kinetics"). This is exactly what One X tracks for you by the measuring the concentration of your skin carotenoids.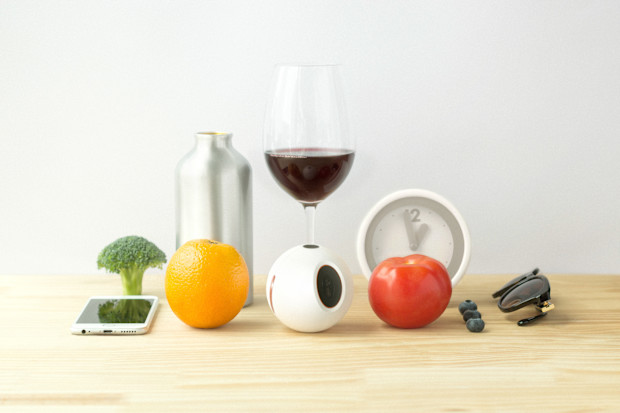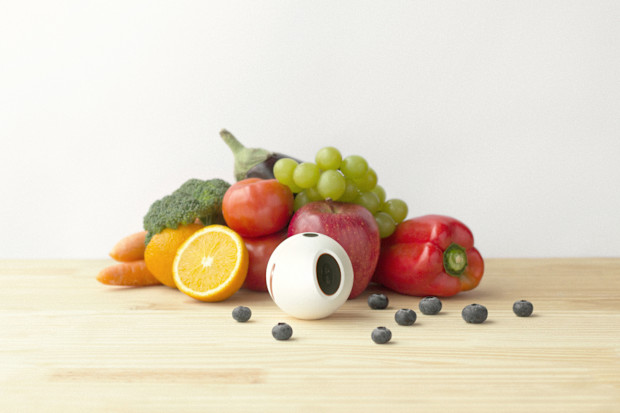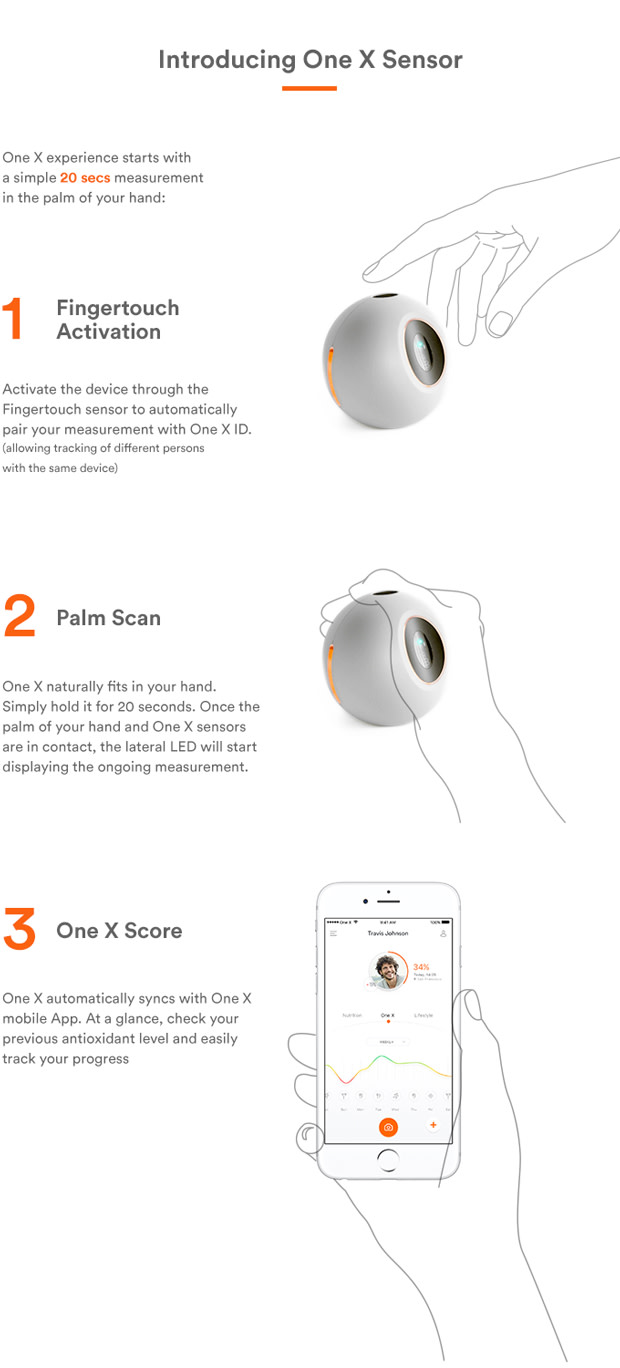 One X App is your health guardian. Each screen is designed to give you more control and a deeper understanding of your health by optimizing your antioxidant score. Let's take a look:
Track your friends and family and set challenges to improve your lifestyle and boost your antioxidant level: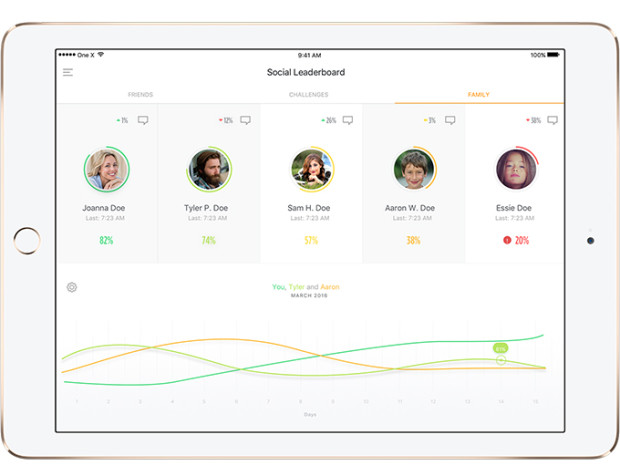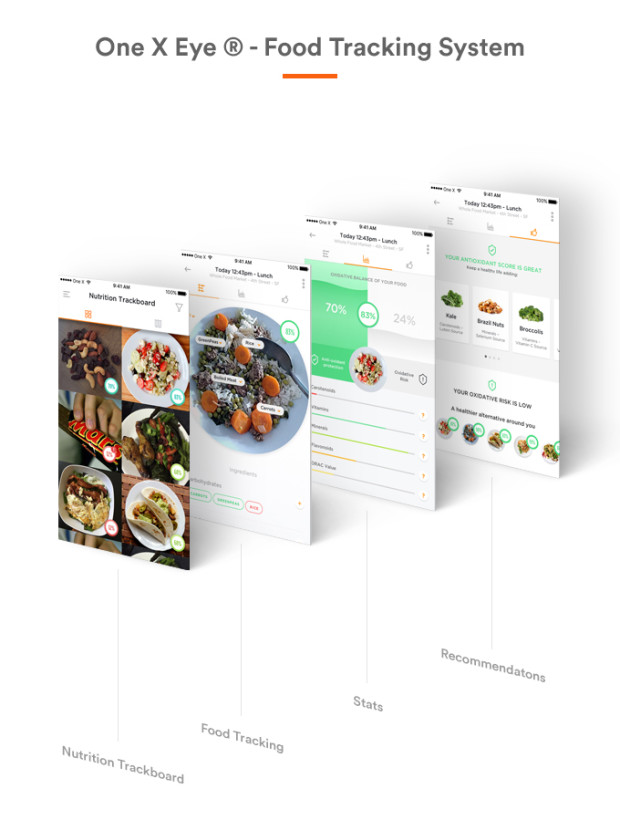 Forget about logging each ingredient of your meal. The future is here with One X Eye (R) Food Tracking System. Automatically receive detailed analysis of the food in front of your eyes and custom recommendations to improve your diet simply by enabling your camera within the One X mobile app. (Learn more)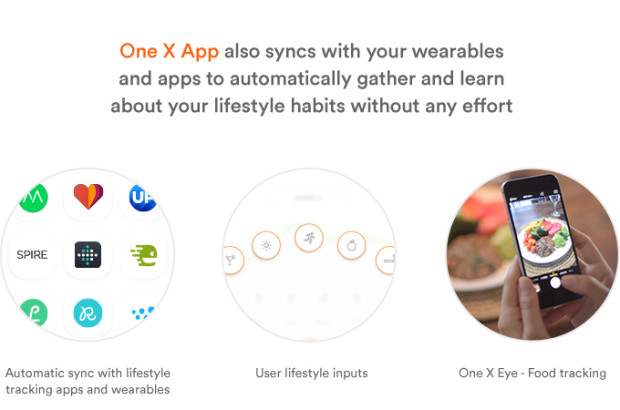 One X patented sensors have been developed leveraging recent advancements in the field of Resonance Spectroscopy, namely Spatially Resolved Reflectance Spectroscopy (SRR). The One X R&D team is based in Germany – in a world leading R&D center of biomedical optics/photonics.
Reflection Spectroscopy supersedes the previously laboratory-used method based on Raman Spectroscopy in terms of cost (1% of current pricing) and precision (R=0.90 correlation), hence, finally making it directly available to consumers.
For a detailed explanation of SRR, please check our blog post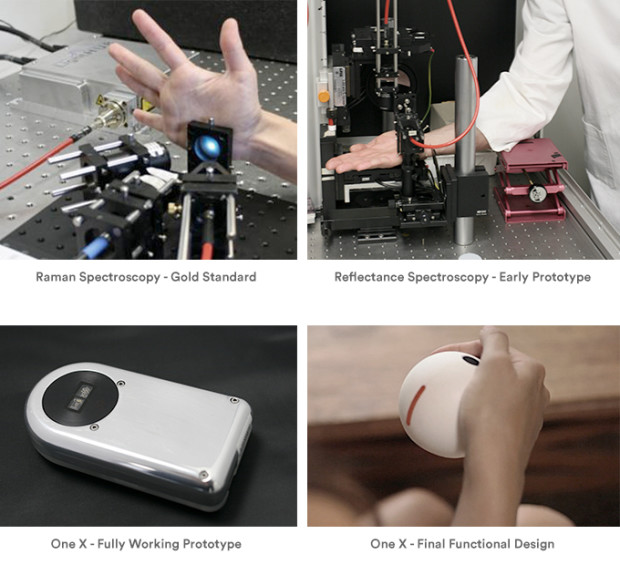 One X – Prototype presentation
One X prototype has undergone rigorous testing of reliability and durability, and the time between now and shipping will be mostly spent on fine-tuning the final design, software and user experience.
Prototyping and calibration work inside the Lab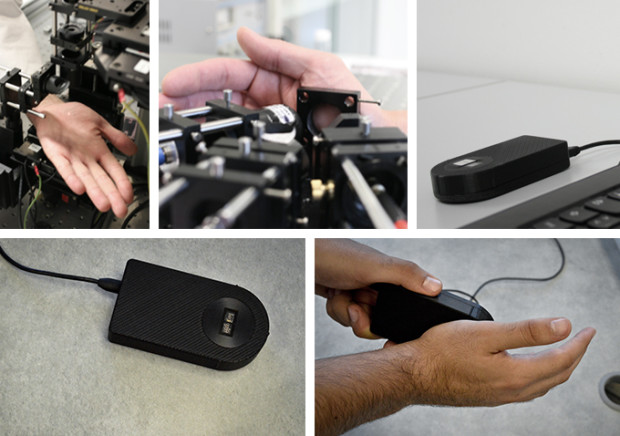 Our team has worked hard for over two years. We are past the prototyping phase and already focusing on mass production capability. We manufacture One X in Austria, in one of the most advanced optomechatronics manufacturing locations in the world, close to our main R&D site in Germany.
Our manufacturing process ensures maximal speed, rapid improvements and premium production quality.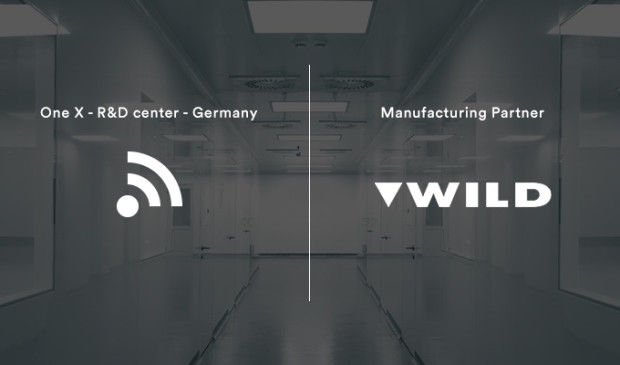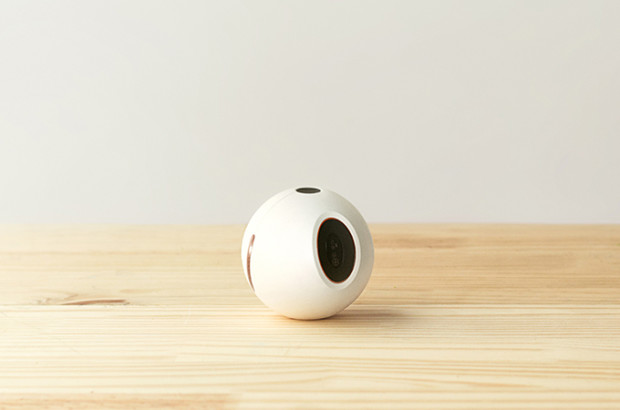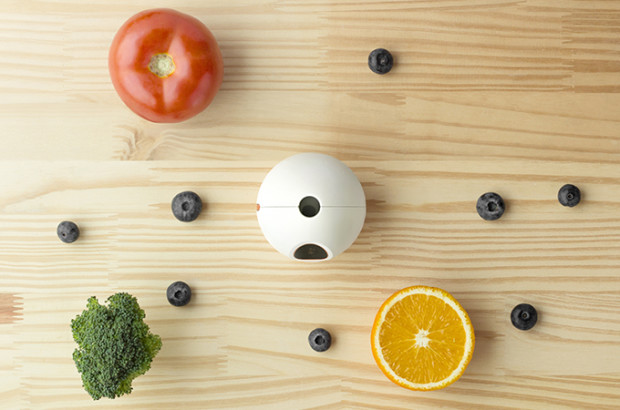 One X features a rounded and sleek design as well as the most advanced optical sensors available to consumers today.
We've been through dozens of design options to reach a texture and shape that perfectly fits the convex area of your palm and limits excess light, noise and palm pressure, ensuring optimal scan accuracy.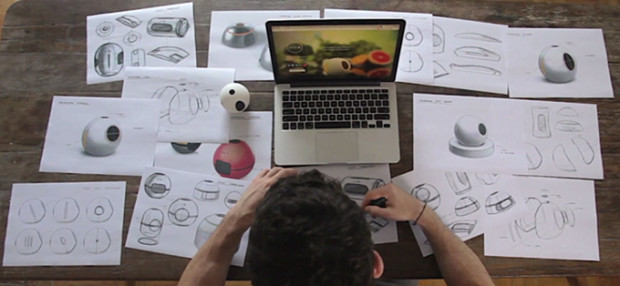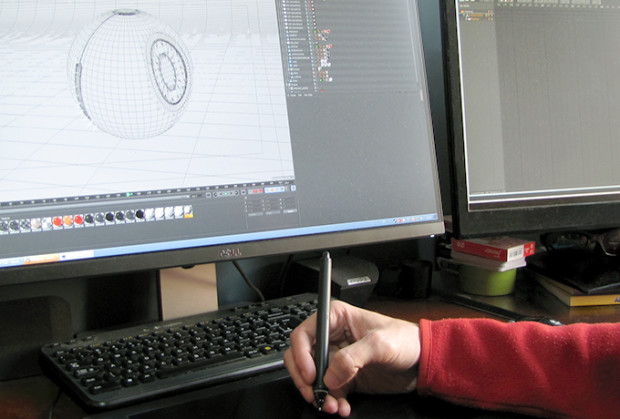 Ergonomical & Sleek
Small & Portable. Take me anywhere.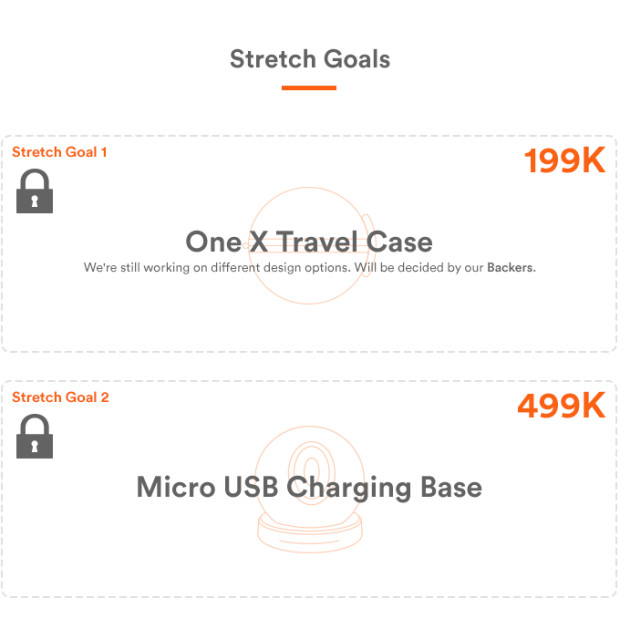 Top talents in Design, Bioengineering, Computer Vision and Applied Physics.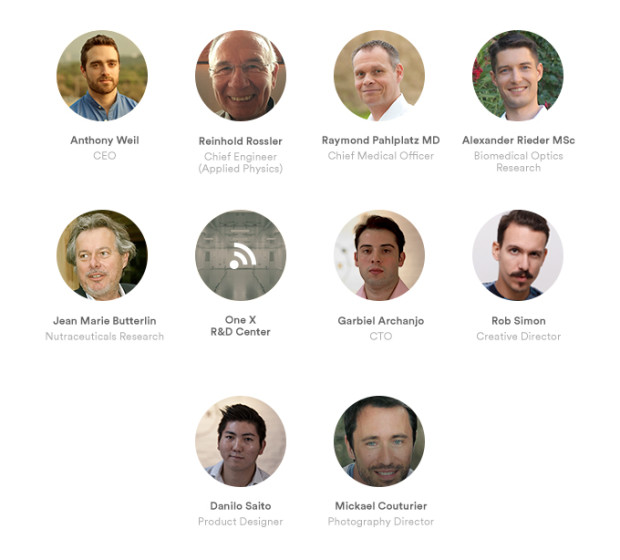 Our team is composed of experts from Brazil, Germany, France and the USA with top transdisciplinary skills in Applied Physics, Computer Science, Design, Bioengineering and Medical Device Development. One X started 2 years ago, across 3 continents: technology and hardware in our German R&D center, product development in the USA, design and back-end in Brazil. Learn more about One X team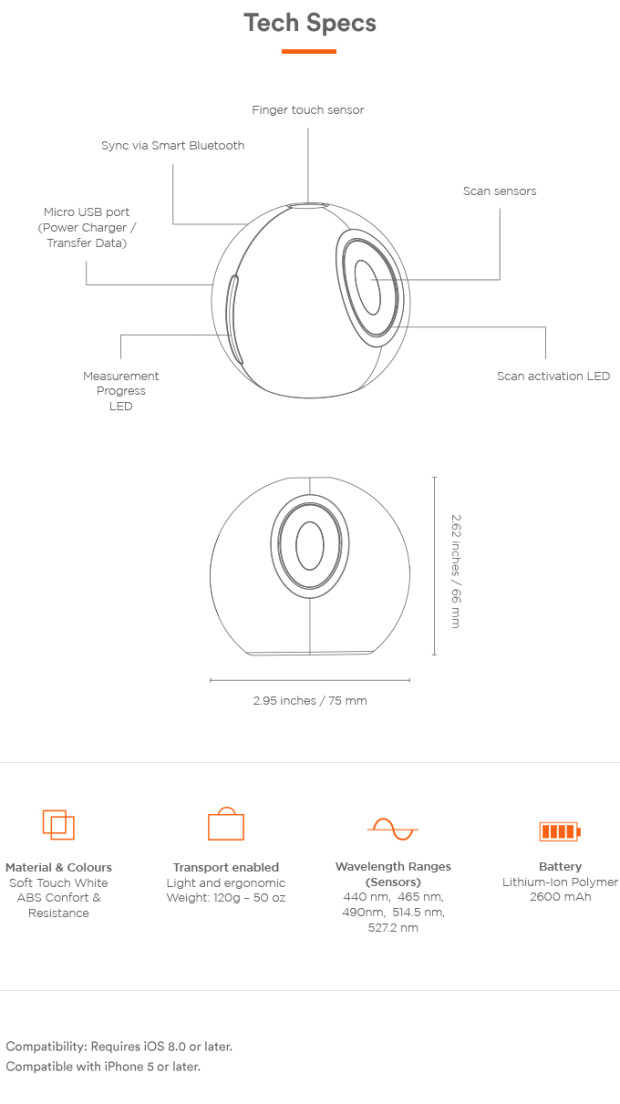 Now, it's your turn
We created One X with the vision to empower people to take back control of their health. With One X, you can quickly see how your lifestyle impacts your body. In order to reach as many people as possible, we made sure One X is an affordable, non-invasive, and easy-to-use device.

Live a healthier, smarter lifestyle. Spread the word. Support One X.

FAQ
Where can I learn more about the Science behind One X and skin carotenoid status ?
If you want to get more infos, we have prepared a comprehensive review of carotenoid status in human and its non-invasive assessment. You can access ithere
Also check the different scientific papers linked on One X / Science
Any other question, feel free to contact us: contact@one-x.co
Is One X a medical device ?
One X is a non-invasive, safe consumer device using low emission LEDs. At such One X is non-required to go under FDA approval. One X is not intended to be used as a medical device ("General Wellness" device – cf FDA guidance). CE (Europe) and FCC (US) certifications will be sought once manufacturing starts
What does One X score mean ?
One X score is a measure of your skin carotenoid level in nmol of carotenoids per gram of skin. For example 50% means a 0.5 nmol concentration.
Your carotenoid score actually reflects how healthy your diet and other lifestyle habits are since each of your habits (nutrition, stress, alcohol, exercise, sun, sleep, pollution) can increase or deplete your carotenoid status.
The underlying depletion / repletion mechanism is due to the oxidative stress balance. (Learn more in this video and in this blog post)
What about warranty ?
One X is manufactured in a leading European optical and medical electronics facility. We offer one year warranty on each One X device.
What are the key risks and challenges ?
Considering that One X combines both hardware and software, we acknowledge the scheduling risks associated with manufacturing, supply chain logistics and algorithm development that are involved in the production of our device.
We have already realized several industrial workshops and are well-advanced in the manufacturing process with our partner Wild, a top-tier European optomechatronics leader. Our R&D team is located at less than one-hour time flight from Wild facilities which ensures efficient iteration in the device calibration, engineering and production. One X COO, Reinhold Rossler, with 30y experience in the medical device industry, lives a few kilometers from Wild facilities.
Renderings shown in video and on the wall represent our vision of the product. Incremental changes / improvements in design and tech specs are always a possibility but will only be enacted bearing optimal backer UX and utility in mind. We will keep our backers up-to-date the whole way through and are available for your questions at contact@one-x.co