iCrowdNewswire - Sep 28, 2016
Buy The Block – A Space To Invest With Your Peers
Pool your funds, share knowledge, vote on trades, and become a better real estate investor.
Our vision is to change investing from confusing and frustrating, to an accessible and enjoyable social experience. We want to create a new generation of connected investors who feel informed empowered, and confident.​ Your contribution will help us develop the website and app. In return, help you buy a piece of your first block.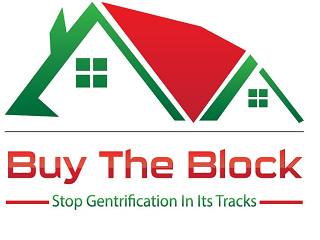 What Is Buy The Block Intending To Correct?
"According to a report, African-Americans have lost over half of their wealth since the beginning of the recession through falling home ownership rates and loss of jobs," it reads.
Pew Research Center data from 2011 that shows the median net worth of black households decreased by 53 percent from $12,124 in 2005 to $5,677 in 2009. Technically, this loss fits the timeline of the housing crisis in 2006.
More closely follows the financial crisis of 2007. According to that report, median net worth of the black household decreased from $19,200 in 2007 to $11,000 in 2013 (in 2013 dollars). That's a loss of 43 percent.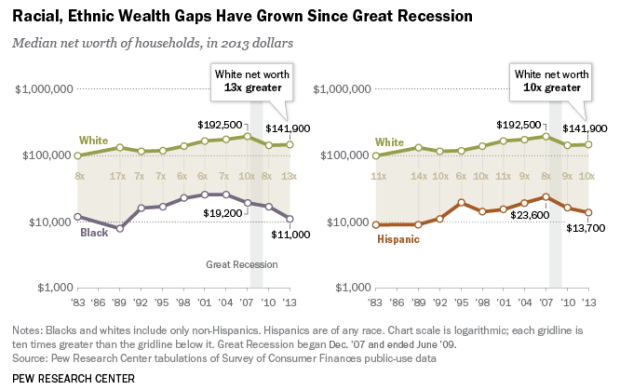 Buy The Block is ALL or NOTHING!
If we do not reach 100% of our goal, you will receive 100% of your contribution.
Home ownership rates are down, way down. That much is no secret. People are renting later into their lives, often with no plans to ever own their own piece of property. It's a sad state of affairs, one that has been building and developing for a long time now, one that we can no longer ignore, one that we need to face head on if we are ever going to do anything about it. We at BuyTheBlock.com recognize this situation for what it is, and we are intent on doing something to change it.
With our website and mobile app, we are making it simple and easy for people in our community to invest in properties and become owners. This effort will allow us re-develop dilapidated areas and increase real estate ownership. That's a win-win, as prospective property owners can do more with their money while doing good for people in need at the same time. This sort of model is the future of business all around the world, and we are proud to be at the forefront.
Right now, we have come to you, (Indiegogo), for help raising $60,000. This start-up capital will cover the costs of developing and deploying our website and mobile app, bringing the BuyThe Block.com operation the next level. We appreciate all contributions. Thank you for your time.
Founder Lynn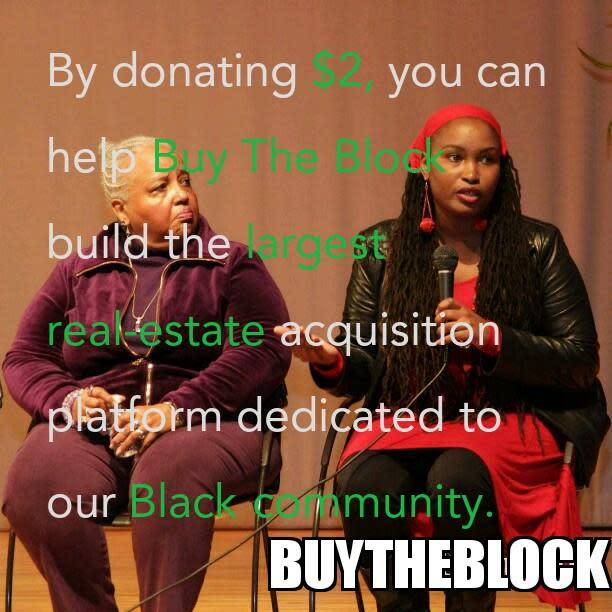 What Will Buy The Block Do To Help Create Wealth In Our Community?
Our vision is to change investing from confusing and frustrating, to an accessible and enjoyable social experience. We want to create a new generation of connected investors who feel informed empowered, and confident.​ Your contribution will help us complete our website and develop our app. In addition, help you buy a piece of your first block.
Buy The Block makes investing easy
We believe the current investing options aren't meeting the expectations of the next generation. We are developing an accessible, collaborative, friendly and fun investing environment for both new and experienced investors. BuyTheBlock.comprovides a seamless and secure solution that empowers people to invest together in a way that's never been.
Shared intelligence, shared returns
Make more informed investment decisions by tapping the collective expertise of your network. BuyTheBlock.com allows you to propose, discuss, and vote on trades with your peers anywhere, anytime.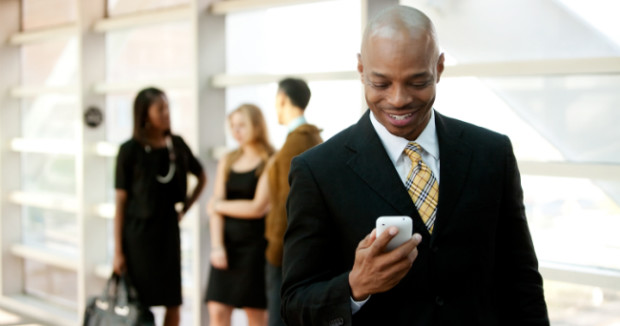 Removing the Barriers
For most, the idea of investing in real-estate is onerous, intimidating, and confusing – we want to make it simple and accessible for everyone. With Buy The Block, you and your peers can combine your resources to share profit invest with the authority of a large portfolio.
Making Investing Friendly
We want to transform investing from a frustrating chore to a comfortable and enjoyable social experience. We value simplicity and intuitive design— two things we believe are missing from personal investing.
Forming Communities
We want to create a new generation of connected investors who feel informed, empowered, and confident. With Buy The Block you can conduct research and improve your investment acumen by following highly successful individuals and funds.
Form an investment group and invite partners
Invest in a group with your trusted peers.
Combine your funds and expertise
Combine resources and split commissions. Validate the next hot property before you invest. Leverage collective intelligence to generate superior returns.
Propose, discuss and vote on trades
Collaborative decision making — intuitive proposal, discussion, and voting give you the confidence and knowledge to trade.
Collaboratively manage your portfolio
Learn from, compete with, and follow your peers and the best investors in the Buy The Block community.
Follow and learn from other groups
Get real-time insights on what top groups are investing reducing your time to research what's hot.
Research properties and receive relevant news
Research forms the backbone of every new brilliant investment idea or strategy. In a world where more information is available than ever before, Buy The Block ensures you have the tools to research with speed and efficiency.
Our Progress on Buy the Block
BuyTheBlock.com has been in development for almost a year. Prototype versions of the website and app have been made; we have a $250,000 real estate portfolio; we've got partnerships lined up. We're ready to become the property investing platform for everyone, but we have a few small tasks left to complete before our vision is realized:
· We need to build out the back-end software.
· We'd like to refine the production versions of our website and app.
· We need to beta-test the website and app at scale.
· We need to finalize and solidify a few legal items.
When we accomplish the final steps above, we'll be ready to launch! With the support of excited backers like you, we predict a successful January 2017 rollout ofBuyTheBlock.com and from there, the sky's the limit! Help us reach our goal and back us on IndieGoGo today.
This is only the beginning. Let's plant the seed to create wealth.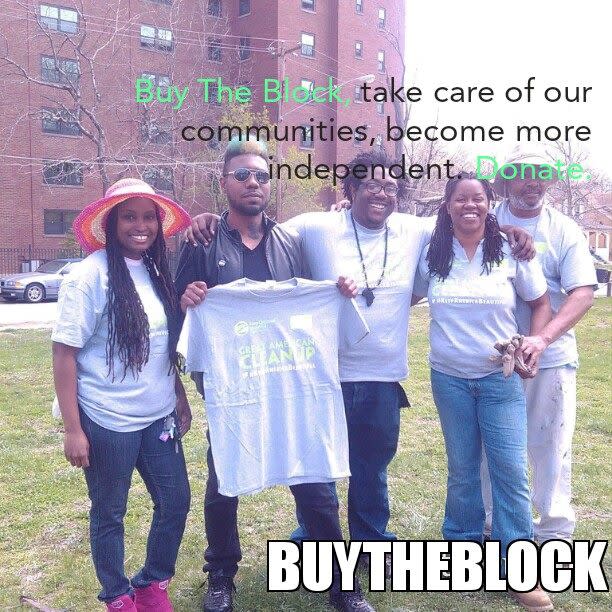 The founder of Buy The Block has been active in her community for a very long time. Photo: Cleaning up Avondale.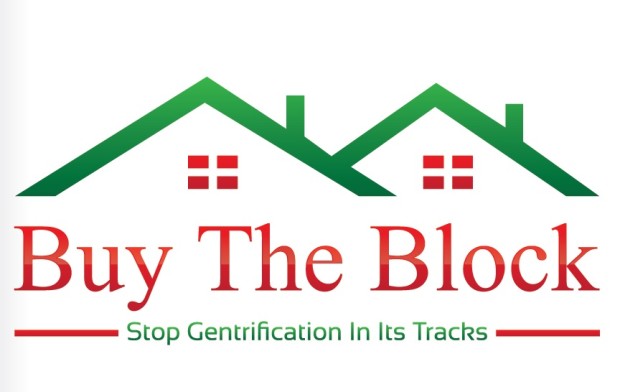 How will Buy The Block benefit you?
There's two parts to Buy The Block, right now we are asking our community to help us build the platform to create this space where you and I can form investment groups, invest together, and monitor our performance and best of all make money.
Campaign:
https://www.indiegogo.com/…/buy-the-block-a-space-to…
Part two, we have access hundreds of land and property around the US, we are extending the investment group we already have to include more people and acquire real-estate. The property in question is also listed in the campaign ( 3 buildings, 2 multi-family and a strip mall w/both storefronts and apartments). In this investment, everyone who contribute $500 or $1k becomes part owner in the 3 building above and earn a return once the buildings are fully operational and rented. Much like the way the site and app will work. All paperwork and expenses are taken care of by Buy The block and investors earn their return which ever way they choose (i.e, monthly, quarterly or annually).
Once Buy The Block is completed, every investment is you and your teams decision. At Buy The Block, we're going to provide the best online and mobile space to purchase, keep track of accounting, maintain and improve real-estate acquisition for our community. Check out this page: http://www.buytheblock.com/investing.html
Buy The Block: Invest With Your Peers. Pool your funds and become a better real estate investor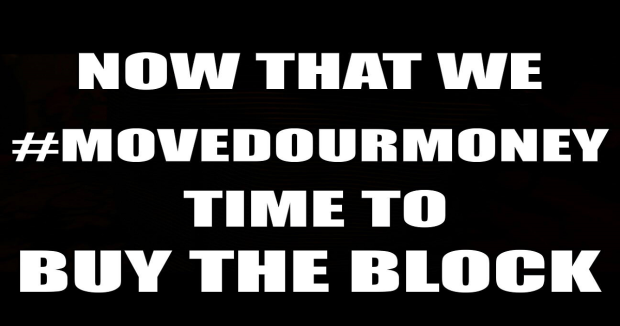 Pilot Program Buy Your First Block & Revitalize It!
This Site Includes 3 Separate Buildings, Consisting of (2) Two Separate Duplex Homes & A Strip Center with Loft/Apts above. Strip Center has loft/apartments above. Perfect for any type of Store to a Secure Warehouse type Building. Solid brick and block Structure. Located across from the Dollar General and just minutes from downtown, shopping, restaurants. Local city transportation at the doorstep.Urban area situated at the corner intersection with ongoing traffic. Strip Cent is approximately 3,100 Sq Ft. Lot Size is 0.38 acres approx 17,000 Sq Ft. Located in Cleveland, Ohio 44105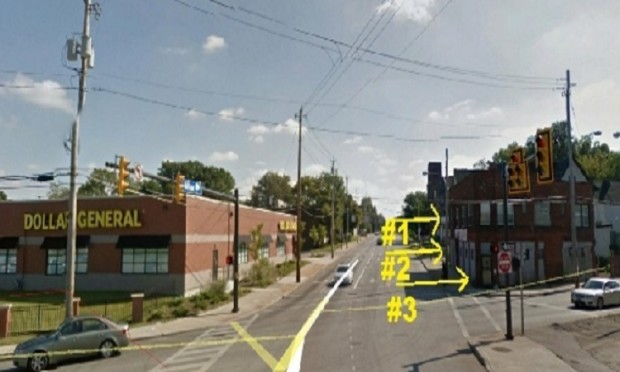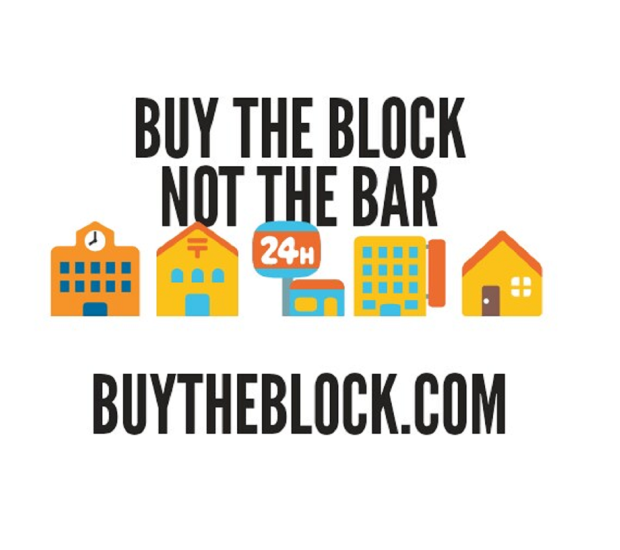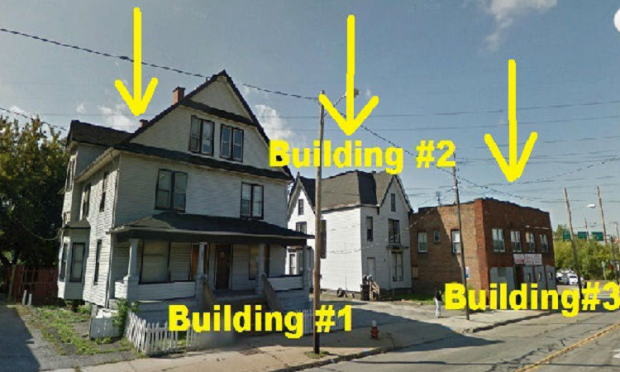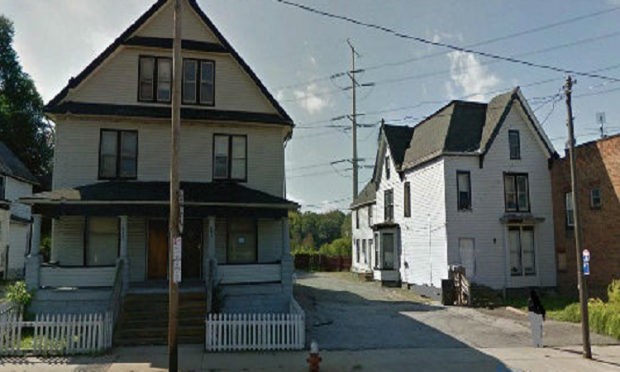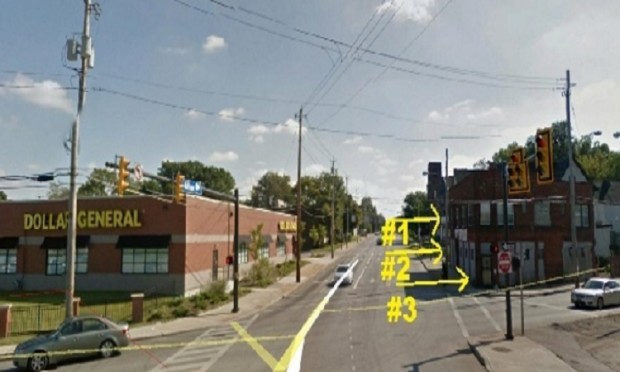 Your contribution will help us create website and app. In addition, help you buy a piece of your first block. We've successfully created an investment group BBEIG, as well as other note worthy initiatives (BBNomics.com, BuyBlackEconomics.com,2Millionjobs.com), now it's time we empower you to do the same!