iCrowdNewswire - Sep 26, 2016
Munchin' Around – A Healthy Snack Bus
Munchin' Around™ is an innovative twist on the popular food truck, A nostalgic VW healthy snack bus.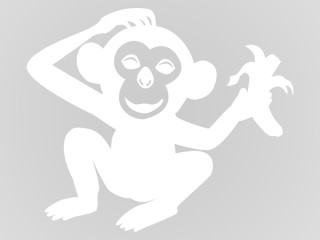 At Munchin' Around™ we want to bring quick, healthy, and delicious snacks to people everywhere. The snack bus will fill the void in the food truck community of something easy and healthy without the greasy full meal feeling. What better place to start the first Munchin' Around™ snack bus than the fastest growing city in America, Denver Colorado? We are looking to get donations for the purchase of the first bus to build our empire. Help us get there with your donation and get a great gift!
Why we started..
Our campaign goal is to bring an innovative alternative to the fast growing food truck community to cities everywhere, but it won't just be a boring food van. It will be a perfectly restored nostalgic VW bus outfitted with all the necessary equipment to bring healthy snacks and smoothies to customers near and far. I grew up working on VW's and continue restoring them to this day, and the majority of the work on the van restoration will be done by myself and my company 'The Project Factory'. We also hope to make the majority of the snacks for the van in-house with fresh, all natural ingredients.
Where we started.. My name is Alex Fountain and I am the founder of Munchin' Around™. By trade I am an industrial designer, which includes prototypes to production of retail products. I also have vast experience in graphic and multimedia design, but overall I would say I'm a modern day inventor. My creativity and passion for design stems from a family history of turning ideas into realities. My great-great-grandfather rubbed elbows with the likes of Henry Ford in Syracuse, NY in a little facility called Lipe- Brown Rollway. Google it :) So, needless to say, all design work and restoration will be completed in-house.
I am joined by my fiancee, Shannon Brookins, on this snack bus adventure. She is a talented interior designer by day but a project enthusiast, like myself, at all times. We have a strong crew of friends and family to help us along the way. We're not alone.
How we'll do it..
The money we raise from this campaign will go towards the purchase of the FIRST van to be restored. Any money over what we hope to raise in our first goal will go towards the build-out and restoration of the van while investors are secured. To start our dream of Munchin' Around™, we have a goal of $5000 to purchase the initial vehicle and begin the restoration. The first $3000-4000 will go to the purchase of the actual van, anything left over will be used to start the awesome build-out, which will include everything from brakes to paint, and freezers to blenders.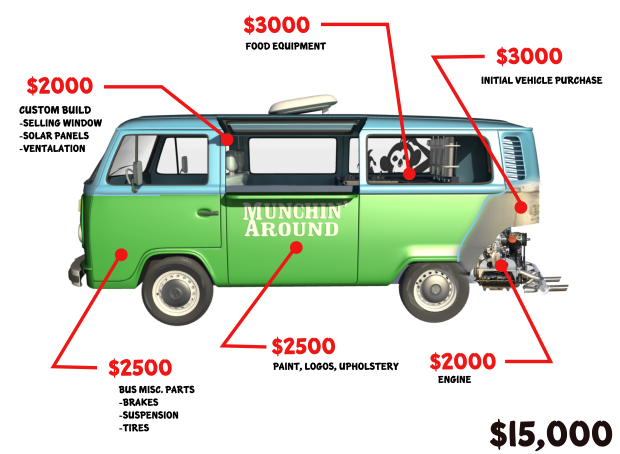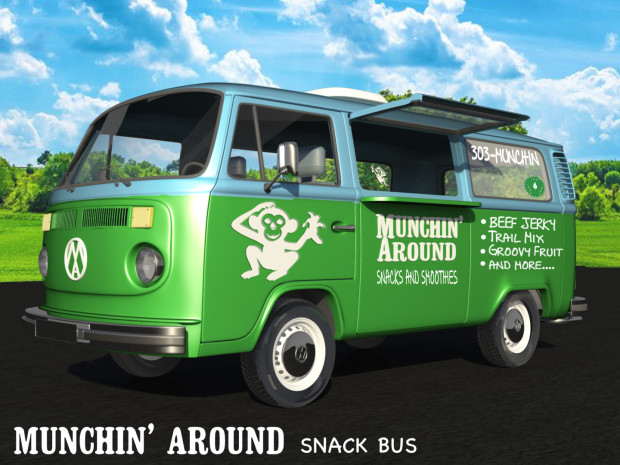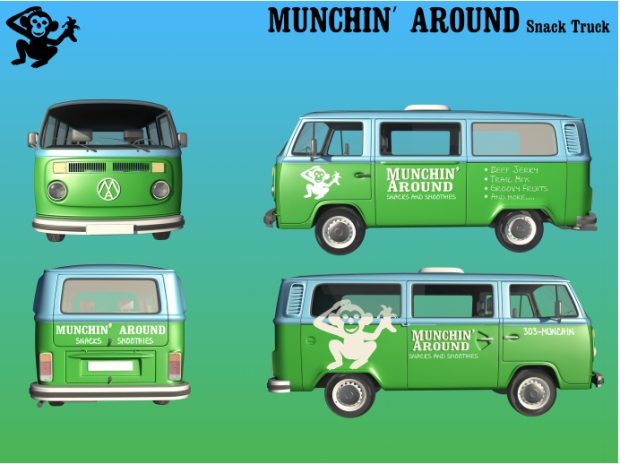 What you'll get..
Our perks will be relatively simple, Sweatshirts, T-shirts and stickers. There will be options of a Munchin' Around™ t-shirt and stickers AND also The Project Factory (our parent company) t-shirt and stickers. Send us a message with your SIZE CHOICE (We would recommend adding a size as they run a little small)
There will be 2 larger perks which are very limited. Check them out on the right side bar above.
Join Us on this New Adventure!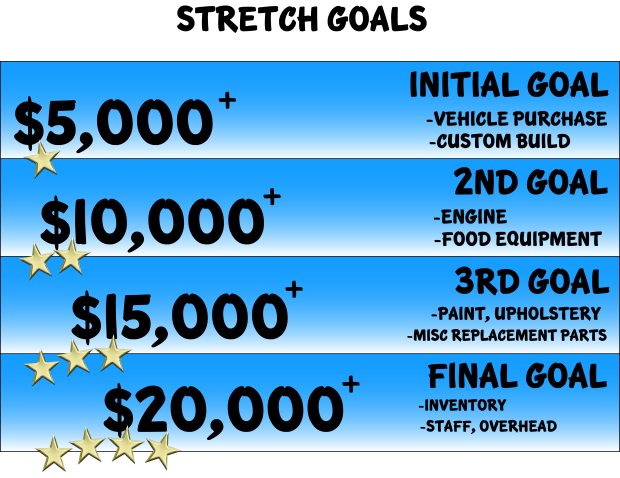 PERKS