iCrowdNewswire - Sep 26, 2016
MOZZO: 8 in 1 Multi-function feature packed hub
Powerbank + BT Speakers + USB hub + Phone dock + Motion detector + tracker + handsfree + MP3 player
We often carry multiple gadgets to suffice our daily needs. In the process, we lose them, had to juggle between devices, issues with portability and convenience. MOZZO is designed to keep your daily annoyances with multiple gadgets at bay. We crammed mozzo with features we're sure you'll love it.

We struck up with the idea of developing mozzo after having seen many people struggle to keep up with multiple devices. Having browsed through scores of gadgets, we found none of them is offering the day-to-day required features in a single product. That's when mozzo began to take shape adding feature by feature and cramming the device with features mostly used in our day-to-day activities and at the same time keeping it portable and convenient.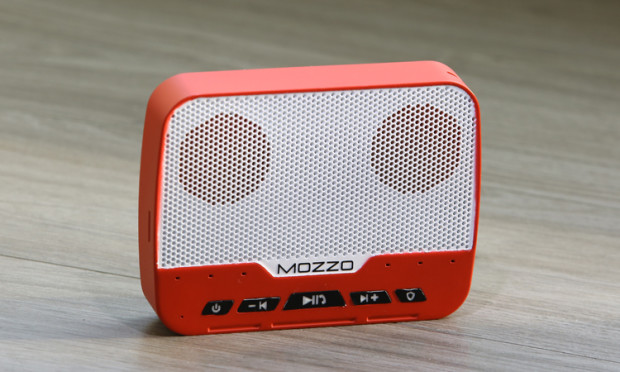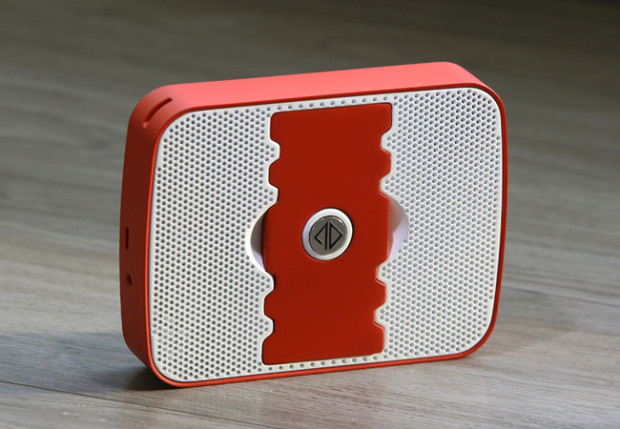 We have been working tirelessly for the past few months on the product development iterating many designs and prototyping many electronic boards to get exactly what we need. The outcome is a fully functional prototype with all the features in place to make sure we leave no stone unturned.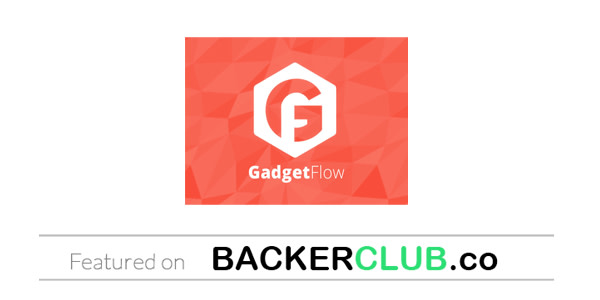 We crammed mozzo with all these features so you can spend less of your day juggling devices and more on enjoying everything life has to offer!!!

Two powerful wireless stereo 3W speakers provide an effective sound quality to enjoy your music delightfully. The portable size of the speakers with high volume output enables you to carry it with you for family picnics, evening walks, beach parties and many more. Mozzo provides upto 20 hours of continuous playback once fully charged.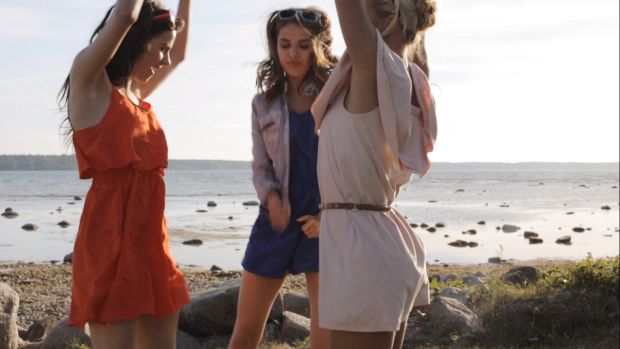 Never worry about the lack of ports in your laptop. Mozzo has 3 port USB 2.0 Hub which can be used to transfer files to and fro from the computer. Charge your devices at the same time while transferring your files. It becomes a great choice for you to connect a range of USB devices.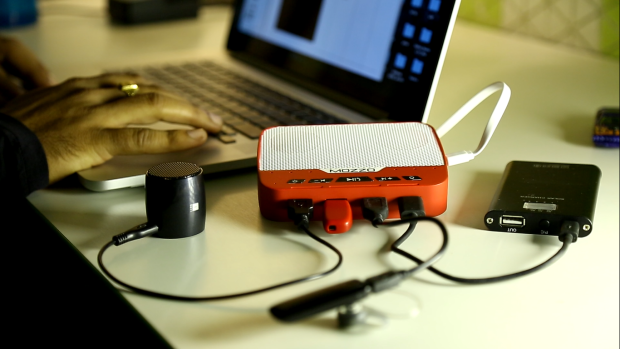 Mozzo has built-in 5200mAh Li-ion rechargeable battery enough to charge your phone upto 2 times over. The best part is you can charge upto 4 devices simultaneously. With over 800 charge cycles, mozzo is a constant companion to your mobile devices which often run out of charge.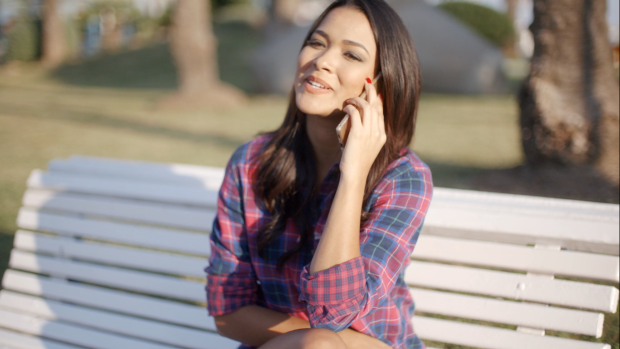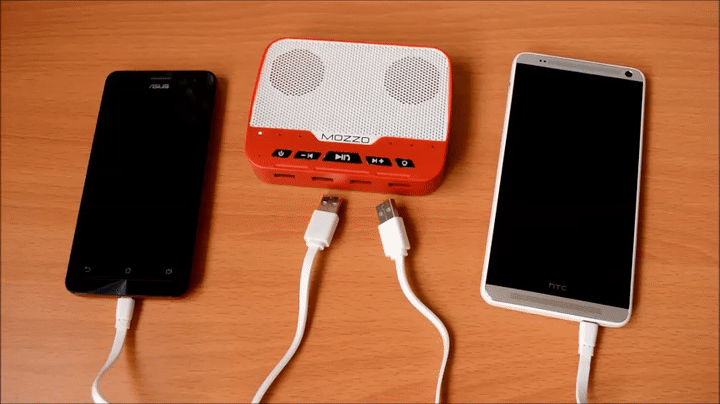 Mozzo has featured an in-built omni-directional mic to make and answer phone calls with ease. With the sound emanating from the powerful stereo speakers in mozzo, voice can be heard crisp and clear which makes conference calls a breeze.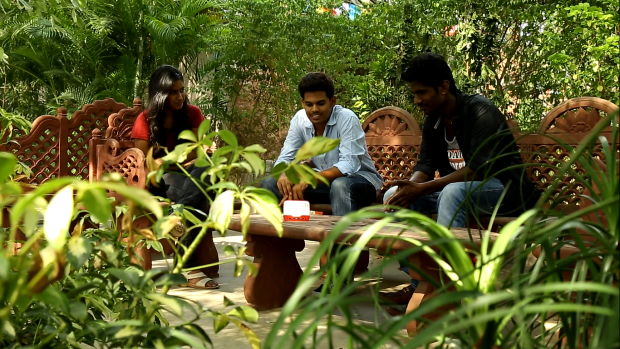 Mozzo has a detachable stand that snaps at the back of the device. Want to use your mobile as a movie station, phone dock or a night clock? Just detach the stand and dock your phone at your convenient angle. Stream the audio through the powerful stereo speakers and enjoy your movie !!!.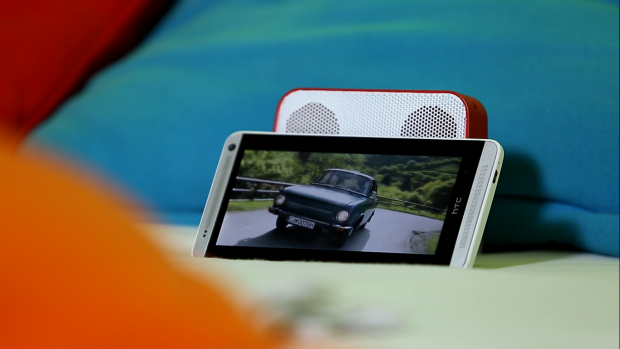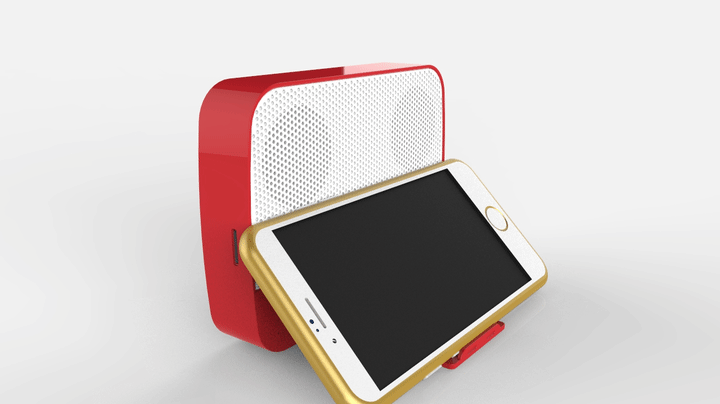 Mozzo supports upto 32GB micro SD card to enjoy music independent of Bluetooth connection. You & your friends can enjoy playing music from the powerful stereo speakers or you can plug your earphones into the 3.5mm jack to hear music solo.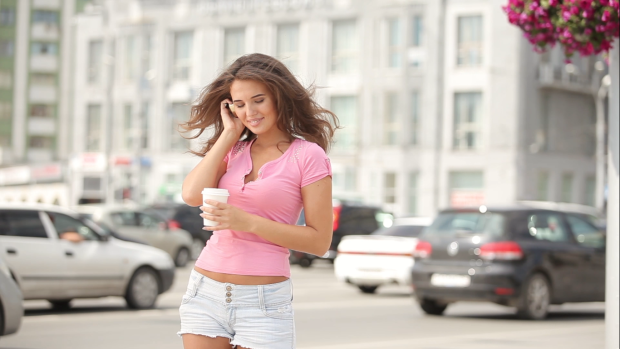 No more worries about losing devices or not finding them. The built-in alarm in mozzo alerts you in case you are out of range of the Bluetooth connection. Alternatively, if you are in range and unable to find the device, you can switch off the Bluetooth connection in your phone to raise an alarm in mozzo to find it.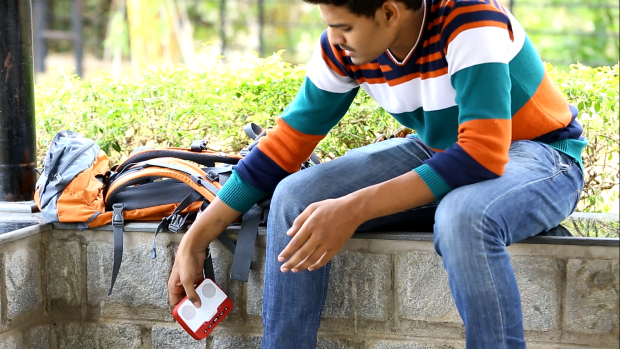 Now you no longer need to worry about theft. You can just activate the motion detector in mozzo and keep it behind your door, window, in a bag or wherever you feel a theft might occur. Any movement in the device will raise an instant alarm in mozzo notifying you about a possible theft or an intrusion.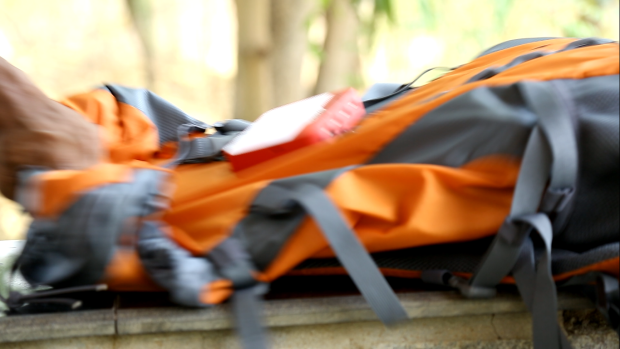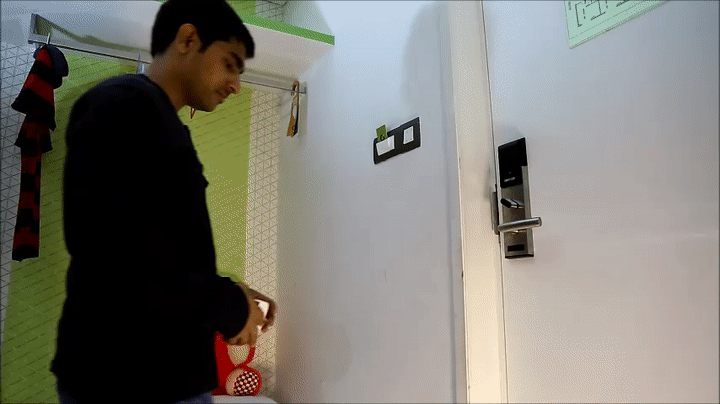 Mozzo is provided with a lanyard provision so that you can lug it to your backpack, neck, trousers, bike etc for extended portability.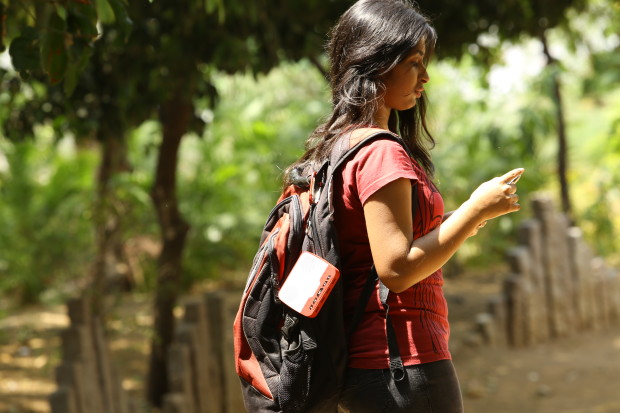 The neodymium magnet provided at the rear of the device allows you to attach mozzo onto any metal surface. Attach mozzo to metal poles, railing, door, windows, bike or onto any metal surface you find.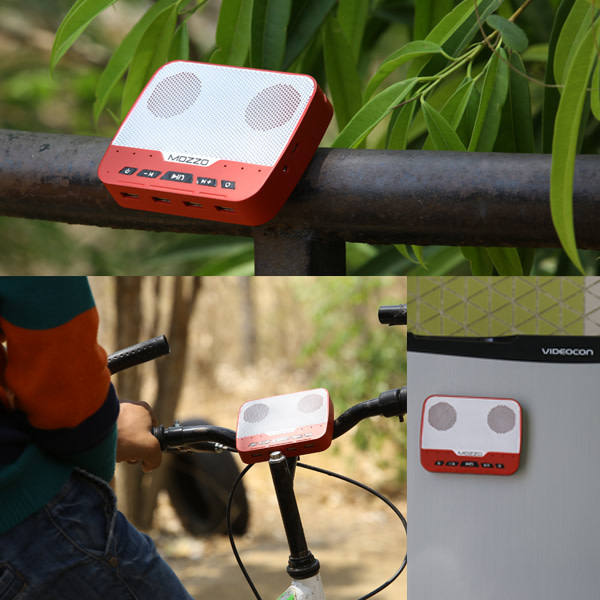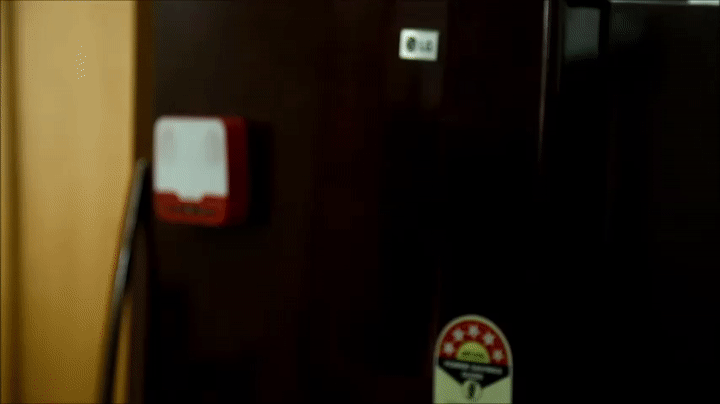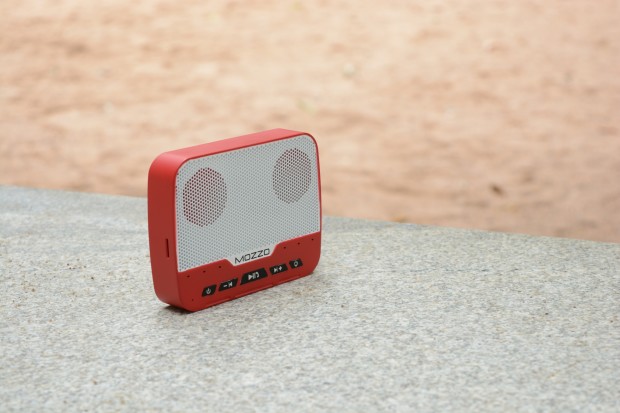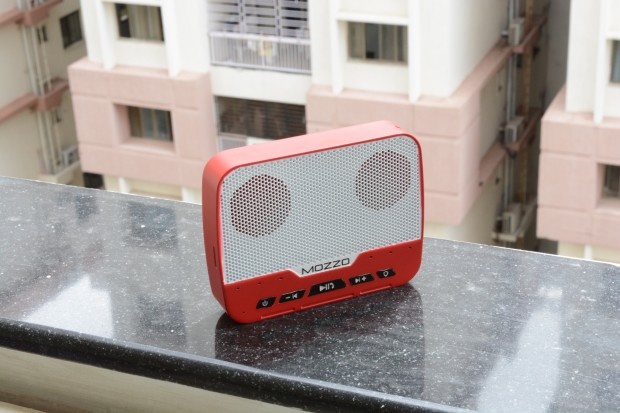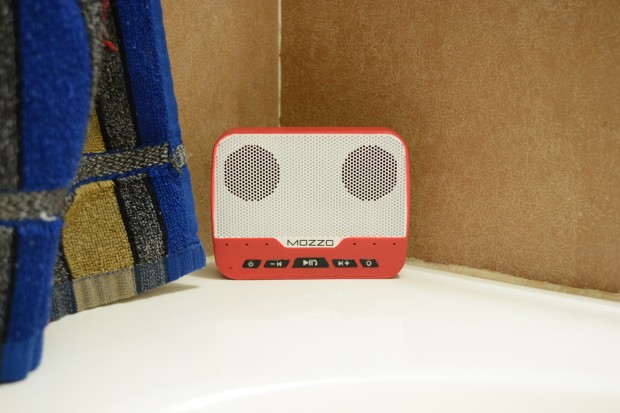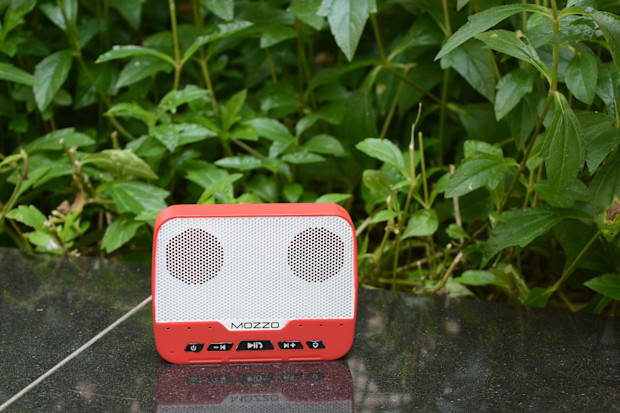 At 5.0 x 3.9 x 0.9 inches and 250gms, mozzo is designed to be truly portable and can fit in your pocket to carry it right away with you whether you are hiking or biking.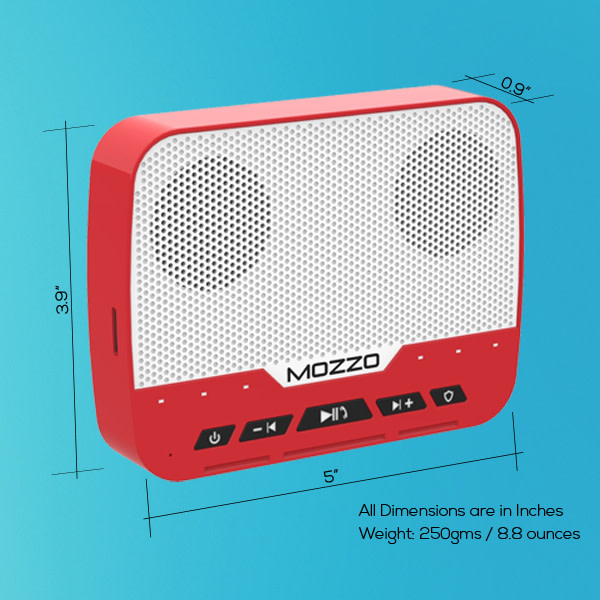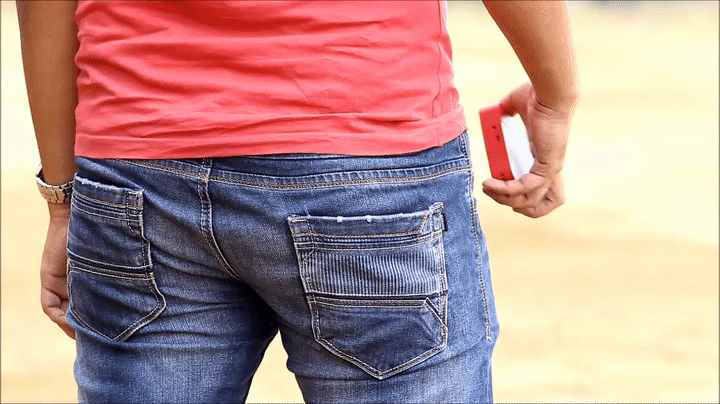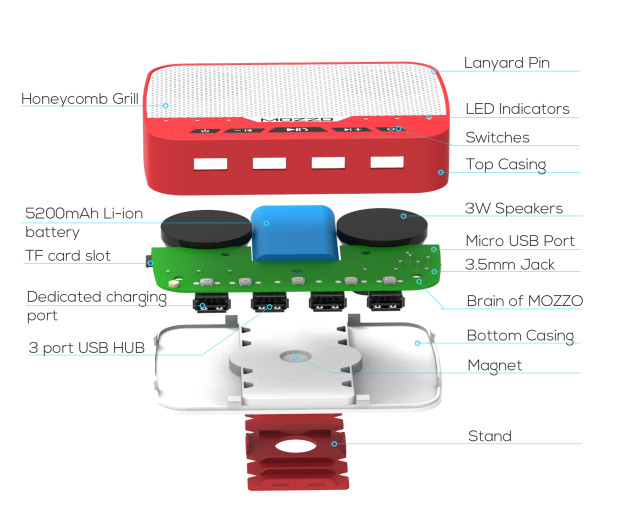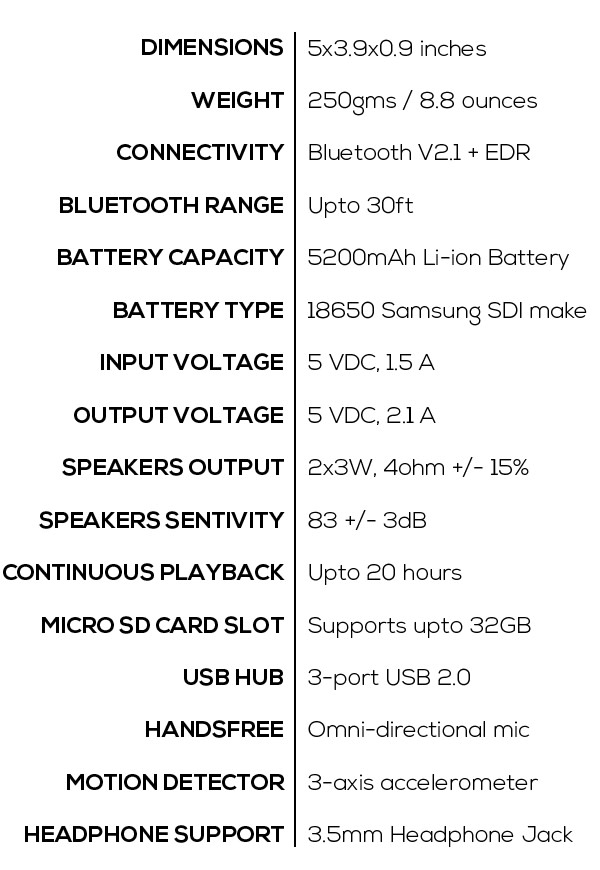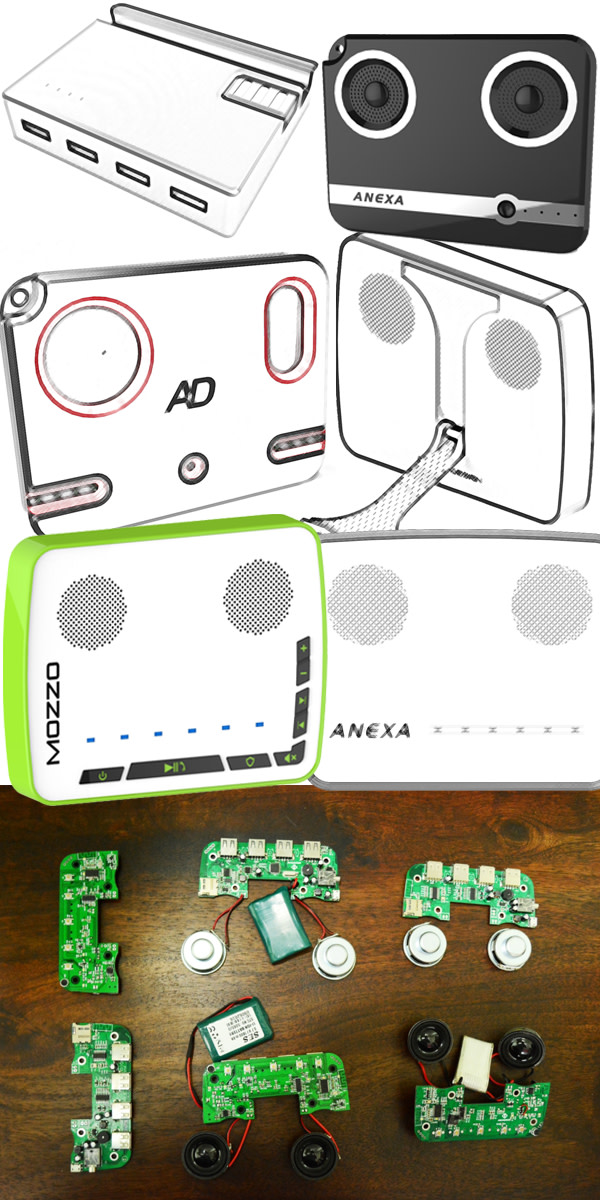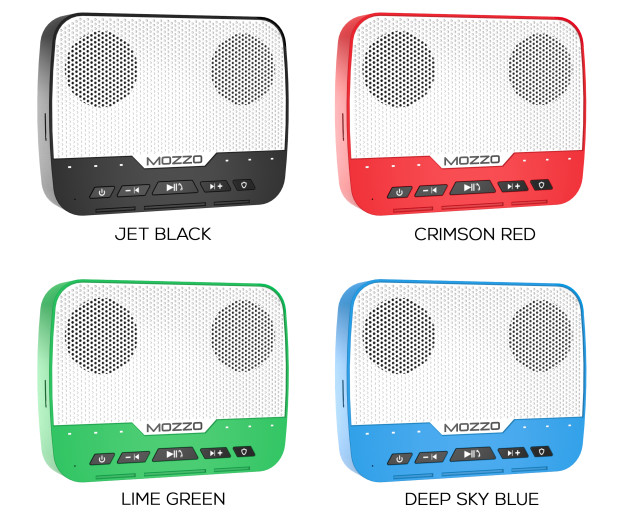 Note: A survey will be mailed to all the backers at the end of the campaign to choose the color of their MOZZO.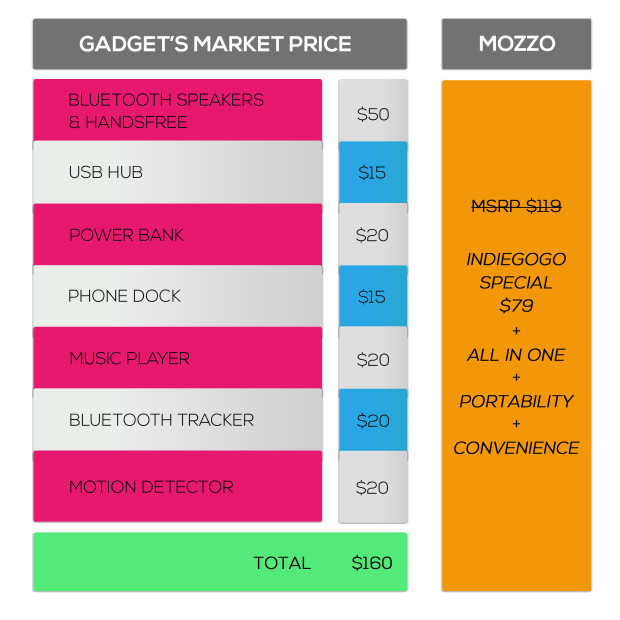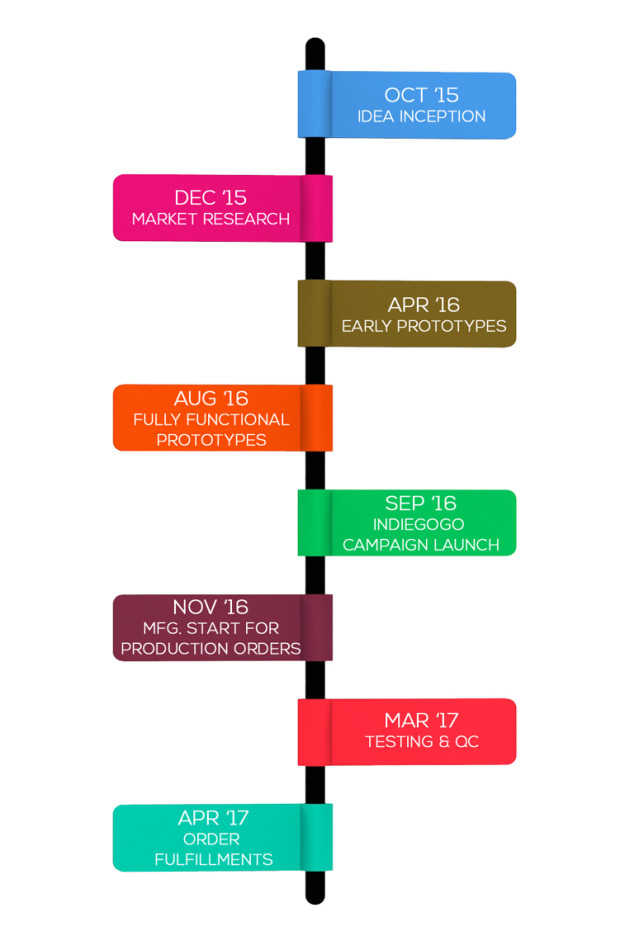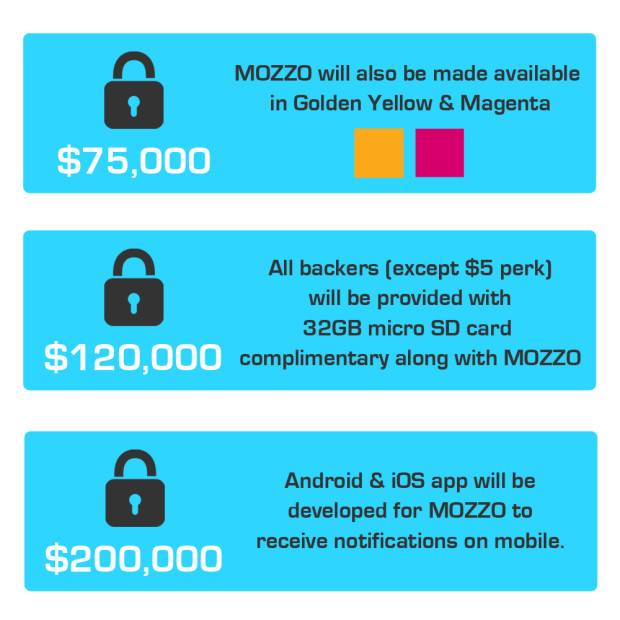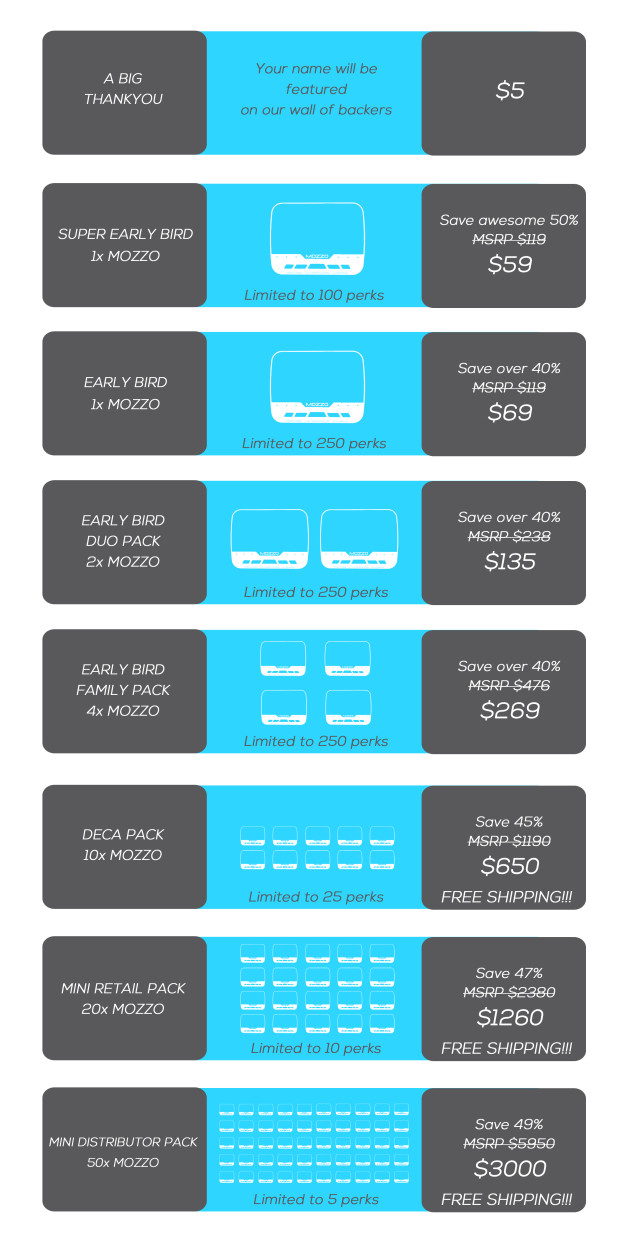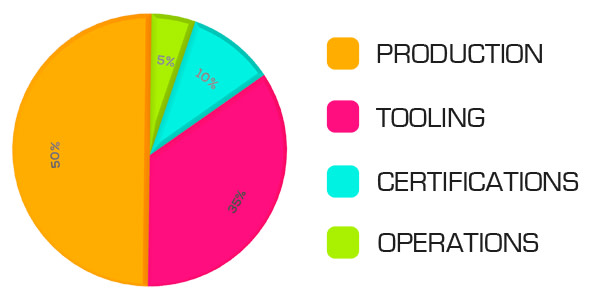 Our team consist of engineers from India, China and USA. We have expertise in Product design, hardware, software and manufacturing. Having worked in various top notch companies, we came together to create wonderful consumer electronic products that will change the way we live.
We always believe spending our valuable time with our beloved ones and leaving the rest to technology. We are passionate to bring ideas to life.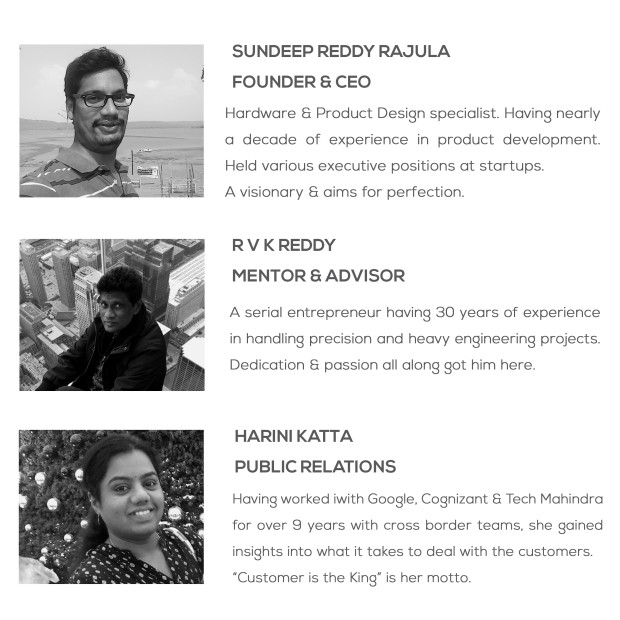 Q. Is Mozzo compatible with all the mobile phones ?
A: Mozzo is compatible with mobile phones having bluetooth v2.1 and higher.
Q. What applications in mozzo run on bluetooth?
A: Bluetooth speakers, hands-free & bluetooth tracker run only with bluetooth connection.
Q. Can I play music from mozzo without bluetooth connection?
A: Yes, micro SD card (supports upto 32GB) can be inserted into mozzo and songs can be played from the in-built speakers.
Q. Can music be controlled from the device.
A: Yes, Mozzo has Play, Pause, Previous track, next track, Volume up & Volume down options integrated in the device.
Q. Does the USB hub read all the 4 flash drives (3 USB + 1 micro SD card) at the same time?
A: Yes, 3 USB devices when connected are read when inserted. To read the micro SD card, long press play to select sd card. Now, the USB hub also reads the micro SD card. Files can be transferred to & fro from the computer into these connected devices.
Q. Is there any Bluetooth tracker app associated with mozzo to locate it exactly?
A: We have created a stretch goal for $200k. Once we reach the stretch goal, we will develop Android and iOS app for MOZZO.
Q. Why is there a delay(time gap) in order to activate motion detector?
A: Once the motion detector switch is pressed, we have intentionally given a delay of 8 secs to activate the motion detector. This time can be utilized to position mozzo such that it is not moved by you after the activation.
For example, if you want to keep it in your bag & activate, Press & hold the security button, LD6 starts blinking, keep inside your bag and see that you close the zip in the 8 sec time delay. Once the delay is done, LD6 is constantly ON stating active. Any movement further will trigger the alarm.
Q. How should we use hands-free?
A: Just connect the device with your mobile phone via bluetooth. Any incoming call/outgoing call will be heard from the device and you answer it by pressing S3 button. Press S3 again to end the call.
Q. How should mozzo be used as a movie station?
A: Connect the device with your mobile phone via bluetooth. Detach the stand and place your phone on the stand at any of the convenient positions and play a movie. The audio will stream from mozzo. You can enjoy your music with stereo sound and higher volume.
Q. Where should I choose the color of MOZZO?
A: A survey will be mailed to all the backers at the end of the campaign to choose the color of their MOZZO.
Q. Do you ship worldwide?
A: Yes, we do ship worldwide. The shipment does not include customs duty or additional costs associated with your country.

Thanks for backing MOZZO & taking this wonderful product to the world!!!