iCrowdNewswire - Sep 23, 2016
RGB – THE MOST UNIQUE MEN'S BELT IN THE WORLD
Why Do You Need R.G.B.?
Do you have the following issues:
Your belt is either too loose or too tight, cannot fit perfectly
Your waist hurts because your belt is too stiff for your waist
Your waist size changes over time and your belt becomes either too short or too long
Your belt begins to sag, stretch or even flip as time goes by
You carry heavy stuff on a daily base, such as guns, magazine, flash lights, bottles, baton or tools and the belt cannot even hold
You are considering a gift for your beloved ones and don't have an idea yet!
If you have the above concerns, please continue to read and we might be able to help you today.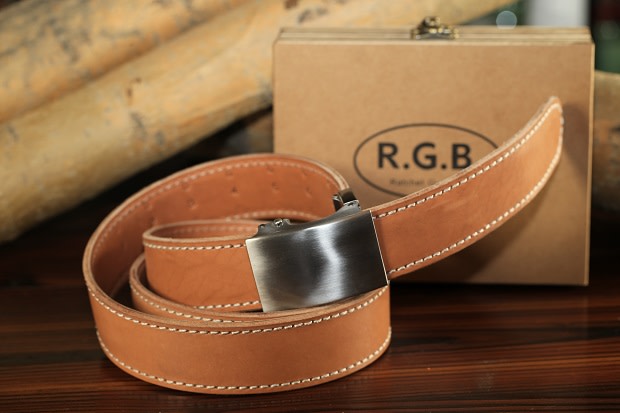 What Makes R.G.B. Unique?
-A Ratchet Belt
Let's look at our co-founder Lance W, 6″00 tall and waist size 42″, spend his 8 hours a day in the office. All of his belts, the luxury dress belt, the Amish hand made belt, and R.G.B. CA King fit perfectly and tightly. Lance can carry anything on the belt, IWB, OWB, cell phone, wallet, EDCs, etc.
Lance always has business lunch with his colleagues and clients. After a good meal and a Starbucks double shot espresso, his effective waist size increases to 42 1/4″. With his luxury belt and Amish belt, Lance has to either suffer from the pain of over tightness if he sticks to the 42″ hole, or walk around the office with his saggy pants if he relax the belt to the 43″ hole. R.G.B. solves this problem by using the ratchet system to achieve the 1/4″ adjustment. With a simple click, Lance can adjust R.G.B. to 42 1/4″ and keep focusing on the important things instead of his pants.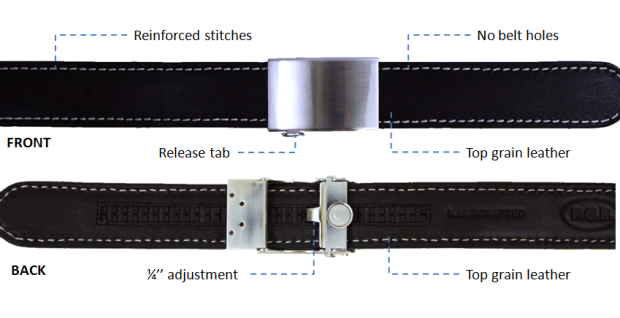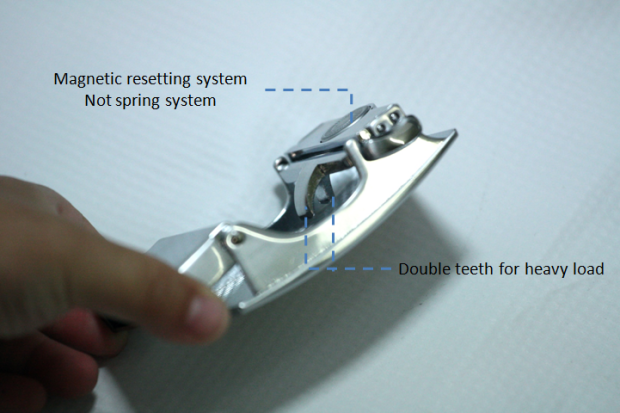 -A Reinforced Belt
Lance W, loves all his 3 belts and wear them in turn. His EDCs and CCW are quite heavy and as a result, his luxury belt and Amish belt die after 7 months of daily usage. They become saggy, stretched, and sometimes folded over. R.G.B. survives by reinforcing the leather with another layer of "liquid steel" polymer. See how solid R.G.B. is after the reinforcement, it can even carry 3 people standing on top!
-A Reinforced Ratchet Belt
This is R.G.B.! Decent as a dress belt, solid as a carry belt!
How Does R.G.B. Achieve Top Quality ?
We don't want to present to you something that you can purchase from Alibaba for pennies. It should be so special that you can not find anything similar all over the world.We want to also give you a product that is made to last for a long time. To achieve this we believe that top of the line products come from top of the line quality control, materials and design.We believe that making products by hand in the traditional way worships the craftsmanship cherished by generations and instills a unique spirit to our products.
Our craftsmen stick to the techniques passed down for centuries. We appreciate our fathers' and grandfathers' wisdom tested by time.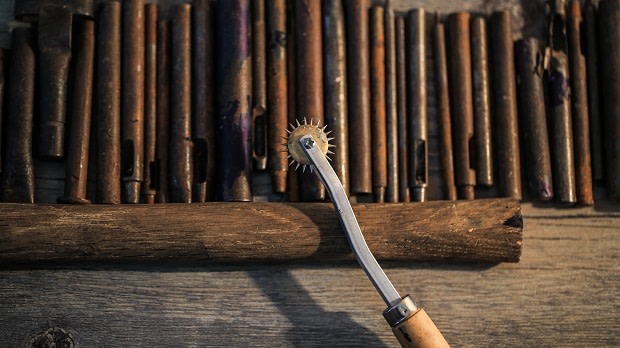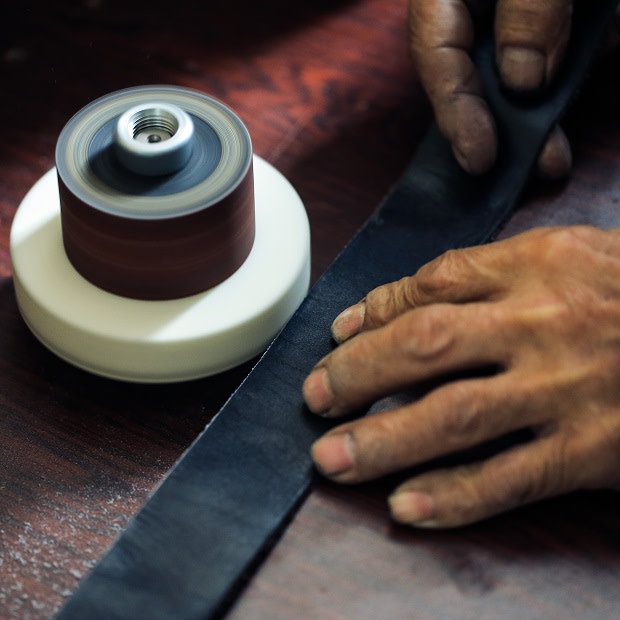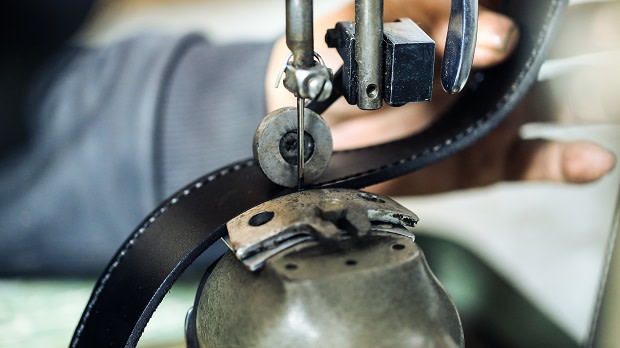 Top grain, means only the top (Best) 5% of the cow skin. This is what we use, on BOTH SIDES of our belt. We collected several popular brands from the market and none of them are even close to R.G.B. in terms of leather quality and craftsmanship.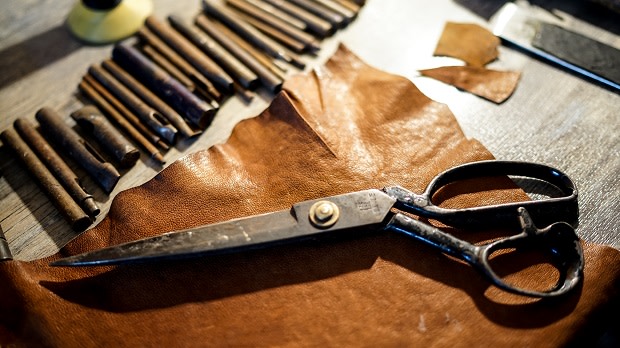 We understand looking good is very important. We embrace the most stylish and comfortable designs in a every day carry gun belt.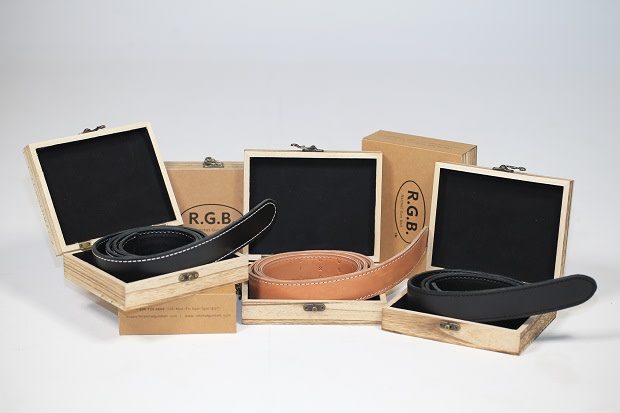 With the special formulated polymer reinforcement layer, R.G.B. supports every day carry of light to heavy weight objects. Phones, scanners, flashlights, firearms, anything you can ever think of. The ratchet system is designed so that a 1/4″ adjustment puts no holes on the belt and supports any waist size (up to 48″ regular and up to 60″ extra long) with just a click. The buckle is re-engineered to provide durability and ease of use.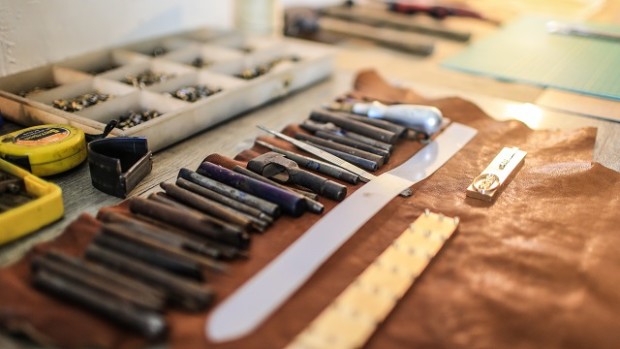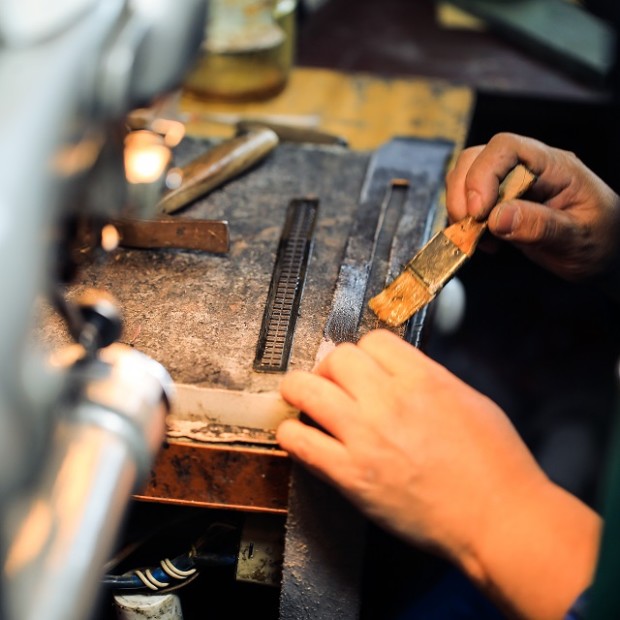 We have 120% confidence in the quality of the R.G.B. and therefore offer a LIMITED LIFE TIME WARRANTY on all the R.G.B.'s we sell.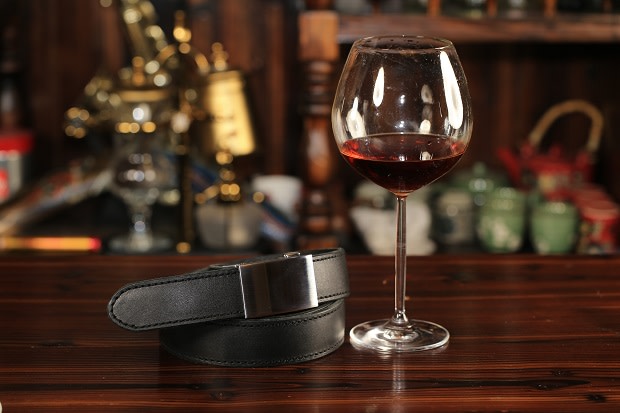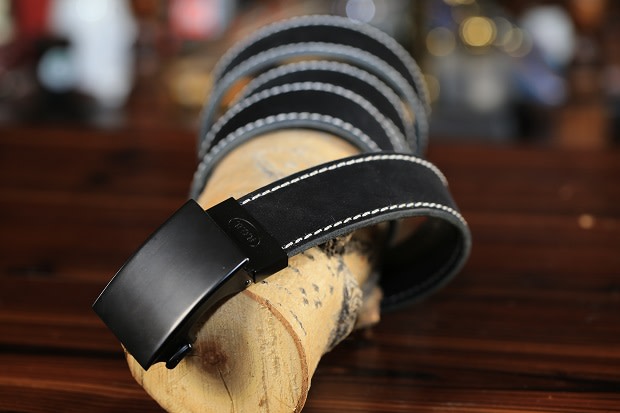 The amazing design, the versatile functionality, the quality materials, the master craftsmanship and the excellent customer service, is what makes the R.G.B. what it is today. When you use the best of the best the result is "The Best and Last Gun Belt That You Will Ever Need". All of this is done with the customer (you) in mind.
Which One To Choose?
We Please leave us a comment or send us an email indicating which R.G.B. you want, Mamba, Condor, Cobra, CA King or Viper. All of our belts are 1 1/2″ in width.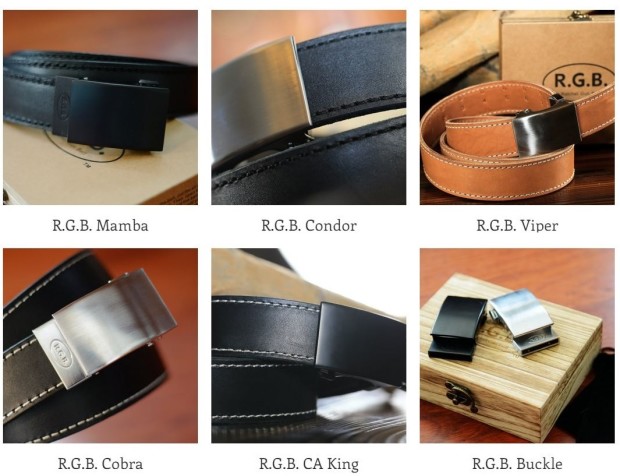 R.G.B. VS Regular Belts
Ratchet system makes it possible to fit all waist sizes
With the ratchet system, you don't need to drill holes on the belt which will make your belt last longer. Regular belt holes are 1 inch apart. With ratchet system in place, R.G.B. can adjust in 1/4 inch increment, which will effortlessly fit almost all waist sizes.
Reinforced belt stops it from sagging, stretching and folding over
R.G.B. inserts a layer of "liquid steel" in between the leather. With reinforcement, R.G.B. is designed to carry guns, magazine, flash lights, keys, hammers, tools, any heavy stuff you can imagine.
As you can see, R.G.B. can carry 3 person, more than 500 pound and still maintains its form.
Our leather acquiring cost is 6 times more than most regular brands which also claim to use the top grain leather. In the manufacturing world, price = quality. $5 can make a big difference, let alone 6 times difference.
R.G.B. VS Other Ratchet Belts
Re-engineered ratchet system for max endurance
We noticed most of the ratchet buckle tends to skid after months of regular use. We spent more than 6 months to redesign the whole ratchet system to solve the problem. Our buckle is meant to hold unless the metal dies first.
Not under-reinforced, not over-reinforced, but properly reinforced
If under-reinforced, the belt will sag or even flip over in couple of months.
If over-reinforced, the belt becomes super stiff and you feel like wearing a steel band. Actually there are some brands using steel pieces to reinforce the belt. It may hurt you simply because it's way too stiff and your waist are tender.
R.G.B. did thousands of experiments to find the best material which perfectly balances strength and comfort. We are not smart enough to find out everything immediately, but our pursuit of perfection leads us there.
Same as the above section. Most ratchet belt brands are not willing to pay premium for the leather. R.G.B. pays, because we believe that quality is on top of everything,
What Does R.G.B. Customer Say
You think I'm bragging about R.G.B.? Not a problem, let's see what our customers say:
Wellington from WA comes back to R.G.B. after tried out 5 different gun belts: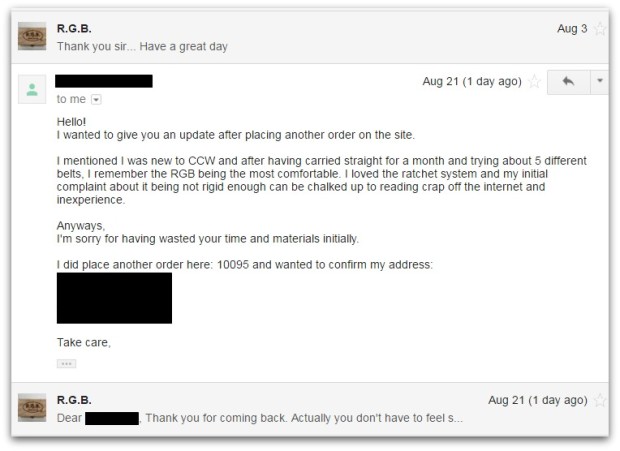 Charles from TX highly evaluated our service and explains why R.G.B. is "well worth the money" from the professional perspective: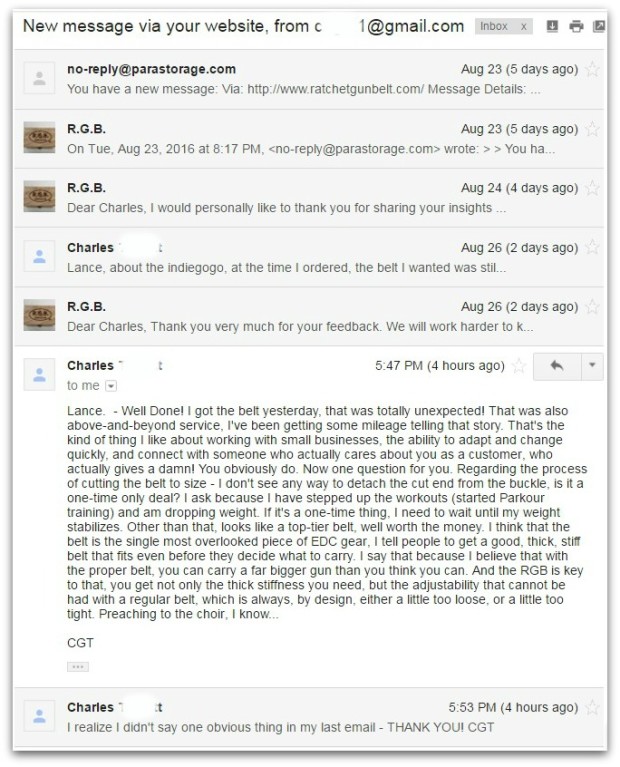 Dan from OK gave us 5 star on our product and 6 star on our service: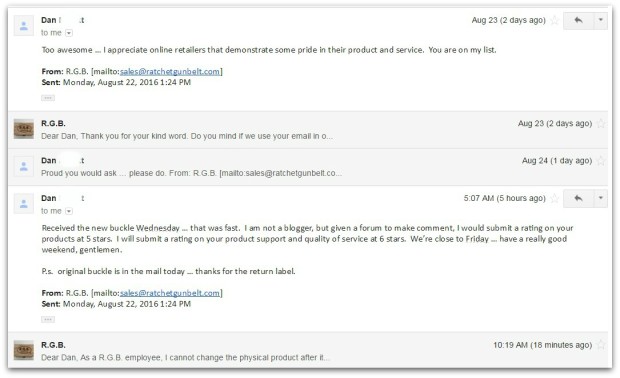 Please find more supports from our Facebook page and customer testimonial page of our R.G.B. official website:
https://www.facebook.com/RGB-Ratchet-Gun-Belt-1693241560919609/
Production
We will begin the mass production at early November. The handcraft process normally takes 20-30 days. The packaging and shipping from our warehouse at Ohio requires another week or so. You should be able to receive the R.G.B. belts mid December, definitely before Christmas.