iCrowdNewswire - Sep 23, 2016
Fox vs Kingdom – October 2016 premiere!
An epic medieval puppet satire, based on the saga of a sly fox, and made by three troubadouristas.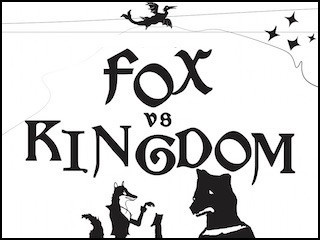 We are premiering our original puppet theater epic, Fox vs Kingdom, at the historic Byrdcliffe Theater in Woodstock, NY in October 2016. Funds are needed to mount this premiere production (e.g space rental, lighting, insurance, promotion, artist fees). Our company, Studio Reynard, is a sponsored project of Fractured Atlas, so all contributions are tax deductible.
The Show
Fox vs Kingdom is a new theater production, an ancient beast epic, based on the darkly funny escapades of Reynard the Fox. As told by a trio of French troubadours using puppetry, dance and live music, animal appetites dominate in this retelling of a medieval blockbuster.
Veering from sweet folk song to operatic satire to salacious tango, we flip through the playbook of puppetry: shadows, crankies, rod puppets, hand puppets, masks. By turns raucous entertainment, gorgeous shadow play, masked dance, this original performance, produced by Studio Reynard, will be launching in October.
Premiere: October 28 – 30, 2016 in Woodstock, NY
If you're ready to plan ahead: TICKETS ARE ON SALE
If you want to be part of making this all happen – please see the Perks at right!Your name as a backer will be listed, with love, on our website and in the program!

It goes something like this: Reynard dupes everyone, devours a few, sweet talks his way out of trouble, and side-steps a sure death by hanging. In the process, he blithely exposes hypocrisy, corruption, greed, lechery, and gluttony, including his own.
The story of Reynard was wildly popular eight centuries ago: the witty outlaw who triumphs over entrenched power through sheer rhetoric had resonance in a violent feudal society with nascent rule of law. We believe it has resonance today: Reynard is a trickster, who muddies the waters between right and wrong, between what we say we want and what we actually do.
We are animals after all.

The Team
A show of this scale is a labor of many. In addition to the four artists below, we work with a fantastic production manager and technical director, plus we rely on an army of wildly talented volunteers both for the development of the work and for the shows.
Hélène Lesterlin creates performances that fuse theater, dance, puppetry, sound and visual art. She's insatiably curious about the creative process: she's a collaborator, performer, director, choreographer, improviser, and hands-on maker. Fascinated by fables, memories, and ancient songs, she digs into history, archives, poetry, art and music to create her performances. Founded in 2012, Studio Reynard is home base for her work. Hélène also has a passion for working with contemporary performing artists to help bring their works into being: she currently serves as Director of Programs at Mount Tremper Arts, and was the founding curator for dance and theater at EMPAC.
Anastacia Bolina is an artist, performer, puppeteer, and a key collaborator with all Studio Reynard projects. Using materials such as the skeletal remains of plant roots, vintage clothes and fabric, papier mâché and armatures made of recycled electrical wires, Anastacia creates puppets and costumes rich with fine detail, exploring a dark, wild edge in design balanced by an earthly elegance. She is currently creating a video dance project that focuses on the transition of seasons, involving creatures that are part plant, part forest animal and part human. She also runs her own company, designing and installing vegetable gardens in the Catskills – evidence of her time outside can be seen in her art work.
Laura Brenneman was raised by musician parents in San Diego, California, and grew up on a steady diet of show tunes, English choral music, and Abba. Described as "the love child of Joni Mitchell and Stephen Sondheim, raised by Muppets," Laura writes pop music. She is the resident musical director of the neo-vaudevillian performance troupe, The Fabulists, and regularly performs as part of the Bushwick Book Club. She worked with director Martha Clarke on a workshop reading of The Threepenny Opera (Atlantic Theatre Company, NYC), was commissioned by the Women's Project (NYC) to write music and lyrics forGurley, a new musical, amongst other collaborations. As a singer-songwriter, Laura performs her original songs in NYC. Her self-titled EP (2010) was produced by Tony Maimone (They Might Be Giants).
Scott Bolman is an NYC-based lighting designer and educator working in theater, dance, music and opera. Scott recently developed several projects with Robert Wilson, including The Odyssey, 2012, and Zinnias: The Clementine Hunter Story, 2013. Other recent projects include re-creating David Finn's lighting for Parsifal (Metropolitan Opera), 50 Ways (Chautauqua Theater Center), We Play for the Gods (Women's Project), Songs from the Uproar (The Kitchen). He is a founding member of the collective Wing Space.
History and Future
Fox vs Kingdom is our biggest, most ambitious production to date, and has been in progress for over four years!
Our premier performances will be presented Halloween weekend at the Byrdcliffe Theater in Woodstock, NY. If you want to see the final steps of the work in progress, follow us on Instagram! @studioreynard

Developed as part of the Puppet Lab at St. Ann's Warehouse (NYC), a part of Fox vs Kingdom was seen at the Labapalooza! festival of new puppetry. We also hosted a series of salons called Café Isegrim: we showed scenes in progress while sharing a feast with our community of fans.
We are so grateful to our supporters who have followed this project along its journey, from our local funders and The Jim Henson Foundation, to the essential time provided by residencies at Mount Tremper Arts, and Drop, Forge & Tool.
Plans for the show's future include touring nationally and even further afield! We are so grateful to you for reading till the end. If you'd like to stay in touch with us, join our mailing list at studio-reynard.com!
Studio Reynard is a sponsored project of Fractured Atlas, a non-profit arts service organization. Contributions for the charitable purposes of Studio Reynard must be made payable to Fractured Atlas only and are tax-deductible to the extent permitted by law.