iCrowdNewswire - Sep 22, 2016
MDRN Wear – Comfortable Mens Underwear
Insane Comfort & Maximum Performance at a Fair Price. The Last Pair of Underwear You'll Ever Need.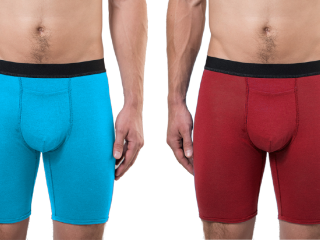 We probably care more about your underwear than you do. No really, I mean it. We've spent countless hours testing competitors, adjusting pattern contours, and searching for the perfect combination of fabrics just to bring you a pair of boxer briefs that won't ride up, dry quick, look great, perform better, and are the most comfortable pair that you've ever tried. We've designed a pair of boxers made for the 21st century… made for the Modern Gentleman.
Why did we start MDRN?
Boxers are only the beginning of our crusade to liberate menswear from the archaic businesses that you've been stuck with and we hope you join us.
We've seen a fundamental problem with the men's basics market. There are cheap brands that don't last, aren't very comfortable, and convince you that they are "just good enough". We don't think your clothes should be just good enough. On the other end of the spectrum, are designer brands that feature nicer fabrics at extortionary prices and are designed for looks over function resulting in some nice, but expensive and uncomfortable underwear. We've spent the last year and a half trying to figure out why there can't be a happy medium of boxers that are high quality, high comfort, and high performance at a reasonable price. We think that we've developed the perfect pair of boxer briefs for the modern gentleman and now we need your help.
Why you'll love our boxers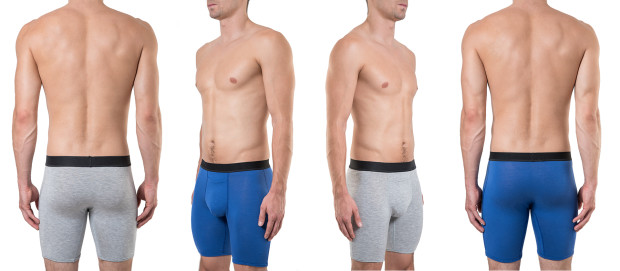 Comfort
We've designed our boxers to maximize comfort, and we believe that we've created some insanely comfortable boxers. They don't ride up. They aren't too tight. They have four-way stretch fabric. They breathe easy and dry quickly.
Great look
Our co-founders Steve and Keri developed dozens of designs and finally created the perfect pair that are flattering no matter how you're built and look great both in the locker room and at home.
Performance Fabric
We've sourced our fabrics from premium manufacturers located in the US to ensure maximum quality. Our custom blend of lightweight cotton and spandex blended fabric is designed specifically for these boxers. You literally cannot find this fabric in any other product anywhere in the US… we checked! We've combined organic pima cotton that is light, breathable, and quick drying with the stretch and performance of spandex. In addition, we used an anti-microbial treatment to ensure these boxers stay fresh. Our fabric keep your boxers fresher, longer and reduce the odors created by microbes on a daily basis.
A Fair Price
We've decided to ditch the traditional apparel business model for a more modern approach with direct-to-consumer online sales. This allows us to cut out the middleman distributors, retail markup, and traditional marketing channels, resulting in a brand made and sold directly to you.

Why We Need Your Support
100% of your contributions here will fund the first production round of MDRN boxers. In order to produce the high quality fabric that is used to create our boxer briefs at an affordable price point, we need to order several thousand yards of it. By pre-ordering a pair (or 7) here, you will help us reach the threshold needed to make these boxers a reality.
The Founding of MDRN
Co-founder, Stephen Haugse, has been on-the-go for the past decade. Owning and operating retail stores in Honolulu, HI and commuting monthly to California to manage an online marketing firm, while fitting in a little surfing and hiking on the side. He noticed that his wardrobe – specifically his underwear – could not keep up with the on-the-go lifestyle. He tried dozens of brands, but couldn't find anything that offered high-quality performance and insane comfort at a reasonable price. Fortunately for him the answer was closer than he could ever imagine!
During Stephen's constant commutes, his girlfriend, Keri Ogden was busy growing her own swimwear business, Elle Mer. Keri grew up on the Big Island of Hawaii, wearing bikinis just about everyday to the beaches along the Kohala coast. Her swimwear business was built on sourcing the best fabrics, stitching the perfect seams, and making swimwear that stays on in even the most powerful shorebreak Hawaii has to offer.
Working together, Stephen and Keri began to design the concept of what the perfect pair of men's boxer briefs should be. The shorts had to be top quality but also priced reasonably. They had to look great and perform better than any pair Stephen had tried to-date.
That meant no riding up.
They had to be breathable.
They had to dry quickly and stay cool on the warmest Hawaiian afternoon. And they had to be insanely comfortable.
Using Keri's design expertise and connections to the best US fabric suppliers & manufacturing, the first MDRN boxer briefs were created.
Steve and Keri decided that all MDRN boxer's should be made in California and shipped around the world. The shorts are sewn in a proprietary method to ensure comfort with every movement. The fabrics are non-pilling, breathable, quick drying, and super stretchy to ensure comfort in any environment.
Custom Designed Features

No Riding Up – Some brands claim to have boxers that don't ride up and don't need adjustment, but overcompensate with tight elastic bands and minimal stretch in the fabric. Our boxers offer the perfect medium to keep everything where it should be without having to add in tight elastic.

2" Premium Elastic Waistband – Smooth to the feel, no loss of elasticity, no warping in the wash or baconing. Don't worry about frayed edges or stretched out waistbands, our custom elastic will hold tight time after time. The extra tall elastic provides added surface area which in turn delivers a more personal and comfortable fit. Our thin, ultra durable elastic contours to your waistline immediately upon putting them on.

No Bothersome Tag – We've been there, you just settle in for a 6 hour flight and realize the the tag on your boxers is not going away. Don't get annoyed with an irritating tag. Our heat-press text eliminates the tag and the discomfort.

Quick Dry Fabric – Our 90/20 Prima Cotton/Spandex intelligent blend of fabrics are made to dry quickly to prevent moisture and odors. No matter if you just got done with squats or have been sitting at your desk all day, take a quick walk and you'll be as good as new. Plus our custom blend of fabrics help eliminate microbes that breed in warm, moist environments.

Contoured pattern – contours to the shape of a man, providing a flattering look that you'll feel proud to show off around the house, in the gym, or anywhere else you might get caught with your pants down.

Stitching – We use "flat lock" stitching so that there are no rough edges and you have a clean fit all over. This stitching also helps prevent frayed edges for a longer lasting pair of boxers. This method of stitching is much more time consuming to manufacture but once you try it on, you will know why we take the time to have this stitch on all our boxer briefs.

Easy Access Fly – our "Easy Access" horizontal fly makes it easier to take care when nature calls and results in fewer left over drips. For those of you who wear tucked-in dress shirts to the office or out on the town, the horizontal fly makes it easy to take care of business without having to untuck everything.

Multi-stretch fabric – multi stretch fabric so that they fit any size and shape. This results in boxers that contour to your shape without restricting or riding up. The 4 way stretch fabric has more elasticity vertically to move with your natural motion. The horizontal stretch profile is slightly more snug which provides a more secure form fit and prevents the briefs from riding up.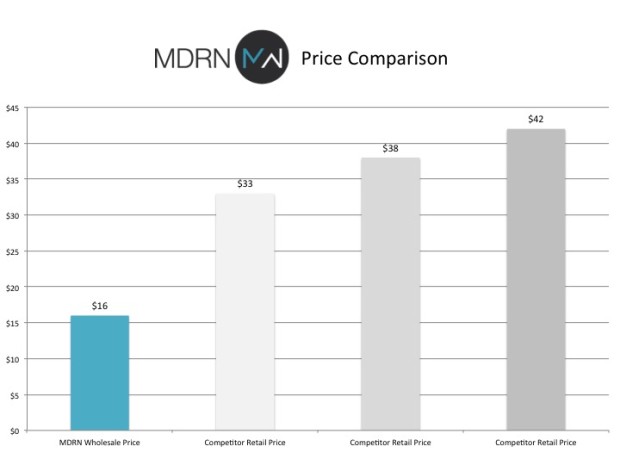 By backing this crowdfunding campaign you get the chance to purchase our MDRN Boxers at over half the cost of our competitors. In order to bring you these savings, we had to develop a unique business model that skips the traditional marketing and retail locations.
Stretch Goals:
While we have our initial goal set to deliver our first line of boxer briefs, we have plans for much, much more. If we're able to break the following thresholds, all backers will be eligible for any level. With more funding comes more options for our customers. We'll add in 3 bright new colors if we hit the $30k mark.
$30,000: MDRN CORE Colors – Light Blue, Royal Blue, Navy Blue, Red, Heather Grey, Black

$60,000: MDRN – LIFESTYLE Series in two Custom Prints

$90,000: MDRN – SLVR Series with Anti-Microbial Treatment
At $90,000 things get really interesting.
Get us to $90k and we will integrate a special anti-microbial fabric that utilizes silver technology to help kill microbes that cause odors. We have developed a pair of boxers that can go a full day, and more, without the horrible odor that comes after a full day of wear. These are great for backpackers, athletes, or guys that just want a fresher pair at the end of the day. This essentially means we get to add our own proprietary blend of threads to create the ultimate fabric. The fabric will be created right here in California.
Custom Elastic Mockup:

Product Testing And Quality Assurance
After creating the final prototypes, we then developed a limited first run and shared them with some of our more active friends for extreme endurance testing. The Idea? Wear only one pair of MDRN boxers for 30 days and put them through the grind of your daily routines. Wash them as often as needed but don't wear any others, no matter what you're doing. After 30 days, between these testers, we've had MDRN boxers reach the top of MT. Whitney, submerge themselves in the Pacific ocean for a daily swim, run a combined 800 miles, and lift off on 9 cross-country flights.
The Results: after 30 days of continuous use, MDRN boxers still had their same contour fit and stretch. While they were a little worn as you'd expect, they looked almost as good as new. It was after we started hearing about these results that we knew that we had a winning set of boxers.
We will be implementing standard professional apparel product testing, quality assurance and eco-responsibility throughout our company. By sourcing and manufacturing our products in the US, we are already a step ahead of most other mens underwear brands.
Where do we go from here?
With the prototypes completed, the manufacturer selected, and the fabric developed, the hard part is out of the way. By funding our campaign, you will help us secure discounted pricing to some of the best fabric on earth. We will also be able to implement product testing standards on every pair of boxers we make, ensuring that you only receive the best. 100% of our Indiegogo funds will go to sourcing, manufacturing and fulfilling product orders.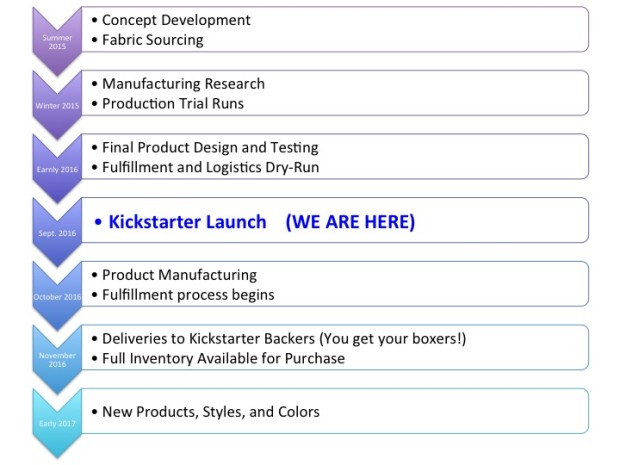 We need your help!
Hopefully by this point you are on-board to contribute to owning a pair of the best boxers on earth. You can help further by sharing our cause with anybody you think might be interested. Please share this page with your friends, family, co-workers, and anyone you think might want the best pair of boxers.
Featured on:

FAQ – Frequently Asked Questions
Q: Where do I pick out which color I want?

A: At the conclusion of the campaign (July 16), we will be emailing out a survey to every person who contributes to our campaign and that's where you will select the color you want. Indiegogo will provide us with your email address in order to do so.

Q: Where can I buy these boxers after the campaign

Q: If I buy multiple boxers, can I get any combination of the colors?

A: Yes, you are able to get any combination you would like. For example, if you are ordering 4 boxers, you can get all 4 of the same color or mix it up any way you like.

Q: When will my boxers arrive?

A: We estimate Mid-November 2016 – after our 30 day campaign is over on October 19, Indiegogo releases the funds to us and we'll pay the manufacturer to begin production. The estimated production time is roughly 30-45 days, depending on the quantity of the order. As soon as we receive the boxers, we'll work around the clock to ship out the watches to our awesome supporters!

Q: What if I select the wrong size?

A: Don't worry, we will be sending out a final confirmation email just before we ship product to confirm color, size and shipping information is all correct.

Q: I'm located out of the US, will you still ship to me?

A: Yes, we will ship to Canada and the EU however there will be an added $20 shipping fee for any of these orders.

Q: How will the boxers be priced after this campaign is over?

A: After the Indiegogo campaign is over, all CORE boxers will be priced at $30 per pair and SLVR boxers will be priced at $34 per pair.

Q: Are your underwear Moisture-wicking?

A: No. although we tested moisture-wicking materials, we found that because these materials didn't absorb any moisture, they ended up transferring it to our pants! You definitely don't want this happening when things start to heat up down there. Instead, our boxer briefs are made with custom premium fabric blends that absorb moisture and quickly dry, leaving you comfortable all day.

Q: What's the big deal about the Easy Access Fly?

A: Many men that wear dress shirts tucked into their pants find it easier to simply pop through the front rather than untucking everything and having to re-tuck their shirts. Plus, there are other benefits to an easy access fly… ;)

Q: How should I wash my boxers?

A: You can wash your boxers the way you would any other clothing pieces. Avoid bleach but other than that they should stand up to your washer and dryer. With proper care, these boxers are meant to last.