iCrowdNewswire - Sep 21, 2016
White Mule Distillery – Let's make some shine!
We want to share the handmade, down-home, old fashioned moonshine experience – be a part of it!
We still believe in fairy tales. We still believe in the American dream – work hard, think outside sales aisle, take care of your family, your community, and never, ever quit. We believe that we aren't alone either and that is why we are bringing a slice of the Ozarks from the backwoods to your glass. We've got the hardest part done, but we still have a little ways to go. We need more barrels, to finish the tasting room/gift shop, and to buy a little more malt.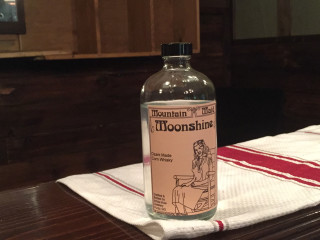 My name is Gary Lee. I grew up in the Missouri Ozarks. I'm a Veteran Soldier of over 8 years, an artist, and I love making awesome Whisky. I've been married 14 years to Misty and we have one daughter, and one on the way. Needless to say, I value family, community, and service to your fellow man.
I came up with the idea in the Army while deployed in service to our country. I started making some promises to myself for what I would do when I got home and the order was a tall one: support local agriculture, create jobs, and promote tourism in the Ozarks. Our product is for the people that work the land, work with their hands, and tip tap all day long on the keyboard wishing they could be out in the woods making some shine.
This campaign will allow me to realize this goal. I could go to a bank and get another loan, but the money isn't why I'm here. I'm looking for your support too. I want people to be a part of this because I'm not just making whisky, I'm investing in the Ozarks. Ten percent of my profits are going to after school programs in the rural, underserved areas of Missouri and Arkansas.
What We Need & What You Get
We need 17,900 dollars to put us over the top. We started with bare land and worked out the hardest and most expensive parts like having the distillery, equipment, electrical, and the parking lot constructed. However, we still need minor equipment pieces like pressure tanks, digital hydrometers, A/C units, etc. Above all we need to purchase more barrels, bottles, and grain. In order to scale large enough to launch our product with overwhelming success, we will need to purchase about 10k in grain alone.
We have some super soft T-Shirts, whisky barrels, planters, and other handcrafted goods to show how much we appreciate you helping us out.
In the strange event that we don't hit our goal, we will be buying grain with whatever funds we do manage to acquire.
The Impact
Your contribution will allow us to start out on the right foot and positively impact the lives of people in the Ozarks. You will allow us to fully realize our dream to create a true grain-to-glass experience and benefit Ozark schools. I've served our country for over 8 years, and I still continue to serve as a Soldier in the Arkansas National Guard. Help us serve our community in an everyday way by supporting our campaign!
Risks & Challenges
We have got a lot of work left to do still and a lot of whisky to make. We need to purchase a lot of grain in order to be able to produce enough whisky to hit our distribution requirements – about 15 thousand pounds. There is also the issue of barrels, bottles, and packaging.
The good news is that we have a winning team! Mike has several years of experience in industrial production and Fred has been making whisky with me for a long time. With Misty on board crunching numbers and keeping us in the black, I will allow me to focus on distribution, sales, and marketing.
Other Ways You Can Help
For only one dollar, you can contribute. However, if funds are tight (and believe me, I've been there), then help spread the word or roll your sleeves up and pitch in. There is still a lot of infrastructure projects around the distillery that we need help with and we want as much community engagement as possible!