iCrowdNewswire - Sep 19, 2016
Woolet Wireless Charging Pad – Power Everywhere
The first magnetic, the most versatile wireless charging pad for your devices. It's that simple.
Woolet is all about making our lives simple. We would love to add both Magnetic Charging Pad and Charging Mousepad to our Woolet family. We believe in combination of innovative technology and design and we are sure that our products will be a perfect addition to already existing ecosystem. So what have we prepared? It's the first Magnetic Charging Pad that you can install it in the car, stick it to the fridge, put it on nightstand or use it while you're cooking. The possibilities are endless.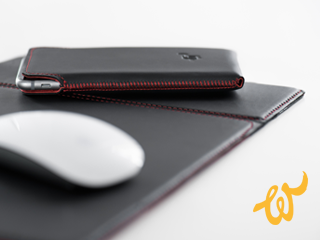 Meet the Woolet Magnetic Wireless Charging Pad, the most multifunctional charging device ever!

Over 20 features in a single Charging Pad!
Meet the Woolet Magnetic Wireless Charging Pad, the most multifunctional charging device ever!
"The Woolet Magnetic Wireless Charging Pad combines utility, technology and elegant corporate design. We set out to create the ultimate charging pad, that will change and simplify the way we charge our smartphones at work, home or while commuting and running errands. We think we came up with the perfect solution!" – Marek Cieśla, CEO
Over 20 features in a single Charging Pad!

Whether you work at a desk, drive all day in your car, or hang with your kiddos all day and have a lot of errands to run – the Woolet Magnetic Wireless Charging Pad is for you!
You can use it in your office as a corporate-style Mousepad and charging station combined, ending the need to carry your charger or power bank around. Your Wireless Mousepad will always be there waiting for you and your smartphone, ready to pump some energy!
Car companion
Spend a lot of time in the car, either driving around or standing in traffic? Don't worry. We can make your life a bit easier! The Magnetic Wireless Charging Pad with the car mount will make your phone accessible at all time. The built-in magnets keep your phone stuck to the pad with a little help from the Woolet Wooden case, putting everything you need – from GPS navigation to your favourite music or podcasts, all within reach.
But remember – don't text and drive!
Sidekick in the kitchen
You're cooking a tasty meal for your family. You need to check the recipe and your phone is lost somewhere in the house? Yeah, we know that scenario all too well. You can easily organize everything with the Magnetic Wireless Charging pad. Set it on the kitchen table with the dedicated stand or even stick it to the fridge. It won't fall down and you will always have your eyes on the recipe you need. Or just enjoy the nest exciting of whatever series you are binge-watching right now!
Guardian of your rest
After a long and tiring day, it's finally time to go to bed. The phone is almost dead, so you'd better charge it during the night. But where is the charger? Left at work? Maybe in another room? No, it has to be here somewhere, but where is that darn cable? You were already comfy, tucked in like a human burrito, and now you need to get up on a mission to find a charger. Don't let this happen again! Use the Magnetic Charging Pad by your bed or on your nightstand and stay cozy and warm in bed.
Our time is valuable, that's why our Magnetic Pad keeps it simple.
Just connect it to an energy source, put the device on the top and the charging will start in the blink of an eye. Simple.
Three inductive coils
What makes the Magnetic Pad special are its THREE inductive coils. Most ordinary charging pads are equipped with just one, which makes it impossible to quickly connect them the smartphone. With three, you will always hit the right spot, because the inductive field is much stronger. It doesn't matter where you put your device, it will ALWAYS work.
Suitable for iPhones!
Some of you gadget geeks might say: that it's impossible to wirelessly charge iPhones. IMPOSSIBLE IS NOTHING! We wouldn't abandon Apple users, so we thought of a way to connect your phones too.

It's the Wireless Charging iPhone Cover, equipped with the inductive technology transmitter, designed especially for Apple devices. Available for iPhones models 5S, 5SE, 6, 6S, 6 Plus, 6S Plus. Just put the phone inside the cover, then on the top of the pad. It's that simple!

The Wireless Charging Mousepad
Size: 305 x 220 mm / 12 x 8.7 inches
The Magnetic Wireless Charging Pad
Size: 170 x 100 mm / 6.69 x 3.94 inches
Wireless Charging iPhone Cover – 4.0" (iPhone 5s/SE)
Size: 145 x 75 x 5,08 mm / 2,8 x 1,2 x 0,2 inches
Wireless Charging iPhone Cover – 4.7" (iPhone 6/6s)
Size: 40 x 80 x 5mm / 5,5 x 3,1 x 0,2 inch
Wireless Charging iPhone Cover – 5,5" (iPhone 6 Plus/6s Plus)
Size: 163 x 97 x 5mm / 6,4 x 3,8 x 0,2 inch

RISKS AND CHALLENGES:
Production:
We want to make it clear that we are not going to compromise with the quality of our products. Since every one of them is 100% hand-crafted it takes more time to produce a piece. Any manufacturing project could face unforeseen slowdowns and unforeseen delays. We are aware of that, but taking our team's experience into the consideration, we think we can minimize the risk. We will do everything we can to meet the projected shipment dates.
Communication:
In the past, we've learnt that communication is the key and it is our priority to take care of every one of you, our Backers!
We offer you 24/7/365 on-line support. If you would like to ask a question regarding our campaign, product details or company or you would simply like to say hi, just write to support@woolet.co. Our support team will be happy to assist you with anything! We would like every backer to be informed about the project, so if you have any questions, please don't hesitate to ask!
INDIEGOGO CAMPAIGN
When will my order be shipped?
Early Birds orders will be shipped by the end of October 2016 and the rest in December 2016.
Do you ship worldwide?
Yes, your charger can be send anywhere in the world!
How will my order be shipped?
We use the national postal services of each country.
How much is shipping?
Shipment costs are already included.
Can I get a refund?
Please check out Indiegogo's policy:
https://support.indiegogo.com/hc/en-us/articles…
Does your product come with a warranty?
Yes, Woolet chargers come with a one-year warranty, starting from the day of shipment.
Warranty covers all defects of electronics and materials except:
damages caused by accident, misuse, abuse, unauthorized modifications, etc.
damages caused by contact with liquids
damages caused by not following the instructions included in the manual
damages caused by interference/repairs caused by third party, unauthorized by our company

Who will be responsible for any additional taxes, VAT or duties?
Any additional taxes, duties or VAT that may be applied to your order will be your responsibility. Please check your country's import duties before purchasing as it varies internationally.
I have a question for your team. Whom do I contact?
We are waiting for your inquires 24/7/365 here: support@woolet.co
Don't hesitate to ask if you have any doubts. Our team will assist you with anything!
FEATURES AND TECHNICAL
Is the charging pad waterproof?
The charging pad is tough and resistant but it's not completely waterproof. We do not recommend getting it wet, because the electronics inside may get damaged.
How should I clean the pad when it gets dirty?
Just like any other leather/suede item. Just be careful not to get it too wet, as this might damage the electronics.
Which smartphones are Qi-compatible?
A list of all Qi-compatible smartphones can be found in the campaign description in the "COMPATIBLE WITH" section.
Will using the charging pad damage my battery?
Of course, not! This is the safest method of charging.
How does the wireless iPhone cover work?
It has a built-in inductive transmitter, which allows your phone to be charged wirelessly.
Meet the Woolet Team
Our team has already created Woolet Smart Wallet, which raised $330k. We are providing 24H support through our web. Woolet Wireless Charging has no risk to become a scam project. We would love to deliver another great product that reached people all over the world. We already shipped more than 4 000 products including basic wireless chargers.