iCrowdNewswire - Sep 19, 2016
A Technocratic Ending of Revenge Porn
A free app that makes it incredibly hard to leak nudes and easy to convict if it happens.
Revenge porn has been causing serious harm for over a decade now. We all know people who have suffered because of it. With this piece of technology the majority of it can end immediately. The app will simply make it incredibly difficult to leak any nudes and will make it so anyone that does can be easily found guilty beyond all reasonable doubt after they are charged.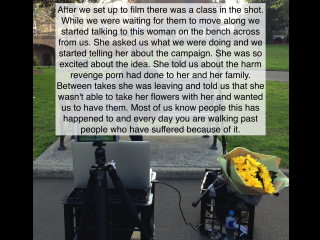 While reading this please think about how much you don't care about $5 and how much you hate revenge porn. Given how recent this problem is politicians are mostly a generation away from understanding the issue or how to address it. We have to do it for them. What do you have to lose?
https://www.facebook.com/technocratic.solution….
"Have a look, it's pretty solid, and well thought out."
– A computer engineer, who is a team leader at a leading technology firm and one of the smartest people I know.
Also, keep in mind that I am culpable of fraud if I don't pour all funds into creating the app and directly fighting to end revenge porn. So short of a name change, a fake passport, and a bank account in Luxembourg, I go to prison if I don't do what I promise.
The major impact of this is political. This is a three part global campaign to end revenge porn in any democracy. Simply, we will:
1. Create an app that meets the legal requirements of "beyond all reasonable doubt" so that anyone who takes a photo of a screen will be convicted.
2. Through the awareness garnered creating the app and the fact that it is free, take up a large portion of the market and have mass usage.
3. Help push for criminalisation in any democracy by notifying all users of who introduces any bill to criminalise and which way their local representative in the lower house and state representatives in the upper house (or local political equivalent) voted.
This problem became a serious issue when I was a teenager and I've seen friends have their lives shattered with no justice. In most of the country and the world this is still not a criminal offence and it remains hard to convict where it is. I am hoping to end the latter and do what I can for the former. Which will be a lot if the app is built.
The app will be using some of the best encryption software in the world. As open source it has been worked at from every angle with everyone being able to see the code. The project it is based on (Truecrypt) was audited a year after it was discontinued and they could not find any holes in it. We'll be using a project that kept working on that code. To open the app you will need to use your fingerprint if your phone can scan it or, if it can't or you cut up a lot of lemons, take a photo of your face (with the eyes open) as well as putting in a code. Whoever sends a photo will be able to add additional security like having to put in a randomly generated code that is sent to your email every time you open the photo. We will also be talking to google about having websites that host revenge porn being regularly indexed so that you can reverse image search your photos to see if they've been leaked. There will also be the option to switch your face for a selection that come with the app.
As for the money. We are asking for a lot but these things cost a lot. The complexity of the features I have come up with so far have meant that the app could cost into the hundreds of thousands of dollars and I keep coming up with, and having to write down, more features while I'm trying to go to sleep. We will also be seeking further legal advice during the development to make sure the convictions are as clean as possible. This crowdfund is to cover the initials costs of guaranteeing the app. A Kickstarter campaign will be launched in the near future to raise a further $400,000 to cover server and maintenance costs for five to ten years.
As for the perks, I don't have a whole lot to offer but I am offering what I can (requests will be considered).
This project is relatively risk free. This technology is a necessity so I am confident that one way or another we can get it made. It's simply a matter of financing and a little creativity. And ultimately, this is an incredibly cheap way to stop this level of harm. We could see the end of almost all of it within six months to a year. This is one of those causes where you're getting serious value for money.
So please, share the campaign online. Give what you can spare. Tell everyone you know about it. And help me make the world a happier and less vile place.
UPDATES:
– People in the industry have told me that normally when you create an app you have to keep all ideas confidential till the launch because patenting laws hardly apply here and others will steal your idea. I just want to say that I know, I read economics (for fun, by the way). This technology is a necessity and I have every intention of creating competition around this idea. I also have every intention of winning that competition.
– When we're referring to it being unhackable we're not referring to an advanced persistent threat (APT). We're referring more to keyboard warriors than teams of engineers. But the servers we're looking at protect billions of dollars worth of information and have never been hacked, so we're fairly confident. And for the phone itself. The app will lock after a week of not being updated. The android and iOS hacks that people use to control the root of their phones are usually two software updates behind, so we just have to make sure the app can't be opened anywhere near the OS being that old.