iCrowdNewswire - Sep 19, 2016
M24 Powered Speakers from Peachtree Audio
Say hello to the Peachtree Audio M24! A powered speaker for the music aficionado.
Help us bring one of the best looking, great sounding and feature laden powered speakers to market. The M24 comes in a beautiful piano black or bamboo finish and is designed to complement any interior. It features numerous inputs, so you can connect to a wide range of devices and listening applications including: computers, mobile devices, digital audio devices, analog audio devices and even turntables! Note: we will reach out to backers after the campaign finishes to request their color choice
From the Decco to the M24
Ten years ago Peachtree Audio recognized that music lovers were assembling great music collections on their computers. So, we introduced the original Decco, an integrated amplifier with built-in DAC (digital-to-analog converter). For the first time music lovers and audiophiles could easily convert the digital 1's and 0's of their music files into true HiFi sound – and the computer audio industry was born!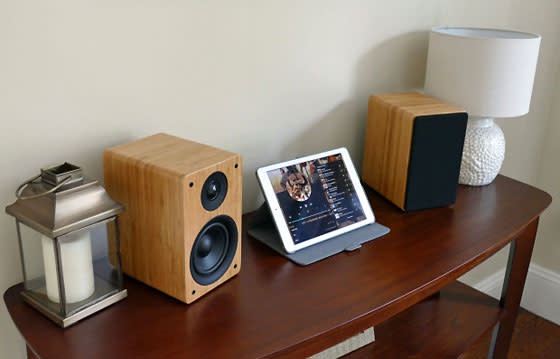 Today, Peachtree knows you want great sound from all your sources and from all your devices. Enter the Peachtree Audio M24 powered loudspeaker!
Most Powered Loudspeakers Don't "Get It"!
Powered loudspeakers are convenient and cost-effective. But most are severely limited in connectivity. Many offer ONLY a 3.5mm analog input jack. Want to hear the music on your computer at its best? You need a USB digital input! Want to quickly stream your Spotify or Tidal playlist? Bluetooth would make it easy. Want to enjoy music from another digital device? You'll need an optical digital input. Are you loving vinyl these days? Then you'll be frustrated with no phono input.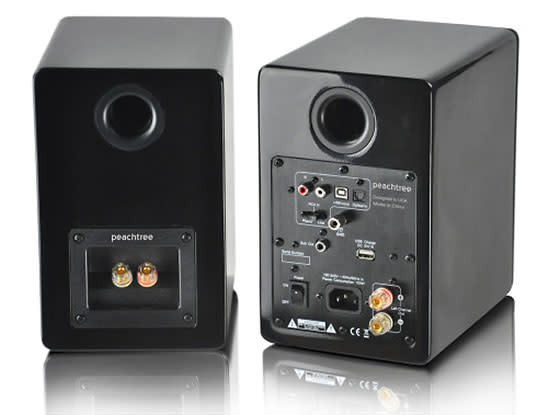 Peachtree's M24 gives you ALL these input options! You're no longer limited by a lack of connectivity. After all, what's the point of even a great sounding powered speaker system if you can't listen to your vinyl (assuming you've discovered the joys of record collecting)? Or why buy a powered speaker that throttles the quality of your entire computer music collection because you have to send every single note out through the computer's headphone jack?
So just as Peachtree identified and met the needs of music lovers a decade ago, today we're bringing to market a great sounding powered loudspeaker that fits your needs and your space and budget.
What Is the M24?
The M24 is a pair of powered loudspeakers. Powered speakers have the electronics built right into them so you can literally connect your sources and enjoy your music without lots of different devices and wires. Since the drivers and amplifiers are designed as a system, the value that powered speakers offer is hard to beat since they produce sound that typically costs $100's more to achieve using traditional products. The M24 features:
24/96 USB digital audio input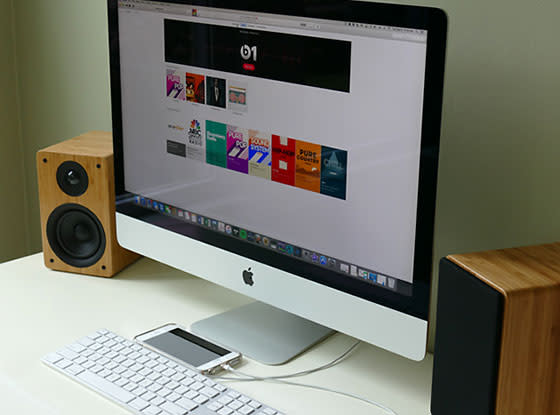 Enjoy up to 24/96 digital audio direct through the USB input. Or connect wirelessly via Bluetooth from a PC or mobile device (iPhone 6s Plus shown).
24/96 optical digital audio input for an audio streamer, TV or other digital device

The M24 is shown here with a SONOS Connect – a great combo for superior multi-room sound!
Phono Input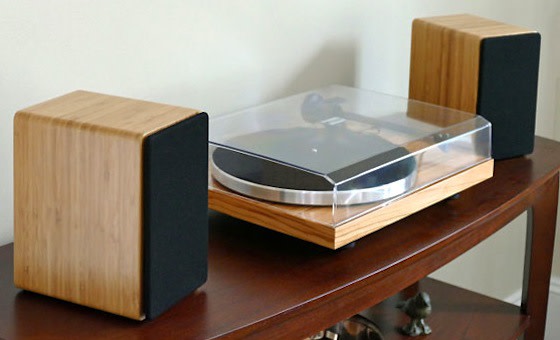 Connect your turntable directly to the M24 – no separate phono preamp needed! The M24s plus turntable combine to provide a budget-friendly, high performance HiFi – a great way to get started toward your ultimate Peachtree Audio system!
Bluetooth for wireless connection from a mobile device or computer (including A/V Remote Control Profile)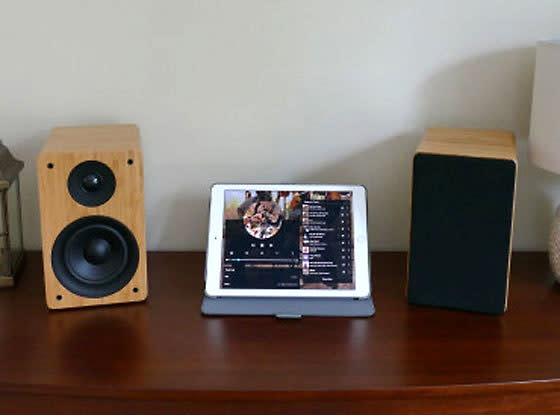 Enjoy wireless Bluetooth streaming! Select tracks and play/pause with the M24's remote control. (Shown with a 9.7″ iPad.)
Real wood cabinets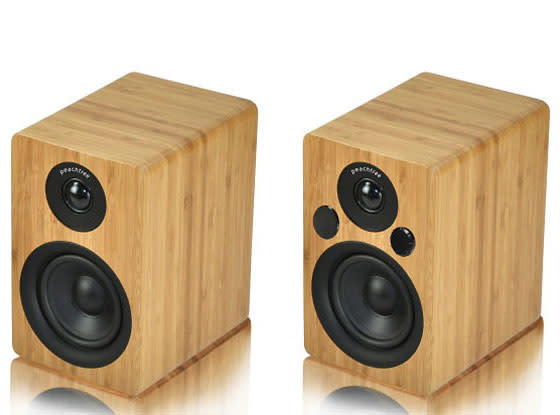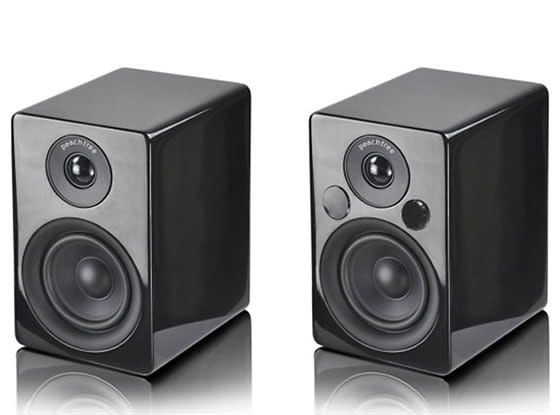 Choose gorgeous Piano Black or real Bamboo. These computer renderings show the IR receiver window and volume control/input selector in the right speaker. Production speakers will include grilles.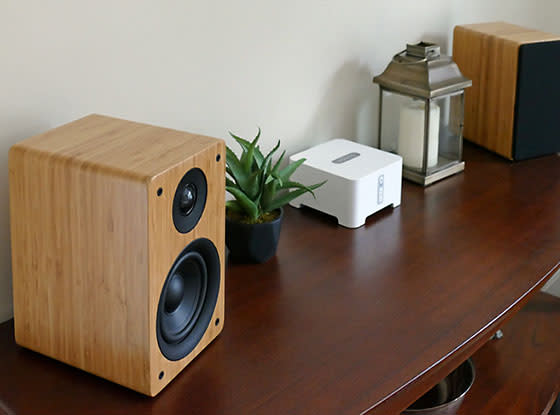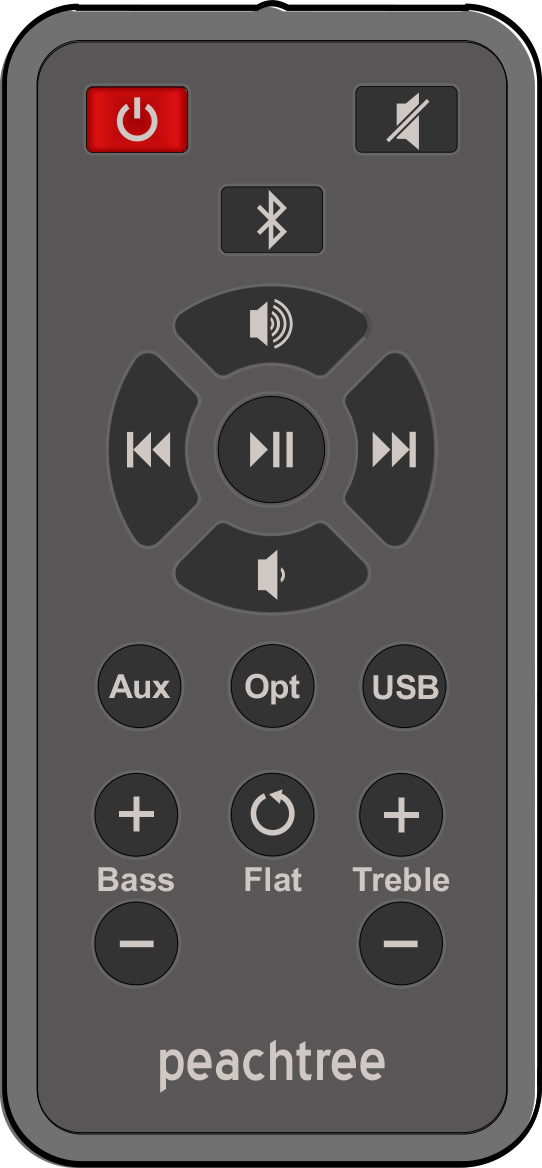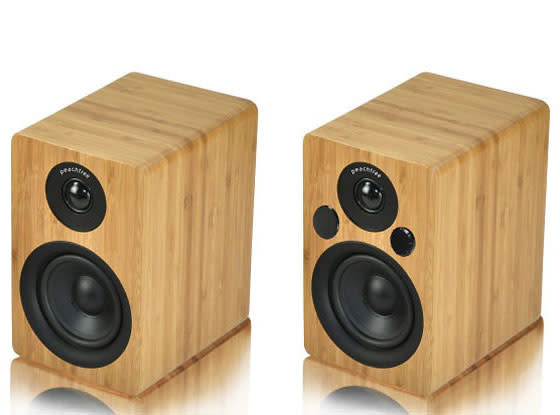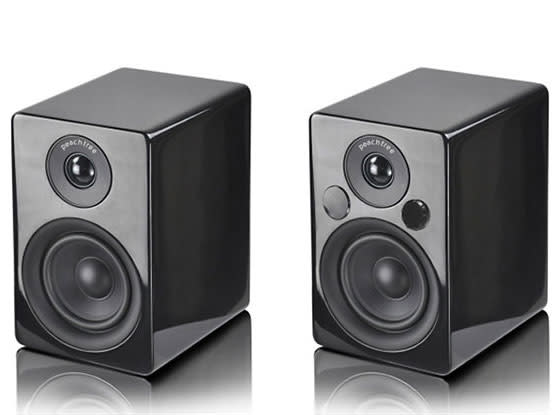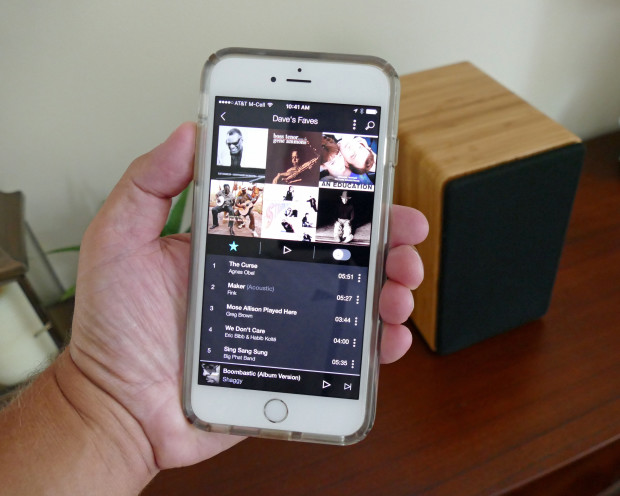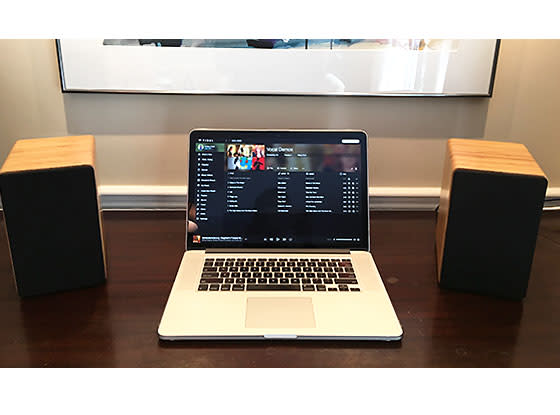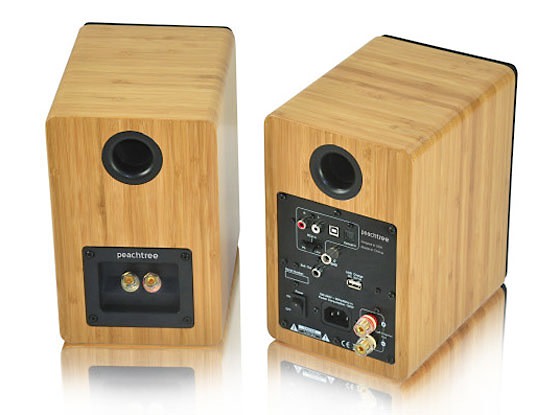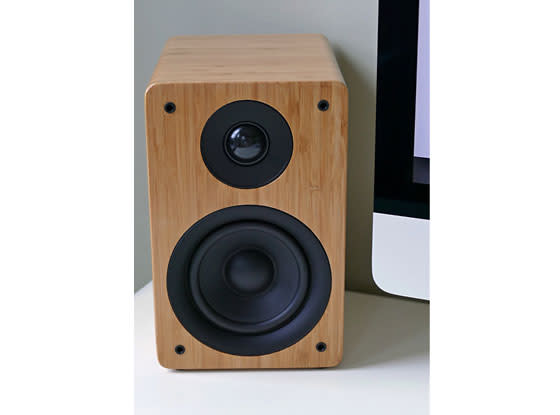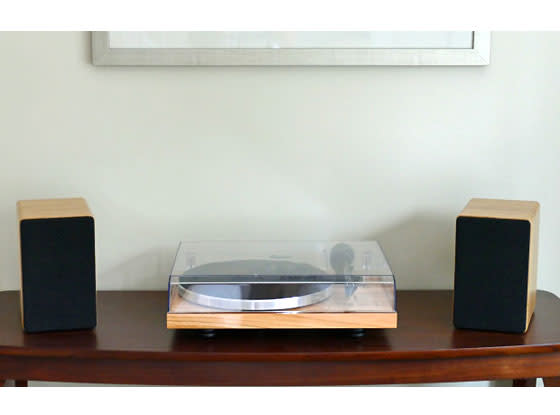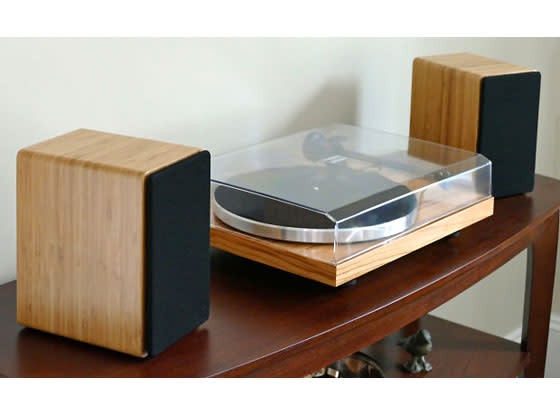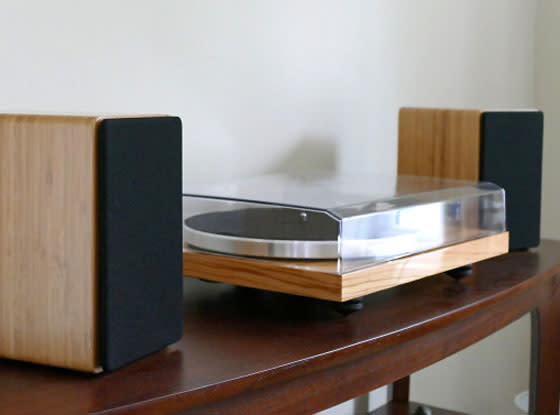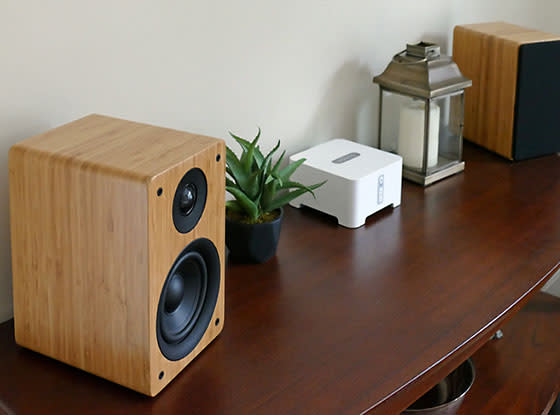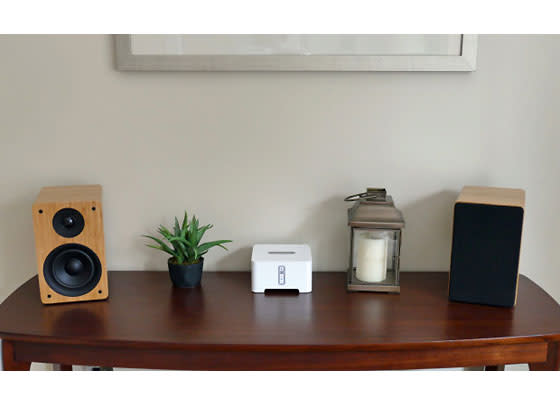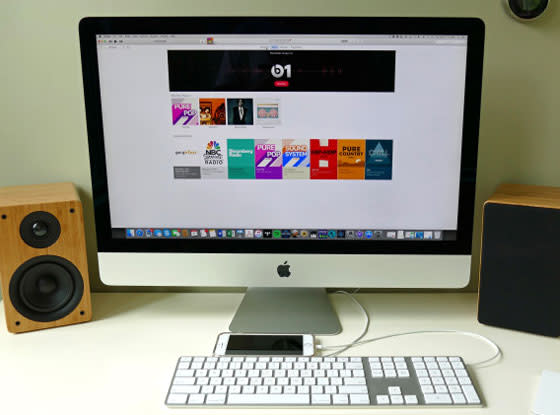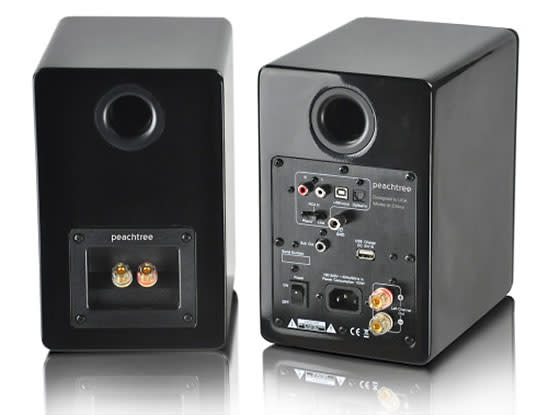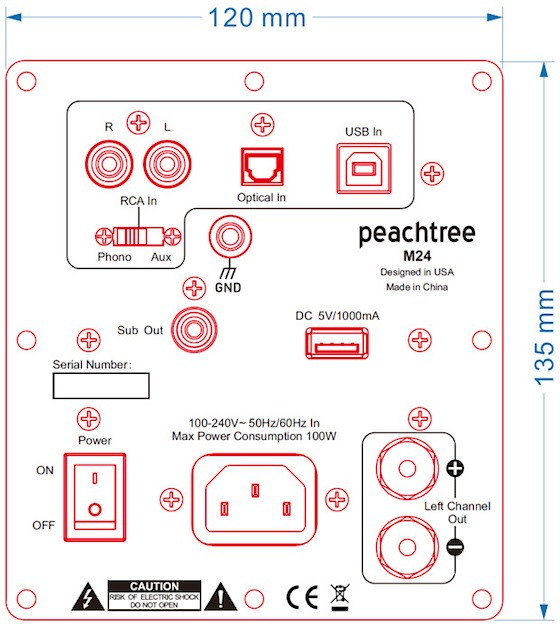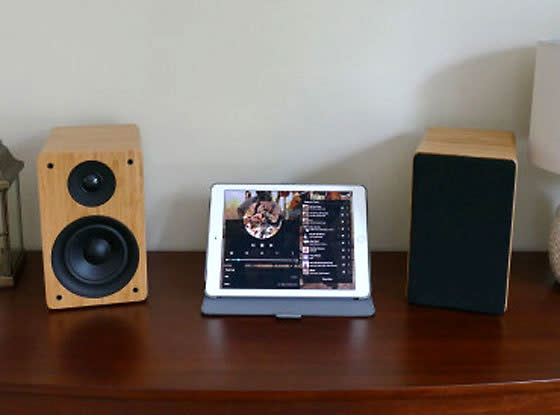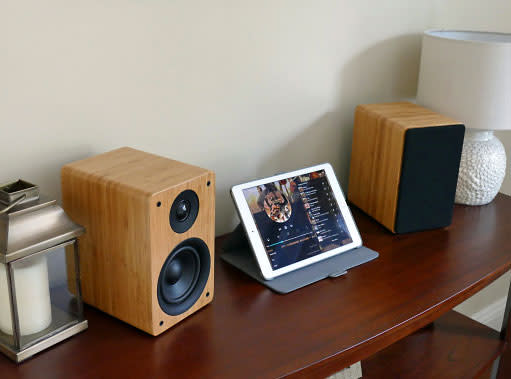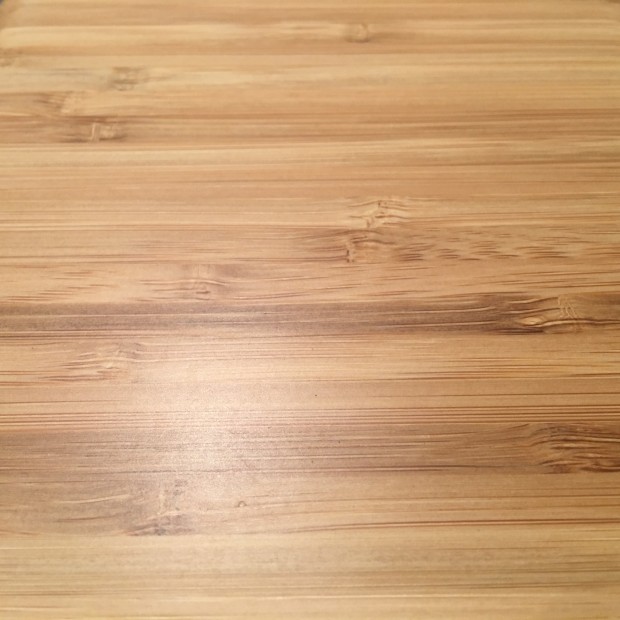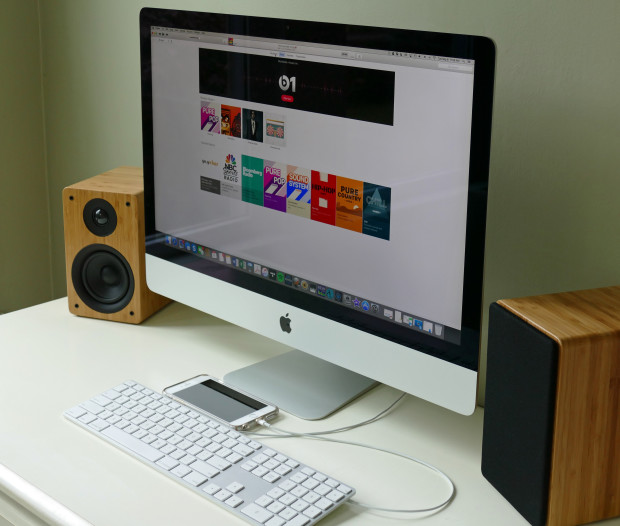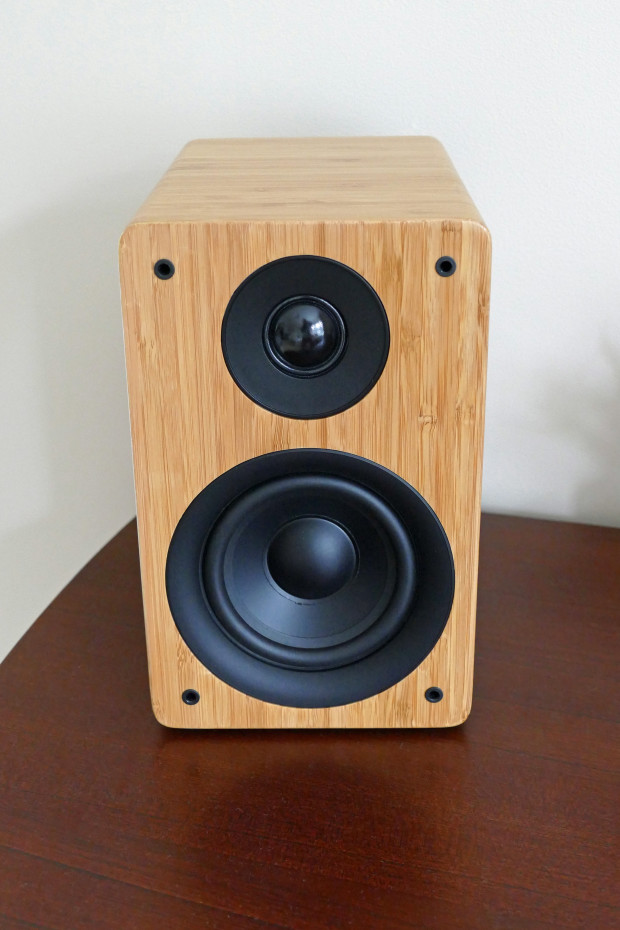 Additional M24 Features
4″ fiberglass woofer
1″ soft-dome tweeter
Subwoofer output for additional bass
5V USB charging port to keep your mobile device charged
IR wireless remote control with power, input and bass and treble controls
Front panel volume control and input selection
Front panel LEDs indicate power and selected input
Right-sized at 8.8 inches tall, 5.5 inches wide and 8.4 inches deep (including connectors)
It's from Peachtree so you know its going to sound great!
The inputs of the M24 should be enough to accommodate all of the sources people use today to enjoy music at their desk or in their home. If you need more than the M24 offers, you may want to consider one of the Peachtree nova models instead!

Bamboo cabinet sample – gorgeous!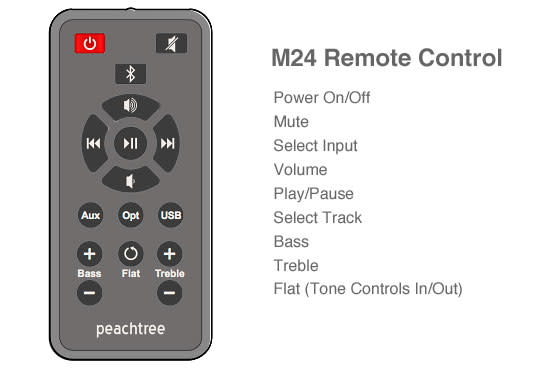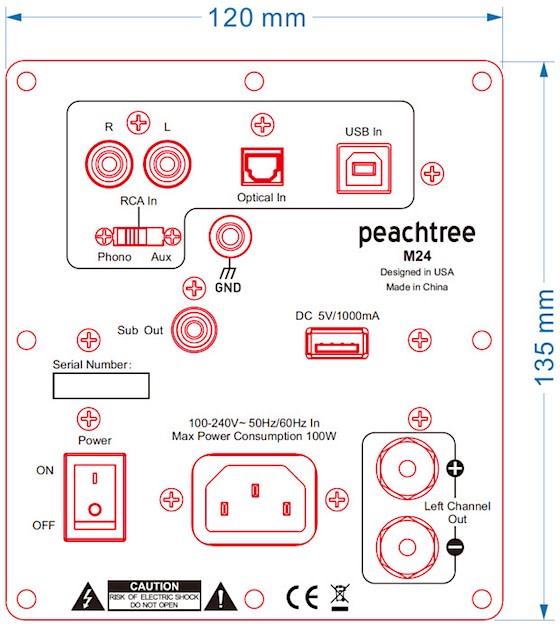 Draft drawing of M24 rear panel
About Peachtree Audio
Peachtree Audio has an established track record of producing high quality and high value audio components and speakers. We've merged old-school audiophile thinking, where sound quality always comes first, with a decidedly new-school digital/computer audio savvy mindset.
The result has been over twenty award-winning products and distribution in over 30 countries. Peachtree products have been featured in The New York Times, Rolling Stone, GQ magazine and many other great publications.

We're simply crazy about music and high performance audio. Our headquarters is located in Bellevue, Washington with members of our team spread throughout the US from North Carolina to California.
What We Need and What You Get
We need funds to get the M24 project through development and its first production run. Typically we fund all of our own developments and production runs, but we are launching so many other products right now, that we need these funds to ensure that this product doesn't get "bumped" by other products on our road map.
In return for your contribution, you will receive a pair (or two if you Double Down!) of M24s when they become available. You will enjoy the fruits of our labor and your investment that helped to make the M24 a reality in 2017! The M24 will have a retail price of $369 in the US. Taking advantage of this unique opportunity – help us launch the M24! You'll get great sound and a great value. You will be rewarded by enjoying MUCH music for MANY years!
The Impact
It is a big deal for a relatively small company like Peachtree Audio to create and launch a new product. So for us to launch several new products (we are currently in the middle of launching our new generation of nova amplifiers), all around the same time, is a HUGE deal. And the M24 is just TOO good to keep people waiting until 2018.
Peachtree Audio has a proven track record on indiegogo.com, having completed a very successful campaign in 2014 funding the devlopment and launch of the deepblue2. The deepblue2 began shipping at the end of 2014 and has become one of our best-reviewed and best-selling products of all time!
Risks & Challenges
As with any project, there are always schedule and cost risks. Ask anyone who has ever built their own home or tackled a major home renovation. The biggest risk you are taking here is that the project could take longer than originally planned. However, since your contribution prices are locked-in now, you are NOT taking a cost risk – we are. If we overshoot our cost target (and many projects do) you will not be asked to make another contribution. But, if we experience an unforeseen delay (and many projects do), you may have to wait a little longer to receive your M24s. We will do our very best to minimize any delays to the project, but there is always the possibility that SOMETHING can and likely will cause a delay. Our deepblue2 project was delayed by a month due to additional development time being needed (that's on us) and port labor issues along the US west coast (not under our control) that caused shipping delays. We had planned to begin shipping the deepblue2 in November and ended up shipping most of them in December. These things happen. On the flip side, this is not our first rodeo. We've been designing and building products for nearly a decade now, so we have the right processes and people in place to help ensure success. It is simply that there are variables that we have little direct control over, so we appreciate your understanding.