iCrowdNewswire - Sep 19, 2016
Fat Toe Adventure Company LLC
Adventure FAT TOE Style: LOVE for people and planet. ADVENTURES ON DEMAND!
EVERY 1 DOLLAR you donate enters you into a drawing to win a free FAT TOE t-shirt and hat! We are a new kind of adventure company! Fat Toe Adventure Company will provide adventures ON DEMAND! Why sit in your hotel, dorm room, airport, or home wondering what to do with your extra time? Use your spare time to ADVENTURE! Includes: 1. Pick up and drop off service. 2. Any needed gear or clothing (depending on the adventure.) 3. A guide if wanted. Let us be your ADVENTURE CONCIERGE!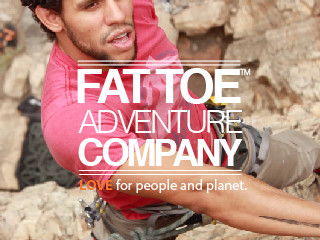 OUR JOURNEY
Our journey isn't just our business, it's the life that got us to this point. It's the people that have loved and helped us along the way and it's the trials and decisions(good and bad)we have lived through to become who we are.