iCrowdNewswire - Sep 17, 2016
Mead Taproom & Gastropub
Help us build a mead taproom and gastropub in Santa Fe, NM!
We're on a mission to bring mead back to the masses, starting with Santa Fe, New Mexico. Mead is the oldest fermented beverage known to man and it's been out of the spotlight for way too long! Made with honey and brewed like beer, it has surprisingly complex flavors you'll want to experience again and again. Our very own award winning Falcon Mead will be the star of a new mead taproom and gastropub opening in the fall of 2016… with your help!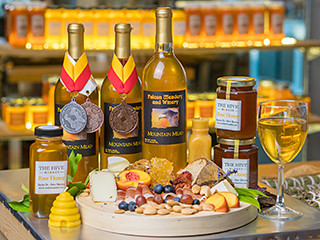 Mead (n): a fermented beverage made of honey, water, yeast and sometimes fruit. Nectar of the Gods. Floki's fave.
While there are many great microbreweries and wine bars across the country, there are few that serve mead. Here in Santa Fe, a.k.a. "The City Different," we're living up to our city's reputation by creating a taproom and gastropub that serves locally sourced mead, local micro-brewed beers and ciders. The local Falcon Meadery, which we are in the process of purchasing, will be the primary source of the mead we serve and, honoring mead's history as the first fermented beverage made by man, we are creating The Root Cellar taproom to make you feel as though you've traveled back in time to drink your mead with the vikings… or Tyrion Lannister.
When you visit The Root Cellar we know you're going to want some delicious, expertly prepared food to accompany your mead, beer, or cider. The Root Cellar taproom will serve a new high-end gastropub menu created by Chef Greg Menke.
Our Story
Chef Greg Menke owns The Beestro (open for four years now, a popular lunch spot with both locals and visitors) and The Hive Market in downtown Santa Fe. Greg loves anything that has to do with honeybees and has successfully started and sold honey bee-centric businesses in both Santa Fe and Hawaii. He also holds a degree in culinary arts and his skills will be prominently on display in the new gastropub.
The Hive Market, which has been open for almost a year, sells artisan and craft items as well as unique local foods from New Mexico. We are committed to sustainability and selling goods that are made here. We believe it's important to support other local businesses and most of the honey we sell is from northern New Mexico.
We've already raised a majority of the money required for the commercial kitchen, but we need a bit more to complete the build-out for that and for The Root Cellar. Our goal is to open by November 1, 2016.
What Will We Do With the Money You Give?
Buy equipment for the commercial kitchen: walk-in freezer, refrigerator, convection oven, range: $30,000
Build a refrigerated chill room for the mead: $11,000
Renovate the restrooms: $5,200
Furnish the bar – tables, chairs, bar equipment: $11,300
Plates, glasses, silverware, POS system, server station: $7,800
New lighting: $2,100
New floor: $8,000
Buy tables and chairs: $8,000
Signage: $1,900
What You Get
We have many more perks than most campaigns. Here's why: unfortunately we cannot ship mead everywhere in the United States yet, and some of you may prefer your honey straight up rather than in a beverage! For these reasons, in addition to our mead we are offering our local honey as a perk along with other honey related items that make for an attractive gift basket for the upcoming holidays.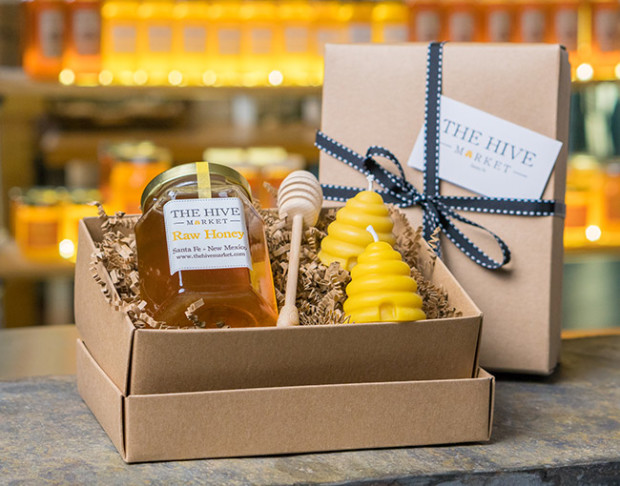 We are also bundling a custom drinking horn and holder with several of our perks. These are custom made so the one you get may look slightly different than the one shown here.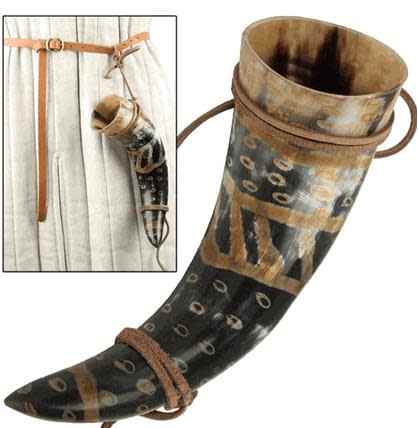 For those who wish to sample Chef Greg's gastronomic skills, we are offering custom dinners in the Root Cellar.
If you want to learn how to make mead, our head meadmaker at Falcon Meadery, David, will personally show you how it's done.
If you are a mead hobbyist and think you have a killer recipe, submit it and David will recreate it. The Hive Market team will sample and select the two best recipes and those drinks will be named after their creators and served in the Root Cellar.
Possible Risks
The opening of the taproom is contingent on us getting a liquor license. The location was previously home to two bars so we are confident we will receive the license. We have already applied and should have a firm answer in mid-September.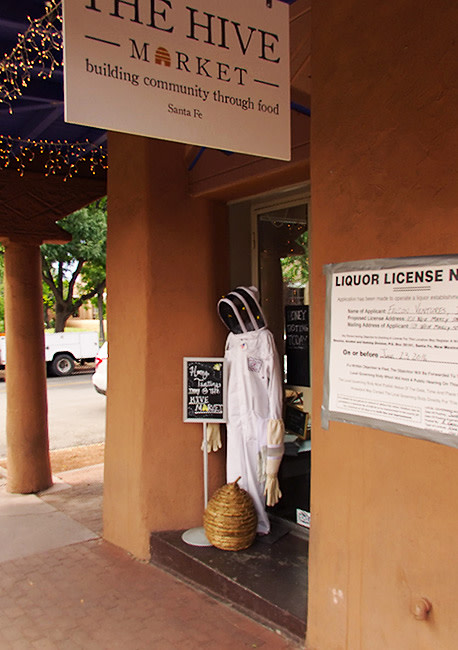 Medieval Fun
For locals and out of town visitors who may be in Santa Fe on September 17 and 18th, come see us at the Santa Fe Renaissance Fair, a celebration of all things medieval at Los Golindrinas. Stop by the Falcon Mead booth and enjoy a glass of mead!
Please help us reach our goal of creating a world-class mead taproom and gastropub, the only one in New Mexico. And if you know of anyone who might be interested in our project and perks, please send them to this Indiegogo campaign and share the love!