iCrowdNewswire - Sep 16, 2016
Paralenz
World's Greatest Action Camera for Diving.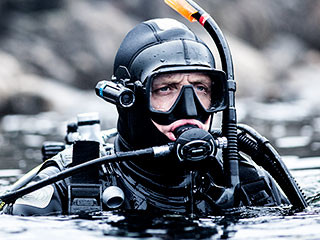 Just dive. The Paralenz Dive Camera is tough, smart, and reliable so you can focus on what matters the most – your dive.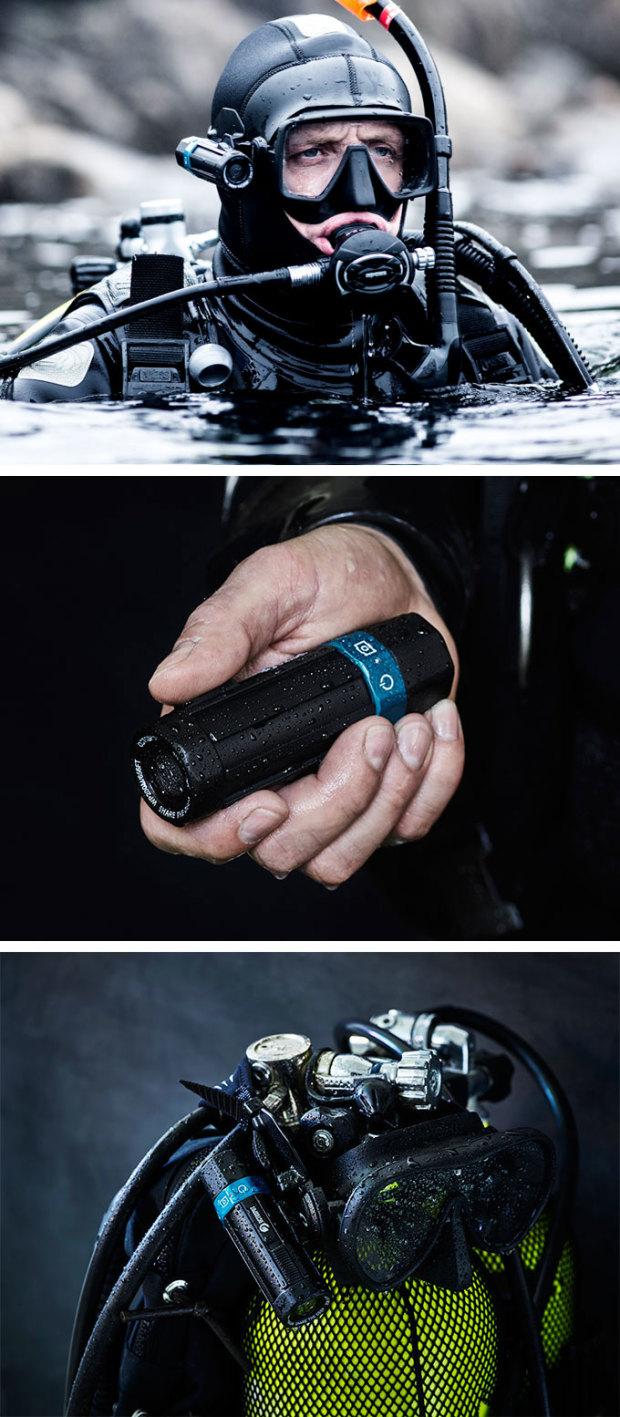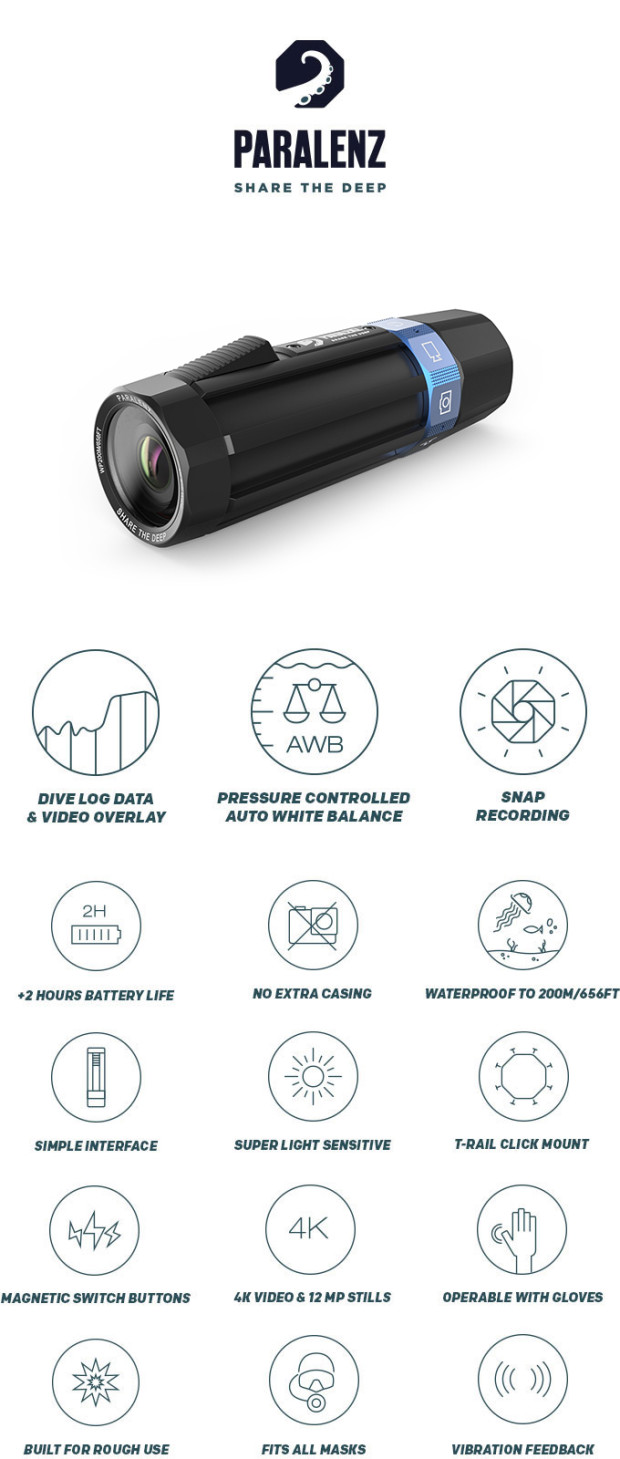 Purpose-made. No action camera is designed with the extreme demands of divers in mind. Until now.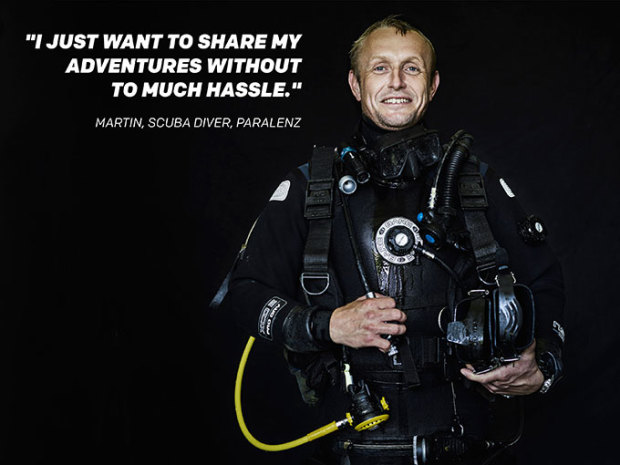 Reliable. As divers, we have high demands for the tools we depend on. We want a camera we can count on for quality recordings without worrying about it breaking or leaking.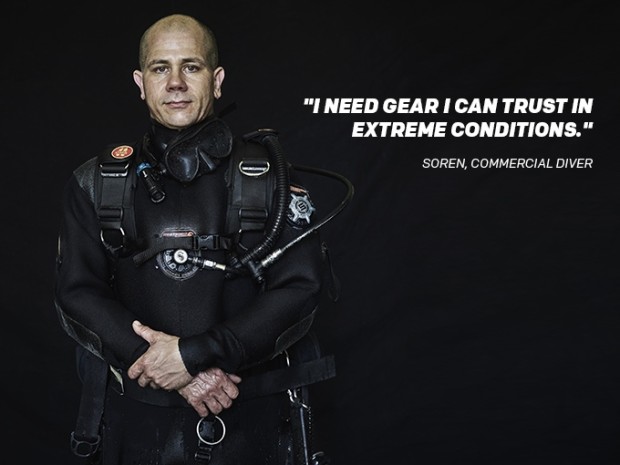 Tough. The underwater world is a tough place meant for tough people and tough products.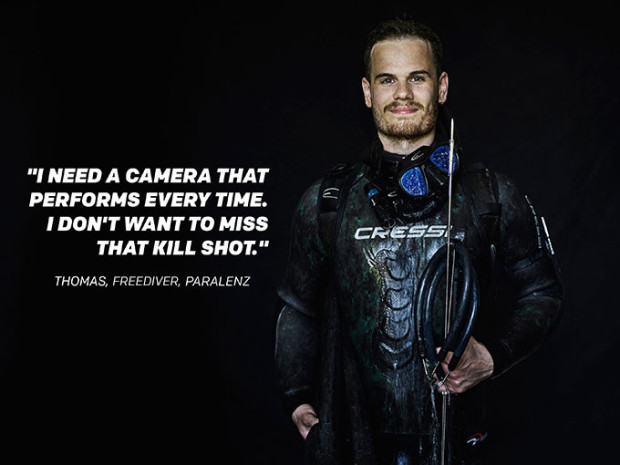 Engineered by divers for divers. Inspired by our own dive gear we know that any product for diving has to be tough, easy to use, and able to go deep.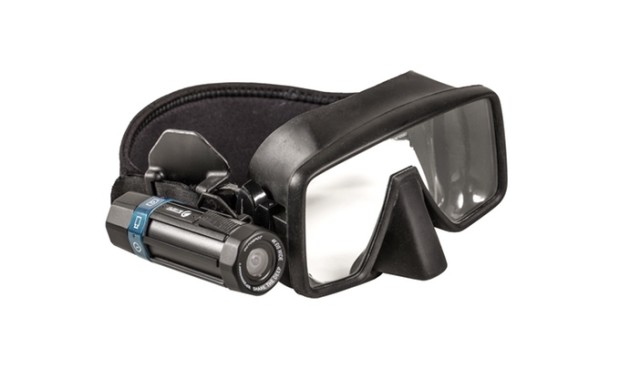 So we've made the Paralenz Dive Camera in anodized aluminum and polycarbonate, with an easy-to-use two-button design, and with the ability to record at a depth of 200 m/656 ft.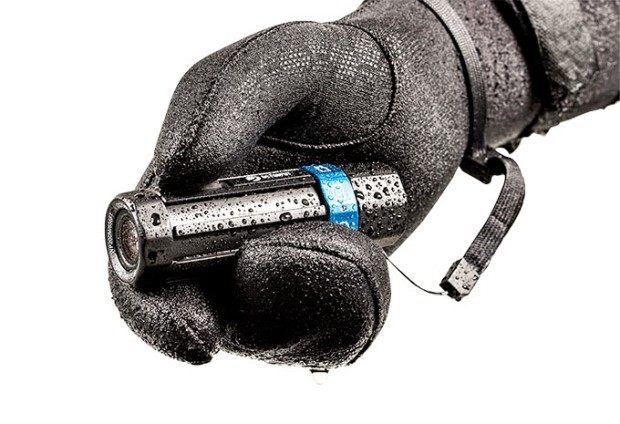 Smart cam. To further enhance your dive experience the Paralenz Dive Camera has a pressure sensor for logging your dive in terms of depth and temperature, and for automatically adjusting the white balance according to your depth.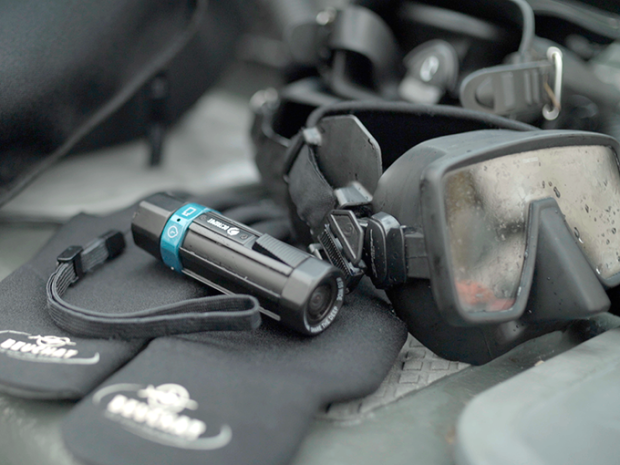 Worry-free recording. Paralenz Dive Camera is fully comitted to make it as easy as possible to capture and share your dive. When diving you should not need to fumble with buttons or tweaking irrelevant settings.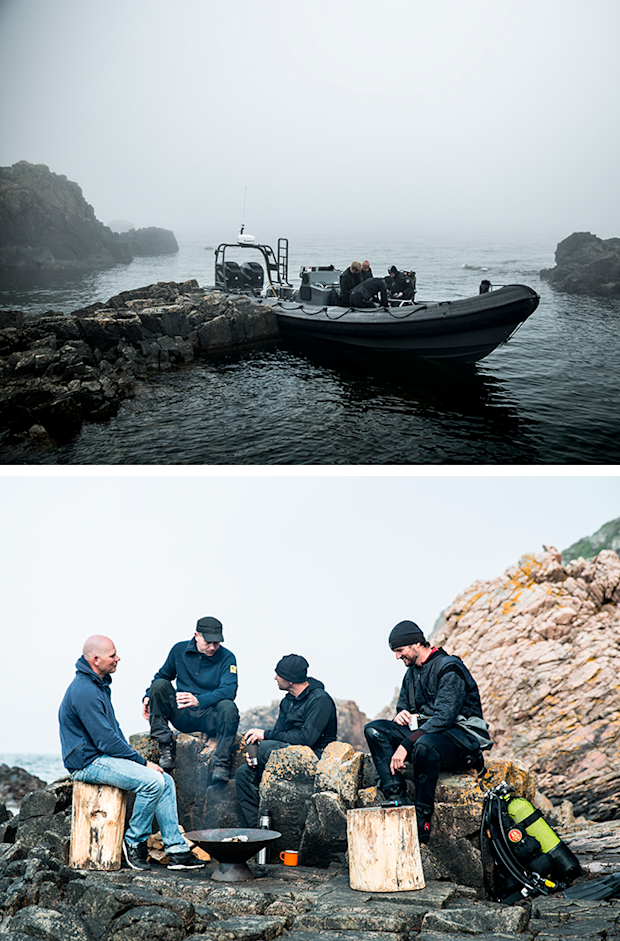 Is it only for diving? No, the Paralenz Dive Camera is perfectly capable of recording above water. Features designed for the extremes of diving also make recording easier above water.



Share the full experience. Equipped with a temperature and pressure sensor the Paralenz Dive Camera can log your dive and display your data together with your videos. At what depth did you see that manta ray? Now you know
Intuitive navigation. Relive your dive by sliding easily through your dive data in the Paralenz App.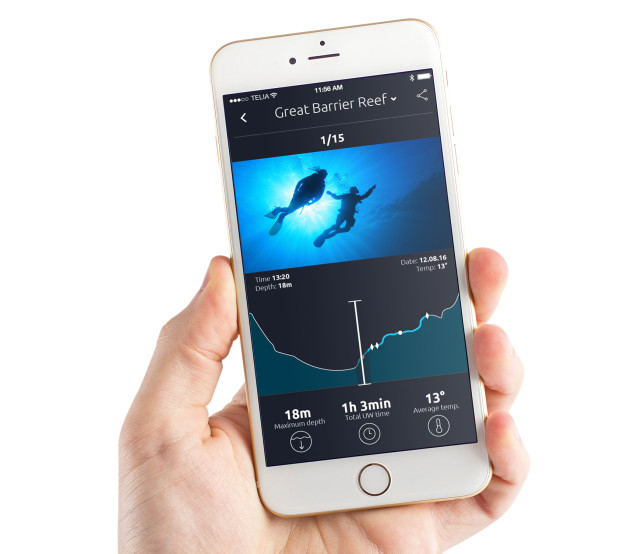 Navigating through your dive data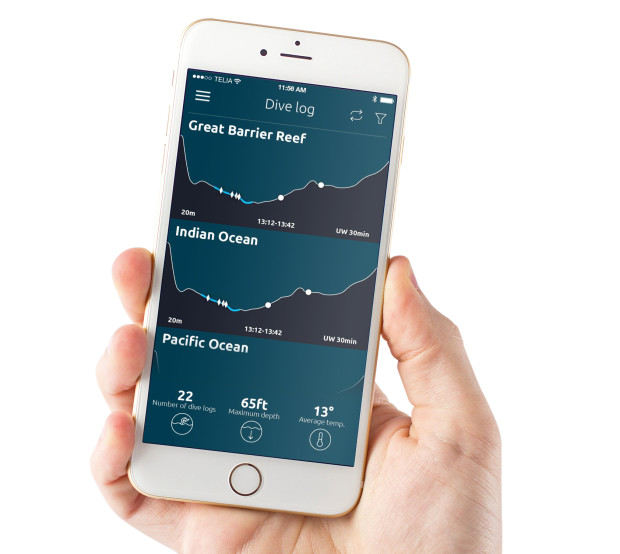 Each dive have a specific dive log in the Paralenz App


Forget filters. With Paralenz you have no need for color filters. The Paralenz knows exactly how deep you are and adjusts your videos accordingly.
Colors underwater. As a diver you know that the deeper you go the more colors you loose. The first colors disappearing are red, orange and yellow. That's why most underwater footage captured below 10 m/33 ft. turns green.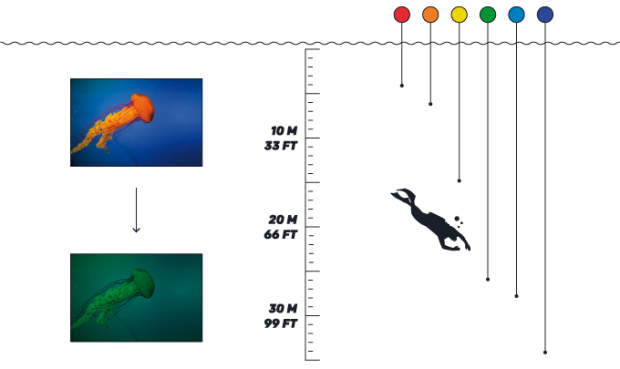 Auto white balance. The Paralenz Dive Camera is the first action camera in the world that automatically adjusts the white balance to match the depth you are at.


Snap Recording. Hold down the Activation Switch for 3 seconds and create a Snap Recording (short video clips) for quick and easy sharing.
Adjust and share. When returned to the surface you can easily view your Snap Recordings on the Paralenz App. The Snap Recordings are automatically created. Adjust the beginning and length of the movie clip and share it with friends and family.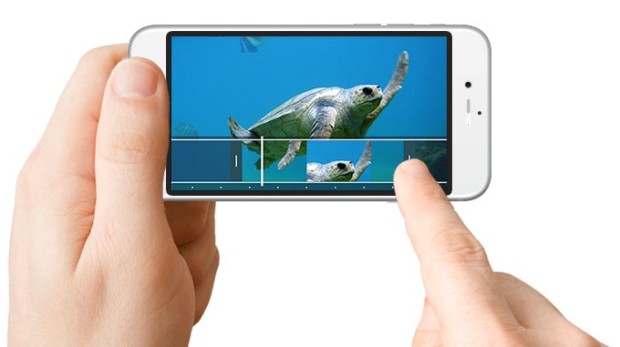 Quick adjustment of Snap Recordings in the Paralenz App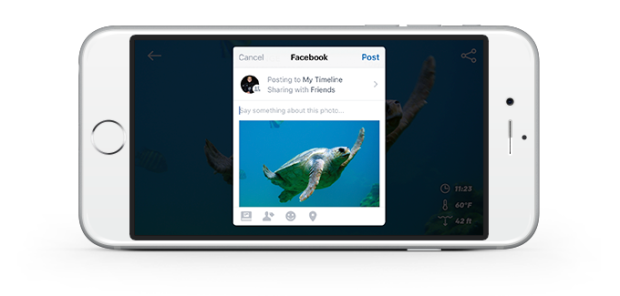 Share your Snap Recordings easily through the Paralenz App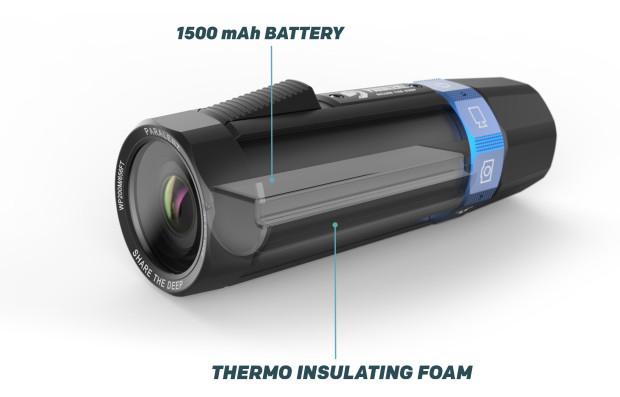 Battery for hours. The Paralenz Dive Camera is insulated by with Thermo foam minimizing battery discharge in cold water. In combination with the aluminum housing, it also makes the camera shockproof – so no worries if you drop it on the deck of a boat.


Go deep – very deep. Record and log your dives down to a depth of 200 meters / 656 feet. This camera is built to go deep.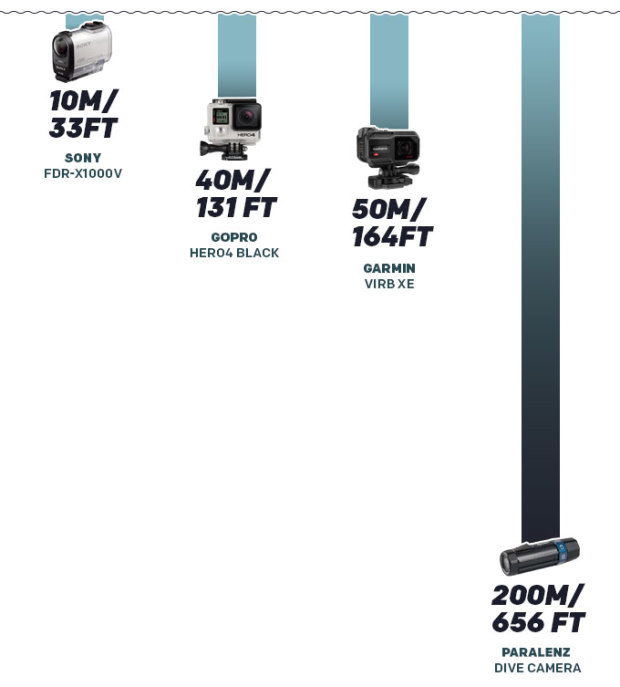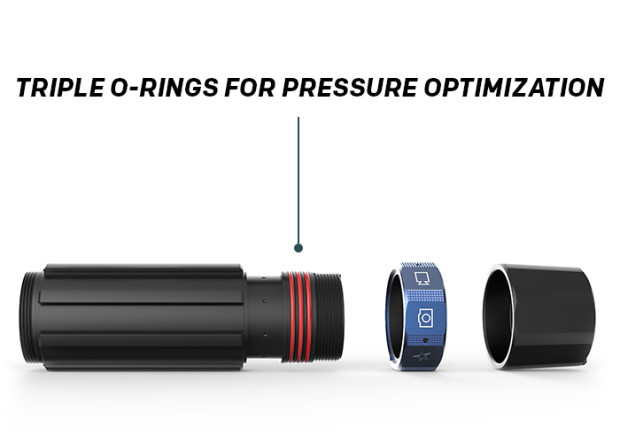 Pressure optimized. The most stable shape under pressure is that of a circle. A round housing made in aluminum with double O-rings is a way of obtaining maximum depth performance.

Use it with gloves. The large magnetic activation switch can be located by touch and is designed specifically to be used with neoprene diving gloves (tested with 7 mm neoprene gloves).


No fumbling. We have based the Paralenz Dive Camera interface on a familiar design – the dive torch. This makes for an intuitive use and easy location of buttons by touch.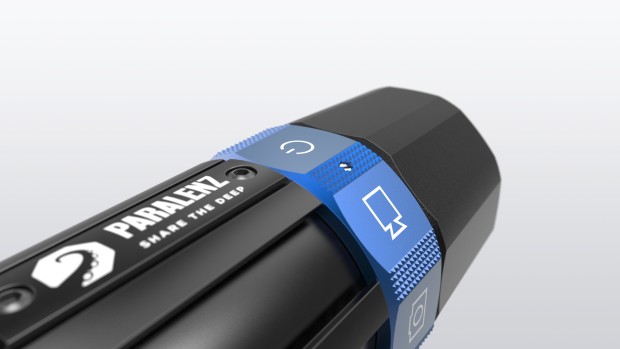 Screen. For easy access to depth, temperature, battery, time, and recording mode data, a 0.5″ display is placed in the camera's rear end.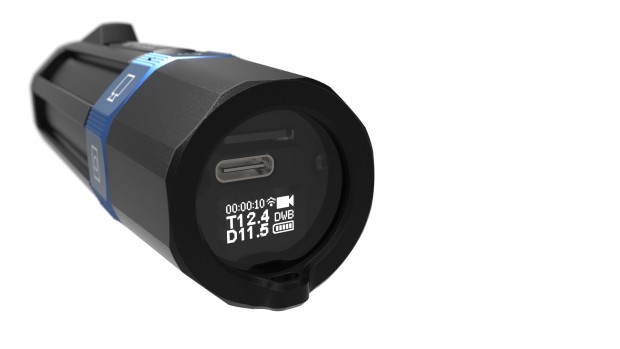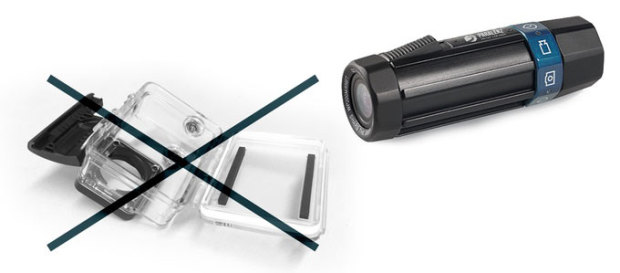 Built-in toughness. There are so many benefits from not having to put your camera in an extra casing – lower weight, smaller size, no scratches on the inside of the dome port, and no fogging up of the lens.

See more. Lots of sun and crystal clear water is not always the case, so the Paralenz Dive Camera has a sensor that is capable of filming in low light and murky waters.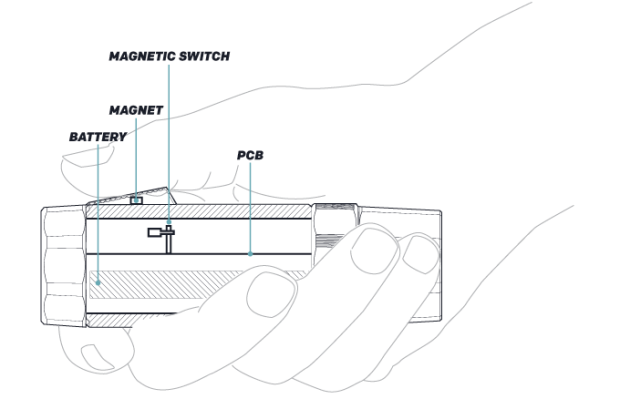 Smart buttons. Magnetic switch buttons have been used in diving gear for decades. By eliminating physical connection between the buttons and the internals of the Paralenz Dive Camera maximum waterproofness is ensured.

High resolution. Top of the line processor and sensor delivers video in 4K Ultra HD, slow-motion in 4K – 30 FPS, 1080p – 100 FPS, 720p – 240 FPS, and 8 MP images. The resolution and frame rate is pre-selected in the Paralenz App.

Easy mounting. The T-rail Click Mount located around the camera enables fast and easy mounting of all sorts of accessories. No need for tightening screws or bolts – the camera is locked safely in place.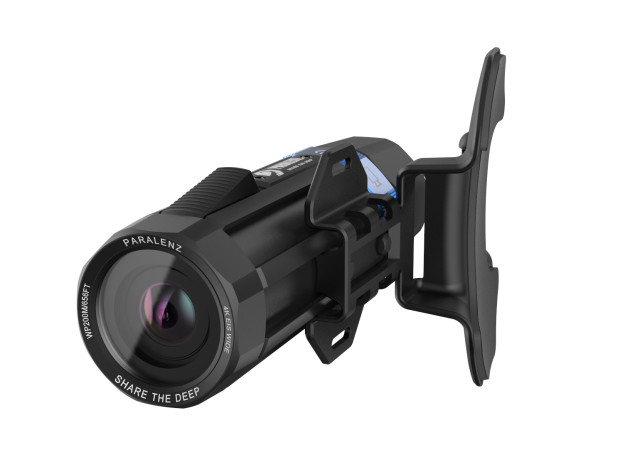 1st person view. With the Paralenz Mask Mount, you can easily capture video from your own point of view.

Physical feedback. When activating the Activation Switch a small vibration can be felt in the camera. In this way you always know when you have activated the camera.

Muscles and brains. Paralenz Dive Camera is not only tough but packs the best camera specs.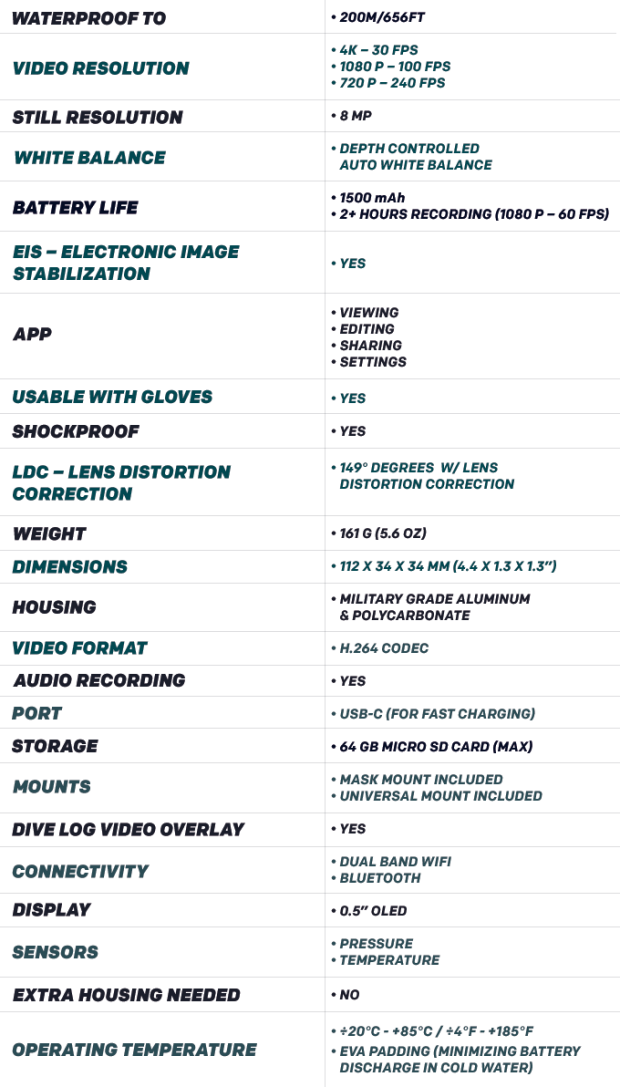 No shaky videos. Built-in EIS (Electronic Image Stabilization) reduces the majority of vibrations in your footage and causes videos recorded on a shaky bike ride or while running to be much more enjoyable.

No fish-eye. Action cameras are notorious for their videos with a funny bulgy look. But not Paralenz. The camera's software corrects the distortion and flattens your videos.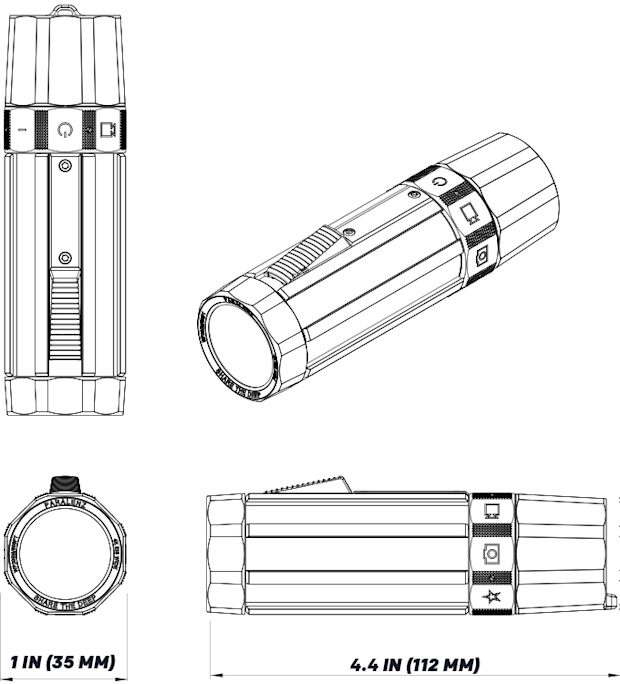 Smartphone friendly. The Paralenz App will be free to download for both iOS and Android.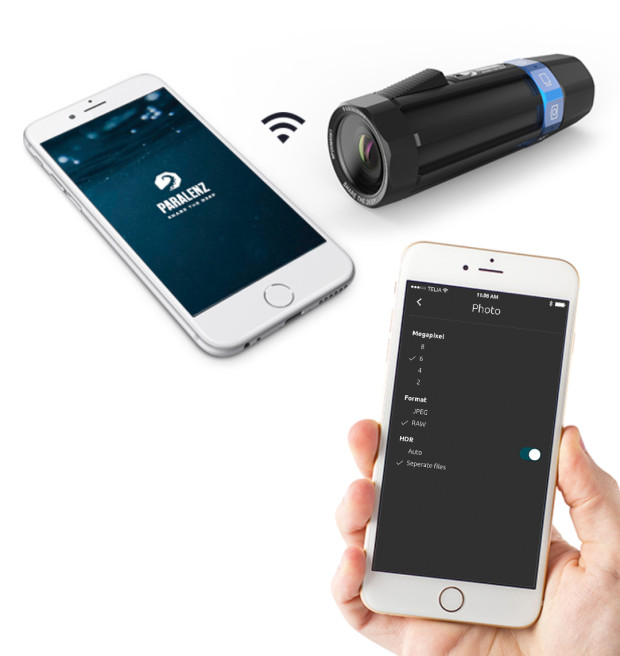 View and share. With the Paralenz App on your phone or tablet, you can view and quickly edit your videos, Snap Recordings, and photos. Upload them directly to Facebook or Instagram – no need to use a computer or open the camera.
Camera settings. In the Paralenz App you can also change various settings such as video and image resolution, frame rate, video overlay etc.

Your dive. The Paralenz Mask Mount is designed to fit all common diving masks – just slide it onto the strap of your mask. Can be used on both left and right side of your mask. Slide it forward to allow bubbles to go behind the camera when filming.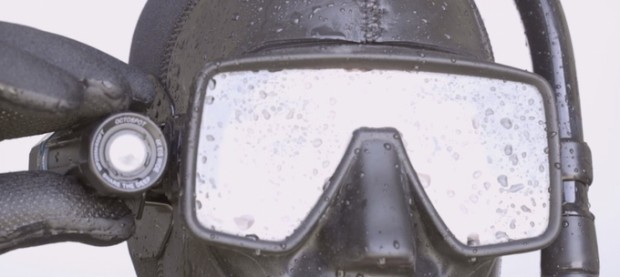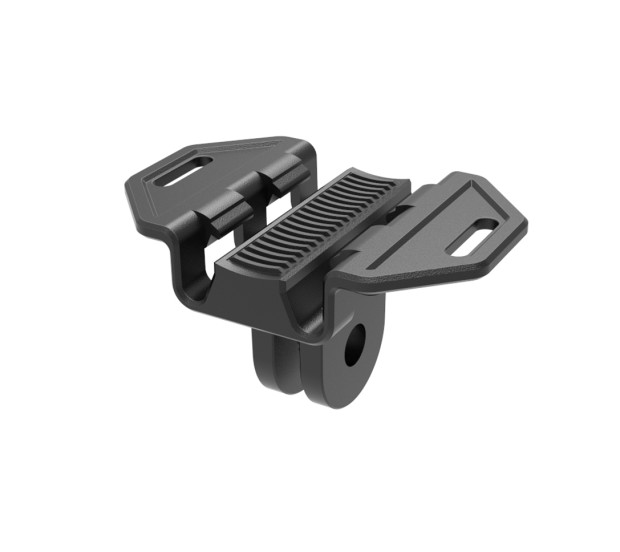 Use existing accessories. The Paralenz Universal Mount enables you to use most existing accessories.
The Paralenz Mounts snaps easily to the Paralenz Dive Camera.

Watch yourself dive. There is nothing better than capturing beautiful fish, hidden shipwrecks, or colorful corals. But you often forget to show that you yourself were also present. With the Paralenz 3rd Person Viewer now you can.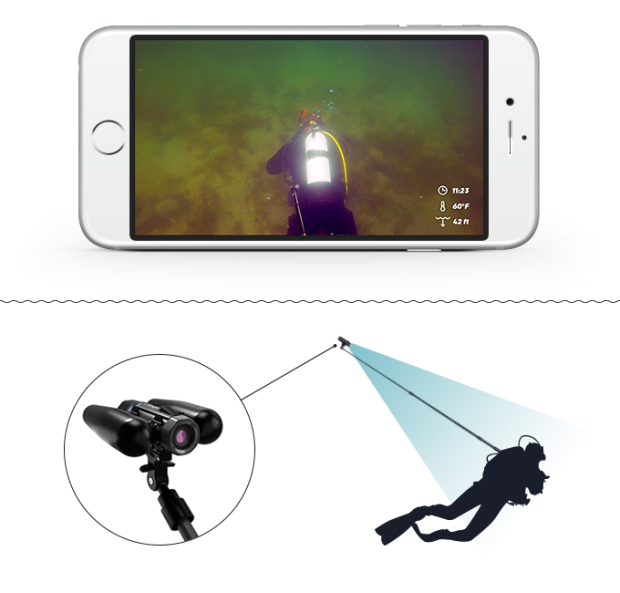 It's behind you! The Paralenz 3rd Person Viewer is mounted on your BC and films you from behind.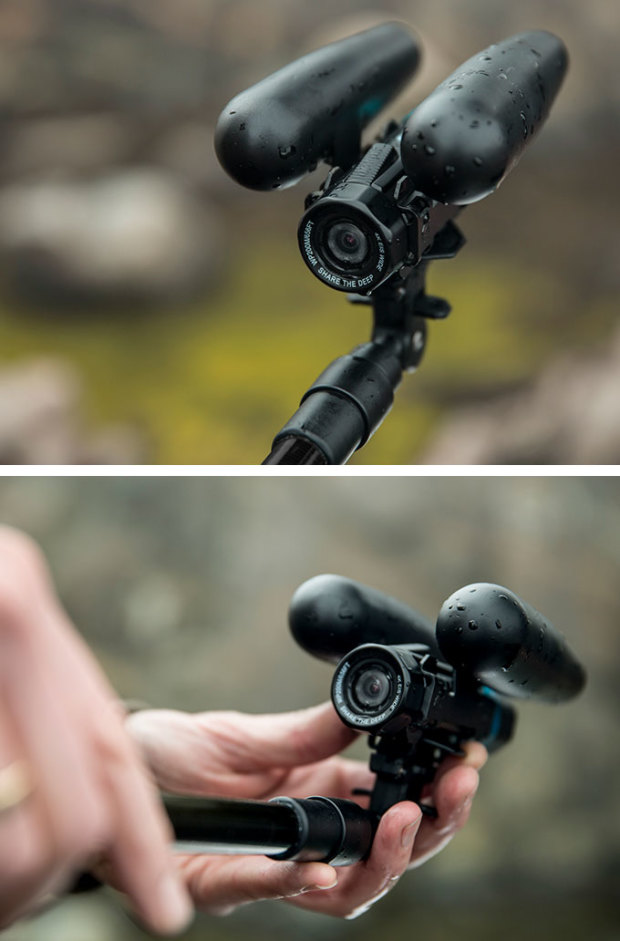 Pictures of early 3rd Person Viewer prototypes. The two pontoons creates the necessary buoyancy
Study your technique. Being able to study your own technique is a huge help for new divers. How is your position in the water, are you using your body in the right way? Study yourself and become a better diver.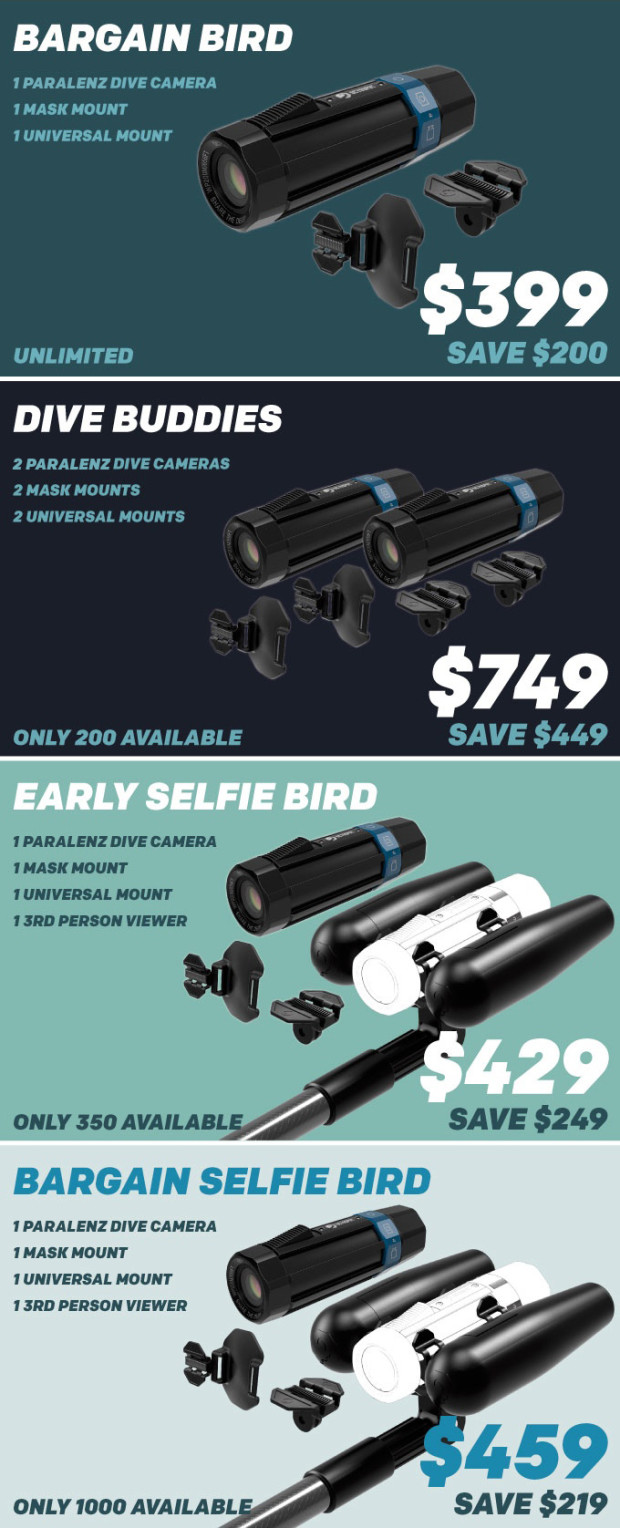 Design, test, repeat. Designing the Paralenz Dive Camera is the story about rapid prototyping, user tests, and a thorough design process. All design choices have been put to the test and tweaked for optimal performance. Have a look at our design process below.

Full-time developers. Paralenz ApS is a team of dedicated product developers, who also happen to be divers. We are a start-up focusing exclusively on the development and sales of diving equipment.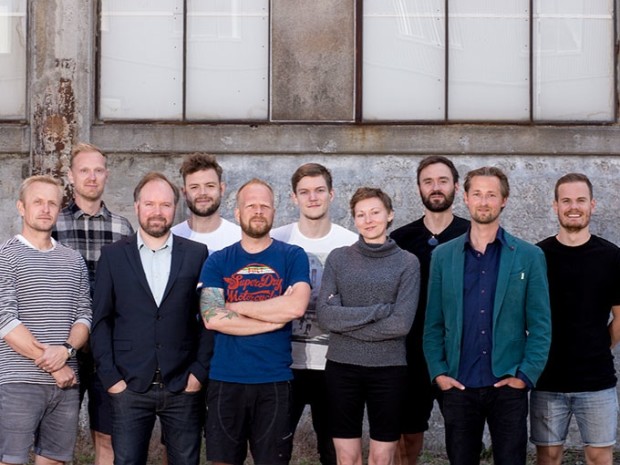 The company. Paralenz ApS is a branch of the innovation agency MOEF, which has developed products for more than 15 years. MOEF is also behind WaterWolf, an underwater camera designed for anglers. It has become very successful and has won both design and product awards in 2014, 15 and 16.


Stay up to date. Follow Paralenz on Facebook and Instagram for product and manufacturing updates, new product ideas, and news from the Paralenz Team.
Facebook: www.facebook.com/paralenz
Instagram: www.instagram.com/paralenz
Web: www.paralenz.com

Share the deep. Tag your dive videos and pictures with the official Paralenz hashtag #sharethedeep. We would love to see your diving adventures!