iCrowdNewswire - Sep 15, 2016
The Eye Shooter Headband and Smartphone Mount
The Eye Shooter is a smartphone holder for Photo-Videography. For use at home, work and at play.
The Eye Shooter is the Ultimate Smartphone Mount that works with any size smartphone. Now you can use your smartphone hands free like a GoPro. Record anything your heart desires. It's way cool hand held too. It's also a smartphone mount and holder for use in the car, at home, at work and at play.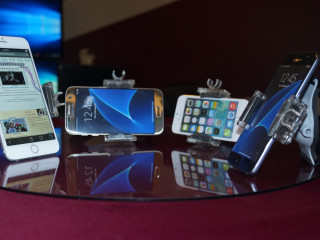 Presenting, The Eye Shooter Headband & Mount for Smartphones
Turns any good photo video shooter into a Steven Spielberg by helping them capture photos and videos much more creatively. Your head / body can be a natural stabilizer when using the Eye Shooter, especially in hands free headband mode.
More than a headband, it was designed for steady hand held photo-video recording using 3 point stabilization. Smartphone cameras are getting better and better technically, but are not designed for holding. The Eye Shooter was designed to hold your phone/camera, you hold the Eye Shooter. This opens up a whole new world of creative possibilities for millions of smartphone users and photo video enthusiests worldwide. What could you do? See for yourself.
When smartphone video went HD, as a pro photo videographer, I became more interested in them. Some of the new cameras in smartphones surpassed some of my expensive professional video gear. But alas, I found them to be less than ideal to hold and use let alone get creative with. What good is shaky 4k quality video? With the exception of the common close up shots, holding and composing a phone's camera is nothing like using a good old fashioned camera. Only a few high end phones have optical image stabilization. Forget about zooming in without shake. People get used to it. Few options. So all kinds of expensive gadgets, restrictive gimbal holders and sticks came about, most if not all are 1 trick ponies. Hmmmm!
You can do better Tom. Think outside the box!
The Eureka moment!!! Wouldn't it be cool to use my phone/camera like a GoPro?
What if I could somehow make a smartphone holder to replace all those gadgets. A stabilizer / mount / holder / stand / dashmount /multi tool / for any size smartphone. I could use it in the car, at home, at work and at play. I could real in that whopper fish hands free. Then, unlike the others, my smartphone is a Computer / HD Camera. I can view, edit, and upload my footage quickly and easily, or download for creative editing. I even live streamed from my booth at the fair.
My friends call me the doc, a lifelong sometimes wacky inventor, a lot like the doc from Back to the Future. I am the Inventor of The Quad Pod Video Camera Stabilizer, The Aero Pod Grow Systems and the Chip Sliders Roulette stackers and trackers. The Prapala, a self propelled fishing lure. and the Aqua Web hand swim fins, just to name a few. So I did my thing. Pondered. Created a few drawings. Made clay models and then a few prototypes for proof of concept.
I hired a great cad designer, Dorian from Catz Design now in Colarado, Thanks my friend. Together we successfully developed the amazing final designs. I rarely fail at going from napkin to prototype, and then on to production and marketing. Then run out of money.
One of my best inventions is the Quad Pod Pro video camera stabilizer. I created the Eye Shooter based on the 3-4 point stabilization principles and benefits of the Quad Pods. That experience led me to develope: The EYE SHOOTER HEADBAND and it's no 1 trick pony.
DASH MOUNTABLE with a stick-on dash mounting clip. Mount it anywhere on your Dashboard. It's great for hands free talking, using GPS or as a Dash Cam.
TRIPOD MOUNTABLE. The main eye ball Socket easily mounts to mono pods, tripods, and any tripod adaptors with standard 1/4″ 20 thread.
DO FACIES and MIRIES (just look at people or into any mirror when using selfie view cam)
The headband features a neoprene pad so lite and comfortable you'll forget you have it on and it adjusts to fit all, from a child's head to pumpkin size. We even mounted them on a Pony, Elvis the Horse and my new friend here, Mr Sheep.
The innovative strap design doubles as a headband and a neck strap so you can use your smartphone just like a camera. It's not a bulky 2 part velcro but a special stick to itself material. It's lite and comfortable and needs no buckles.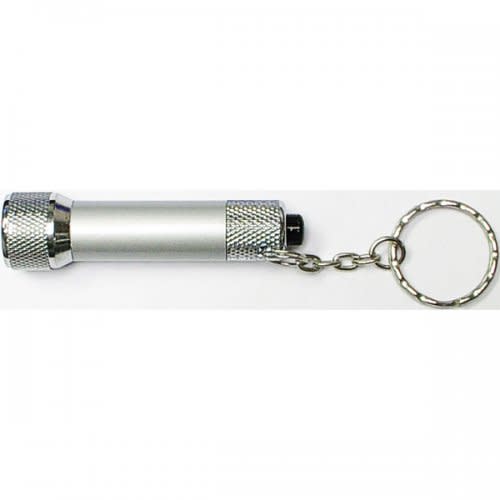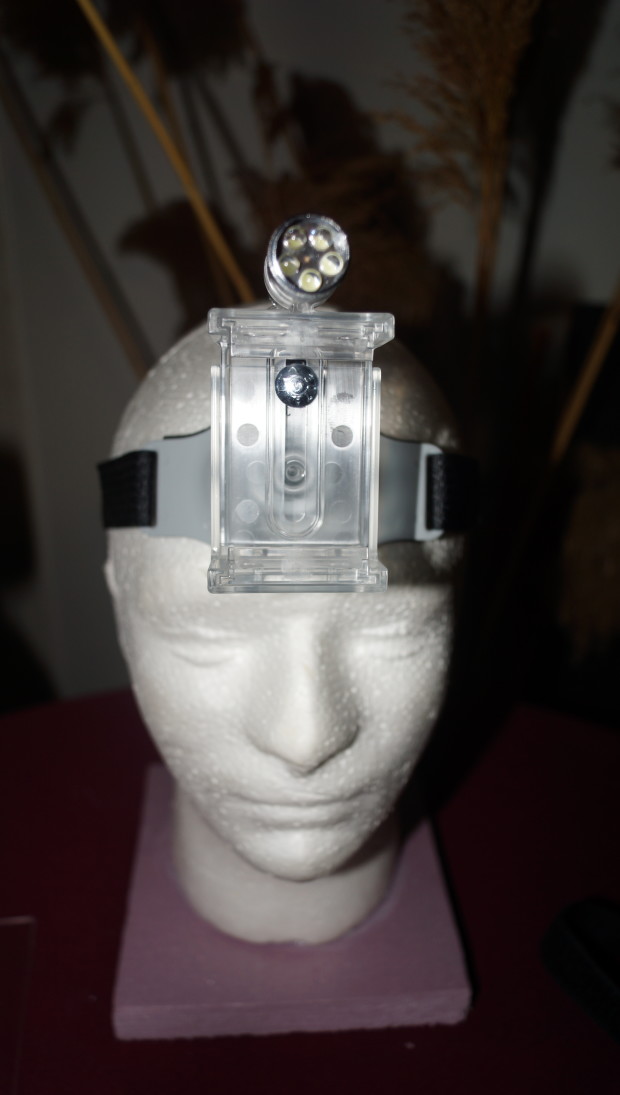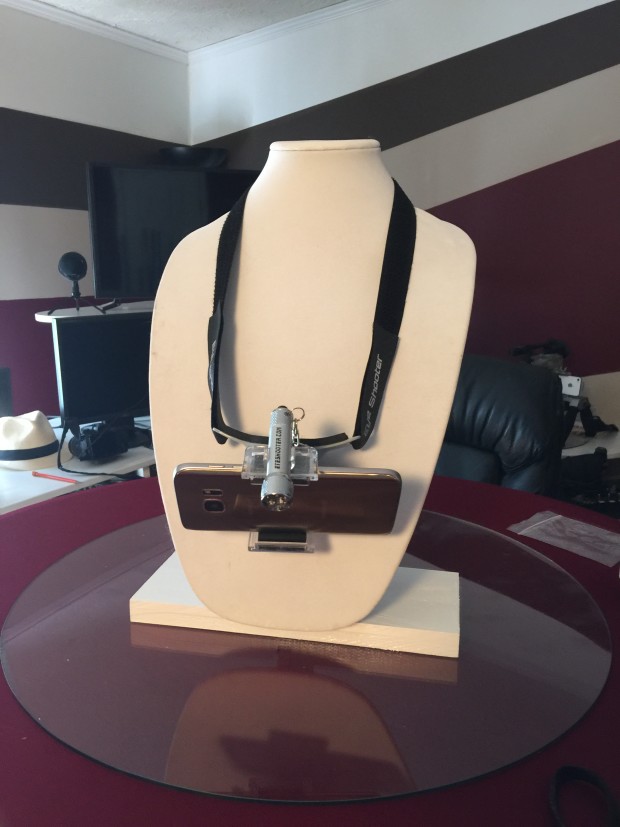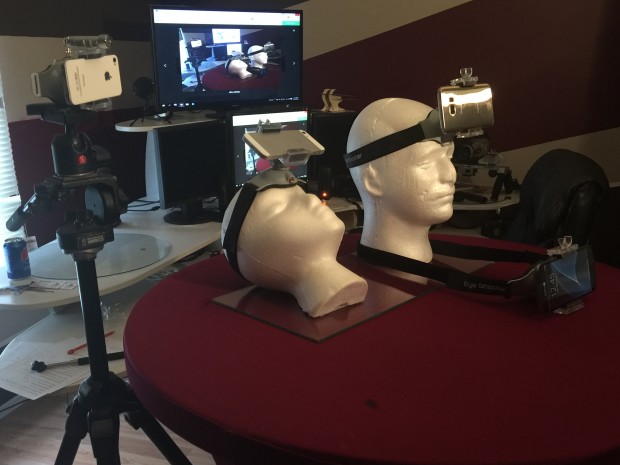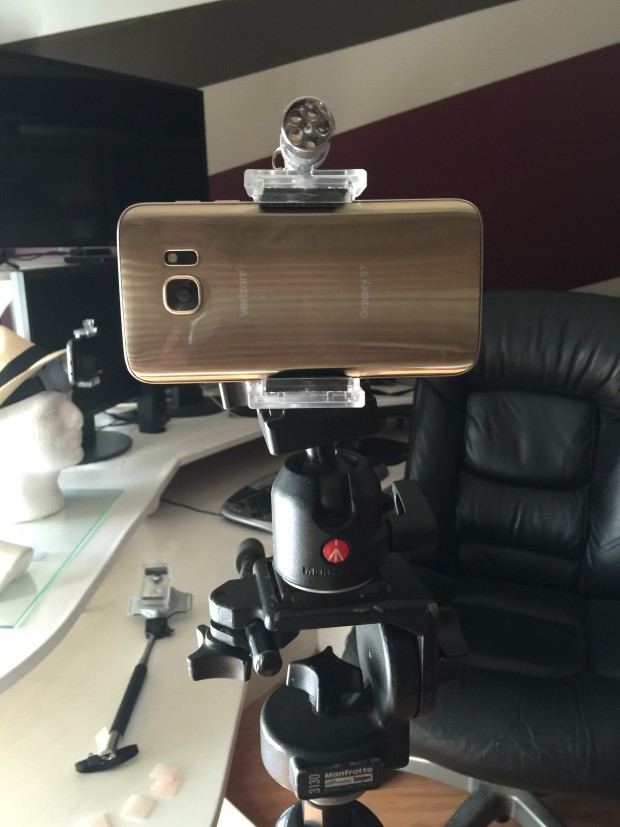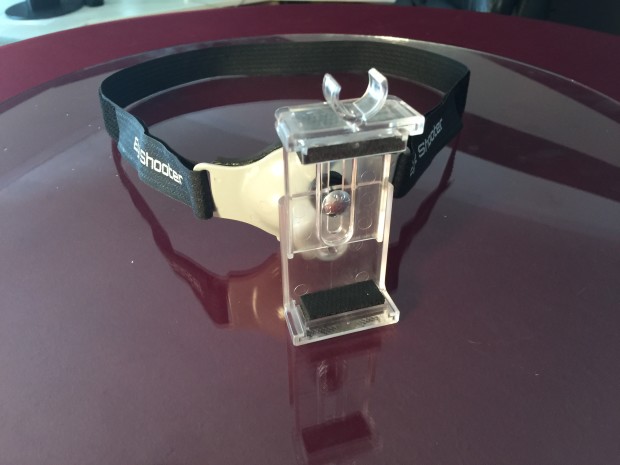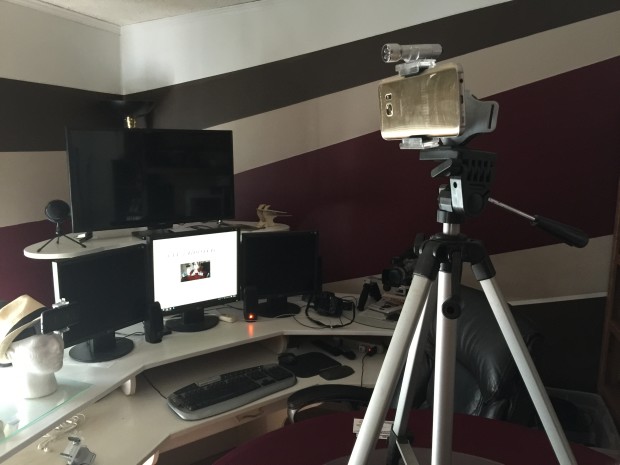 The creative product development process has been very successfully completed. For most new product makers, that's the hardest part. For me, it's always been challenging but still the easy part. It's what I do well. My proof of concept testing is done. Cad design and 3D prototypes made, tested, and improved upon. Final tooling of steel injection molds completed.
I own the tooling and all the eye shooters will be made in the USA. Our first small run is complete and I have limited inventory. We have completed the test market phase having introduced the Eye Shooters at a few NY State County fairs. The response has been totally positive. Everyone that had a chance to see and shoot with it were impressed with its multi-function capabilities and low price point.
Now comes production and letting the world know it exists. It's one thing to invent a great product ready for sales but now I need to raise funds to bring it to market.
As a contributor to my campaign I am offering a number of perks which include getting complimentary Eye Shooters at certain levels. I know you will agree that an inexpensive alternative to GoPro type cameras and 1 trick pony gadgets would be very well received.
There are 4 billion smartphones worldwide. The eye shooter works with all of them.
My Mission… Design and Create an affordable multi function smartphone holder for everyday applications, steady photo videography and just for having fun! How much fun?
See the playlist of what we captured at the Altamont Fair in upstate NY.
https://www.youtube.com/playlist?list=PLfteGwlH…
The Eye Shooter project has satisfied and surpases all my design goals and expectations. Now, after many revisions and improvements, it's ready, and I Love it!!!!! You will too.
I guarantee it.
Thank you for your support my friend.