iCrowdNewswire - Sep 15, 2016
ELWING. World's most compact electric skateboard
The first lightweight, frictionless electric skateboard that makes commuting fun and easy.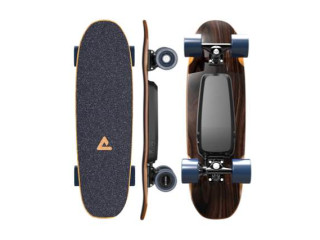 Elwing is a compact, versatile electric skateboard that can take you up hills and through traffic, with a top speed of 18mph. At 9.9lbs it's light enough to carry anywhere but powerful enough to cruise up a 10% grade hill. Getting around the city was never been this convenient and fun.
INTRODUCING ELWING BOARDS
Elwing is the world's most compact electric skateboard. Every detail has been designed based on the idea that commuting should be the fun and easy part of the day. The result is an extremely lightweight electric skateboard that holds a incredible amount of power.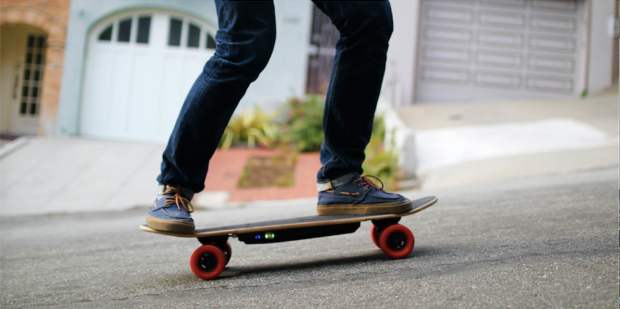 Elwing's performance is amazing : 18mph of top speed and 7 miles of range for only 9,9lbs. It takes only 45 minutes to charge with the fast charger. The frictionless in-wheel motor provides phenomenal gliding sensations and allows you to keep riding without using the motor.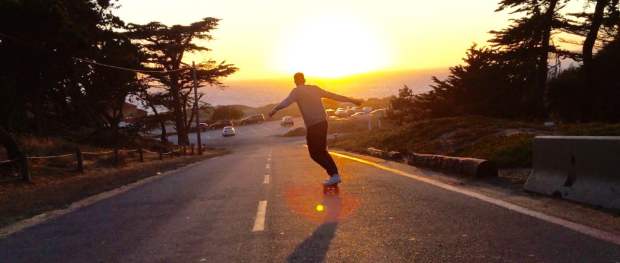 Elwing packs a powerful motor within a small form factor so it's versatile enough for any situation while being light enough to hold with one finger.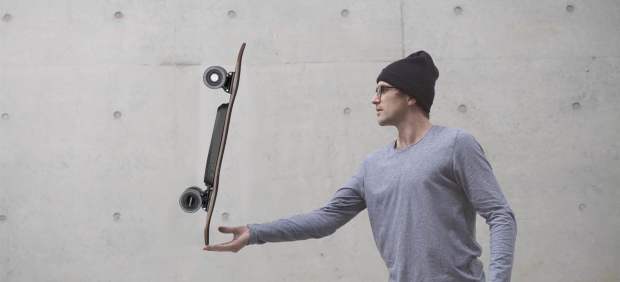 PERFORMANCE
TECHNOLOGY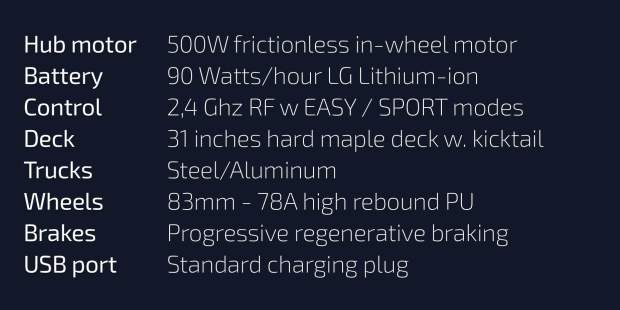 LIMITED EDITION
Art and board sports have always been very related. It's beautiful to see someone riding with style, and so should the product be. We've had this limited edition designed by Mecca Collective and laser engraved by Le Shape.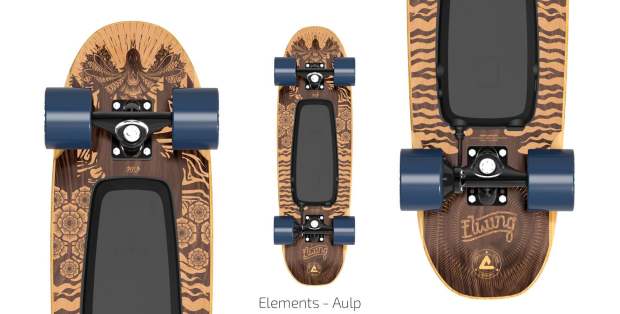 BEAT THE TRAFFIC

GLIDE TO WORK

CARRY IT EVERYWHERE

NEVER PUSH WHEN GOING UPHILL

CONTROL YOUR SPEED WHEN GOING DOWNHILL

PERKS









TIMELINE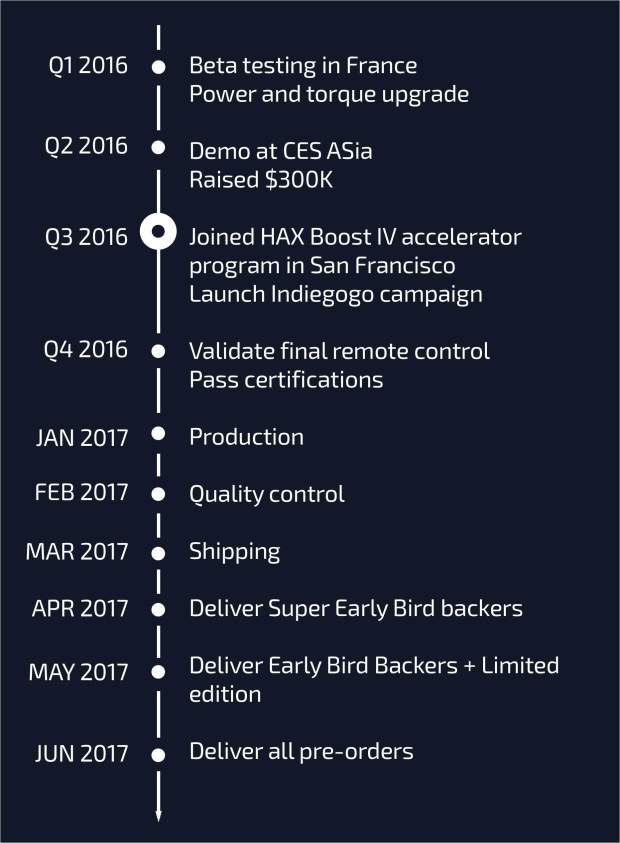 FEATURES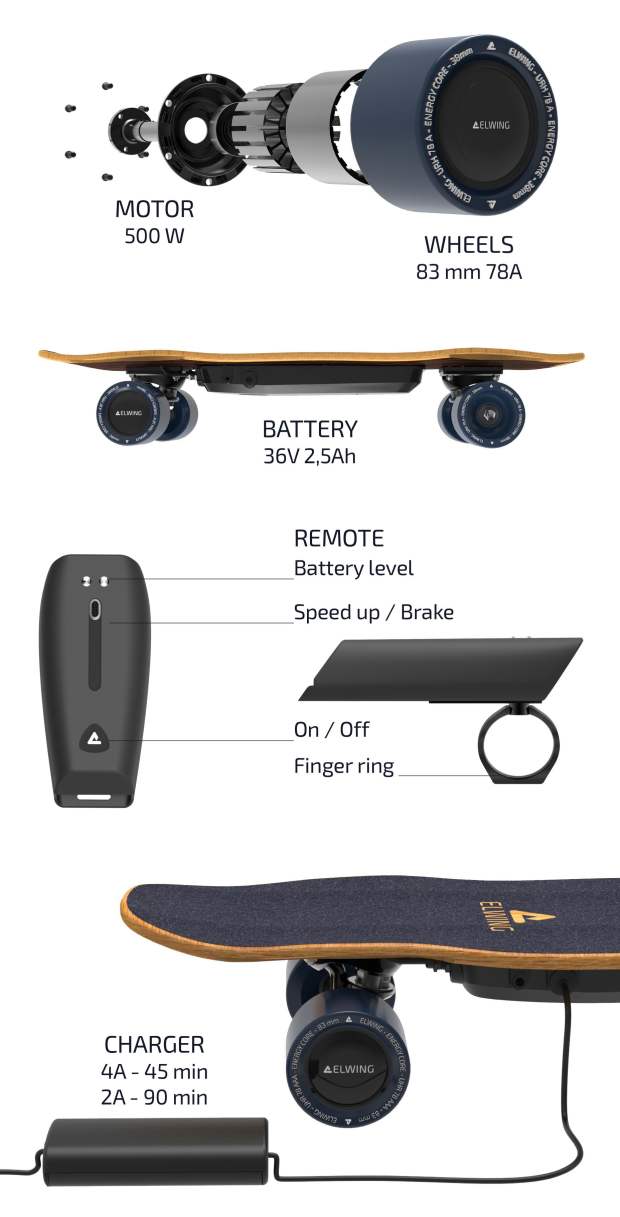 THE PROJECT
The Elwing Board is the result of 2 years of prototyping, testing, failing and learning. We met in 2014 in Shanghai, where we spent over 2 hours everyday commuting to work.
We believe commuting should be the fun and easy part of the day.
As board sports addicts, electric skateboards seemed to be the perfect solution to our commuting solution. But all we found on the market were electric longboards. They are super fun but too heavy and expensive.
We built a compact electric skateboard that holds an incredible amount of power. Since then we wake up everyday knowing that we'll have our daily dose of fun.
THE TEAM

Quentin – Co-founder, sales and marketing.
He is addicted to freeski, snowboard, windsurf and downhill skateboarding. Quentin has worked in the sports retail and marketing for 4 years.
Gael – Co-founder, mechanical engineer.
An avid windsurfer, skateboarder, snowboarder. A passionate mechanical engineer who spends his time creating machines.
Pierre – Product designer
Driven by his passion for surfing, skateboarding and snowboarding, Pierre is motivated by the desire of creating things since the 90's. He studied at Ecole de Design de Nantes Atlantique in Shanghai.
Osborn – Mechanical engineer
Osborn is a talented mechanical engineer. Passionate about modeling and creating complex products, he has 6 years experience in the field. No doubt his next passion will be linked with board sports.
Eduardo – Electrical engineer
Obsessive Traveler, rideables nerd and coffee drinker. Eduardo is a Power Electronics, Telecom and Industrial Automatic Engineer. He founded TokyLab to focus on what he loves. He joined Elwing Boards to bring our software and electronics to the next level.
RISKS AND CHALLENGES
Designing a product that contains mechanical, electrical and electronic constraints is not easy. We understand that delays happen and things may take a little longer than expected.
We're always planning ahead to bypass potential delays. For an on-time delivery, we're working to solve potential production problems now. Things like:
Finishing the design of a new remote control with a larger slider to improve accuracy while braking and speeding up. We will then have to adapt the software and solve the remaining small bugs to reach the perfect settings.
It takes about 2 months to pass FCC/CE certifications. It could take 1 more month if we fail some tests in the first try. We've started the conversation early and hope to have the certification by the end of this campaign.
OTHER WAYS TO HELP US
Please share this page and talk to your friends about Elwing! You can use the social share links at the top of the page to do that. We're trying to build a community of awesome people who'll help us get off the ground and spread the word that commuting will never be the same!
FREQUENTLY ASKED QUESTIONS
What about replacement wheels?
The Elwing Board's durability has been tested and the wheels do not get damaged in a normal usage. All wheels will be available as spare parts on our website. The non-motorized wheels can be changed with any other standard 83mm wheels on the market. The motorized wheel will be available on our website as a spare parts. For mechanical safety and durability reasons, the motorized wheel is molded with the rotor. If you ever need to change the motorized wheel, you will be able to buy a new rotor with it.
Is the Elwing Board waterproof?
The motor is fully waterproof. The whole board is splash-proof but not waterproof. Just like any skateboard, Elwing's bearings could also be damaged by water. We recommend you use your Elwing Board just like you'd use any regular skateboard.
How much will it cost to replace batteries?
The battery comes included with the board. Buying a spare battery will cost around $80.
Where can I get replacement parts?
All replacement parts will be available on our online shop. All maintenance parts will be available through our customer service.
What is the rider weight limit?
We tested the hill limits (uphill climbing and downhill braking) and range using a 185 pound rider. Heavier riders will see a decrease in speed going uphill, but performance on flat ground won't change.
What is the warranty?
All board rewards will come with a one-year warranty on manufacturing defects from the day you receive it.
What is the final retail price?
The final MSRP is currently planned for $749, but depends on a lot of factors like distribution, retail options and final manufacturing costs and may go up.The difference in price between a reward board via Indiegogo and a retail model later will be significant.
Can I swap for my own deck? Can I just get a kit?
No. The deck is modified to fit exactly with the battery box and to have the exact right flex needed. Wheel wells have been designed to match with the wheels size to avoid any wheel bite, even during carving.
What is an international shipping going to cost?
Our best guess right now is an additional $70, but we are still looking into this.
Can I push like a normal skateboard?
Yes you can. The in-wheel motor is almost frictionless so it almost feels like a regular skateboard (unlike most of other electric skateboards that have a drive belt which produces a lot of friction).
Can I get more battery range?
For now we do not offer extended battery range. However if you kick-push twice when every time you start riding, you can save up to 40% of the energy the motor will consume.
Where can I try one out?
We have a couple of demo boards in San Francisco and in Shanghai. Please send us a direct message if you want to demo!
We have 2 prototypes available for a demo in Paris. Please contact the ambassadors on
www.demooz.com
.