iCrowdNewswire - Sep 14, 2016
FarmStays Ladakh
Wanna Help Himalayan Mothers, Just Take a Holiday!
FarmStays Ladakh is an initiative of village mothers together with the Ice Stupa Project. Mothers convert their homes into FarmStays, a source of income & cultural exchange with guests from around the world. Visitors get a taste of Ladakhi culture… village life becomes more attractive and lucrative for the youth… Life returns to our villages. All with no compromises on comfort & safety of guests! It's a story of rural resurgence, women's empowerment and nation building… all in one!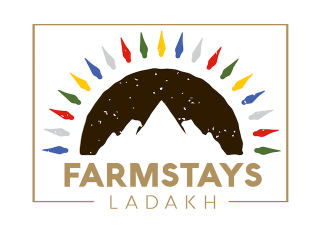 Welcome to the real Ladakh, which lives in its villages!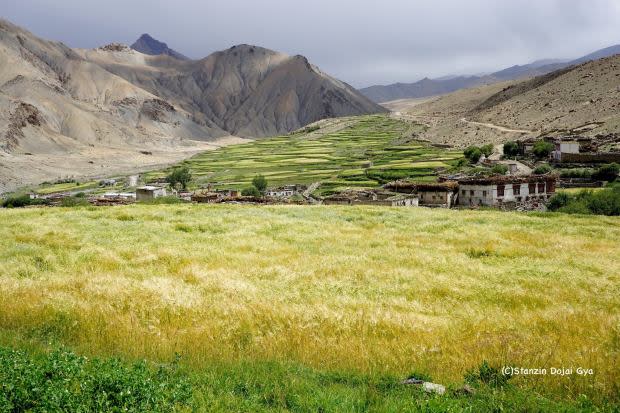 So far that was an often desired but generally unavailable option, except on long treks!
But now thanks to FarmStays Ladakh, you get to see Ladakh in its original splendour and glory and at the same time contribute to strengthening the people and the place…! Like a true best friend. Hows that!
But yes, this is an experience meant for the discerning TRAVELLERS, who want to explore, learn and share!
We do understand that your holidays are important to you… So feel free to ask questions. We are just a call away +91 9622224947 or write to farmstaysladakh@gmail.com .
But do please read the FAQs at the end of this story first.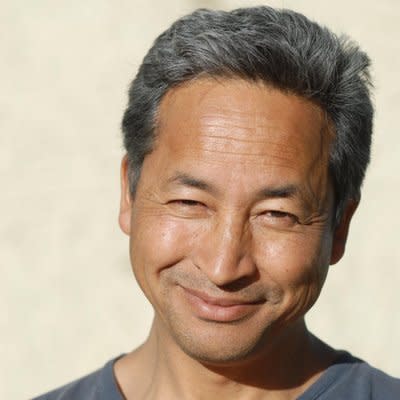 Hi! I am Sonam Wangchuk,
I was born in a tiny village in Ladakh with just 5 households, I am a mechanical engineer by training, but have mostly worked with education reforms in Ladakh. This included setting up the SECMOL Alternative School well known for its many innovative solutions to the region's unique problems. I won't write more about myself, you can Google my name (a not so usual name helps).
Or watch this TEDx Talk: https://goo.gl/lFG11G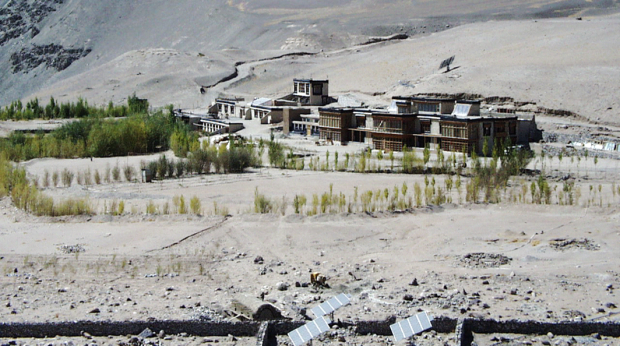 Solar powered campus of the SECMOL Alternative School

THE ICE STUPA ARTIFICIAL GLACIER PROJECT
This is our latest invention… a very simple technique of freezing the unused stream water in winter into huge cones (stupas) of ice that then melt slowly into late spring providing water for trees and farms.
Some of you might remember that to make the pilot Ice stupas in Phyang we ran a successful crowdfunding campaign on Indiegogo. We are truly grateful to the thousands of you who supported us with contributions or helped spread the message globally.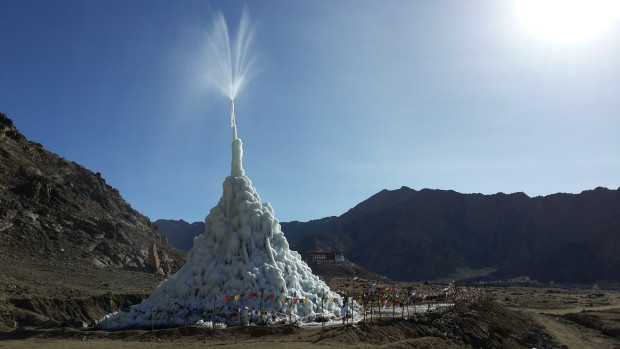 Thanks to your support we were able to build several pilot Ice stupas at different altitudes in Phyang valley. 5,000 trees were planted by the villagers on a total desert where the first ice stupa was built. The trees have been blooming for the 2nd summer with 97% survival rate.
FARMSTAYS LADAKH
While working on water issues in the Phyang valley we noticed that perhaps water was not the only problem the village was facing. In several parts of the village there was no shortage of water and yet farms were left uncultivated. Then one day we happened to meet 83 years old Abi Disket in Murudok the highest village in Phyang valley at 4,000m altitude.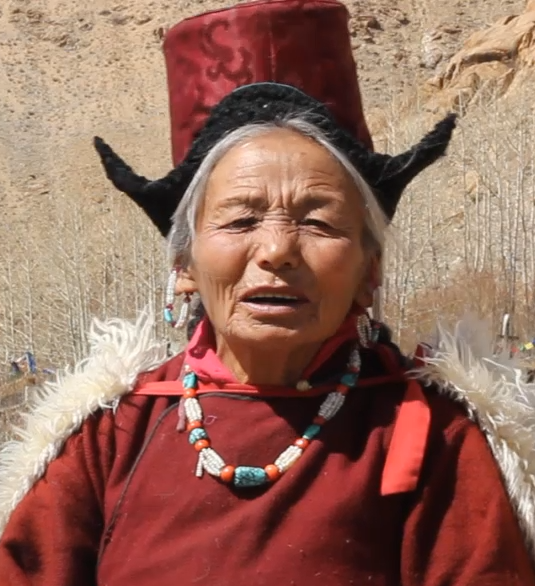 In a sad voice she recounted her life and that's when we realized that she and several others of her age were living a lonely life looking after much of the farm work as the younger folk had left for Leh city.
She was our inspiration for doing something beyond just water solutions… knowing that more water might only mean more work for the octogenarian at a time when she should be retiring and telling stories to her grand-children… (one of the highlights of a Ladakhi childhood). We realized that due to this urban migration, not only the grannies live a lonely life… the children also miss a very beautiful part of Ladakhi upbringing!
That was a year ago. We then started exploring possibilities to improve the village economy and make life here more attractive for the youngsters. Tourism, or rather its concentration in Leh city… we saw was a big culprit for her woes…and we thought TOURISM should also be the solution. Like they say diamond cuts diamond or loha lohe ko kaatti hai in Hindi… So we thought of bringing sensitive meaningful tourism to the village itself, so that village life becomes attractive and lucrative.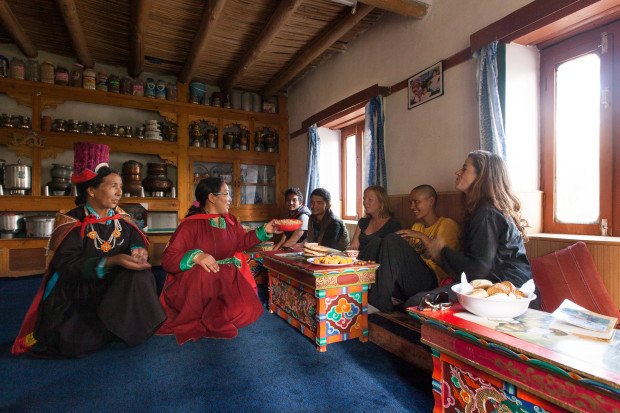 Thus in July last 2015, together with the Amalays (mothers) in Phyang village we came up with the concept of FarmStays Ladakh so as to turn tourism into an opportunity rather than a problem for the rural areas.
But before scaling it up to all the regions in Ladakh we wanted to test the concept in one or two villages. We started with 3 families in Phyang last year to test the concept and got very encouraging reviews. Most visitors wanted to either comeback or send their friends and relatives or both.
Then in 2016 we did it a bit more systematically. Together with the Gobas (headmen) of Phyang and Phey and other village leaders 12 families were selected based on their interest, active farming, availability of rooms and completeness of the family. A team of experts then trained the Amalays to prepare and present their houses as a farm stay. This included the topics ranging from hygiene to cultural differences and a little bit of English language.
Finally on 18th June 2016 the FarmStays Ladakh was formally inaugurated by HH Chetsang Rinpochey and Dr. Sonam Dawa the Chairman of the Hill Council Government in Ladakh along with Mr. Sangdup the Tourism Minister of the Hill Council.
In order to help this project in the initial stages I personally donated USD 2,200 (Rs. 1.5 lakh) for the initial overhead costs and now we hope we will get global support through this campaign so that we can prepare many more homes for the next season.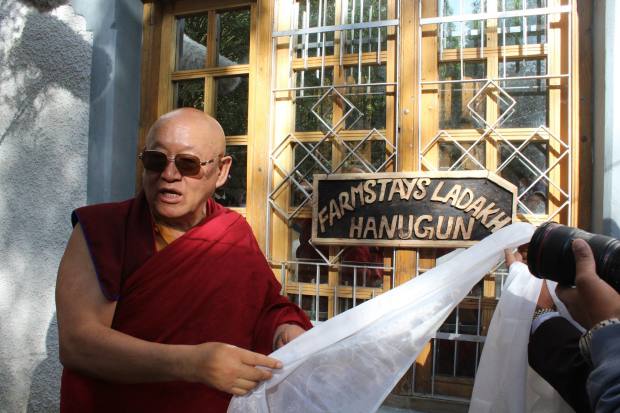 SO FAR SO GOOD!
Today the families themselves are very happy that their own house brings employment for them and their children. The young are happy that they get to meet interesting people from around the world and get to learn languages and other skills while they share their own.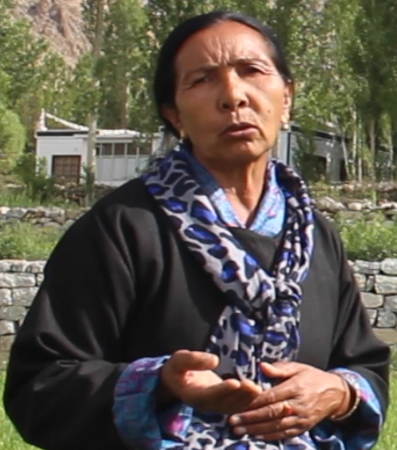 Ama Angmo who used to fear that it would soon be her turn to be lonely after Abi Disket, is now happy that her home is lively and her village might become more interesting for her children.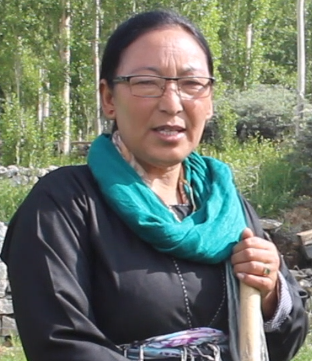 Ama Rigzin says her children hopefully won't need to go as tourist guides to other places… Meanwhile neighbours are already talking about bringing their own children back from the city, since FarmStays Ladakh does not accept families that are not complete.
With their farm income supplemented through tourism we were able to take up another important issue facing agriculture in Ladakh… the trend of going for chemical inputs like fertilizers and pesticides. We talked to the Amalays about making their farms fully organic even if the yields are lower in the first few years, as now they have more income from the farm stay guests. They all readily agreed and recently the families adopted a charter to that effect in the holy presence of HH Chetsang Rinpochey.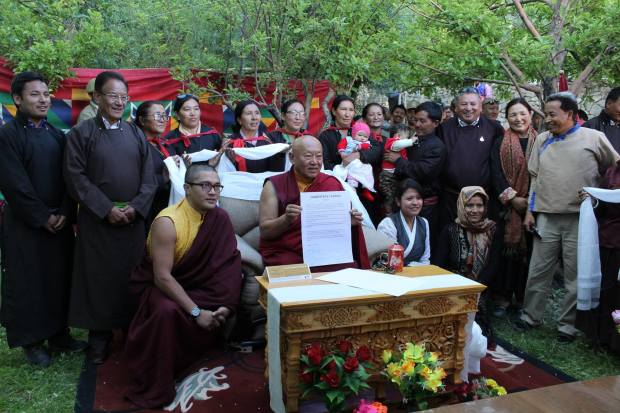 His Holiness Chetsang Rinpochey and the Dr. Sonam Dawa, Chairman of the Ladakh Hill Council at the formal launch of FarmStays Ladakh.
WAY AHEAD…
Already these women have done business of over 150,000 rupees in just three months with very little promotion. Now that we are confident about the model and the happiness levels of the guests, we are ready to scale it up through this crowdfunding campaign. The advance bookings will help us help new families with the investment needed to repair and prepare their homes to host guests.
With your support we will also be able to expand this into other regions like Nubra, Pangong, Sham, Kargil and Zanskar. This way visitors can make a whole circuit of visiting all parts of Ladakh while staying at FarmStays.
HOW YOU CAN HELP!
1. Your general support to the Farmstay project will help promote the project and help us also with costs of identifying suitable families and training them to start farm stays at their home. Your support will also help us develop alternative income sources for the women especially for winter months, for example production of handicrafts and home-processed farm foods.
2. Your bookings through this crowdfunding campaign will pre-sell the farm stay rooms for this year and next year. This will enable us to give advance funds to new families to repair and prepare their homes to receive guests in next season. This advance fund is what stops many cash-poor families with beautiful old houses from coming forward to benefit from this programme.
3. But please! Money is not the only way you contribute… those of you who are unable to contribute right now are equally important to us. You can support us by sharing this campaign with others who may be interested or may want to contribute.
Thanks!
Sonam Wangchuk
Ice Stupa project in international media:
Forbes Magazine: http://goo.gl/L16NmU
Huffingtonpost: http://goo.gl/Zf6BXo
The Guardian: https://goo.gl/E4YgV7
Times of India: http://goo.gl/9F9viF
The Hindu: http://goo.gl/J2QmZx
China Dialogue https://goo.gl/SEmpwx
Le Monde: http://goo.gl/uOR64x
Frequently Asked Questions
Q: What if I don't want a perk? Can I simply donate to your campaign?

A: Yes! If you don't want any of the perks, more of your donation will go towards the cause of strengthening Ladakhi villages. Scroll to the top of the page and click the pink button that says "Back It" to donate without claiming a perk.

Q: How safe is Ladakh for travel considering the unrests in Kashmir?
A; Unrest in Kashmir has never affected life in Ladakh as it is geographically distinct region and 436 km away from there. Even the US Embassy's travel advisories consider Ladakh an exception when issuing advisory against travel to J&K.
Q: I am not sure of my dates of travel, what should I do?
A: No problems. You can do the booking now and benefit from the 30% discount during the campaign period and then wriggle the dates later over email later.
Q: Are the booking perks transferrable?
A: Yes! Don't worry about inability to use the booking perks. They can make a perfect gift for friends and relatives up to October 2017.
Q: We are a group. How do we book farmstays?
A: Use the appropriate perk here to evaluate the cost per person and figure the cost in your case. Then pay the amount through the indiegogo campaign. For help you can contact us at farmstaysladakh@gmail.com or call +0091 9622224947
Q; What would be the weather like?
A; If you come in summer i.e. from May to mid September, it will mostly be pleasant with temperatures ranging from 10 C at night to 30 C in the day. You will still need some warm clothes for mornings and evenings especially on the mountain passes.
Q: How to prepare for Ladakh physically? AMS?
A; Ladakh being at altitudes above 3,000 m you have to be careful not to get Acute Mountain Sickness (AMS). You are advised to take total rest for 24 hours upon arrival, drink lots of water and in case of nausea visit a doctor.
Q: How do I reach Leh, Ladakh?
A: You will have to make your own arrangements to reach Leh, either by flight from Mumbai/ Delhi or by road via Srinagar/ Manali. If you are coming by flight, we suggest that you book your tickets at least 6 months in advance to avoid high fares in peak seasons. We generally recommend road journey from Srinagar so that your body gets acclimatized to the altitudes while you are travelling and you save money & also help the environment. During off season/ winter airfares are extremely cheap.
Q: How long are the perks valid for ? How do we block dates of our visit?
A; You can use these perks from mid April to mid October in the year 2016 or 2017 unless it is the winter package. In due course, we will have a mechanism through which you can block your dates. You have flexibility to change your dates once, at zero additional costs.
Q: Are the perks transferable?-
A: You can gift or transfer these perks to your family members and friends at zero additional costs.
Q: I am a travel agent, how can I book FarmStays for my clients?
A: If you are a travel agent or a corporate or any other group that needs bulk booking of more than 100 D/ N, please write to us at farmstaysladakh@gmail.com or call +0091 9622224947
Q: Can we book for the FarmStays through bank transfer, cheques?
A: We prefer that you take perks on Indiegogo.com website. However, you also have an option of paying us through bank transfers or by depositing cash in our bank account directly. In such cases, please intimate us about such transfers/ deposits immediately with your complete details and the perks that you have taken. This will help us in timely reconciliation of accounts. Please consider INR 69 to a Dollar.
Q: WIll I get a refund if I don't use the perk?
A: If for some reason you decide or are not able to avail your perks or transfer them, then you will be considered as a donor towards development of Ice Stupa/FarmStays project. There will be no refunds for cancellations.
Q: What in case of injuries, accidents during travel?
A: We will do our best to help you but you are expected to have appropriate insurance cover for your travel, FarmStays project has no financial liability for injuries etc. during your voyage
Q: What about accompanying children ?
A: Children below 5 yrs not requiring extra bed can stay for free at FarmStays Ladakh.

If you still have questions… please feel free to ask questions. We are just a call away +91 9622224947 or write to farmstaysladakh@gmail.com .