iCrowdNewswire - Sep 13, 2016
URSA Mini CCU-RCP with BlackMagic Arduino Shield
RCP panel for CCU control of BlackMagic URSA Mini and Studio Camera series in a Sony form factor
Help bring an awesome URSA Mini RCP CCU controller to market based on the newly released BlackMagic Arduino Shield and make a great deal at the same time! This is the missing piece that will make your BlackMagic Cameras professionally functional in a live production situation.
Shading your BlackMagic Camera with hardware
SKAARHOJ (us, the guys behind) ease the use of broadcast hardware for people making live video. CCU control of BlackMagic Design (BMD) cameras has been notoriously difficult through software only. We are already specialised in alternative hardware controls for BlackMagic ATEM switchers and with BlackMagics introduction of the Arduino Shield we now want to build a Sony form factor remote control panel (RCP) for BlackMagics cameras, such as URSA Mini and Studio Camera series.
This campaign aims to raise money to develop and build a first batch of such remote control panels at a price we can only achieve through a larger scale production run.
By contributing to this campaign you will get one or more panels delivered at a price much lower than the sales price at a later point but you will also get your say on how the product will work out of the box.
All the designs, be it hardware or software will be available under open licenses and shared freely on GitHub under and after the development.
What You Get – the RCP
This is pictures of the RCP prototype: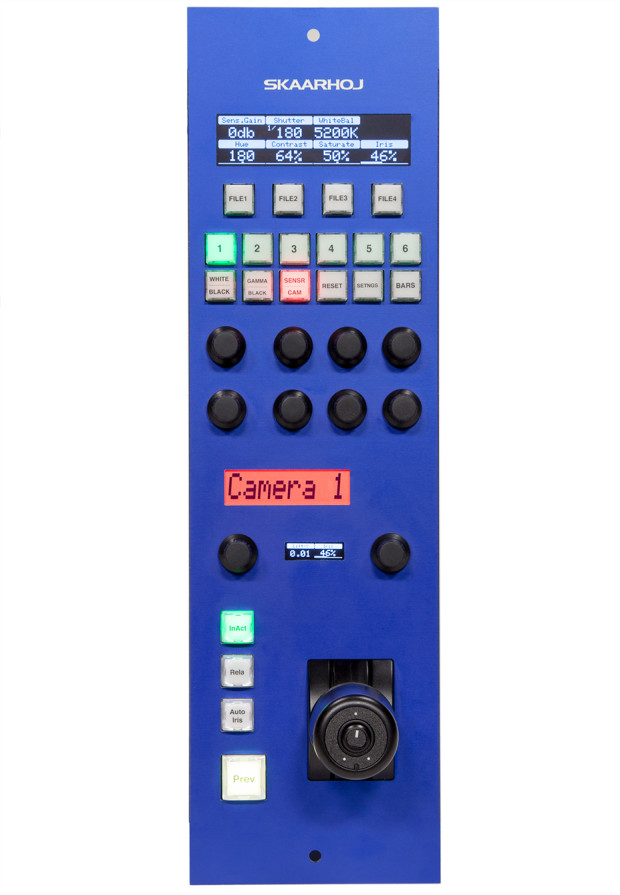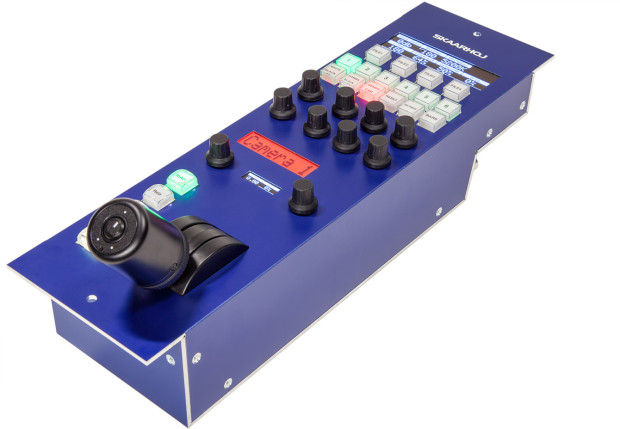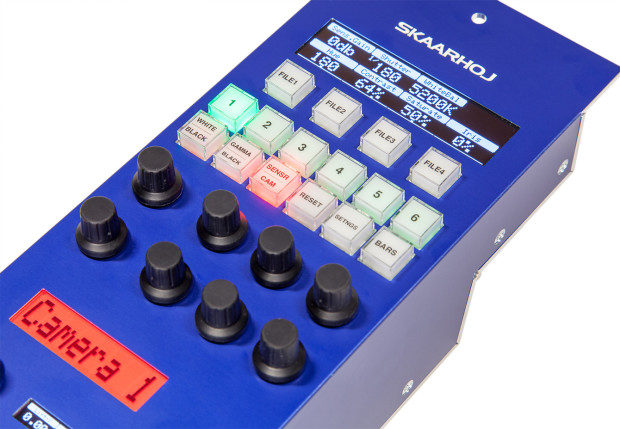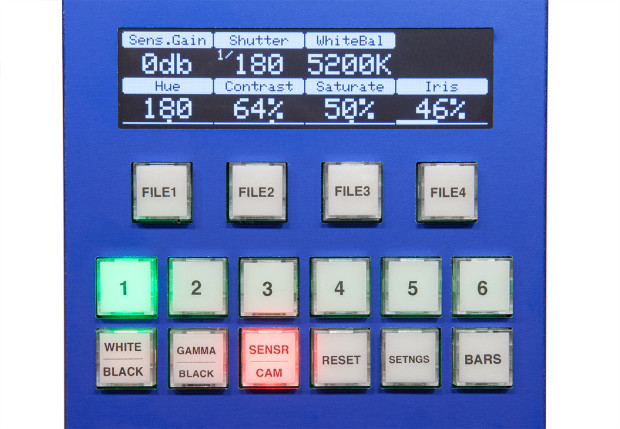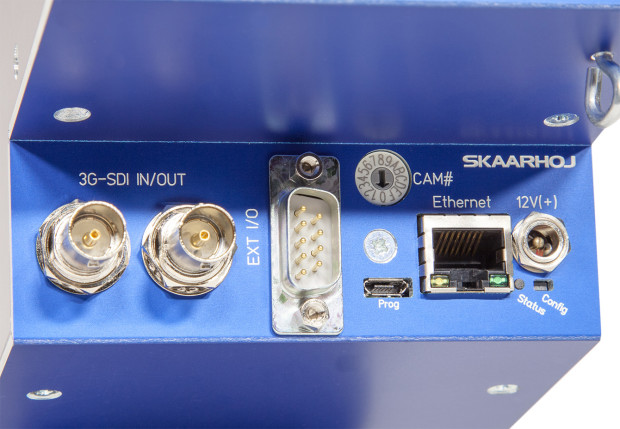 Benefits:
CCU controls a BlackMagic URSA Mini or Studio Camera series compatible camera ("BlackMagic Video Device Embedded Control Protocol" must be supported on SDI return feed)
NEW! Will also be able to CCU control Sony cameras! Please ask about this.
Familiar CCU operation via a single axis joystick iris control with master black wheel and top push button
Fits in your existing OB van rack with a Sony RCP Form Factor (4″/102mm wide)
Embeds CCU data on the 3G-SDI return feed via a BlackMagic Design Arduino Shield. Alternatively, sends CCU data via a BlackMagic ATEM Switcher (currently subject to limitation in connected ATEM clients)
Customize the RCP to your liking via the awesome new SKAARHOJ UniSketch web interface (all RCP interface components included!)
Use a BlackMagic Design Videohub or ATEM switcher AUX output to control CCU operator monitor via joystick push button (or any other button)
Connect external trigger and control external devices with the DB-9 "EXT I/O" relay output and GPI trigger connector
Clear ID indication with large 8 character Camera ID display featuring Tally-colored backlight
Shade with dedicated encoder knobs for lift, gamma and gain
Access other camera settings like shutter speed, sensor gain, contrast, saturation, details etc.
Advanced functions like "Active Panel", "Relative" and limits functions
Awesome overview of encoder settings with the very crisp 256×64 pixel OLED display
Store and recall settings with 4 scene stores and dedicated control buttons
Open Source – user hackable, just in case the web interface is not enough (which is kind of unlikely in our modest opinion)
Form factor: It has the same form factor as a Sony RCP-1500 series, so it will fit into your OB van. Here are the dimensions of the Sony RCP taken from their manual: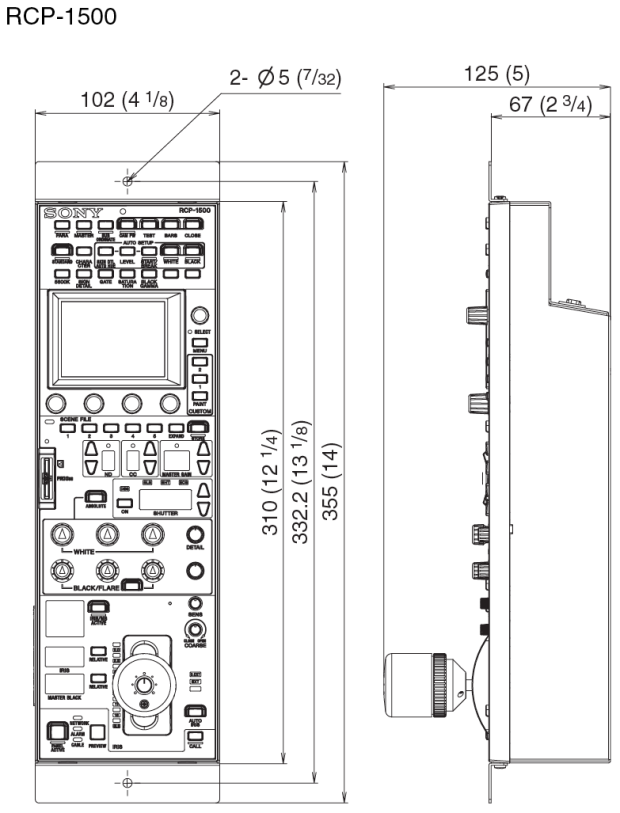 BMD Arduino Shield inside: Under the bottom of the controller, you find a 3G-SDI in and out BNC plug. Route the return feed to the camera through this connection to insert CCU data on the signal. This is all thanks to the embedded BMD Arduino Shield. Thanks BlackMagicDesign, you rock! 🙂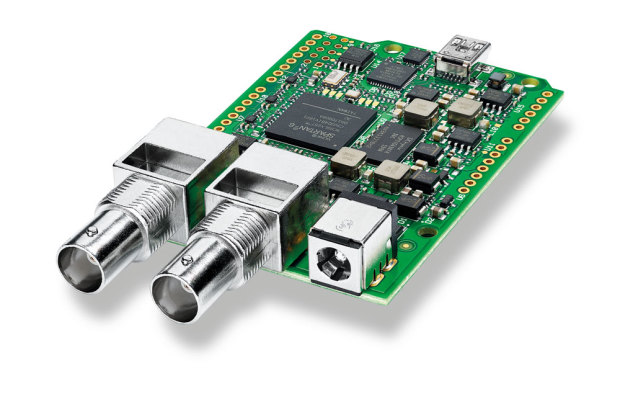 Camera support: The RCP will support any BlackMagic camera that supports CCU over the return SDI feed. This includes the Studio Cameras, Micro Studio camera and – since NAB – the URSA Mini camera. The CCU data is inserted on the SDI return feed so it's entirely possible that other cameras will support this data transport method in the future too – either directly or by a device with a similar Arduino Shield sitting in the other end which would extract the CCU data from SDI and convert to other data streams that other camera vendors support.
BMD ATEM and VideoHub support: The RCP feature a push button on the top of the joystick that will bring up the source on a local monitor. This can be achieved in three ways: Through the AUX output of an ATEM switcher (so, the CCU will have to be connected to an ATEM switcher), through connection to a VideoHub which will route sources to the monitor – or via a traditional Sony DB-9 relay plug (pin 1+2+3), also known as "EXT I/O".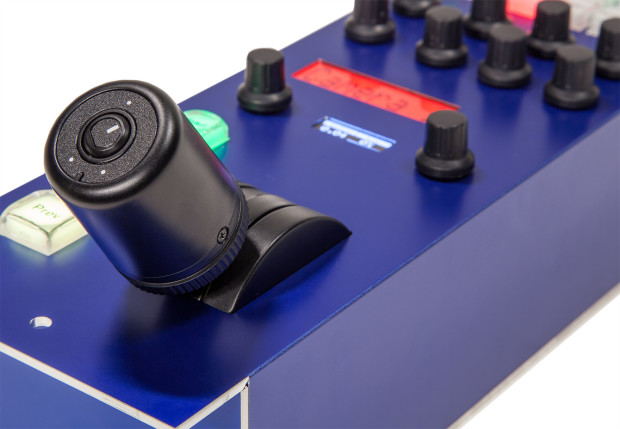 Further, the device will be able to send CCU data in two ways; either through the Arduino Shields SDI out connector or via a connected ATEM switcher. What you prefer is up to you. Using the ATEM route is known to work with any recent ATEM firmware to this date and doesn't require new cabling, but since an ATEM can only have a limited number of clients connected, it won't scale beyond a few cameras (we are working on a solution) with an RCP dedicated for each camera. Using the SDI in/out to insert CCU data on the return signal is the BMD endorsed way, but it requires you to cable the return feed accordingly through the RCP.
Web configuration: The device will ship with a great default configuration that make it work out of the box. However, the unit will run on the SKAARHOJ UniSketch firmware which will provide a fantastic web interface basis to change, extend or limit the functionality of the controller including shift levels, controller states and presets to add flexibility and conditions and which ensures new features and hardware supports will be available through software upgrades from SKAARHOJ over time.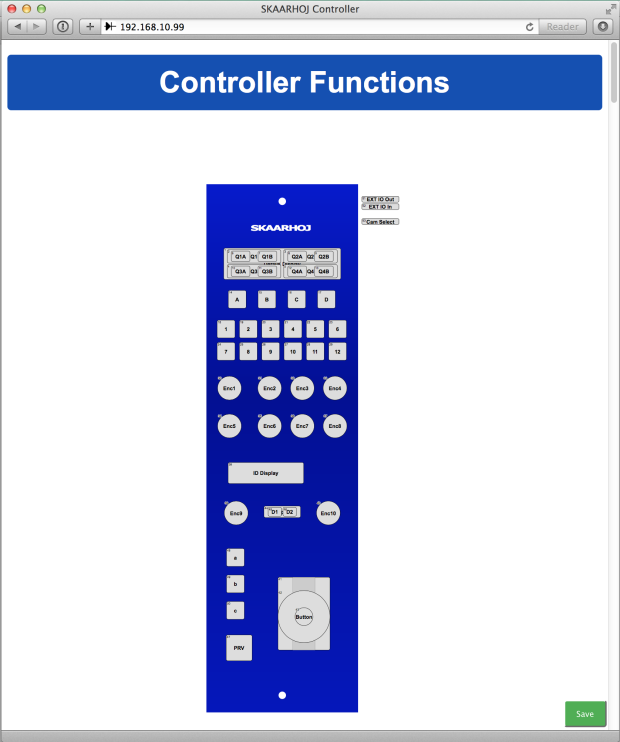 The web interface features a beautiful SVG rendition of the controller which lets you click any component to edit its function.
Every hardware component is configured through the web interface, even with multiple "states" in mind so it can perform different functions under different conditions. Here the encoder knobs are configured differently depending on the menu state the controller is in.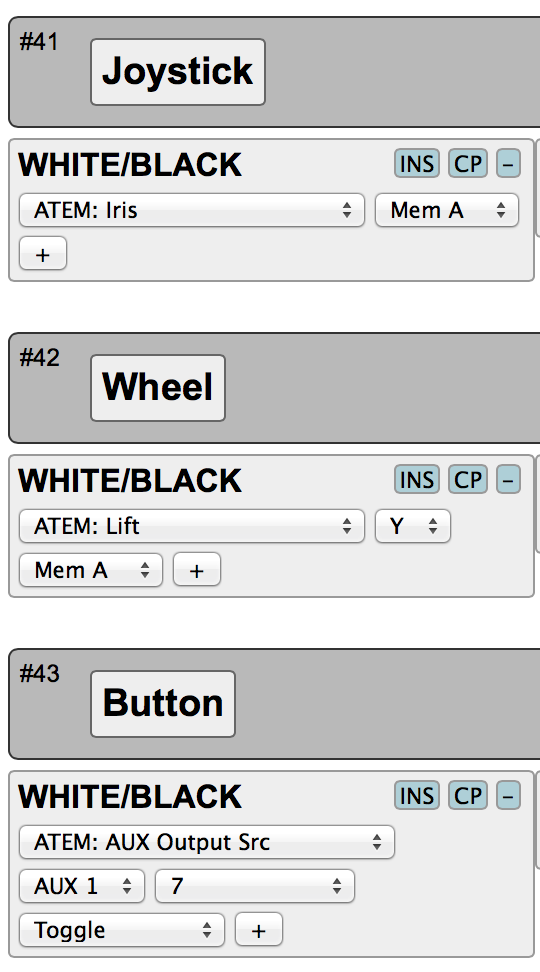 This shows how the RCP joystick handle, wheel and button could be configured.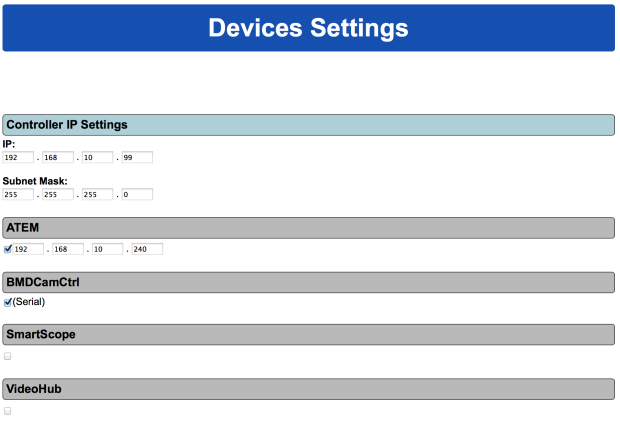 The controllers IP address can be set in the interface in addition to enabling communication with external hardware such as an ATEM switcher, SmartScope, VideoHub and of course the BlackMagic SDI Shield.

Presets saves complete configurations in EEPROM memory so they can be recalled easily when the RCP is moved from one hardware and network context to another.
Joystick Iris Control: We want the shading experience to be as close as possible to a traditional CCU. So we have integrated a real CCU joystick with master black wheel and push button on top!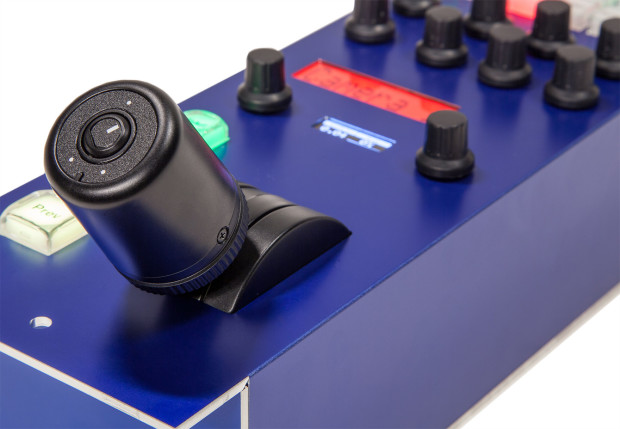 Camera ID and Tally: We have integrated an 8-char display for Camera ID text and set it up with a Red / Green / Yellow backlight so you can see tally information on the display.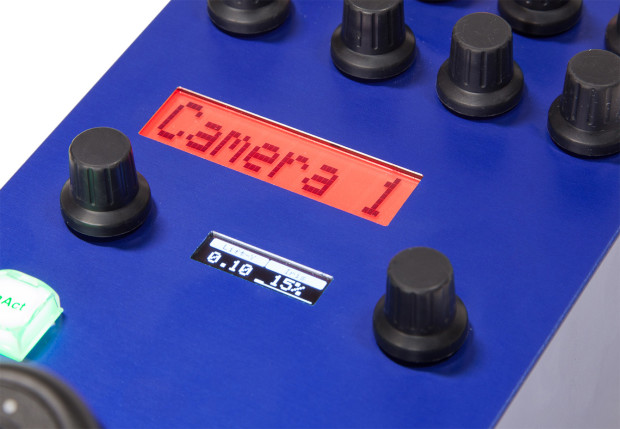 Master Black (Pedestal / Lift-Y) is also implemented on an encoder (in addition to the joystick wheel) and shown on a display. The same display may demonstrate the Iris level and the value limits in both ends (what BMD calls "Coarse" in their ATEM switchers).
DaVinci Shading: The BMD Cameras offer shading in shadows, mid tones and highlight, and in each colour primary R,G,B and Y. These controls are brought directly out on groups of encoders on the panel. The settings controlled by each encoder are shown in the large OLED display.

Active Panel and relative: A number of buttons are still "in development" conceptually. This is also where we want your feedback! But we do think there should be a "Panel Active" button as well as a "Relative" button known from Sony CCUs. Also Auto Iris is included here.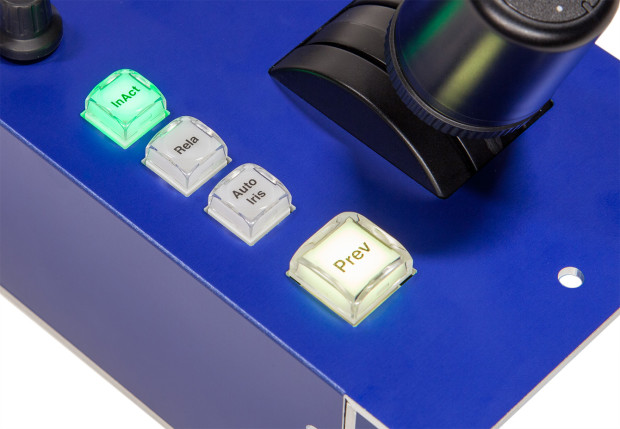 File stores and OLED display: Four buttons under the 256×64 pixel settings OLED display will be used to save and recall settings from memory.

Open Source: The device can be completely re-programmed by any Arduino programmer. Internally it's based on a SKAARDUINO platform developed by SKAARHOJ K/S and this platform is compatible with Arduinos development framework for easy access. This also guarantees that you always have the possibility to re-use and upgrade your hardware in the future independently of us!
What we need
We have lots of experience making these types of products, so we have put together a budget for producing 50 units. In broad terms it falls into these categories:
Prototyping costs: 5925$
Electronics (PCB motherboard): 5555$
Interface Components and MCU: 34640$
BMD Arduino Shield: 4750$
Enclosure (metal): 10900$
Assembly and test: 2050$
Certifications: 5778$
Accessories: 1400$
WorldWide 2-day Shipping: 5000$
Total = 75.998$
Surprises (exchange rates and taxes, change of service provider, what we forgot, risks): +20%
Platform costs: +10% (Indiegogo + payment provider)
Total pledged for: 100.317$
We have decided to run the campaign only if we get the full amount. We don't want to run like crazy to produce any number other than what would result from a fully funded campaign. What happens if we don't reach the goal? We're not entirely sure, but probably at least you will see us offer the RCP for sale under more regular production terms (MSRP around 2900$). This means a higher price, but you will get the unit. So, supporting and promoting this campaign is your ticket to a cheap unit! Please spread the word everywhere you can!
Risks & Challenges
The RCP Joystick sourcing was a potential risk until we got confirmed from the supplier that we could rely on delivery of enough joysticks for the batch! So this doesn't worry us anymore.
We have worked with the BlackMagic Arduino shield now for a while and it seems to work without show stoppers, so unless there is a supply shortage we are good.
In terms of the remaining hardware; The risks are fairly low since the device consists of hardware modules SKAARHOJ is already using inside our other controller devices. We have many years of experience building such controllers on a modular basis and having the enclosure, electronics and software produced for it. The budget is based on prices from sub contractors and while the project success does depend on them carrying through their deliveries, our experience with them tells us, that it would be an unlikely problem. We have reserved a buffer of money to face such potential difficulties.
Other Ways You Can Help
If you feel this idea is worth sharing, please share, spread the word! We know there is a lot of buzz around the URSA Mini cameras and lots of people are looking for exactly this panel to complete their new camera set up. You may know someone who is struggling to find that solution which we are probably the first to offer a solution for. So spread the word to help us bring this product to the market and complete the ecosystem around BlackMagics awesome cameras.
Make sure to use the Indiegogo share tools when you share!
And if course, you can always support us by pledging for the awesome t-shirt 🙂