iCrowdNewswire - Sep 13, 2016
In Uganda, A School to Call Home Photo Exhibit
A traveling photography exhibit depicting the empowerment of children in Uganda.
Please help me create an memorable and informative photography exhibit at Gallery Liberty 937 featuring the empowerment of children in Uganda. The exhibit opens Friday, September 23 and will be on display through Sunday, November 13th.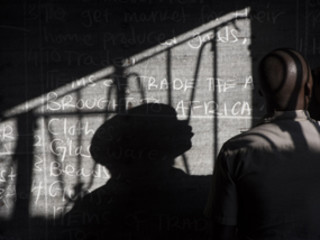 A Short Summary
My name is Martha Rial and I am independent photographer based in Pittsburgh. I have dedicated my 35-year career to photographing stories I believe are critical to understanding the human condition. I work hard to go beyond the stereotype and find the joy in the humanity that bonds us all.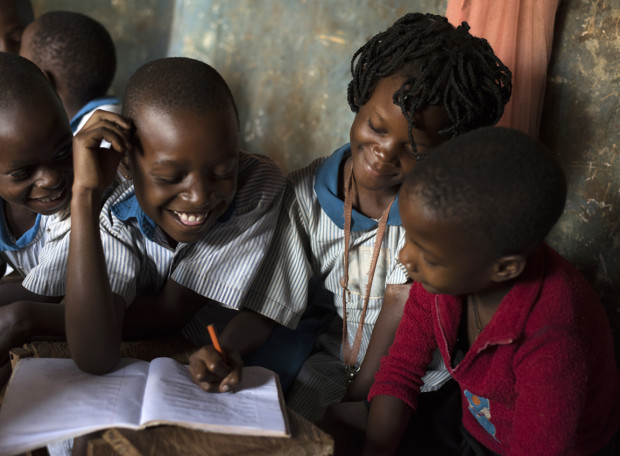 Children working on handwriting at The Great Kings and Queens Children Centre.
_________________________________________________________________________
In November 2015, I spent 15 days photographing the work Bright Kids Uganda and The Great Kings and Queens Children Centre are doing to support children in Uganda.  The East African nation is widely considered to be among the poorest and most politically corrupt countries in the world. In this nation of almost 39 million people, an infamous civil war waged by Joseph Kony's Lord's Resistance Army has resulted in tens of thousands of casualties, extreme torture and atrocities, and the dislocation of more than a million people. Nearly half the population is under the age of 15, and an estimated 2 million children have been orphaned.
Murray Horne, curator of visual arts for the Pittsburgh Cultural Trust, has invited me to present my photographs from Uganda at Gallery Liberty 937 opening on September 23, 2016.
The In Uganda, A School to Call Home  exhibit marks my first solo show since my 1998 Pulitzer Prize-winning essay Trek of Tears, which captured the tragedy of Rwandans and Burundians displaced by ethnic conflict. That collection of photographs traveled around the country and abroad for more than decade.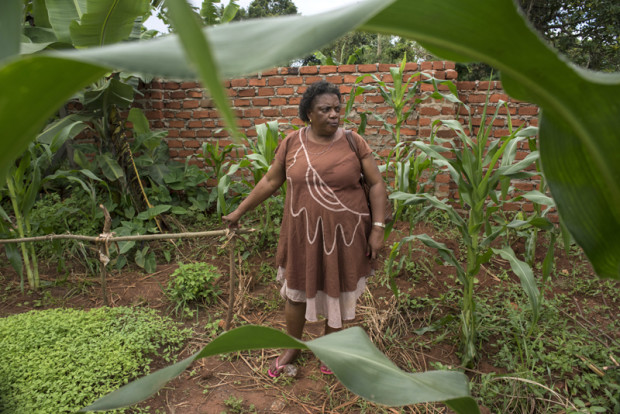 Victoria Nalongo Namusisi at her childhood home near Entebbe.
_________________________________________________________________________
I was introduced to Bright Kids Uganda co-founder Victoria Nalongo Namusisi at the University of Pittsburgh by Dr. Lou Picard in 2012. Namusisi co-founded the school and orphanage 15 years ago after several successful careers as a sport journalist, Olympic track team coach, government official and the head of scouting in Uganda.
While in Uganda, Namusisi introduced me to former street kid Medi Bugembe who ran away from home when he was five years old.  Namusisi rescued Medi from the streets when he was 11-years-old.
Medi joined other children who were neglected, orphaned or victims of extreme poverty at her newly opened Bright Kids Uganda orphanage where he was enrolled in school and encouraged to find his own path. After studying to become a teacher, Medi opened his own orphanage and school, The Great Kings and Queens Children's Centre, on the outskirts of Kampala. Many of the children come from the same streets where he fought for survival.
Both projects I photographed—The Great Kings and Queens Children's Centre and Bright Kids Uganda— have a connection to the Pittsburgh community. Pittsburghers have supported these projects financially and through educational outreach of the University Pittsburgh's Ford Institute for Human Security, a program of the university's Graduate School of Public and International Affairs (GSPIA). This exhibition is the culmination of a three-year planning process  and the willingness of the subjects to share their life stories with the world.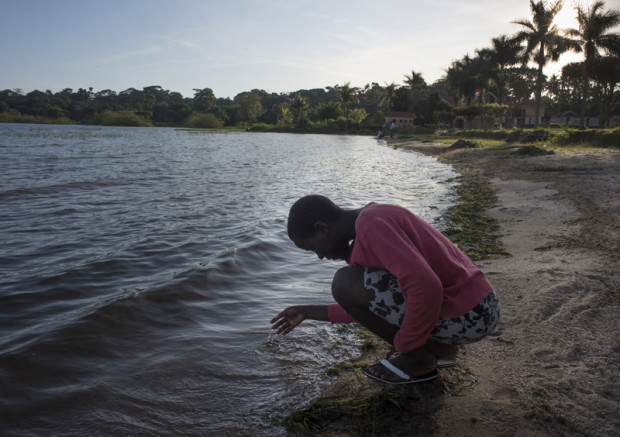 A Bright Kids Uganda outing on Lake Victoria.
_________________________________________________________________________
What We Need
Producing a solo show is an extremely expensive burden for an artist and I don't want to miss this opportunity to share Victoria and Medi's stories with Pittsburghers and beyond. My goal is to raise $2500.00 to cover the production (printing and mounting the photographs) for my exhibit and to provide modest honorariums for my subjects Victoria Nalongo Namusisi and Medi Bugembe who are traveling to Pittsburgh from Uganda to participate in a community forum.
I hope contributors will take advantage of this unique opportunity to own one of my photographs. I have received some support from the Ford Institute for Human Security at University of Pittsburgh's Graduate School of Public and International Affairs and a small Artist Opportunity Grant from the Greater Pittsburgh Arts Council, but it is not enough to cover my expenses.
Master printer Tom Underiner, of Pixel River, is donating his expertise by creating limited edition prints for contributors at the $100, $250 and $500 levels. Hahnemühle, creator of beautiful fine art papers, has generously donated paper to our project.
What You Get
As you can see, our perks are listed with the titles in Luganda, the local dialect spoken where Victoria and Medi live. In showcasing the beauty of these two strong and empowered individuals and their work through photography, it is also an opportunity to experience a unique world culture. Through learning bits of a new language, we hope to provide that connection to you, our backers.
In addition, those of you who back the campaign at select tiers BEFORE SEPTEMBER 12TH will have your name or the name of your business featured as event sponsors at the exhibit opening. Find out more in the descriptions below!
[$10] Wewali (way-buh-lay)
Wewali is the simplest way in Lugandan to express gratitude. It means "Thank you" and there is no better word to express our appreciation for your support of this campaign than for you to receive a wewali post card from Martha herself.
[$25] Kwesima (K-wess-eem-uh)
Kwesima means happiness. We included this title because your support of the exhibition through our Indiegogo campaign makes us grateful and has a lasting effect on the true beneficiaries, Victoria and Medi. The exhibit is one way in which their stories can be told and therefore, we will be sending you a 5X7 print of an image from the exhibit selected by Martha, a memento of the lives you have brought happiness to. You will also receive a shout out on the "In Uganda: A School to Call Home exhibition" Facebook Page.
[$50] Okulimirirwa (Oh-coo-lee-meer-eer-wuh)
Okulimirirwa means selfless. At this level, backing our campaign by September 12th will make you a sponsor of the In Uganda, A School to Call Home exhibition at 937 Liberty Gallery. Your name or the name of your business will be displayed among other sponsors and you will receive a 5×7 print featuring an image from the exhibit, signed by Martha Rial.
[$100] Amanyi (Ah-mahn-yee)
At this level, you have the opportunity to acquire an archival print size 9×12-in signed by Martha Rial, one chosen BY YOU from a gallery of 5 photos. You will also receive a shout out on social media and receive a post card from Martha. The prints from this exhibit, display the "amanyi" or strength of their subjects: Victoria, Medi, and the children they empower. Additionally, backers at this level prior to September 12th (that's within the first week of our launch!!!) will be featured on a sponsor board at the exhibit.
[$250] Bulungi (buh-loon-gee)
Bulungi, Luganda for "good" or "beautiful" sums up the exciting opportunities unlocked through supporting this level. At the $250 perk you will receive a 16×20 limited edition print of an image from the exhibition that you can choose from a gallery of 10 images (expanded from 5 offered in a previous tier). Martha will sign the print and you will forever own a piece of a beautiful story printed in the finest quality.
[$350] Amoyo (Ah-moi-oh)
Martha has created a special perk for donors in the Pittsburgh metropolitan area; she will make a portrait of you for $350. One family member, friend or significant other may join you for the portrait. Time not to exceed one hour. You can choose two images from our portrait session for personal use.  Location can not be more than 25 miles from downtown Pittsburgh. Amoyo is Luganda for "self" in the way that it refers to the heart and mind. What better way is there to capture a beautiful heart and mind of a generous supporter than in a portrait?
[$500] Mukwano (muh-kwon-oh)
Mukwano in Luganda means "friendship" and in supporting this campaign through backing the $500 tier, we cannot count you as anything but a great friend. Backing at this level will get you and a guest an invitation to an intimate  evening with Medi, Victoria, Martha, and ASA Social Fund Board Members consisting of dinner hosted by an ASA Board Member at the end of September. In addition to an evening of conversation and cultural immersion, you will also receive a 20×24 limited additional archival print chosen from a gallery of 10 images and signed by Martha, a reminder of the new friends you helped.
The Impact
My goal is to inform and engage the Pittsburgh community and beyond in the recognition of global human security issues and the important work Pittsburghers are doing to support and empower Uganda's youth and most vulnerable populations.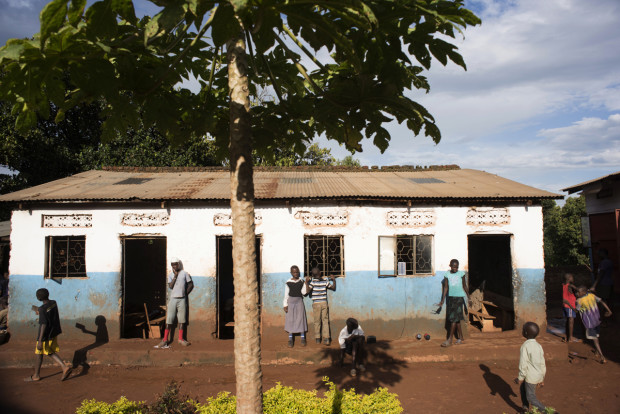 Classrooms at the  Great Kings and Queens Children Centre.
_________________________________________________________________________
Providing an authentic context for this exhibition is paramount to its success, so I am pleased Medi Bugembe and Victoria Nalongo Namusisi will be speaking at  Community Forum: Stories from Uganda on the evening of Thursday, September 29th in Pittsburgh. This event is designed to help the public engage with the work and understand its social context (Their travel expenses are covered by ASA Social Fund for Hidden Peoples.)
Also speaking at the forum is Dr. Louis Picard, Director of International Development Programs and professor of Public and International Affairs and African Studies at the Graduate School of Public and International Affairs (GSPIA) at the University of Pittsburgh. Several GSPIA students will share their experiences as recent interns with these programs.
Risks & Challenges
Although I have received national attention for my work, mainstream art galleries are not always interested in showing my work because I choose to focus on social justice issues. It has been extremely challenging to obtain the necessary resources to produce an exhibition of this scope.
This project is more than an art exhibit, it is about providing an accurate and thoughtful portrait of the children Victoria and Medi are helping. It is important to me to share the lessons I learned from photographing Victoria and Medi and their programs. They taught me the real meaning of family and how you can make room in heart for others regardless of faith and circumstance.
Other Ways You Can Help
Please share this campaign with family, friends and extended social networks. Thank you!
Please attend the public opening on Friday, September 23rd which is held in conjunction with the Cultural Trust Fall Gallery Crawl.
We would also love to see you at our Community Forum: Stories from Uganda on September 29th at Gallery 937 in downtown Pittsburgh. Reception at 6 p.m. and Talk at 7 p.m. Free and open to the public.
Please check out these organizations that support children in Uganda.
ASA Social Fund for Hidden Peoples
http://www.asasocialfundforhiddenpeoples.org
Bright Kids Uganda – Africa
Noah's Ark Hands on Training Center
Stay up to date on the exhibit and related events by giving us a "like" on Facebook: