iCrowdNewswire - Sep 12, 2016
2-IN-1 OXYGEN CONCENTRATOR AND SPORTS BOTTLE
The first BOTTLE that saturates WATER with OXY ever! Tailor-made for people leading an active life.
Such water is greatly popular with people doing a lot of sport or/and exerting work. It is also very good for elderly people and children.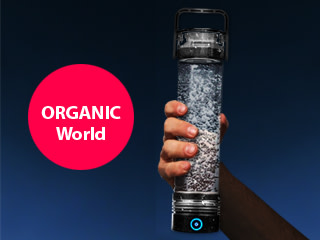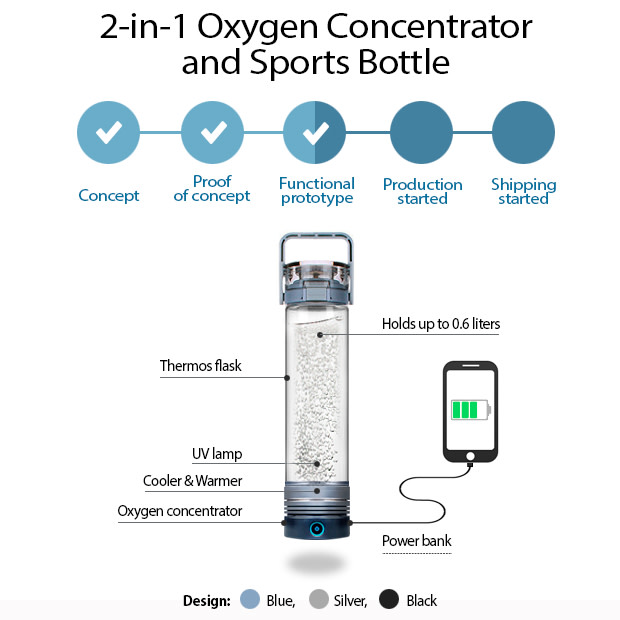 Eco-friendly properties: One Oxy-Water Bottle replaces dozens of disposable plastic bottles and reduces the amount of nonbiodegradable waste
Capacity: One Oxy-Water Bottle holds up to 0.6 liter
Speed: One Oxy-Water Bottle needs only 3 minutes to produce an oxygenated drink
Other properties: One Oxy-Water Bottle can do both, cool and heat
Bonus: A powerbank with each device
Simple Design: Compact, ergonomical and functional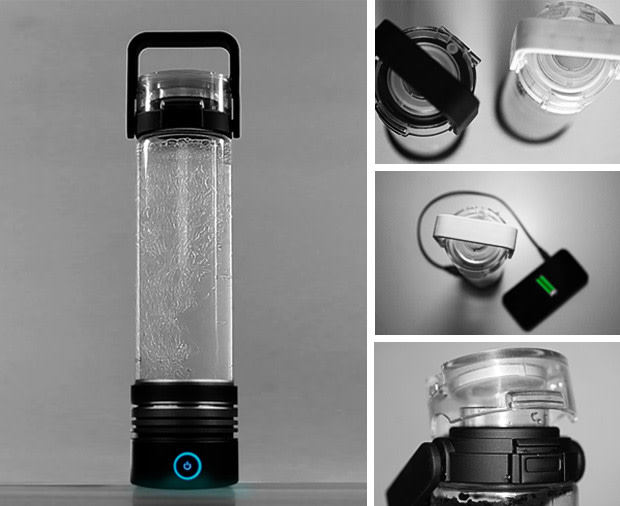 The Oxygen Concentrator Power Oxygen extracts the gas from air and dissolves it in water afterwards.
The operational principle of the bottle is simple and does not require much energy. On the molecular level the concentrator squeezes air and divides it into nitrogen and oxygen. This division is made possible due to a zeolite column that is built into the bottle.
The zeolite crystal has a complex branched net of minute pore spaces that can withhold particles no bigger than 0.3 micron. After nitrogen and other gases are separated, the concentrated oxygen is dissolved in water.
Power Oxygen purifies water up to 97-99%. The service life of a zeolite crystal amounts to 20 thousand hours minimum, which makes up as much as 10 years of work.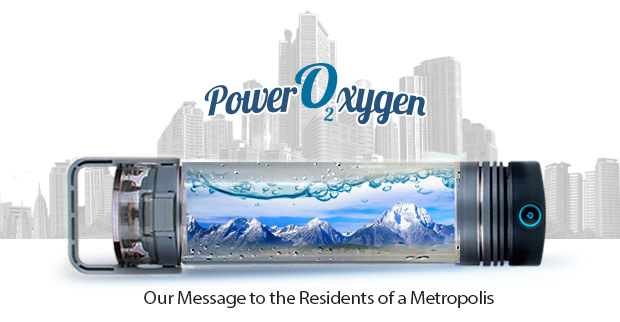 Oxygenated water is potable water which is saturated with extra oxygen and, as a result, contains two or three times increased amount of it. Such water heightens productivity, neutralizes the negative consequences of an unbalanced lifestyle and egests toxins and wastes.
Such water is greatly popular with people doing a lot of sport or/and exerting work. It is also very good for elderly people and children.
It is a kind of life-giving drink that provides our bodies with extra oxygen. Its application has neither restrictions nor bounds.
Oxygenated water supplies body cells with more oxygen and facilitates metabolism.
Water in mountain springs and streams is believed to contain far more oxygen than tap water, being so to speak natural oxygenated water. People in mountain valleys may live longer because they drink such water.
​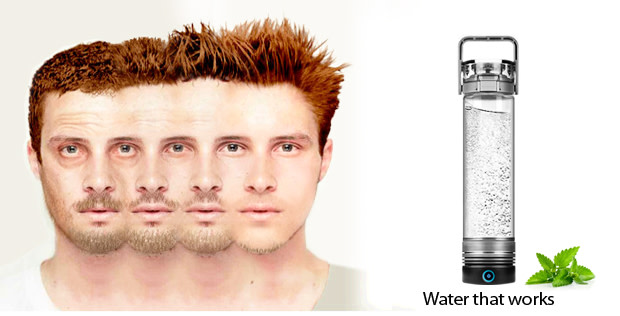 ​​
It prevents hypoxia and anoxia
It improves metabolism
It egests toxins and wastes
It heightens brain productivity
It prevents the lack of fruit-sugar in blood
It helps to regenerate skin sores and heal wounds and injuries
It improves the performance of the gastrointestinal tract
It improves the immune system
It heightens potency
It inhibits the process of ageing
It improves sleep

It facilitates recovery after strenuous physical work
It egests muscle lactic acid and relieves pain
It improves stamina
It contributes to weight loss
It improves your vital tonus and, as a result, your mood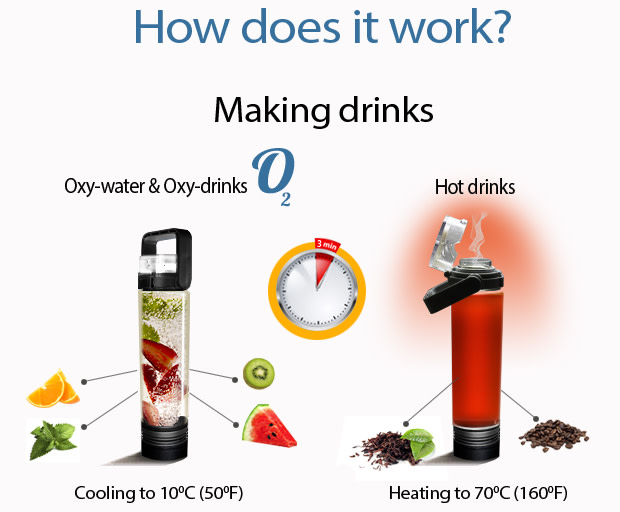 With Power Oxygen one can make oxygenated water only in 3 minutes. Besides, the bottle can be used to make vitamin-fortified drinks: just add some chopped fruit to the water in your bottle!
While preparing an oxygenated drink, a bottle can cool the liquid up to 10ºC (50ºF). The content of oxygenated water is akin to that of a mountain spring.
In case some heating is needed, the bottle can warm up any drink – be it water, tea or coffee – in just 3 minutes up to 70ºC (160ºF).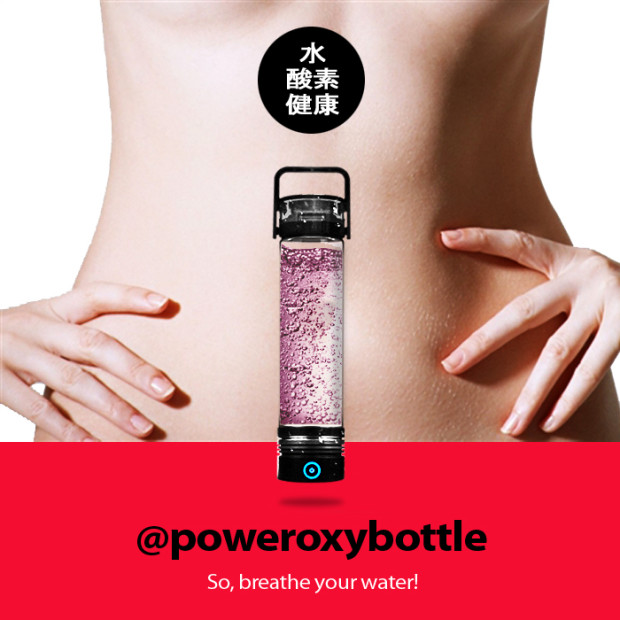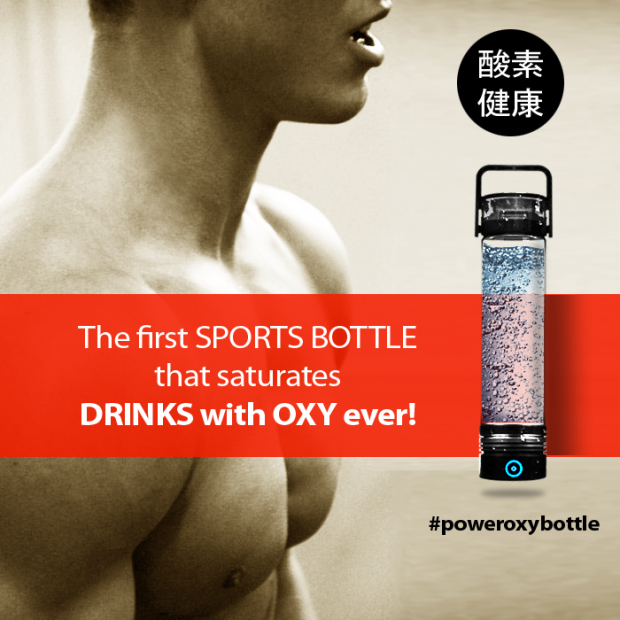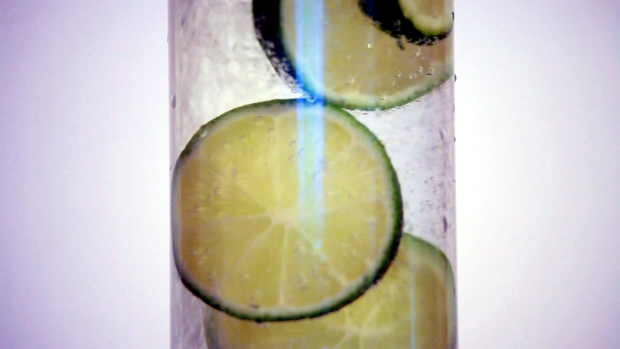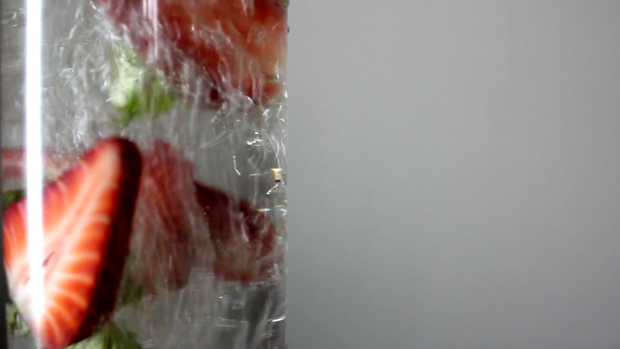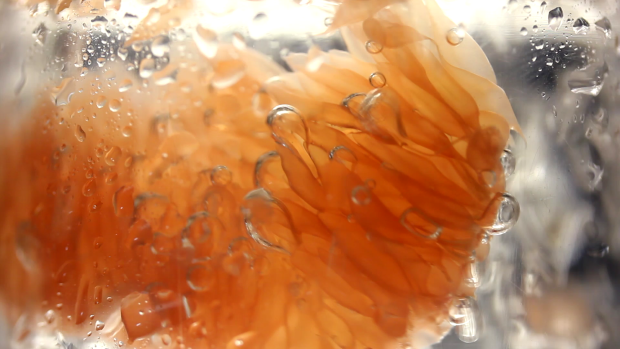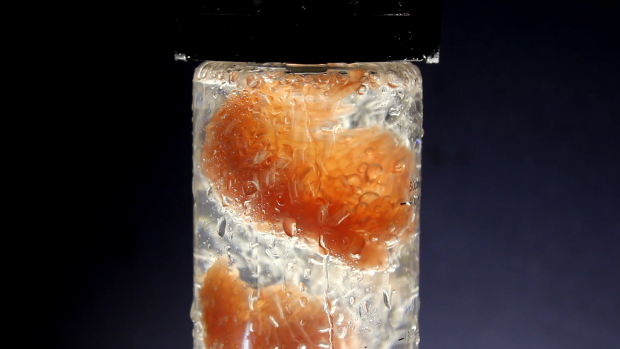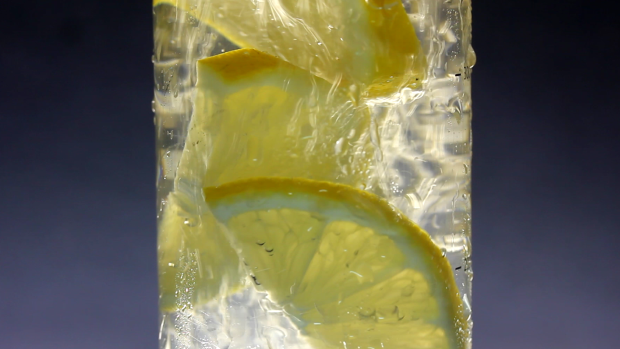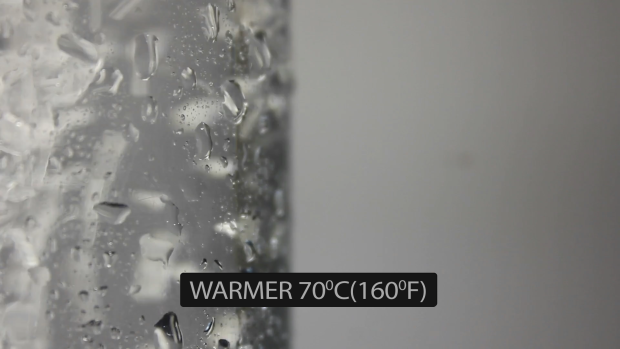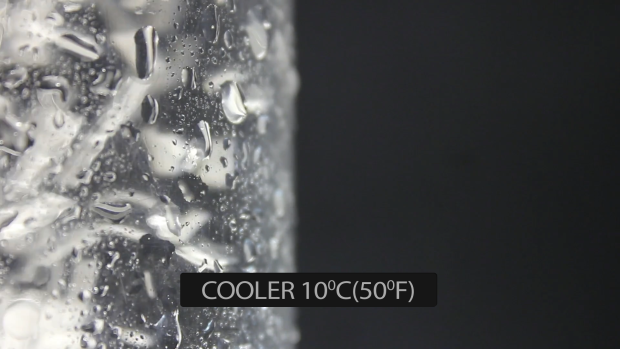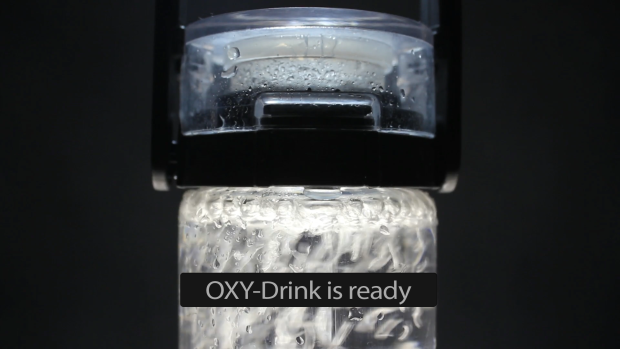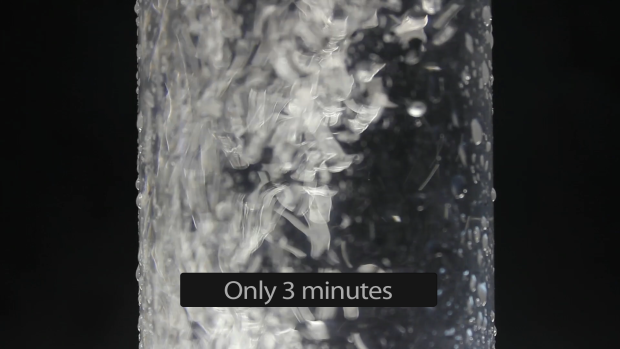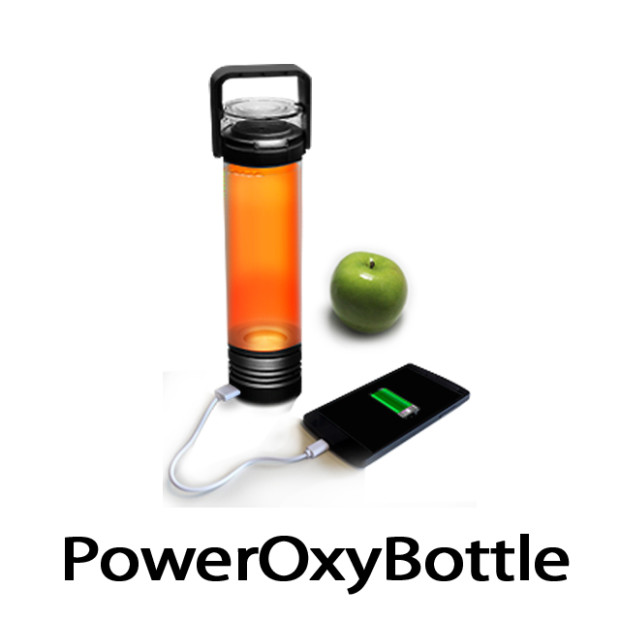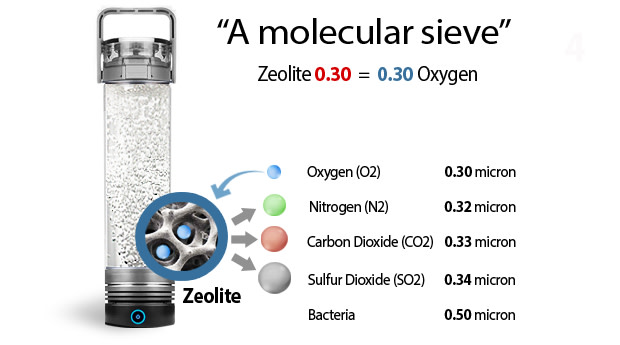 The built-in zeolite column neutralizes any harmful gases and bacteria. Its molecular structure works like a sieve to all air pollutants: oxygen molecules are the only ones it lets through. Due to the bigger molecule size of other gases they are barred from penetrating the filter.
Initially zeolite filters were designed for purifying air in hospitals and laboratories, i.e. in places where the least polluted air is a must. Besides, they are widely used in incubators, fish farms and steel mills. The latter usage is caused by the necessity to provide the maximum amount of oxygen possible.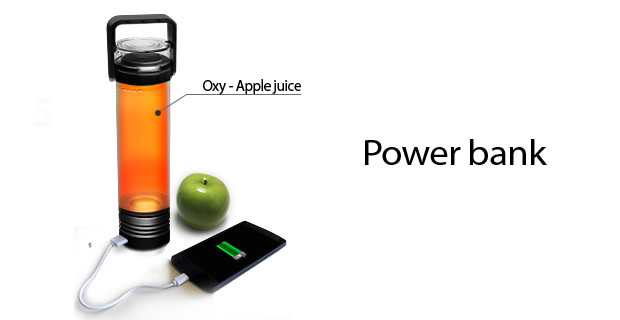 When your mobile phone or any other device needs charging, you can do it using your bottle as a power bank. The 5800 mAh capacity of its in-built accumulator makes it possible. Without extra charging the accumulator enables up to 20 operations, be it preparing an oxygenated drink or cooling/heating options.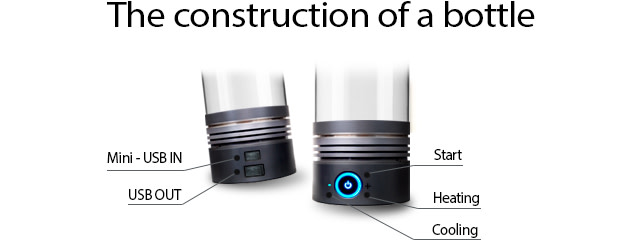 A Power Oxygen bottle is easy to operate. To do that there is just one button, i.e. "START".
Depending on how many times the user presses the button, he/she can choose one of the three existing modules: making a drink, cooling, or heating.
A beeping sound informs the user that the task has been performed.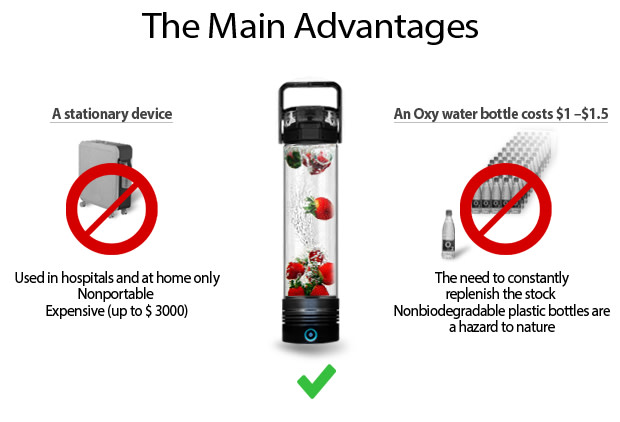 Power Oxygen makes 100% oxygenated water
Power Oxygen is compact and easy to use at home or carry along to work, the gym or on a jogging run
Power Oxygen is ideal to fight hypoxia in the mountains
Power Oxygen is made of durable high quality materials only
Power Oxygen is reasonably priced and good for health.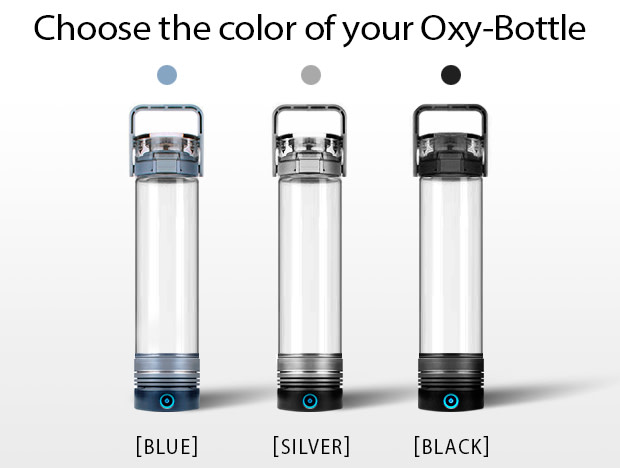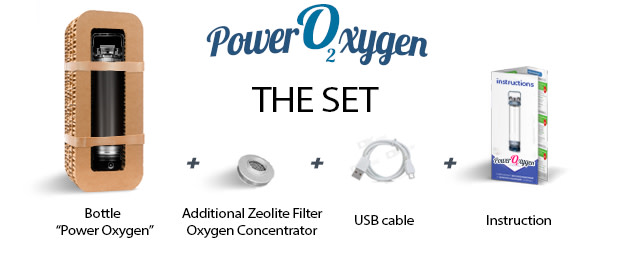 We are a team of young people sharing love for sport and innovations. For better sports performance and faster post-training recovery we drink mass-produced and bottled oxygenated water. Once communicating together we stumbled upon an ingenious idea to create such a bottle that will make oxygenated water on its own, which will be friendly both financially and ecologically.
By now we have created Power Oxygen, the working prototype of an oxy-bottle. The model increases the concentration of oxygen by 3 times, which has been proved by experiments conducted in laboratory conditions.
At present we intend to move on to the production stage of the project. We love sport, we are active and we like making the world a better place. We'll appreciate any contribution to the implementation of the idea, i.e. the production of Power Oxygen, the first sports oxy-bottle ever!
Feel free to email us directly at poweroxybottle@gmail.com or leave us a message if you have any other questions.
Patent-pending technology, patent-pending design.
It is explicitly pointed out that the products which serve as Perks are in the development phase. It cannot be excluded that during the development phase technical, economical or other circumstances arise which may result in a delay of the delivery of the Perk or the production and delivery of the Perk in a different form as regards functionality and/or design. By making a Contribution the Contributors explicitly acknowledge the risks associated with the occurrence of one of the aforementioned events.