iCrowdNewswire - Sep 9, 2016
Mess in a Bottle TShirt Shop Campaign
Mess in a bottle is a tshirt company and we are looking to expand and we NEED YOUR HELP!
Mess in a bottle is a growing tshirt company that is unlike any other. We are not "JUST ANOTHER TSHIRT COMPANY!" We are an EXPRESSIVE brand that allows an individual to say how they feel without saying anything at all. What's your MESSAGE? We all have one. Please help me get my creative brand in major retailers and recognized globally. I have had many inquiries but struggling financially to meet the demand. I NEED YOUR HELP to make my dream a REALITY!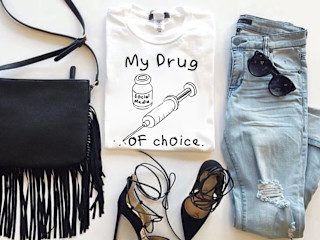 Mess in a bottle
Hey guys! My name is Kalilah and I am a designer that resides in Baltimore, Maryland by ways of Brooklyn, NY and by ways ways of Jamaica, WI. My parents and I migrated to America, when I was at the tender age of 4. I discovered my interest in art and architecture through my godly mom, Aunty Shirley and my 3rd grade teacher, Ms. Cummings. As I evolved and Ms. Warrick and Ms. Lewis (both teachers I love), nurtured my artistic skills, I went off to graduate from Penn State University with a Bachelors of Art and a Masters in Architecture, 2010. Since then I have worked for major architecture and design companies such as Under Armour and CSD to name a few.
I've always had a love for architecture and design and that has now translated into fashion! In 2015 I launched my tshirt brand, Mess in a bottle. I am an outspoken individual and I frequently spoke my mind. I began to be expressive on my tshirts and PEOPLE LOVED IT; hence, the birth of MESS IN A BOTTLE. Wear your MESSage.
I am launching this campaign to grow outside my design room; my ideas are bigger than 150sq.ft. and I NEED YOUR HELP! I do EVERY aspect of my business myself. I print the shirts, put labels on each bottle, put a personalized message in each package, ship, market, etc etc, the list goes on. I AM ONE HUMAN (I think), with 2 hands. I stay up endless nights chasing this dream that I know will be successful. As we expand, I need more start up capital to meet my demand. That's where YOU come in.
HELP!
Your donation will help us solve world hunger (joking, but I wish). It will allow me as a very small woman owned, black business to grow without taking out additional loans (THANKS SALLIE MAE, I SEE YOU GIRL), and having to choose with giving up stake in my company from potential investors this early in the game.
WHAT DO I NEED?
I need approximately 10k, but I am trying to raise at least half (5k) to get the wheels on this train going.
1. I need a bottle manufacturer. I am currently buying my bottles retail and IT IS KILLING my business.
2. I need printing power. I need to pay someone to print my shirts and print my labels and messages on my bottle.
3. I need marketing power. I need to put some money into real marketing to get the world to know how kick ass this company truly is.
4. I need more space. I am already exceeding the space I currently have and I need a place to house all my inventory.
5. I need a larger inventory, currently I buy 100 shirts and 75 bottles and I sell out in less than a week. I NEED a larger inventory.
6. I need web design and coding help.
7. I need legal services with copyright laws and privacy acts etc.
See, I told you, I NEED YOUR HELP!
I have started another small business liliNash and I enjoyed designing furniture and repurposing items to give it new life, but that company takes a LOT of resources and time. I dove into this tshirt business to help grow and build my baby furniture company, but I quickly discovered the demand and love people had for my tees.
I am an extremely hard worker and I push through any obstacles I am faced with. Your donation will help me to catapult my business to the next level.
So thats it folks, thats my Shark Tank pitch. Please share, donate, tell Oprah, Mark Cuban and Bethenny Frankel I am ready to speak with them at their earliest convenience.
PLEASE SHARE, PLEASE DONATE, believe in me as much as I believe in myself!
Thanks.
Mess in a Bottle owner, creator and designer KALILAH C. WRIGHT