iCrowdNewswire - Sep 8, 2016
29th Element EDC Sleeve 2.0 Production Launch
These chapstick sleeves are a unique product sure to boost your pocket game to the next level!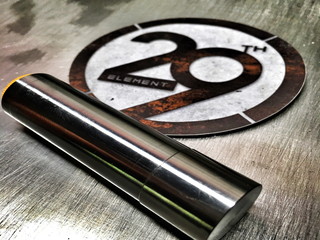 Kick up your EDC game a notch with these badass chapstick sleeves now available in Copper, Brass, Stainless and Titanium. These are all custom milled from solid billet material unlike the tubing being used by other makers. First of its kind, custom closed cap design. These sleeves are milled to install only one directional, you can actually hear the "Click" as your sleeve installs fully on your chap. Easy install and removal. Sleeves are made to fit on standard Burtsbees chap.
Do you like EDC!? Do you enjoy showing off your pocket gear!?
Then EDC Sleeve 2.0 is for you!!
What makes Chapstick an Everyday Carry Item?
The EDC Sleeve 2.0 is a decorative and protective sleeve made to fit over your Burt's bees Chapstick but that's not all! Did you know that Chapstick actually has over 29 uses that could helpful in an emergency situation!? That is right, something as simple as chapstick can be the difference if you thrive or not in an emergency situation! One of the most popular uses is fire! Yup! Small Tinder treated with chapstick actually burns a significant amount of time longer than tinder not treated. Sure thats Super cool but other uses include Bug bite relief, Patching holes in your tent, Reducing the glare of the sun, protecting your skin from sunburn or wind/snow chap, stopping small cuts from bleeding and even fishing bate! I wouldn't be caught without my EDC Sleeve 2.0!
What makes this product special!?
These sleeves are the absolute first of their kind and superior to anything else out there for quite a few reasons, These Sleeves have;
A custom milled closed cap design for the ultimate fit and functionality.
A custom milled Sleeve that is milled to only be installed one directional.
The EDC Sleeve 2.0 features a thicker wall for added weight and an overall better feel in your hand.
Chamfered corners so they wont dig in or snag regardless of how you choose to carry it.
Precision milled components so the cap and sleeve will click together seamlessly every time.
Take your pocket game to the next level today by purchasing an awesome EDC Sleeve 2.0 in either Copper,Brass, Stainless Steel, or Titanium and have all of your friends asking "What's in your pocket!?'
Just over one year ago I started this company to work to provide the best life that I can for my young son. To be the best provider and father I can be. I set out on a journey to develop affordable EDC products that were also made to last. Through trials tribulations and constant development, the EDC Sleeve 2.0 was born. The past year has been a good ride but this is where the fun begins!
By contributing to this campaign you can help me accomplish my goal of taking this product to production.
How does that benefit you!?
By taking this product to production customers will experience a faster turn around time on their orders. No more 2 week windows from the time of order to the time of shipment. Production also means the Best Product Every time! Now I am a perfectionist and I pride myself on that goal I set out for. An affordable product that is also made to last but production allows me to take this company to new heights and truly show the EDC Community and the world what I have to offer. Be sure to check back with my Instagram @29th_Element for add on's and complementing products in the future.
I sincerely Thank you for your support on this project!