iCrowdNewswire - Sep 7, 2016
Stilla Motion – A pocket-sized security system
Bag, door, stroller, or bike — get instant alerts if something moves when it shouldn't.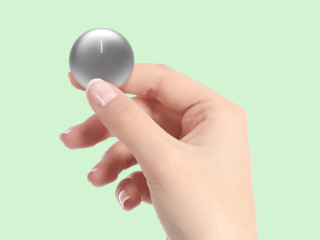 Things will never be by themselves again. Stilla Motion is here to change the way we look at security forever. Use it by placing it on anything you wish to guard — make it come alive by supporting this campaign.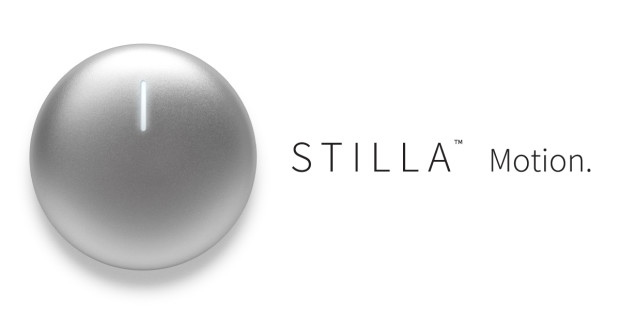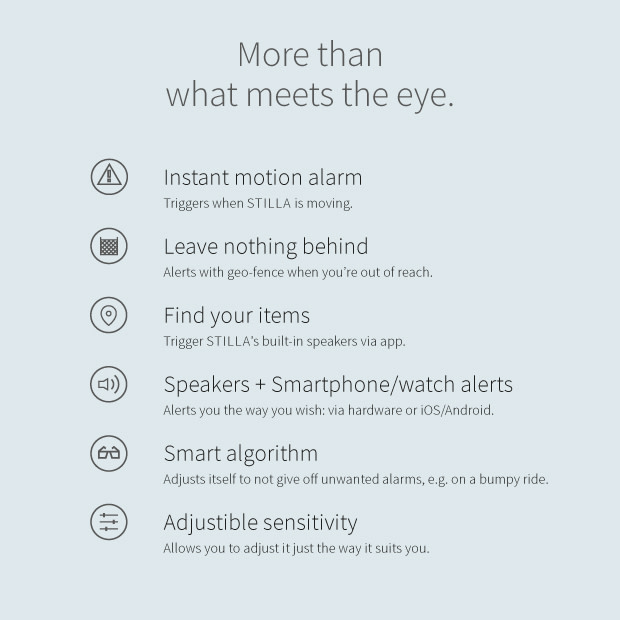 You don't have to look for your things if you never lose them.
Stilla Motion is an instant security system that you can take with you wherever you go, and use for whatever you like. Place it in a purse or a stroller, on a laptop or a door, and get an instant alarm on your phone or smartwatch the second it moves. And as if that weren't enough, Stilla Motion also has a strong built-in speaker that will let everybody nearby know if someone is touching your stuff.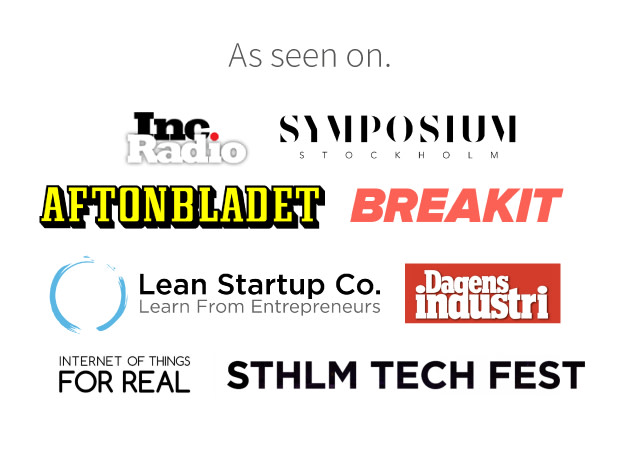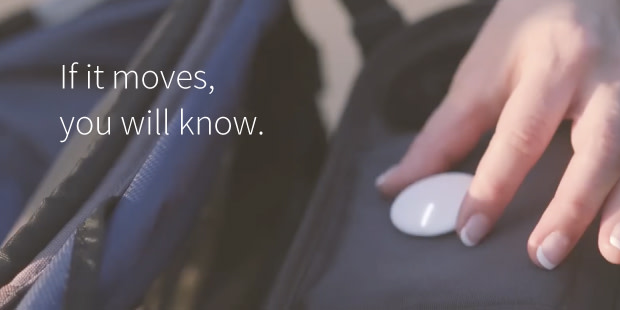 This Stilla is all about Motion.
The second your belongings move with an activated Stilla attached to them, you will be alerted through your choice of alarm: smartphone, smartwatch, Stilla Motion's built-in speaker — or all three.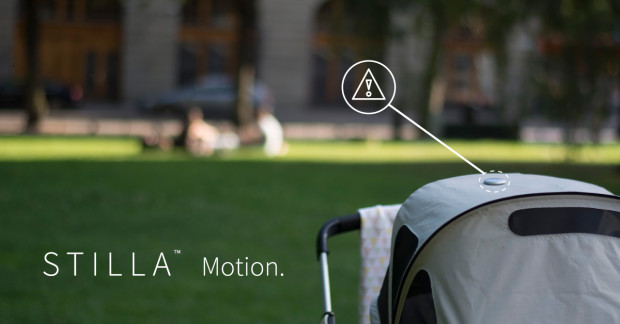 Stilla Motion is here to help, with both obvious and creative use cases.
Place it on your stroller and enjoy a day in the park without looking over your shoulder for it — or attach it to the cookie jar and keep sweet-toothed culprits away.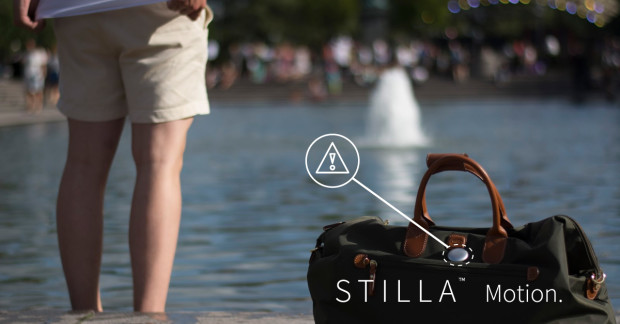 The built-in speaker will act like a tiny but effective car alarm for your belongings.
It will alert anybody nearby when necessary. At the same time, the Stilla Motion app will let you know if you walk out of range. This means you will never again leave a bag or jacket behind like they don't have feelings too. Pretty smart if we may say so ourselves.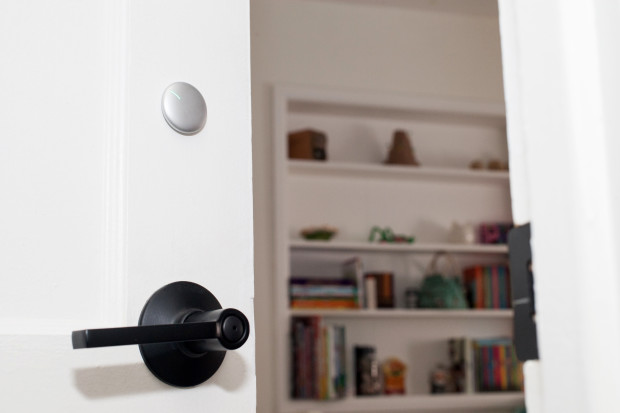 No need to stay attached to your things anymore, let Stilla Motion be that for you.
Attach your Stilla to just about anything that you want. Stilla Motion come with a protective cover and adhesive tape that allows you to easily fasten wherever you need it.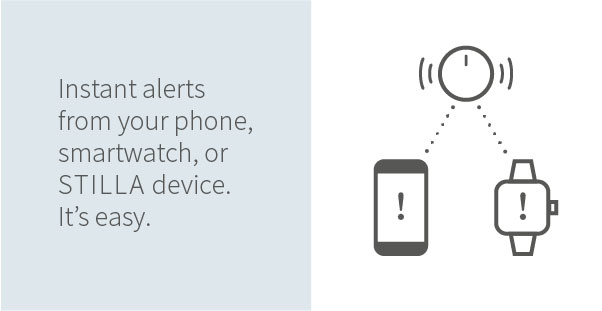 "Ehm, can you watch my…" no more.
Stilla Motion is easily activated with a quick squeeze, or inside the app. In the app, you can also pick between modes for your protection; choose whether you'd like the built-in speakers to go off with the alarm, or if a simple notification to your phone or smartwatch will be enough for now.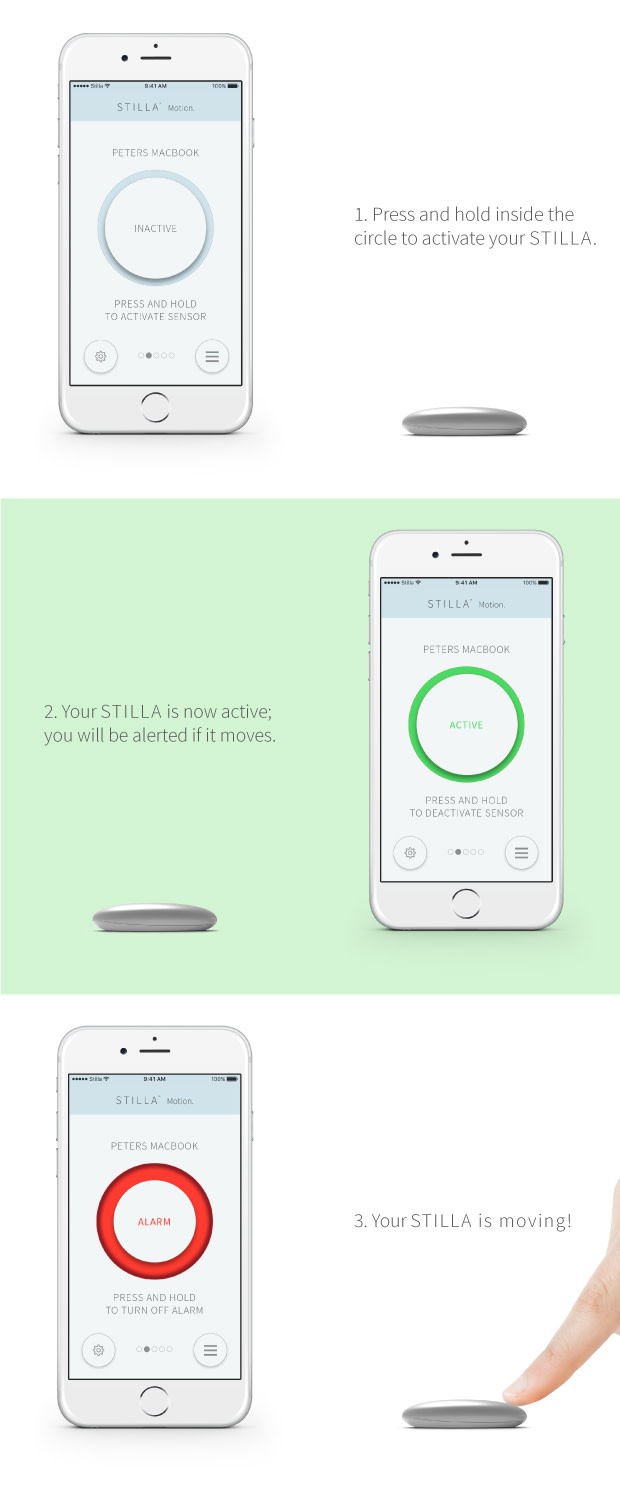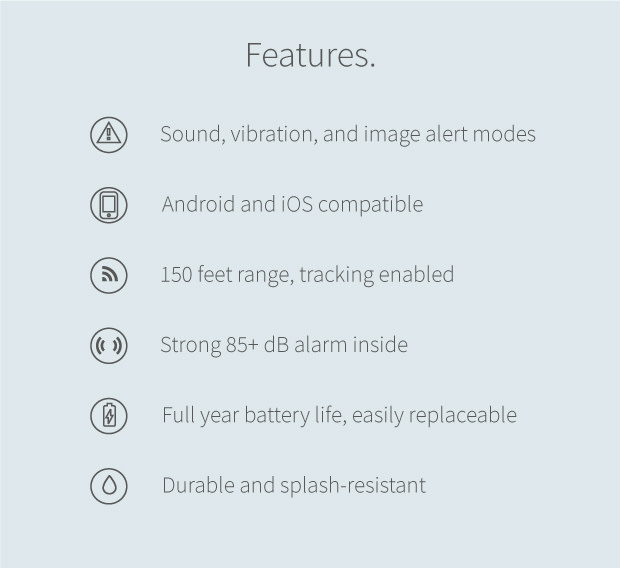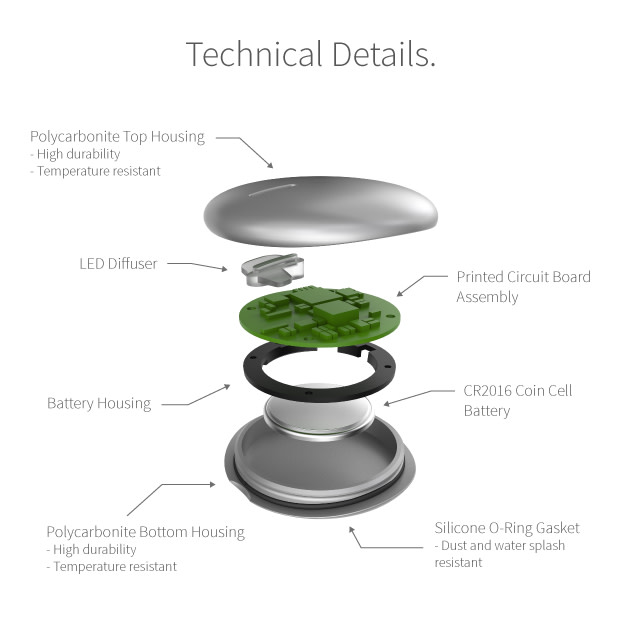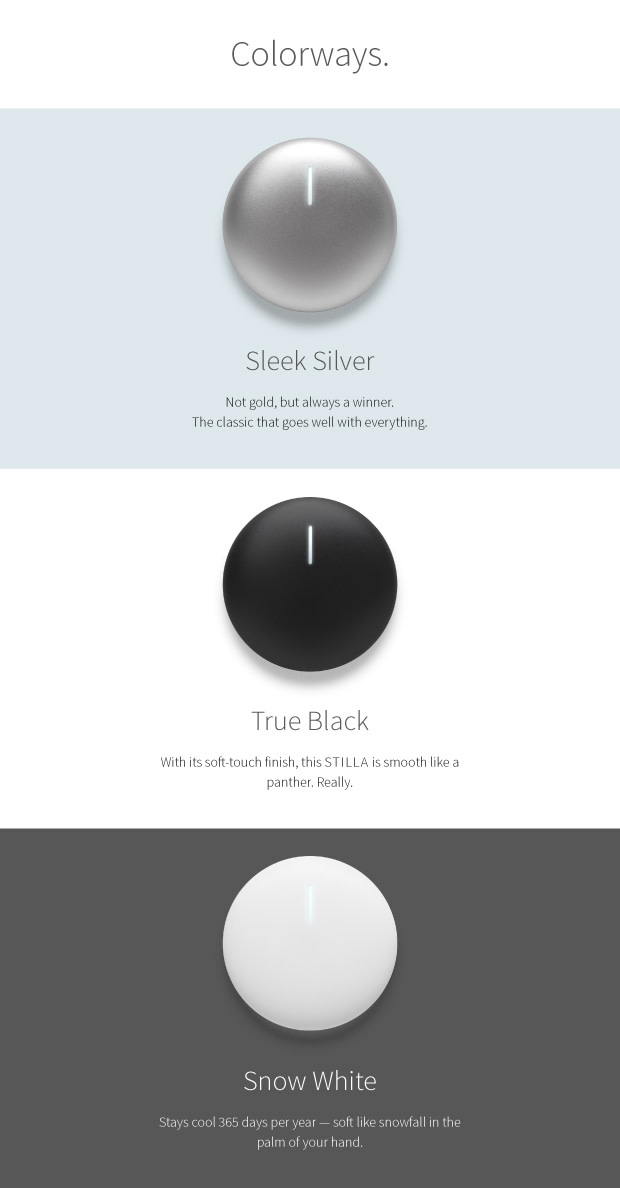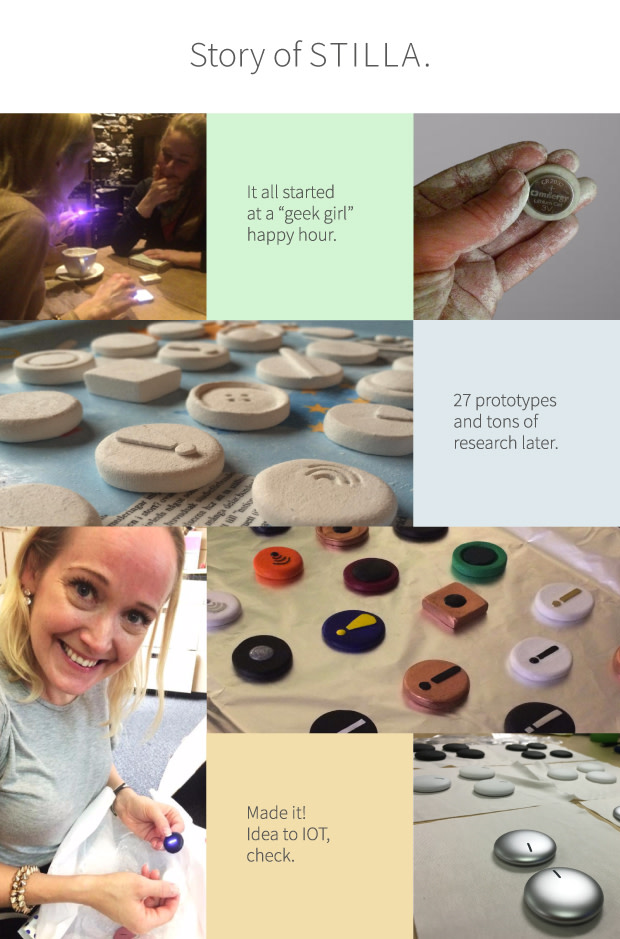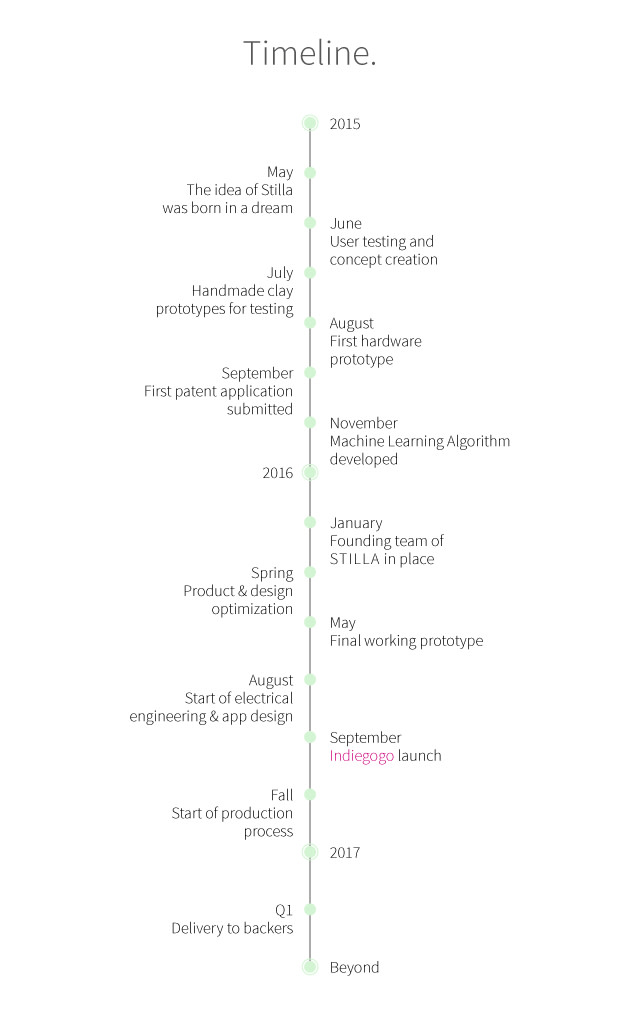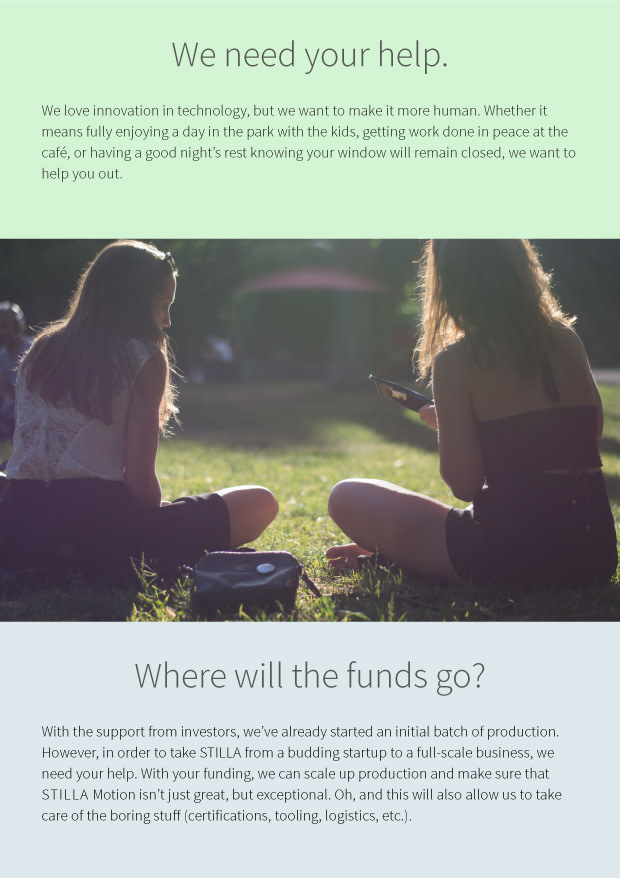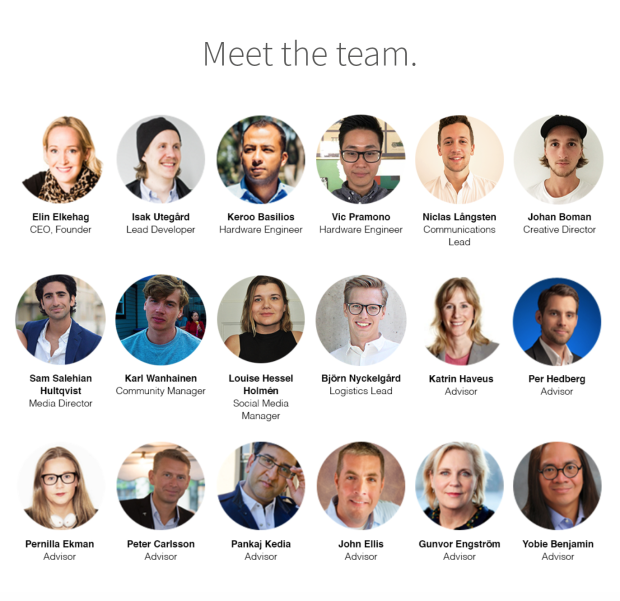 1. What is Stilla Motion?
It's a smart motion sensor. Anything you put Stilla Motion on, in, or at will be in direct connection with you; if the item, surface, or person moves you'll get an instant notification on your smartphone/smartwatch. Stilla Motion is peace of mind.
2. What problem is Stilla Motion solving?
Rather than solving the problems, Stilla is preventing them. You don't have to look for your things if you don't lose them in the first place. With Stilla, your things will be guarded while you pay attention elsewhere.
You don't have to worry about leaving your things behind either since you will get a notification to your phone or Smartwatch if you are getting out of Bluetooth range.
3. How does Stilla Motion work?
When the hardware device detects motion, you will get an instant notification. You can choose from different modes that will allow for the device itself to sound when the smartphone/smartwatch is set to silent, or vice versa. Or just have them all making noise simultaneously.
The software uses smart Machine Learning algorithms that are able to separate recurring motion (a bag on the floor of a moving train) from unwanted activity (a bag being lifted up).
4. Let's say I do lose my items, how do I find them with Stilla Motion?
With the push of a button in the app, you'll locate your keys, wallet, or purse through a clear signal from the strong 85+ dB speaker in the Stilla device.
The device is also already prepared for coming updates that will include tracking functions with a vast range.
5. What makes Stilla Motion different from what's already out there?
Other notification devices are triggered by distance, not motion. What distinguishes the motion alarm system, Stilla Motion, from trackers on the market is that it doesn't just help you find your things — it keeps you from losing them in the first place.
As opposed to motion alarms that are bolted to windows or doors, or built into suitcases, Stilla Motion isn't a fixed piece of technology. You can use it wherever and whenever. Some days you might need it as extra security in a hotel or hostel, and other days you might bring it to keep an eye on your bag while at a busy concert.
The user experience is uncomplicated while the technology stays sophisticated. User friendliness and innovation is key for us, and we aim to soon create an open source Stilla in order to let the maker community use the hardware to what best fits their needs.
6. What will the Stilla Motion cost?
During the Indiegogo campaign, early supporters will be able to purchase Stilla Motion for as low as $29. After the campaign, Stilla will retail for ~$49.
7. What about Shipping cost and Value Added Tax?
The shipping cost and value added tax are not included and will vary by country.
8. What are your long-term plans for Stilla?
We are makers, and we know that amazing things are created everyday through IoT. We want to be a large part of that community. Stilla Motion is just the start of our bigger goal of bringing beautifully designed innovations to the world of IoT and creating open-source hardware.
Our second product that we will launch shortly is Stilla Connect, a BLE to WiFi hub that will help you stay in touch with your Stilla even when you aren't at home yourself. That can be great for monitoring snooping roommates, making sure kid that are coming home from School safely or scare of potential burglars.
9. What's inside?
Please see Technical Details in middle of page for elaborate specs.
10. What's the team like?
Stilla was created by a diverse global team with exceptional and award winning talent in all facets of design, engineering, and business development. We proudly brought Stilla Motion from idea to working prototype in 100 days. As of today, Stilla is based in Sweden and the USA. Team Stilla is also actively supported by a world class team of advisors and board members.
For press requests, please contact: press@mystilla.com