iCrowdNewswire - Sep 6, 2016
Tactical Lasertag in Atlantic City
A small business ran by an old man and his young son in the heart of South Jersey.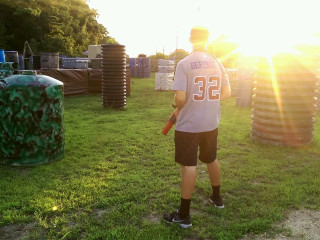 A business owned by an old man and his young son. This is not your indoor, blacklight filled static arena with the use of see-through, plastic, 25ft range guns. No. This is tactical lasertag. Guns that are metal, equipped with red-dot scopes, magazine and reloading system. The ever changing arena will have you wondering where your favorite camping spot went. The game modes are ripped straight from games like Call of Duty, Battlefield, and Counter-Strike.
Backstory
My dad and I used to go to an awesome lasertag arena out in Arizona each time we went for a vacation. We loved it. We figured let's bring lasertag back to the shore. That was over 3 years ago. At first, it was a very expensive hobby and arguably still is. Donating would greatly acheive mine and my dad's dreams which is bringing family fun to Atlantic City.
However, let's face it: Ten Thousand Dollars is not going to happen.
Most of our money has gone to buying the guns we use. They are not cheap (were talking up to $800/gun) Whether it is buying more or repairing them.
Other expenses are related to the field. We buy bunkers to use. These vary from Zipties (We've must've used 2000) to Paintball bunkers (used for mobile lasertag) to 250gal water totes.
From smaller things like Ice for coolers, batteries, electronic safes for a gamemode called 'Heist', Hardigg cases, kindle tablets, paying employees, and paying for the land, your money would GREATLY help out this small business.
Who's playing?
We have never gotten one negative review from a player. This is from over 100 booked parties, over 7 free events, and friends that have come over to my house to play in the woods. This type of entertainment is for young kids to the older crowd who want to feel the joy of "legally killing their son".
The old man's hardwork
Since this is an expensive hobby, we risk not being successful and basically having a garage full of useless lasertag guns. The money invested into this company will hopefully help me have an easier life as my dad is getting old (62). He's an overworked old man that just recently had a mild stroke due to this. He works about 13 hours a day due to managing his own business and helping with our dream. I would like to be able to keep him for as long as possible.
No money? No problem?
Like us on facebook, share our posts, tell your friends about us if they are planning to go to Atlantic City for a vacation.
Come down to the shore. Come to one our open plays with a few friends. If you mention that you saw this post on IndieGoGo, it'll be half the price for you. If you really want to play privately you can book your own party with us.
I hope you can help mine and my dad's dreams come true. -Adam