iCrowdNewswire - Sep 1, 2016
Sion. A Solarcar for everyone.
Integrated solar cells for up to 30km a day. 250km range. Family friendly car. For under 16.000€.
The Sion is an innovative electric car with integrated solar cells in the body, a range of 250km and a price of less than € 16,000. 30 free kilometers per day are possible with electricity generated by the sun. The stored energy can be used through bidirectional charging for all common electronic devices. Sion is a family friendly vehicle, thanks to 6 seats and optional trailer coupling. In Short: A self-charging electric car for infinite, sustainable driving.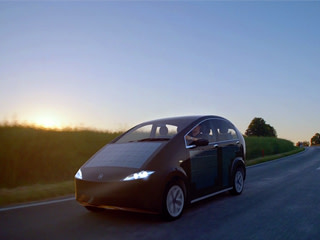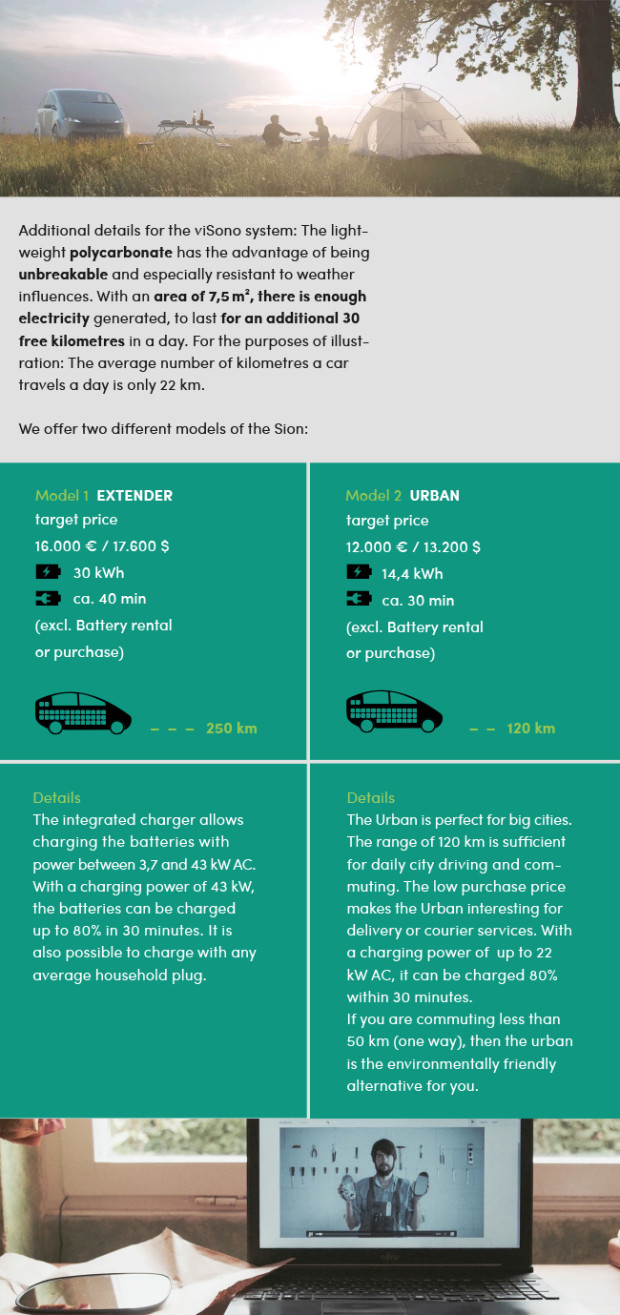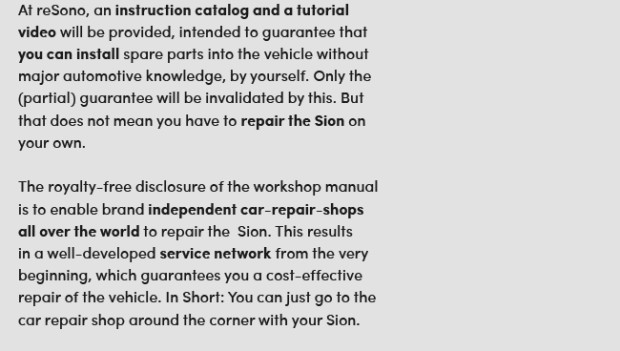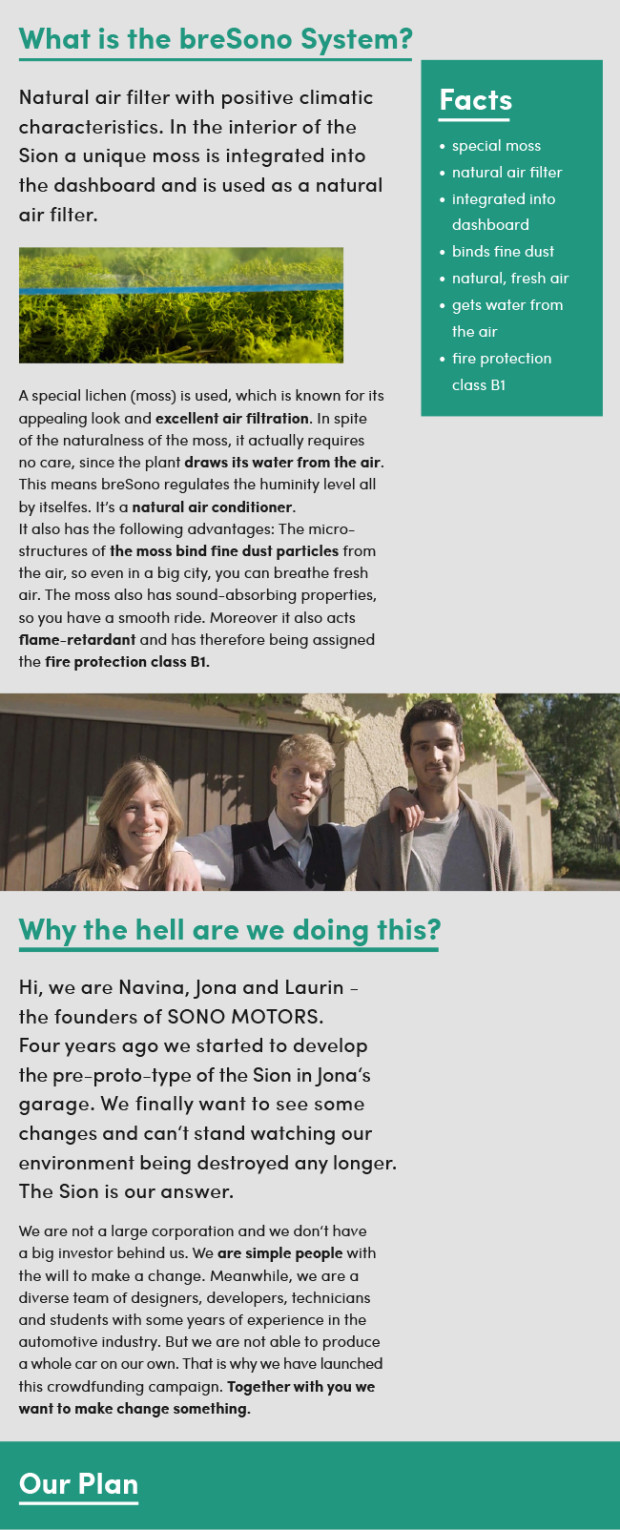 As seen on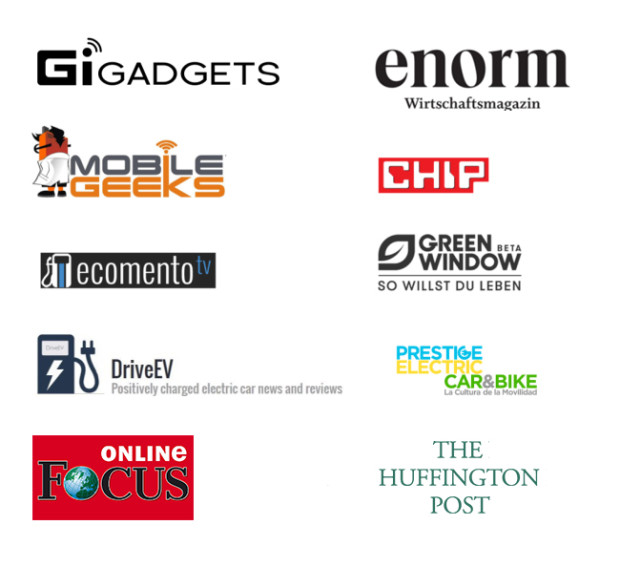 –

Further Questions:
www.sonomotors.com/faq (ENG)
www.sonomotors.com/faq (GER)
Factsheet (ENG)
Factsheet (GER)
–
Press contact:
press@sonomotors.com
www.sonomotors.com/press

Further information:
www.sonomotors.com
Facebook
Twitter
–
Risks and challenges
General
In crowdfunding, there's always potential for unexpected challenges, and although we hope none of these will come up, sometimes things happen. From experience, we discovered that manufacturing, in regard to our delivery timeline, could be an unexpected obstacle and may result in slight delays in delivery of the products. We've strengthened our established relationship with our manufacturing and distribution partners to ensure that we minimize the risk of any such occurrences. We are working hard on the Sion to comply with the specified time, but we have to note that the specified schedule is only an estimate. A big concern on our part is not to waive environmental standards and humane working conditions, only to comply with the production schedule. The quality of the SION should not suffer from tight deadlines.
Testdrive
We are not a large company and therefore hope you understand that it can occur that during the test drives, delays may happen or that there might even be a total failure of the drive. The test drive will only take place in your country if there are more than 50 pre-orders there. The test drive will only take place in the capital of each country. With more than 200 pre-orders from a country, test drives are offered in several cities. Which cities are chosen is at our discretion. We accept no liability costs for travel, board and lodge. We will only set a date for the test drive; if you're unable to come, we can not offer alternative dates, unfortunately. In general: There is no legal claim to the Sion, the test drive and/or already paid services.
Please note: There are only test drives offered in countries in which we also plan to deliver the Sion.
Battery
Optionally, the Sion is offered with a monthly battery hire or a single battery purchase. Prices for this are yet to be announced. Please understand that we are still at an early stage and therefore can't give you precise details. The steadily falling battery prices will however only develop to the benefit of your final price.
Preorder / Purchase / Deliver of the Sion
Please understand that we cannot enter into any legal sales contracts with you at this early stage. Therefore, there is no legal claim to the Sion, the test drive, the reservation and/or already paid services. You can always reclaim your prorated purchase amount for arising transfer fees (for example PayPal). The first time this is possible will be after the end of the crowdfunding campaign. We'll try our best to meet your request – however, we point out that you have no legal right to a refund of the prorated purchase amount, in case of bankruptcy or other financial difficulties of SONO MOTORS GmbH.
We're aiming for deliveries in the following regions and countries:
In the following countries deliveries are aimed:

• European Union
• Swiss
• Great Britain
• India
• USA
• Canada
• Australia