iCrowdNewswire - Sep 1, 2016
SayberX Powered Male Masturbator with Remote Touch
The Closest Feeling to Real Sex: Enjoy Alone, or Controlled by Partner with Motion Tracking Ring.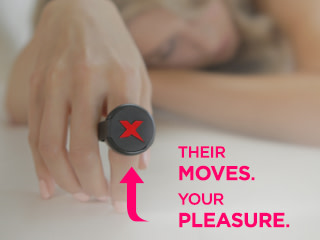 The first powered male masturbator that actually feels like sex. Enjoy on your own, or be stroked by anyone with a motion tracking ring from anywhere. WARNING: The sex is simulated, the orgasms are real!

In the real world – you can't always have sex when you want.
Even though you might be a black-belt with your own hand, it's always more satisfying having it done for you.
That's why we created SayberX – for revolutionary automatic satisfaction.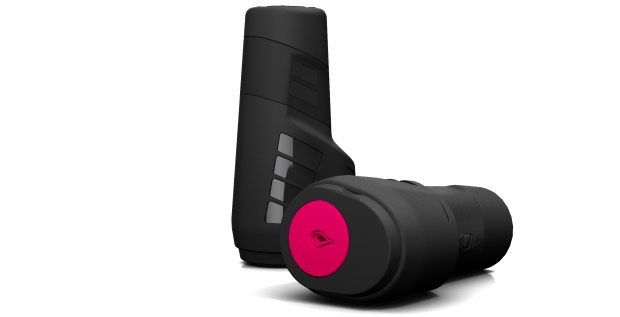 The soft, flesh-like inner chamber strokes you up-and-down automatically, delivering the closest feeling to real sex that you can get on your own.

SayberX's ultra-realistic stroking motion turns high torque rotation into a smooth up-and-down stroke that feels amazing.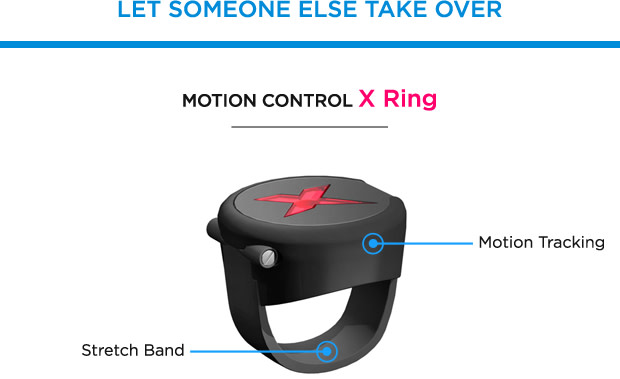 The motion tracking X Ring remotely controls your stroke.
The faster they move, the faster the stroke.
Attach to sex toys, giving them a serious upgrade.
Or use with anything that moves – let your creativity run wild!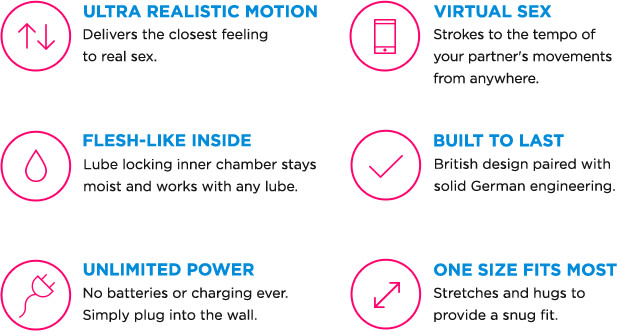 Enjoy automatic satisfaction at the touch of a button. Always ready when you are with unlimited run-time to make sure you're satisfied.

Connect easily and safely to see and feel your partner's movements in real time.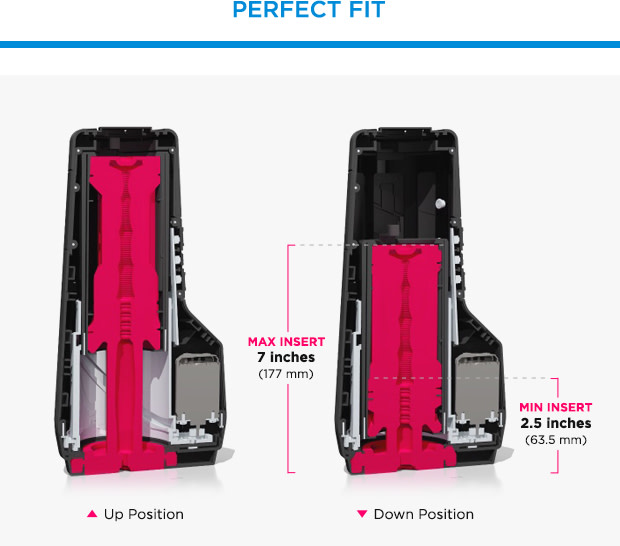 Sayberskin hugs and stretches to accommodate the first 7 inches of almost every man.
Safe with any type of lube, hypoallergenic, non-toxic, and pthalate-free, it feels great.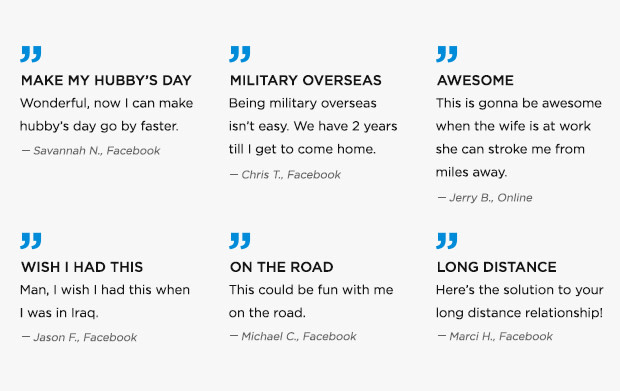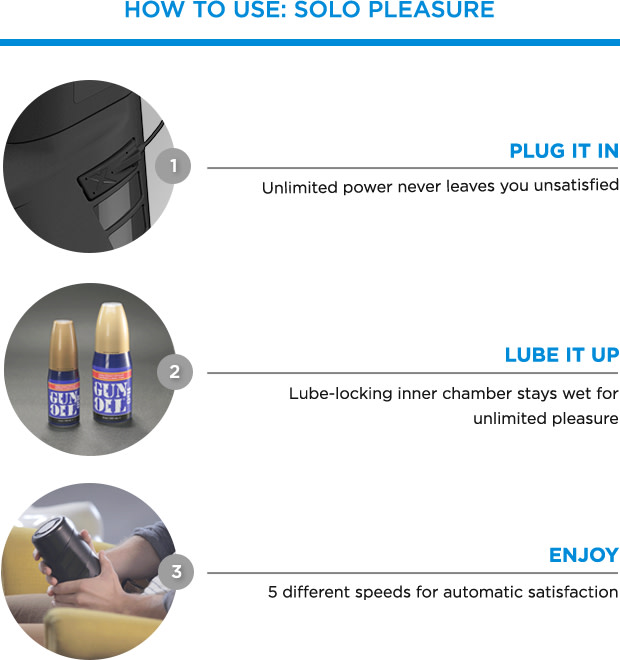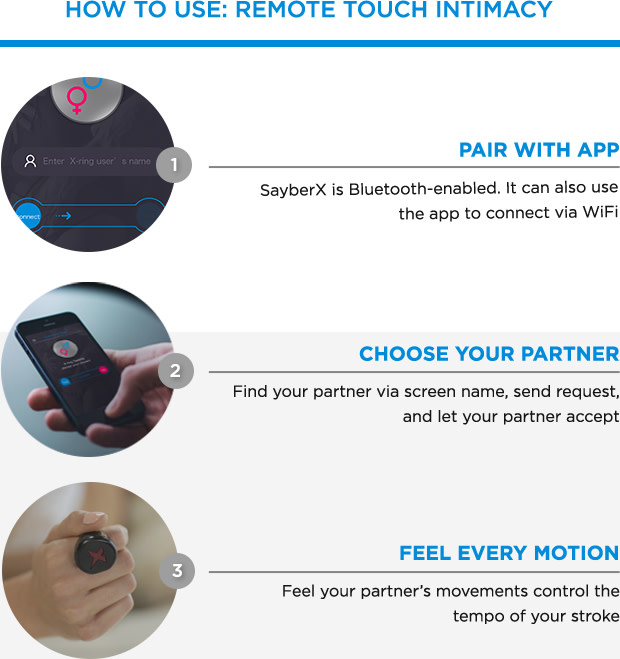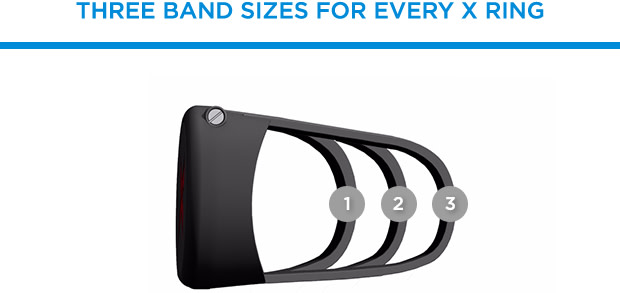 Two stretchable ring bands for finger sizes S/M, and M/L, plus an extra band that fits on your favorite sex toy.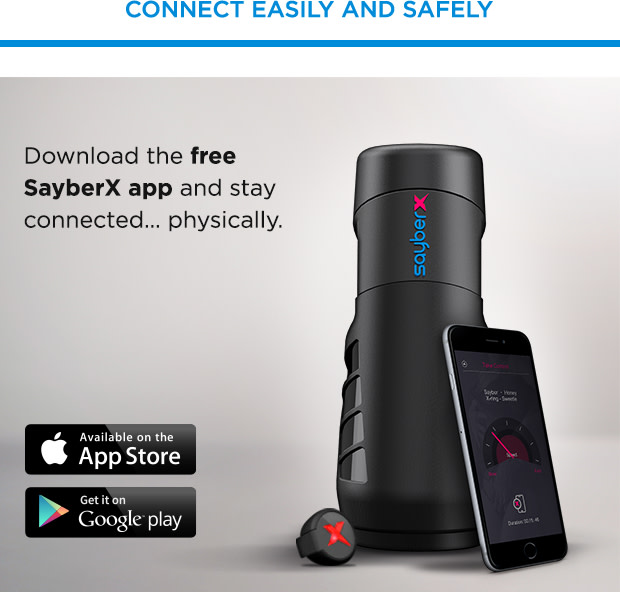 Share screen names and authorize the connection with the free app available on iOS and Android, to safely enjoy remote intimacy with anyone you like.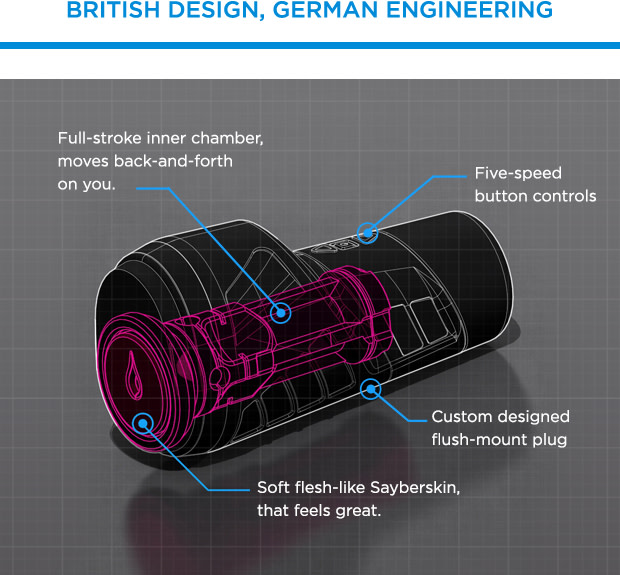 Custom design & precision engineered from the inside out, SayberX is built more like a supercar than a sex toy.
Better than batteries, the high-torque brushless motor runs on wall power,allowing unlimited run-time to make sure you're satisfied.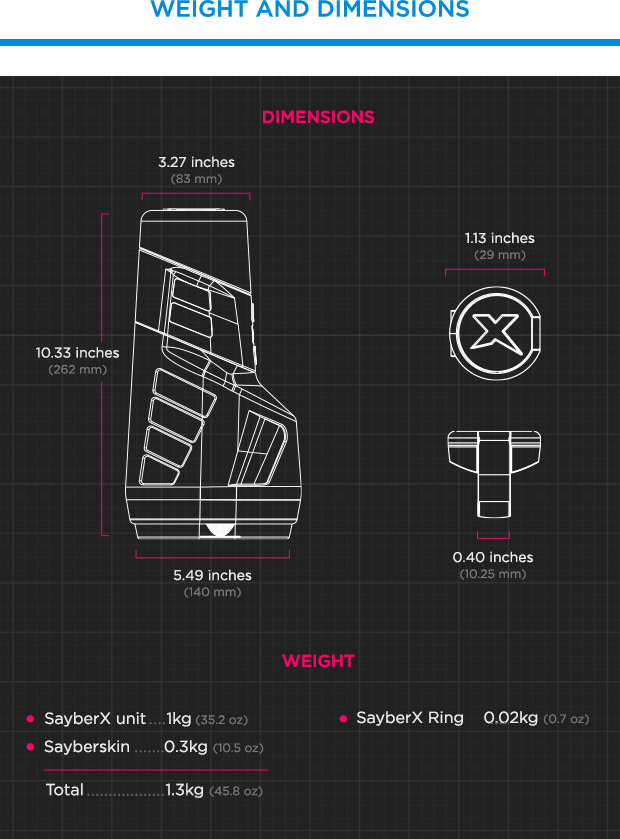 | | |
| --- | --- |
| Power | 12 volt DC (plugs into the wall – no battery) |
| Motor | The custom made high-torque, high-power, brushless motor drives a fixed wheel piston in the wave guide, converting rotational motion into powerful stroking action. |
| Metal Chassis | Powder Coated Steel |
| Connectivity | Bluetooth |
| SayberSkin | High quality Silicone (safe and phthalate-free) thermoplastic rubber (TPR). Safe with water-based, silicon-based, and any other lubes. |
| App Compatibility | iOS, Android |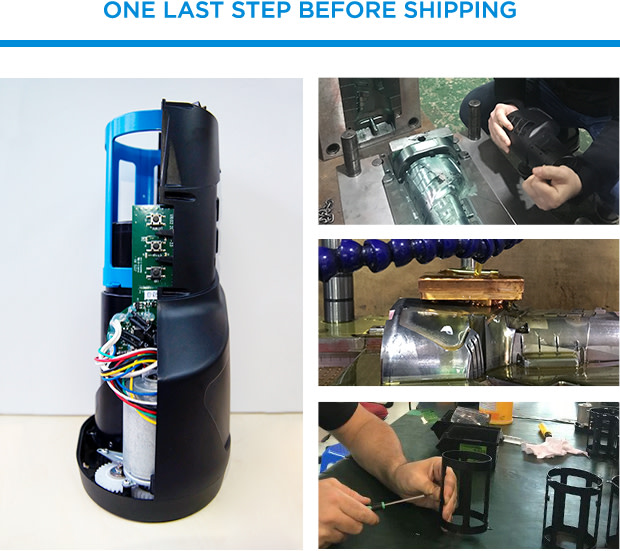 We've gone well beyond prototyping.
Over the last two years we've finished tooling for all parts, and we are ready for mass production.
Now all we need to know is how many to build for the exclusive first run.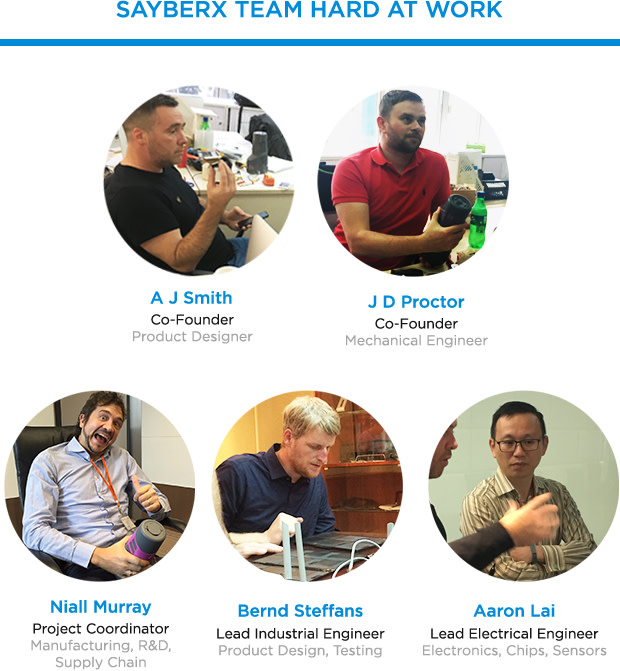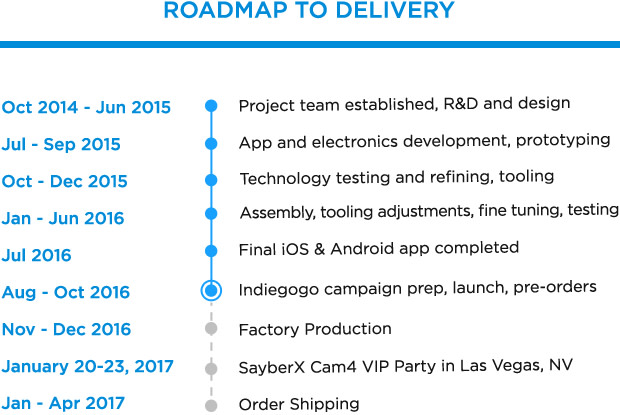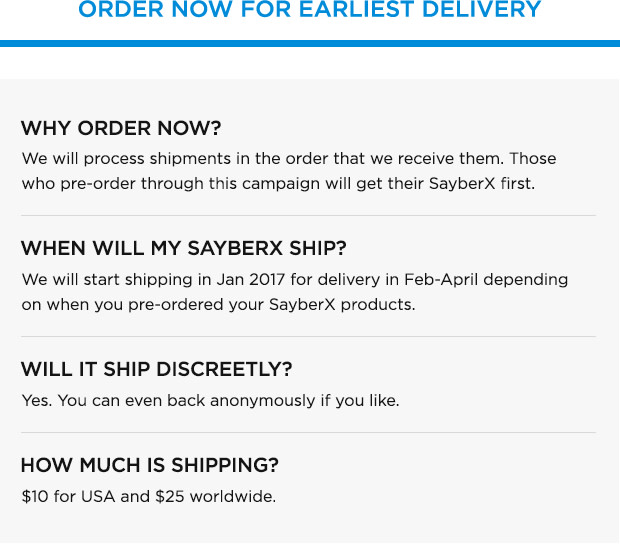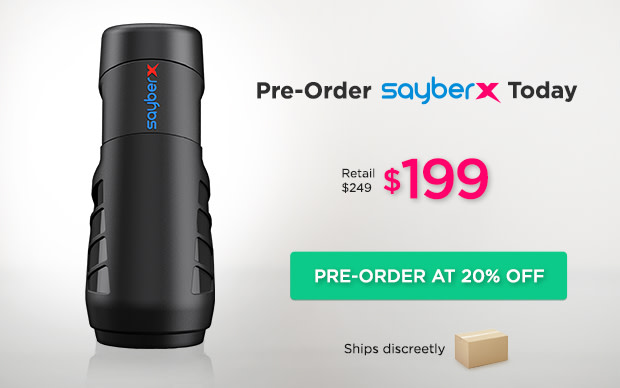 Please contact support@sayberx.com with any questions or requests for changes in your order.

Can I use the app anonymously?
The privacy level is up to you.
You connect via screen name only, and can approve or deny any request.
Can I ejaculate into SayberX?
Absolutely, it's encouraged, and feels great.
The quick release Sayberskin is waterproof for easy washing.
How durable is it?
The brushless motor is rated for more than 5,000 hours of use.
If used for 20 minutes every day it would last for over 40 years.
What if it feels too good?
You can always slow it down to prolong your pleasure.
If need be, the power button activates the instant-stop function at any time.
Can I use any ring with any SayberX?
Any ring can control any SayberX(es) that grants permission.

| | |
| --- | --- |
| What is it? | High-power, automatic male masturbator, with motion tracking remote control that works over the internet. |
| Who created it? | Brain-child of a product designer and mechanical engineer working directly with a global development team of over 20 technical experts. |
| How much does it cost? | Starting at $199 for the SayberX and $29 for the remote control X Ring (Indiegogo discounted price). |
| What do we get when we order? | SayberX includes a free sample lube, power cable, quick guide instructions. Upgrade to the SayberX Complete Package to receive the X-Ring, too. |
| Why are you crowdfunding? | By crowdfunding we can reward our backers with discounted pricing and extra perks based on the increased volume of our mass production run. |
| | |
| --- | --- |
| Why does the device have a power cable rather than running on batteries? | The motor is custom made with such high torque that it would require very large batteries that would have to be frequently changed/charged. |
| What lubrication should I use? | You can use any silicon or water-based lubricants, we recommend GUN Oil products so much that we include them with your order. |
| Can I use the male device on its own? | Yes, can be used on its own with the control buttons, or motion controlled by a partner from anywhere in the world using the ring. |
| Can I ejaculate into the device? | Ejaculating into the sealed inner chamber is encouraged. It feels great as it was custom designed to feel like the real thing. |
| What sizes do you offer? | One size accommodates 90% of men. |
| Is the device designed for all penis sizes? | The flesh-like inner chamber stretches and hugs and is designed to pleasure up to the first 7 inches of almost every man. |
| Is it comfortable / attractive / discreet? | SayberX feels great, is easy to handle and is designed with style. It doesn't look like a sex toy or anything else on the market. |
| Which option is best for me? | The Complete Package has all you need for solo and interactive play.The SayberX and X-Ring are a perfect pair. |

| | |
| --- | --- |
| How do I adjust the X Ring band to fit my finger? | There are 2 stretchy ring bands included for S/M and M/L finger sizes and 1 jumbo band for toys and more. |
| How do I turn the X Ring on and off? | As soon as you move the X Ring, it turns on and connects via Bluetooth. If no movement is detected after 5 minutes, the X Ring shuts off. |
| Can I purchase the X-Ring on its own? | Yes. |
| How do I replace the battery? | Simply remove the casing at the back of the ring, replace the battery, and then refit the casing. |
| How do I know what the battery power level is? | There is a battery level indicator in the app when the ring is connected. |
| How do I know that the X Ring is turned on? | When you connect to the app and select "Pair Device," you'll see your ring name in the section under the label of "X Ring." |
| Is the Ring waterproof? | The X Ring is splash-resistant, but please take appropriate care. |
| How do I purchase just the Ring on its own? | Rings and new straps are are available. |
| How long is the warranty on the X Ring? | 1 Year worldwide warranty on electronic parts. |
| Does the X Ring vibrate? | The X Ring does not vibrate but it can be attached to sex toys that do vibrate. |

| | |
| --- | --- |
| What is the tech breakthrough of SayberX? | The synchronized movement between the X Ring and the SayberX paired with the unique drive mechanism delivers the closest feeling to real sex – feel what you see. |
| What is the battery life? Hours of continuous use? How to charge? | The SayberX plugs in and never runs out of power. |
| What are the dimensions and weight? | 262 x 140 x 83 mm (10.3 x 5.5 x 3.3 in), 1.3 kg (2.9 lbs) |
| How does it work? | The soft flesh-like inner chamber strokes for your pleasure in time with the motions of the control ring. |
| What kind of sensors are you using? | SayberX uses a custom designed Bluetooth and accelerometer tracking for real time motion control. |
| Will there be updates to the app in the future? | Yes, frequently – there are a lot of new features that we are excited to roll out. |
| How does it connect? | The device connects to your phone via Bluetooth, and uses your phone connection to securely connect to the Internet, finding other SayberX devices. |
| Is it waterproof? | The inner chamber pops-out with two clicks, and is waterproof for easy washing. The main unit is not waterproof as it plugs in. |
| | |

| | |
| --- | --- |
| I can't find my Ring but want to control a SayberX. Is this possible? | Yes, you can choose to use the app manually without the X Ring. Users are able to control the speed by pressing "faster" or "slower." |
| Is the app free? Which phones does it work with? | Yes, the free app is available for iOS and Android phones with Bluetooth 4.0 or later. |
| When will the app be available? | The free app is already available for iOS in the App store and coming soon to Android app markets. |
| Is my account anonymous? | The privacy level is up to you. You connect via Screen name only, and can approve or deny any request. |
| How does the device connect to the app? | Via Bluetooth. |
| Will there be updates available through the app? | Backers get free updates for life to the SayberX app as they become available |
| When my device is being controlled by a partner can I adjust the speed and/or stop the device motion? | Yes, you can override your device when it's being controlled by a partner by pressing the speed buttons, or stop by pressing the power button. |
| Can I use the app and use video/audio calling software at the same time on the same device? | Yes you can. |
| | |

| | |
| --- | --- |
| How do I set it up? | Connect to the power cord, lubricate your erect penis and power on. Select your desired speed or connect with another users X Ring. |
| What if it feels too good? | Pressing the power button quick-stops the unit at any time. You can also slow it down to prolong your pleasure. |
| How do I remove the inner sleeve from the device for cleaning? | Use the quick release clips to eject the shell and easily remove the inner sleeve for cleaning. |
| How long should the inner sleeve last before needing replacement? | At least 50 uses, more if used and cleaned with care. |
| | |

| | |
| --- | --- |
| How old do I have to be to order? | 18+ only. |
| Where can I use it? | Anywhere private, near a plug. |
| What safety certifications do you have? | SayberX has been extensively tested for safety. It has UL/FCC/CE/CI Safety Certifications. |
| How durable is it? | The brushless motor is rated for more 5,000 hours continuous use. That's more 20 minutes every day for 40+ years. |
| How is my privacy protected? | All you provide is an email address; you choose your username and password. We also use our own server with built in security. |
| Can someone watch or listen to me? | Only if you let them through a separate video or audio application. |
| Are there any risks associated with use? | Yes, intense orgasms can be physically demanding. Make sure you are ready. |
| | |

| | |
| --- | --- |
| Will my order be packaged discreetly? | Yes, the SayberX will be shipped with discreet packaging. |
| How do I update my shipping address? | Check out this Indiegogo article here. |
| When does shipping begin? | January & February 2017 |
| When can we expect it to reach our doorsteps? | Depending on when you order it will be February-April 2017 |
| Where can I have it delivered? | Worldwide, excluding countries where sex toys are illegal. |
| How much is shipping? | $10 USA, $25 Worldwide |
| Do I have to pay VAT / GST? | No, all taxes are included. |
| What are the risks & challenges of pre-ordering the device? | There are always risks, but we've gone well beyond prototyping over the last 2 years we've finished tooling for all parts and worked the kinks out of the production process. We are ready for mass production and simply need to know how many to make for our exclusive first run. |

| | |
| --- | --- |
| Something's wrong and I couldn't check out. What happened? | Please see this list of solutions:https://support.indiegogo.com/hc/en-us/articles/526846 |
| What is your refund policy during the Indiegogo campaign? | See these steps on How to Request a Refund. At some point we will need to lock refunds in order to go into production & shipment. |
| What is your return / exchange policy after the Indiegogo campaign is over? | If you received your product and aren't satisfied, you may exchange it for a new one within 30 days, less shipping & handling fees. Not if the product has been removed from packaging or has been used. |
| Is there a warranty? | 6 month mechanical and 24 month unconditional warranty on the motor, and electronic parts. (on manufacturing defects) |
| Are my card and personal details protected when I provide them to you for payment? | Yes, they are secured with encryption and HTTPS. |
| How can I check the status of my pre-order? | By pre-ordering through Indiegogo, you automatically have an account created. Log back into Indiegogo using the email you pre-ordered, to verify your information. |
| If I have other questions, who should I contact? | Send an email to: support@sayberx.com. |