iCrowdNewswire - Aug 30, 2016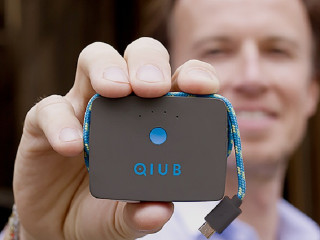 QIUB: Power Bank,Cable,Memory All-in-1 Pocket Size
Carrying cables, power banks and memory card readers separately is outdated. Check QIUB now!
Carying power banks, cables and memory separately is outdated! QIUB is "The Swiss Army Knife of Power banks", world's first smart multi-functional mobile phone gadget with integrated cable, memory card reader and smart power bank features.
Recommended by: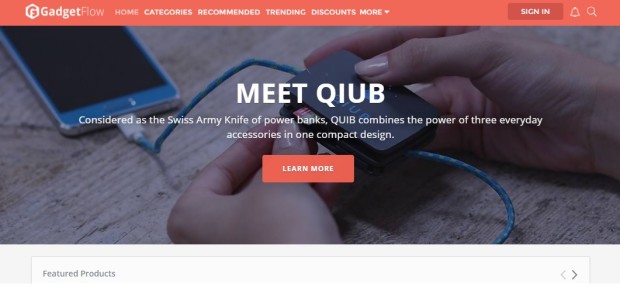 Featured at: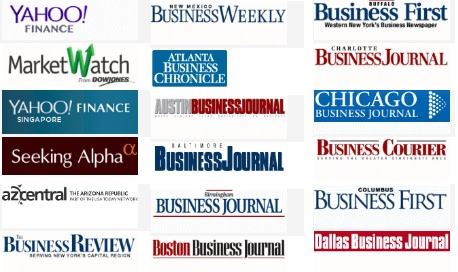 Order your QIUB now and get it in October. Limited Quantity available for priority October delivery! 200 Apple and 200 Android QIUB are already produced.
WHY HAVE WE DEVELOPED QIUB?
As you can probably relate, carrying around big chargers, flash memory drives and cables every day can be a huge hassle.
What if there was one device that could hold it all?
QIUB is a multi functional device with an integrated cable and memory card reader that replaces the need to carry multiple phone accessories.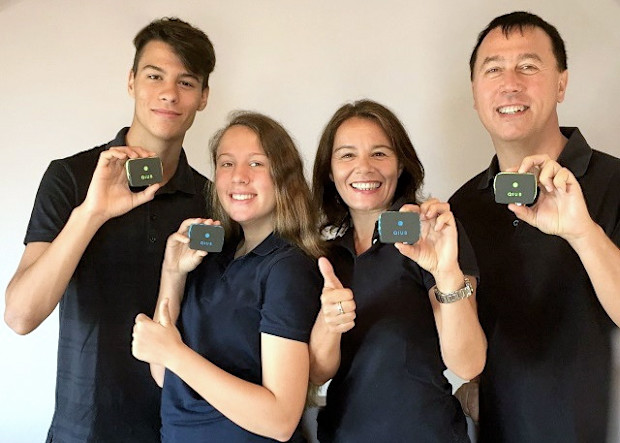 Once you start using the QIUB you will never use any other cable or power bank!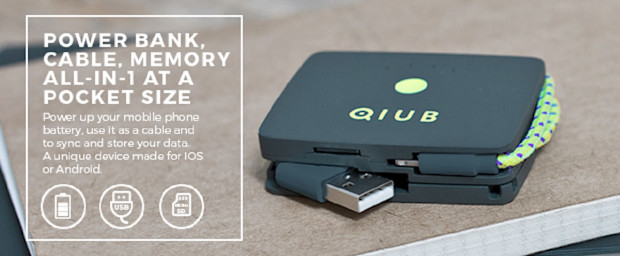 QIUB has following functions: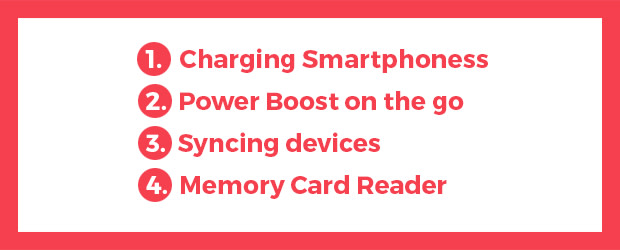 QIUB WILL REPLACE THE NEED TO CARRY SEVERAL DEVICES!
With QIUB, we challenged our team to revolutionize the functions of a regular power bank and re-think a way to replace the need to carry several devices.
Our goal is to revolutionize the way people use power banks and we believe that every power bank should have integrated cable, extra features and be small, practical and easy to use!
We developed a smart product that is multi functional, durable, compact, lightweight and, above all, practical.
Here is the quote from friend that used QIUB for few weeks:
QIUB is "The Cool looking Swiss Army Knife" of power banks!
1 – NEVER Run Out Of BATTERY Ever Again!
Is your phone begging for juice? Just plug in your QIUB. High capacity power on the go with up to 50% of battery charge for Iphone 6. With QIUB, make it through the day without worrying about your battery level.
2 – QIUB is ALWAYS with YOU!
The best part is, this entire powerhouse fits in your pocket. QIUB packs a significant battery capacity into a surprisingly small space. It's compact enough to fit into your pocket or on your key ring so your power bank gives you maximum portability but never weighs you down.
Perfect at work, in the car or on a trip, there's no need to carry around any other accessory.

3 – POWER UP Your QIUB And Phone Subsequently.
Simply plug your QIUB into your phone and power source to start charging your phone. When your smartphone is fully charged, QIUB will redirect the charge to its own internal battery.

4 – Memory Storage On The Go.
QIUB turns your power bank into a memory storage device. It can read any Micro-SD card up to 64GB and is compatible with any laptop. QIUB is also perfect place to keep safe your Micro-SD memory card.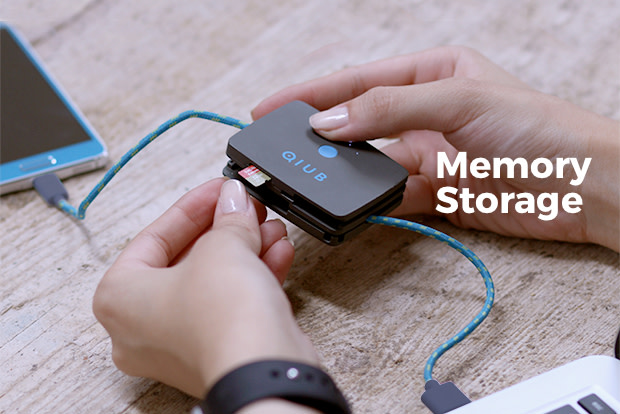 5 – Out Of Sight Cable.
We all face messy cables that get easily tangled. QIUB cables fold neatly into the device avoiding cluttered and disordered cables. Our strong and durable custom-made cables are made out of a colorful, hard-wearing and resistant material.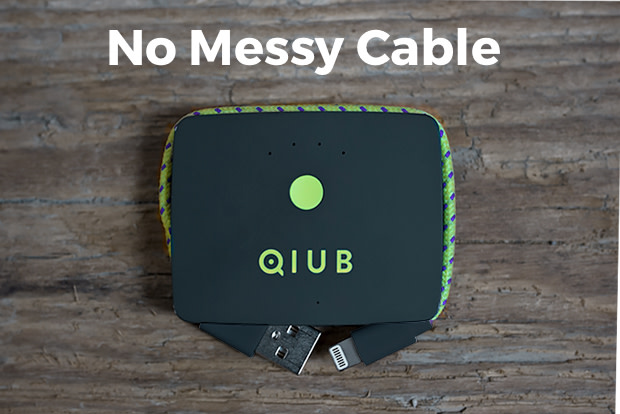 Apple and Android versions available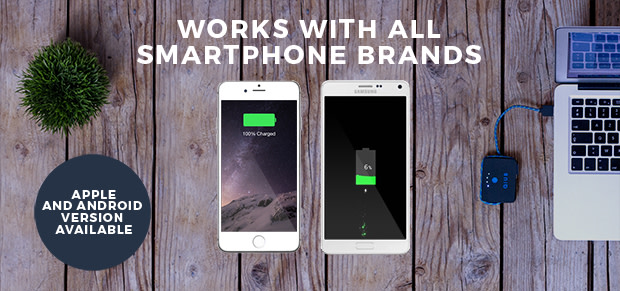 QIUB is available in 2 vibrant colors – green MFI certified cable for Apple and blue cable for Android





QIUB is not only a concept. We have working prototypes that passed rigorous quality testing and after good start of our Indiegogo campaign we just completed first production of 200 Apple and 200 Android QIUB.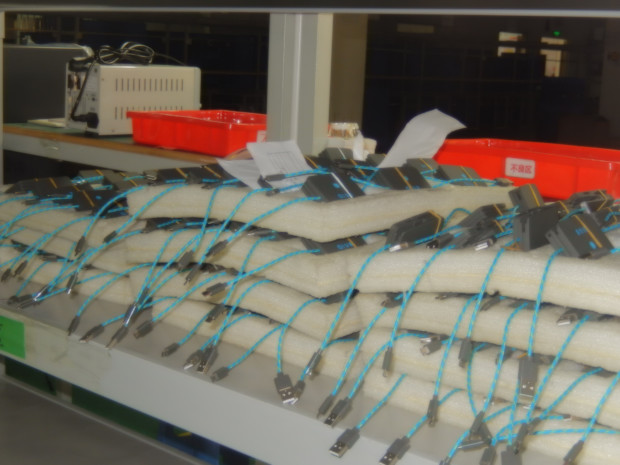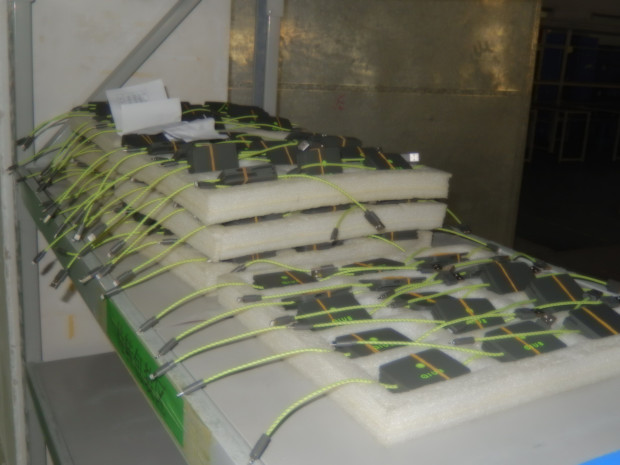 QIUB samples passed MFI and CE/FCC safety certification and we have completed pilot production run.
With your help we will be able to start mass production soon.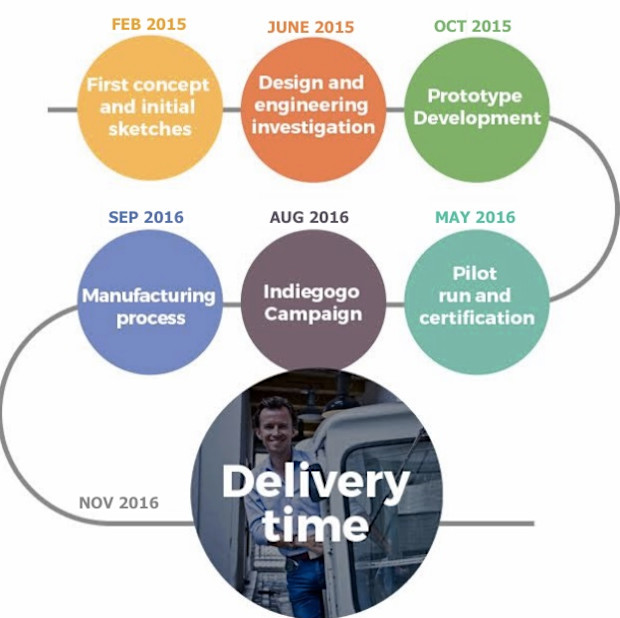 As designers and engineers, we have been working hard on perfecting the technical development of the prototypes and the shape until we achieved an elegant, compact, and practical design.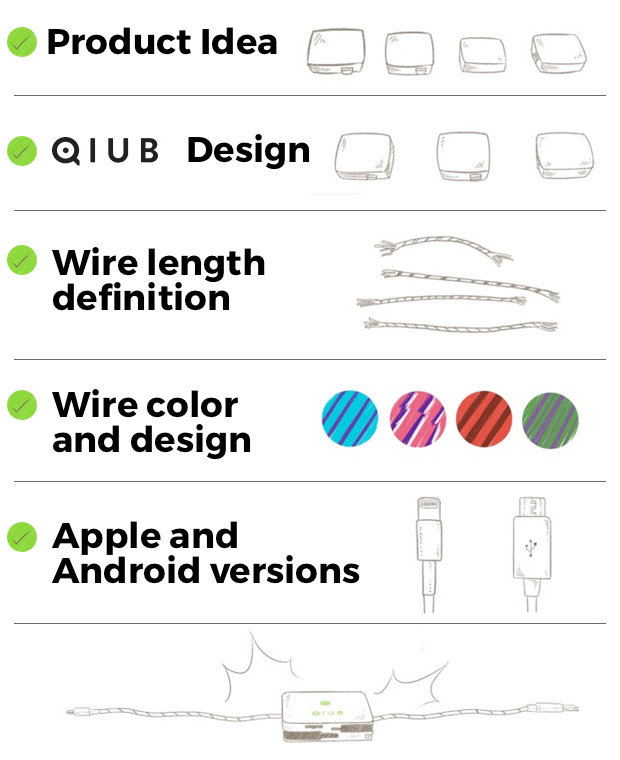 Our team has been working for more than a year on creating this unique product.
One of the core challenges with the engineering process was being able to develop a smart device with multiple functions and significant battery capacity into a small, cool looking and functional design.
Combining all the features of QIUB, with a significant battery capacity, contained in a small and practical design has never been done before.
While developing our product, our wish was to reduce the amount of components, packaging and waste by creating a product with multiple functions.
Manufacturing and using one product instead of three will reduce our impact on the environment. While you are helping us to achieve our dream of launching this innovative product we're caring for our planet.

We are family owned and operated company and we have over 25 years of engineering and international business experience managing companies in Europe, Asia and Australasia. QIUB was developed together with our Engineering, Product Design and Supply Chain experts. Our teenage kids manage social media and contribute to the product styling and field product testing. We all have a strong passion for product development and innovation. Our mission is to make unique and original products that will simplify our daily lives.
QIUB is the first of many ideas that we have and your support will help us bring this unique product to the market.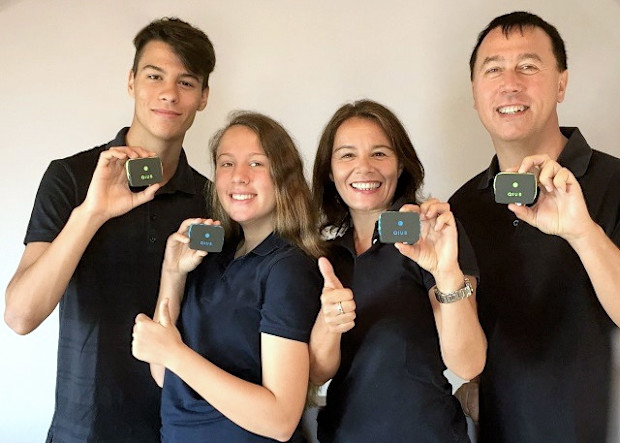 How Will We Use These Funds?
Your generous funding will help us bring QIUB to the market. It will assist us with the cost of manufacturing and distribution.
QIUB is now ready for delivery, all the engineering has been done, the pilot and pre-production run was successful, CE/FCC and other certifications are completed. QIUB for Apple is made from MFI certified components.
We need your funds to help us launch full production.
By supporting us, you will get the opportunity to be one of the first QIUB users.
We are so grateful to everyone who has taken the time to read our campaign, and a huge thanks to everyone who contributed in any way and who helped us spread the word. We have spent the last year working hard to bring our vision to life. Be assured that your efforts, even the smallest, don't go unnoticed. We will continue to keep you posted on what your donation helped us achieve.
You are a part of our QIUB family.
The goal of this campaign is to reach like-minded people to collaborate with and raise money in exchange for early access and rewards. We have developed QUIB for your benefit, so you should enjoy it!
How Can You Help?
If you love this product as much as we do then please take a moment to click on our social media pages (Facebook) and contribute to our Indiegogo campaign. We encourage you to ask questions about our product, donate and simply get involved. Please share this with your friends through social media and have them do the same. You are a world changer so why not start now? Help us spread the word and get things started!
To bring QIUB to life, we need your support!
Risks and challenges
From years of engineering experience across different industries we know what it takes to bring an innovative product to the market.
We've chosen to spend more than a year going through all the details and refused to start the campaign until everything was all set and ready to go.
QIUB is now ready for production.
We carefully selected a highly qualified manufacturing partner that has been manufacturing electronic products to many major retailers globally for many years.
Our manufacturing partner has demonstrated experience, attention to details and effective management systems, when producing our working prototypes. We already completed initial certification process and pilot run with over 500 working prototypes and we are ready to start full production.
We're going to use the same manufacturer for the mass production and we will supervise the manufacturing and QC process.
This way, the project risks are minimized.
We'll keep you all informed with updates during the campaign as well as during the production!
LIST OF FREQUENTLY ASKED QUESTIONS ABOUT QIUB:
PURCHASING and SHIPPING
How do I select the right QIUB for my phone?
We have two different versions of the QIUB; one for Apple with lightning connector and one for Android and all other phones with a micro USB charger. When selecting your perk, make sure you select the right option for your smartphone.
When will I receive my QIUB ?
Currently, we are planning to ship QIUB as soon as our campaign and production is over in November 2016.
Where do you ship to?
We use major courier/post companies and will ship worldwide.
Is shipping included?
Worldwide Shipping is $13 per one Qiub and not included in the product price. (Purchasers are responsible for any VAT or customs duties levied by their own country)
Is there a warranty for the QIUB?
Yes, the Qiub comes with a one-year replacement warranty.
WHAT IS QIUB?
QIUB is world's first compact and lightweight fast charging power bank for smartphones with an integrated data/charge cable and memory card reader that works with your computer – all you need in one simple device.
HOW FAST WILL QIUB CHARGE MY SMARTPHONE?
QIUB is a fast charger and will typically charge the phone with approximate speed of up to 1% per minute (iPhone 6), but this will vary on the phone battery capacity and the battery age.
HOW MUCH OF MY SMART PHONE BATTERY CAN QIUB CHARGE?
QIUB will charge up to 50% of battery capacity of Iphone 6 and it will be similar for Android phones with similar battery capacity. this could vary depending on the phone battery capacity and age.
QIUB was designed to help you if you run out of battery during the day. QIUB will give you more capacity than a similar sized power bank.
HOW TO USE QUIB AS A MEMORY CARD READER?
First insert SD (memory) card into the memory card slot.Then connect the QIUB into the computer via USB cable.The memory card function will only work with your computer and will NOT work with your mobile phone. Memory card is NOT supplied with the QIUB.
HOW TO TRANSFER AND SYNC DATA BETWEEN THE QIUB AND THE COMPUTER?
Data transfer and Sync between the computer and QIUB works when QIUB is simultaneously connected to the phone and computer. To initiate data link, press the button on the QIUB for 3 seconds and after release wait for 5-10 seconds before data link between computer and phone is established.
GENERAL INFORMATION AND BATTERY CAPACITY?
QIUB Apple Technical specification :
– battery capacity of 1500mAH with max output of 5V 1.2A
– integrated high quality MFI certified data/charge yellow/green cable
– memory card reader up to 64 GB
– dimensions 67mm x 53.5mm x 15.5mm
– weight 60g
– Lightning connector
QIUB Android technical specification :
– battery capacity of 1500mAH with max output of 5V 1.2A
– integrated high quality data/charge blue cable
– memory card reader up to 64 GB
– dimensions 67mm x 53.5mm x 15.5mm
– weight 60g
– micro USB connector

If you wish to contact us:
Website: www.myqiub.com
Social Media:
Facebook: https://web.facebook.com/myqiub/
You Tube: https://www.youtube.com/channel/UCCcdqb18Thdg9LdgbqrBFNA
Instagram: https://www.instagram.com/myqiub/
Contact Information:
E Mail: info@myqiub.com
If you would like to discuss a campaign collaboration, QIUB distribution or sponsorship, we would love to hear from you, please feel free to contact us at info@myqiub.com