iCrowdNewswire - Aug 30, 2016
HEATED JACKET. World's best jacket, by Redder
Stay warm. Anywhere. Multicolor, genderless design for the new generation heated jacket by Redder
The Jacket (Tech specs)
In a nutshell, the Redder Heated Jacket is a light, comfortable jacket with integrated heating system to keep you warm anywhere.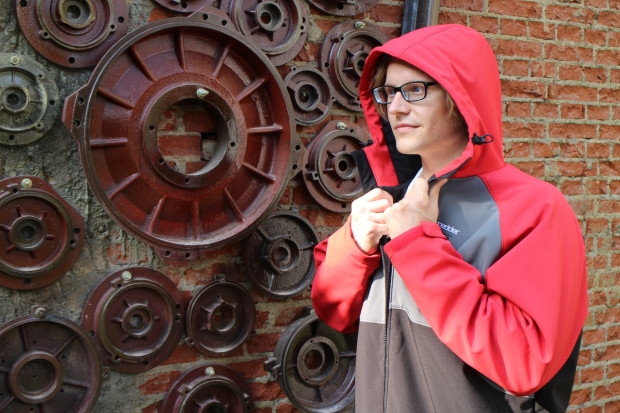 We use the highest quality raw materials and top-notch technology combined with a world class design process to produce the new generation heated jacket that you can wear with equal comfort and style.
From a more technical standpoint, Redder jacket uses high quality materials and components, including 95% polyester and 5% spandex bonded polar fleece for the Shell, 100% polyester touch weight thermal polar fleece for the body lining and 100% polyester 210T taffeta for the sleeve lining. The jacket has three heating zones with three heating levels to guarantee comfort in any kind of environment. It is certified according to different international standards and it comes with two years guarantee.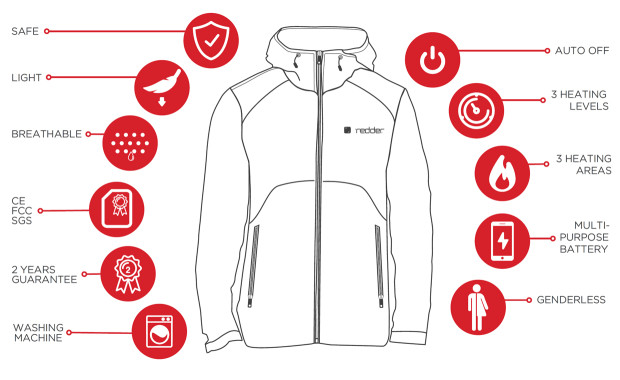 Redder jacket is the only heated jacket in the market that suits all kind of situations, including outdoor sports, social events and even allows you to choose your preferred color combination. We start with different combinations of black, grey and red, and will make more colors available as the number of backers increases. After you make your contribution we will send you an email to confirm your preferred color and size.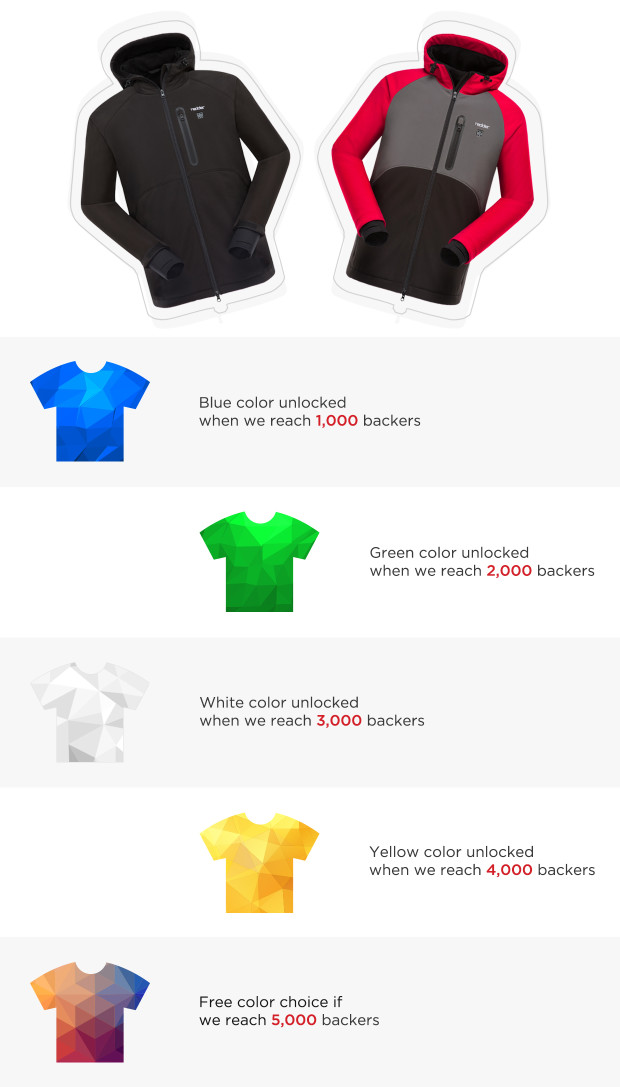 IMPORTANT NOTE: We will contact you after your purchase to ask for your preferred color (and size)
The Redder jacket is also waterproof and breathable. It comes with YKK zippers and it gets its energy from an external battery that can also be used to charge your cellphone or any other portable device.

What is Redder?
Redder is a global brand of outdoor clothing, apparel and functional garments and complements. The brand is part of the Suoluo technology group and among its main values, the effort to deliver high quality products with differentiating functionality at an ever low price is at the very top.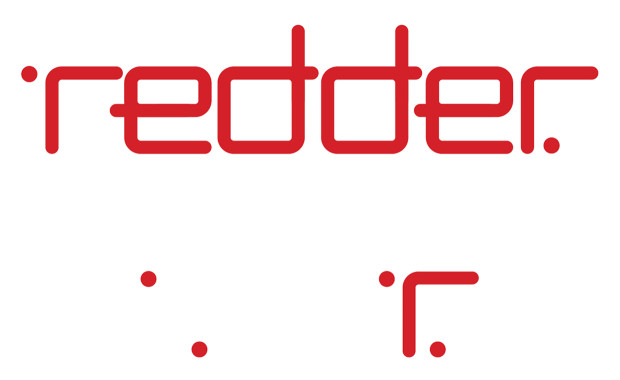 The goal is to enable people fulfill their passions, regardless whether those passions are hiking in extreme conditions, surf in a quite beach, enjoy a calm walk at night or simply approach their daily life with an extra comfort partner.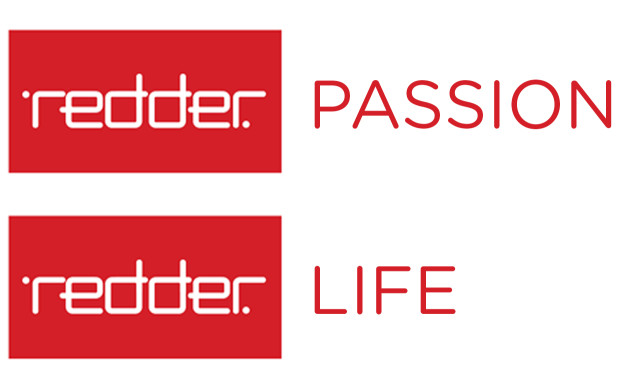 You can also have a look at the interview with our CEO to have a better understanding about the brand.
Product details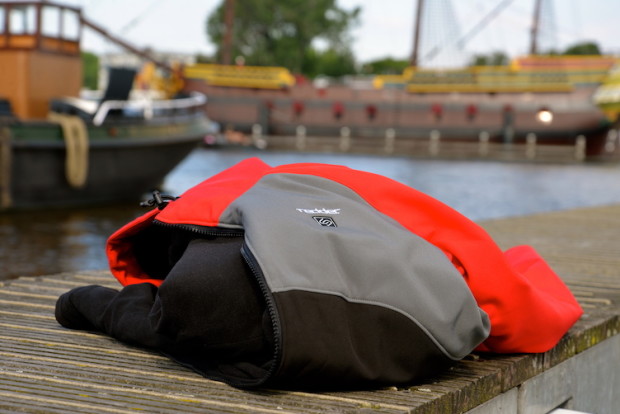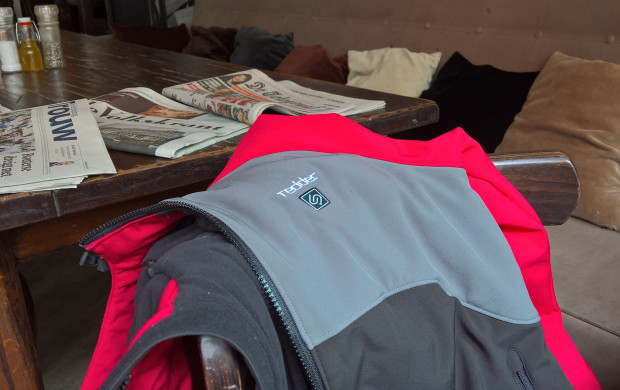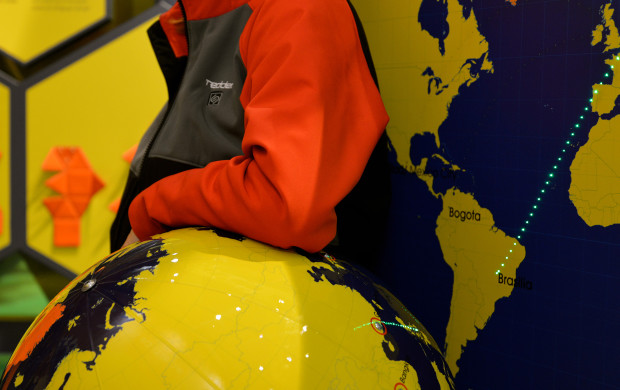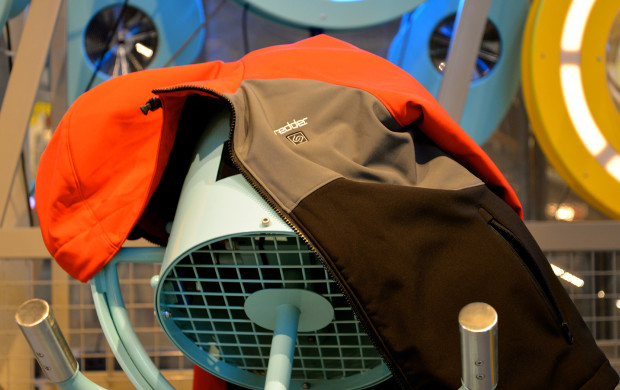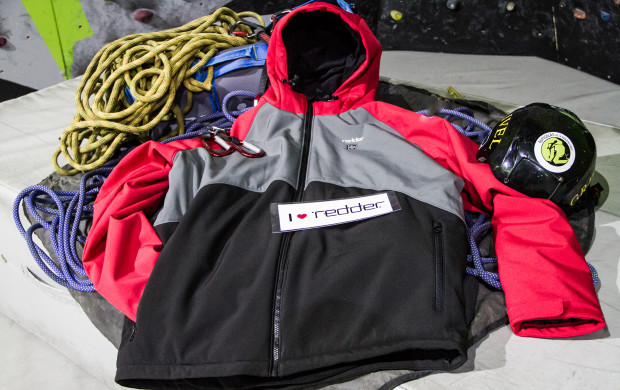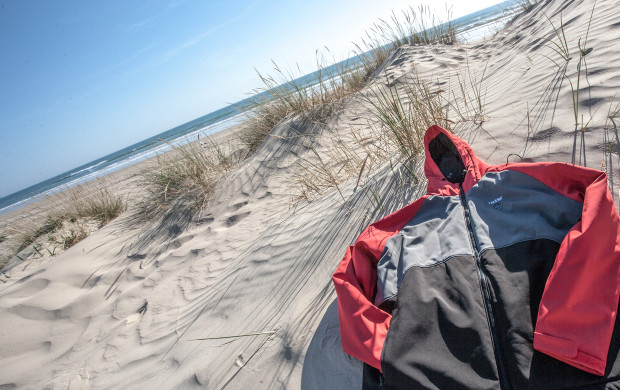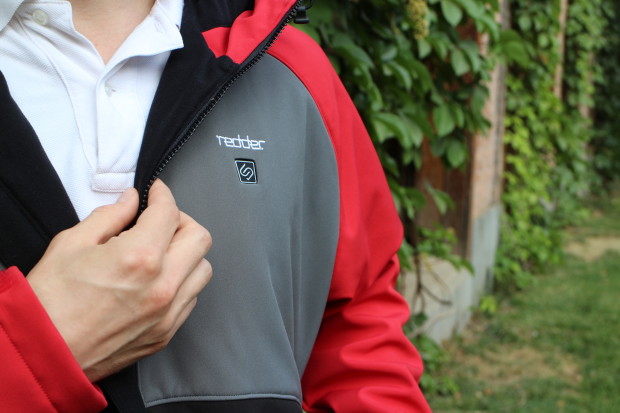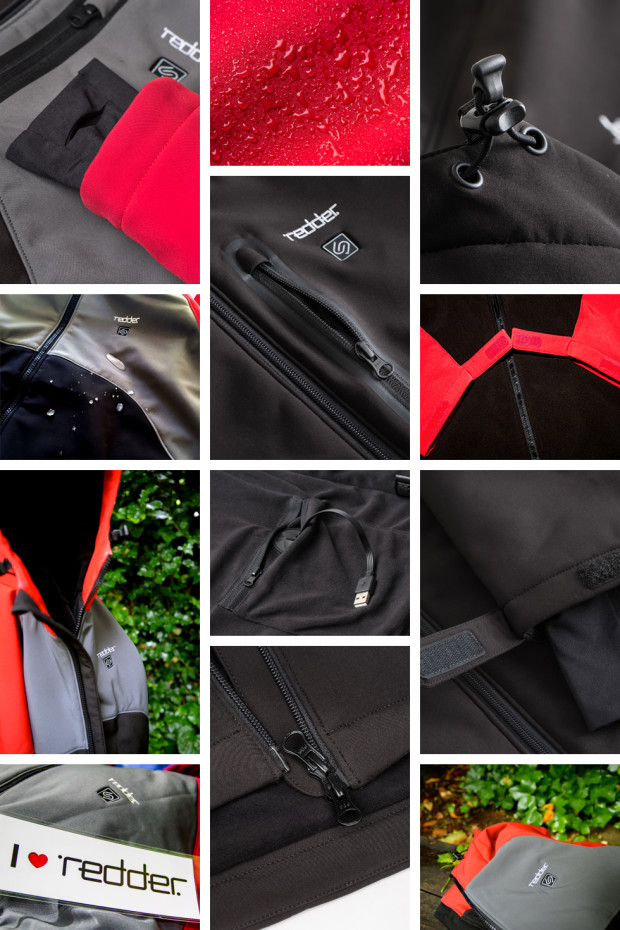 Beta Testers
We want to thank everyone who is helping with the jacket testing procedure. We have 10 fully functional prototypes being tested by friends and some specialists in outdoor sports, fashion, wearable technology, etc. We are not only receiving some super nice pictures, but we are also getting excellent feedback about how to improve the jacket.
#redderlife, #nofilter, #nomodels, #realpeople, #truefun, #globalfriends, #reddercommunity, #leanstartup, #growthhacking, #enjoyingtogether, #redderpassion, #crowdfunding, #redderbackers, #itshappening

And with the feedback of our community, we have already started improving the jacket. So don´t hesitate to send us your comments, we will definitely try to continue making the product better and better throughout the whole process. In this case, the new model already incorporates five improvements:
1. EXTRA POCKET. One of the top requests from the testers was to have an extra external pocket in the left side of the chest, and here it is.
2. LYCRA (R) CUFFS WITH THUMB LOOP. To avoid heat lose and have extra comfort, we have attended the request from the community to have this feature added.
3. CORD ZIPPER PULLS. Many people will use the jacket in extreme cold conditions, using gloves. These pulls make it unnecessary to take off your gloves when zipping or unzipping the jacket or pockets.
4. TOP QUALITY VELCRO (R). In line with the rest of the materials used in the jacket, we have now incorporated the highest quality Velcro (R) available to avoid any problems even under continuous extreme conditions.
5. TWO-WAY MAIN ZIPPER. Need to adjust or take anything from inside the jacket? Simply unzip from bottom to top as much as you need and avoid exposing the body front.
The picture below also shows what the full-black jacket looks like.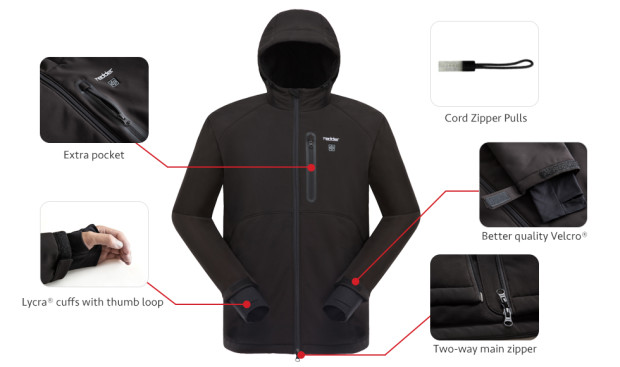 And if you are interested in how we made the prototype for beta testers to try, check the video below.
What limited and exclusive rewards will you get?
Redder jacket recommended retail price is 199$+taxes+shipping but during the crowdfunding campaign we will have promos starting at 119$. We use a next generation production process to get the lowest production cost for the backers. All backers will receive a 5X5 reward, which is a 5% discount for the next five years in any product purchased through
redder.life
.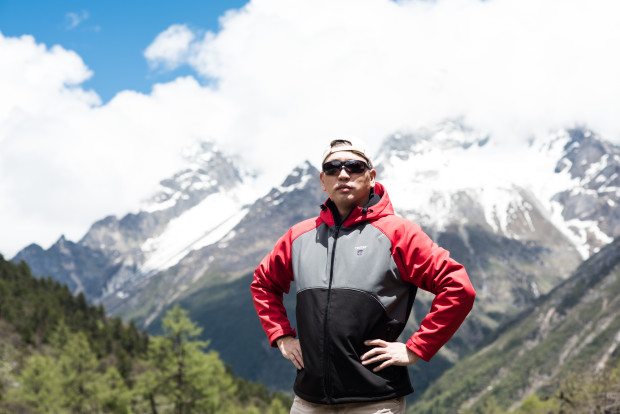 And we cannot forget about the battery, which is a key part of the full experience. We don´t produce them ourselves nor use an OEM version… because we have partnered up with one of the top brands in China to complement our jacket with a 10.000 mAh battery from Mi (previously known as Xiaomi) Check out all the details in the information below and keep in mind that with this battery you can get up to 14 hours of continued use.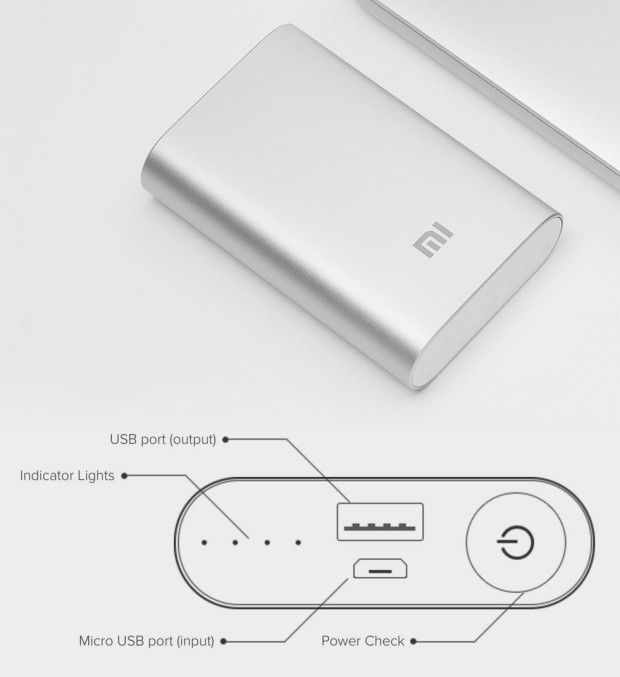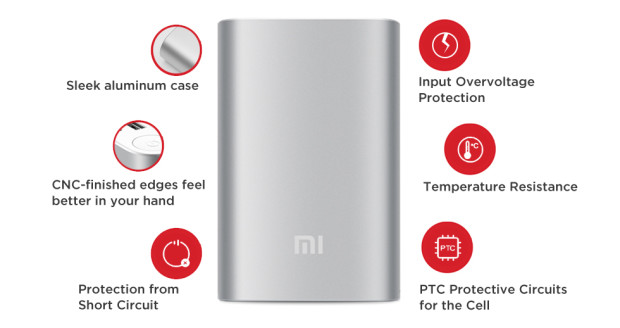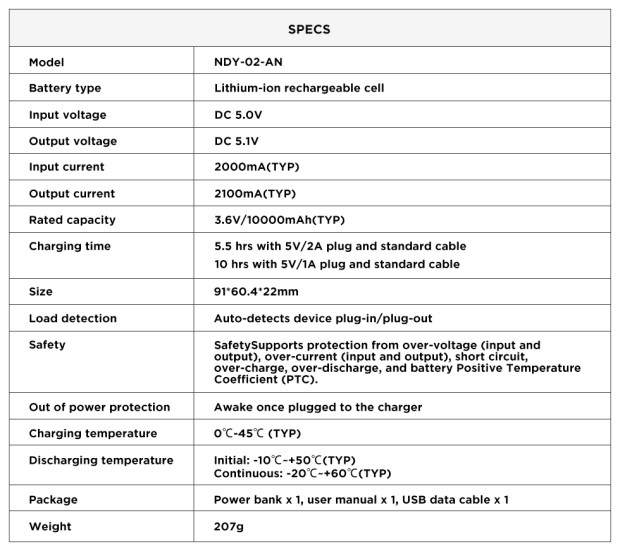 Also, as we reach different goals, we will unlock more color diversity, special limited editions and more surprises.

Size Charts & How to Measure
Find the charts below to determine your size. If you are in the borderline between two sizes, order the smaller size if you are a "slim fit type of person" or the larger size if you prefer a looser fit. If your measurements for chest and waist correspond to two different sizes, order the size indicated by your chest measurement.
IMPORTANT NOTE: We will contact you after your purchase to ask for your size (and preferred color)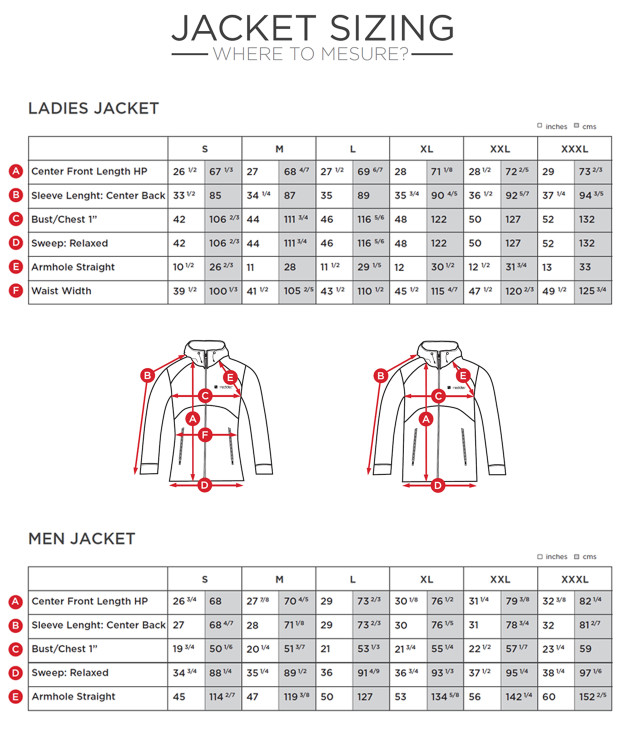 Bust: Measure around the fullest part of the bust area, keeping the tape level under your arms and across your back.
Chest: Measure around the fullest part of the chest, keeping the tape level under your arms and across your back.
Waist: Measure around the narrowest part of the waist (typically the small of your back and where your body bends side to side).
Sleeve Length: Bend the arm slightly and measure the length from the center back of the neck, to the shoulders tip, along the outside of the arm, and to the wrist
What they are saying about us…
Responsibly redder
In every country where we reach 500 backers we will make a donation of 20 jackets to an NGO of your choice (NOTE: we will let all backers from that country vote and in case an agreement cannot be reached for whatever reason, the donation will be made to Red Cross or a similar organization)
And if we get 10,000 backers globally, we will make a mind blowing donation of 500 jackets to a global NGO of your choice (Red Cross, Greenpeace or any other proposed by the backers)
Our team
We are a very passionate team, with extensive experience in cross border trading, fashion, technology, start-ups and crowdfunding projects. Our team has experience in different regions of the world as well and we are all very involved in this project, willing to make it to production phase and being able to deliver an awesome jacket to all our backers.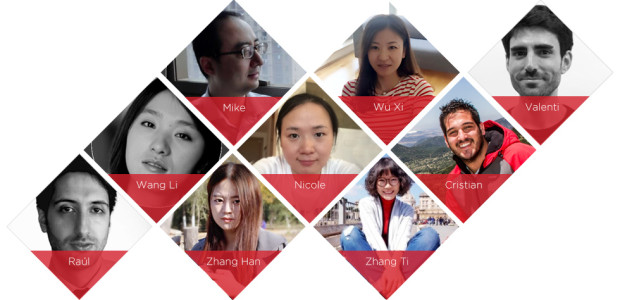 Mike: Serial Entrepreneur and Business Angel. He is responsible for the strategic view and a key part of his role is to make sure we can get the best partners for the development of the products.
Wangli: Extensive Cross-Border-Trading experience. She is our CEO, so she coordinates the whole team and all our resources.
Raúl: Experienced Marketing Manager. He is responsible for the crowdfunding project, including campaign planning and implementation.
Wuxi: Specialist in on-line retailing, she is also helping with supply chain and product planning, including the expansion of our portfolio.
Nicole: She is making sure the project numbers are solid as well as keeping an eye in all legal aspects, including patents, IP, etc.
Zhang Han: All visual materials of the campaign, including images, infographics, product packaging, etc. are done by her.
Valentí: He is our external consultant. He is a reputed member of the crowdfunding landscape and is making sure that we always keep the community at the center of the project.
Cristian: He is a telecommunications engineer specialized in security. Apart from helping with the development of our site redder.life, he is making sure that all the info collected from the community during the campaign is safe.
Zhangti: She is trying to build a redder community around common values and interests. She tries to keep posting as much information about the product as possible so that the whole process is transparent for all potential backers.
By taking the measures correctly and following the size chart carefully, jackets should fit you nicely. If you still would rather get a different jacket for whatever reason, it should be ok but keep in mind that extra charges may apply for the shipping. In line with a crowdfunding campaign philosophy, we won´t be accepting returns because it could jeopardize the whole project.
Warranty
The jackets will be produced under the strictest quality standards and we will implement a very rigorous quality control. Our intention is to ensure product quality and durability. Provided the jacket is used under normal circumstances, garment is guaranteed for one year and the whole heating system for two years. But don´t worry, we are sure you will be able to enjoy your Redder jacket for much longer without any problem.
Frequently Asked Questions
What kind of zippers do you use? All zippers used in the jackets will be YKK.
What is the weight of your jackets? Final product weight is about 900g for female fitting and 1100g for male fitting.
Is your jacket waterproof? Absolutely! Not only for your comfort, but also for the heating system to work properly and safely, the jacket is completely waterproof.
Is the jacket breathable? We had to find a compromise between different specifications, so the jacket is breathable but within certain limits that will not affect other properties.
Why don´t you have woman and man designs? We believe in gender equality. Our team composition is just one of many examples. In that sense, we created a "genderless" jacket with only fitting and sizing adjustments, but no difference in overall style. If you are interested in a more customized product, drop us a note in our social media channels, by email or directly in the comments section.
Do you provide heating gloves or touchscreen gloves? At this moment all our efforts are focused in providing an excellent jacket and make all the backers 100% satisfied. However, we understand there are areas where we could improve the final product as well as related products you all may be interested in. That´s why we will do our best to prepare a small portfolio of related products, all with the same Redder quality and design standards.
Does the jacket accept machine washing? Yes.
Is the jacket self-drying? No. Tumble dry low heat.
May I use the jacket battery to recharge my cellphone? Yes. The external battery can be used to charge any device depending on the capacity.
I´m very interested in your product, can I get extra discount if I buy a big quantity? At this moment we are focused in our crowdfunding campaign and do not have any wholesalling agreements in our roadmap, nor are we allowed to offer extra discounts because we are already offering the lowest possible prices for our indiegogo backers. However, we are very happy to hear that you like our product and it makes us want to work harder in the future. Feel free to contact us any time with your comments or suggestions.
Does the jacket have external temperature sensor or can be connected with my smartphone? That is a great functionality and we will definitely try to come up with a solution for that in the near future, but at this moment we want to provide superior quality at the lowest possible price, without forgetting about design and comfort.
In what countries and currencies can I buy the jacket? We will send the jacket to any country that can be reached through standard methods without setting any additional restrictions. The prices are specified in USD but it will converted to your local currency by the payment gateway (for your reference, as of 29th of August 2016, the super early birds jacket equivalent price in EUR is around 101EUR. Source: https://www.ecb.europa.eu/stats/exchange/eurofx…
Can you guide me step by step through the process to get one of your perks? Absolutely! We have prepared this video for you, but if you still have any questions, please reach out to us via Facebook, email or through the comments section here in indiegogo