iCrowdNewswire - Aug 29, 2016
My Dad, Death – Issue #1
A High Schooler has to take over the mantle of the Grim Reaper and walk between his world and hell.
Our aim is to bring issue #1 of our ongoing comic to life. Orion Grymm is a nerdy high school kid who learns his father is the Grim Reaper. Unfortunately for Orion, the role of Grim Reaper is hereditary. He must train to take over the mantle. MDD is a dark dimension bending comedy suitable for young adults and up. It marries supernatural fantasy with Sci-Fi & is a heart touching coming of age story filled with swears & gore. Inspired by Terry's Pratchett's Discworld & a number of Marvel Comics.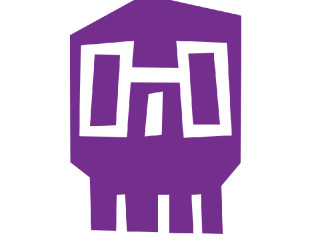 Summary
Hello and thank you for stopping by! I'm James Bowers and I'm the writer of My Dad, Death. I've been writing for a number of years now and have published two novels. I've always wanted to venture into the world of comic books and have had a very healthy pull list for nearly as long as I've been writing. The idea of My Dad, Death has been gestating since I myself was at high school. I always knew I wanted to bring the supernatural to the real weirdness of growing up but until February of 2016 I didn't know the best way to bring it to life. Then I came across Michelle. Her artwork was very unique and I thought it matched the quirky theme of the story rather well. I chanced my arm and approached her. A funny thing happened. She believed in the project too! A budding collaboration blossomed.
Michelle Henderson is a Scottish based professional artist and like me, this is her first time working on a full comic book series this involved. She's worked as an artist for a number of years under her Tengu Arts umbrella and can be found working diligently through DeviantArt, Facebook and Twitter. She's awesome and is available for commission.
Our editor is none other than my awesome and supportive wife Natalie who is qualified to do so because she can be painfully straight up about critiques (which as much as they sting we need to make it as good as it can be), has an English Degree and used to write for a magazine publication.
This Indiegogo campaign is to get the series onto it's feet by raising enough money to get the first issue into production and into your hands. We have four issues scripted and nearly two years of episodic storytelling to get underway and we'd love for you to experience it from the start. So, what is My Dad, Death and why should you care?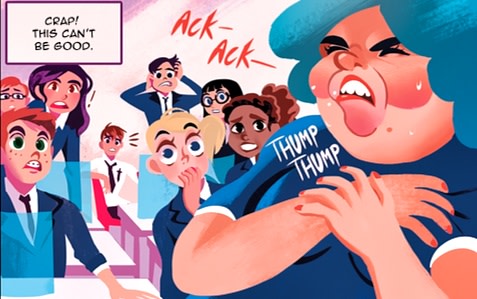 The Story
Orion Grymm is just an average, nerdy high school kid who learns his father is the Grim Reaper. Unfortunately for Orion, the role of Grim Reaper is hereditary and now he must train to take over the mantle. The downside; he's not a quick learner and he hasn't got the best teacher. Orion's been given just 6 months to be up to scratch. This could be a problem, especially when his new boss Satan is keeping a close eye on him. Should Isaac and Orion Grymm begin to miss souls, even whilst training, the wayward ones could open up a seam that allows the tormented creatures of hell to leak back into the mortal realm. My Dad, Death is a comic series set in a not too distant future, in a fictional city. It is a dark comedy, dimension hopping adventure that never takes itself too seriously but that won't come at the cost of telling a good story. The project was influenced by the Discworld series, Dan Slott's Spider-Man, Deadpool, I Hate Fairyland, Paper Girls, Gwenpool, Game of Thrones and Black Adder. The series will be a commentary on the real weirdness of the world we live in, how not too distant future technology could affect our lives and how death doesn't have to be the end.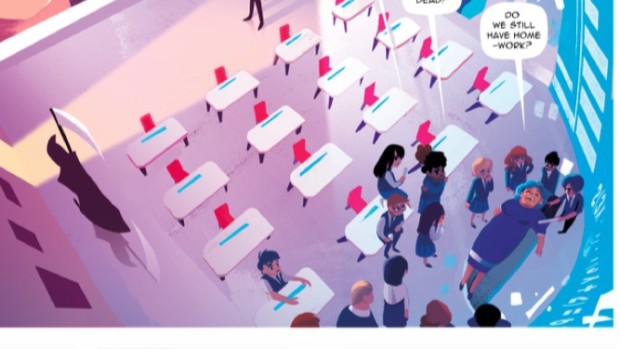 What We Need & What You Get
What we need is your support, trust and anticipation. The target we are aiming for will raise enough money to pay for the artwork and printing costs (and perk fulfilment). My day job is working social media and website literature for a quirky print company so the printing costs are pretty fair because of staff discount (woohoo).
The perks you'll get for supporting us range from digital issues of the comic to printed and signed issues, exclusive artwork, exclusive Q&A videos, you getting to be a character in the series, exclusive progress updates, unique custom artwork and your name at the back of each issue.
If we don't reach our full goal we will do our best to still bring My Dad, Death to you. Dependent on the costs involved and the amount we receive there is a few different ways we can go. We could go digital only, so no print run, or shorten the size of the issue to try and tell a one shot engaging story. So no matter how well we do, you'll still be getting a My Dad, Death, independent comic, shaped fix in your life.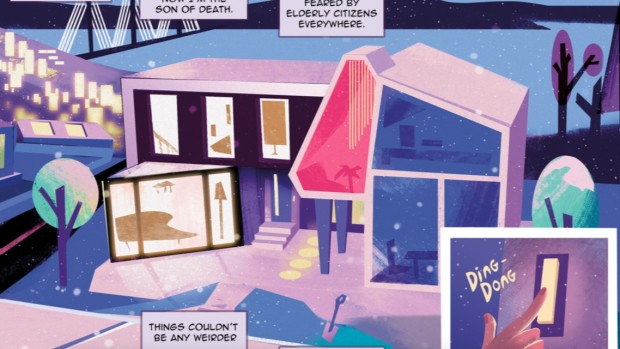 The Impact
The impact you'll make by helping us reach our goal will be almost unexplainable for us. You'll make this old comic book nerd's dream come true of actually bringing one to life. Indiegogo actually state for this section that I have to 'explain how this project will be valuable to the contributor and the world'. Well, I'm no megalomaniac but I would love to share our stories with the world and Michelle's artwork too. She deserves more exposure. I hope, if we are fortunate enough to pull this off, that it will inspire other independent writers and artists to do the same and chase their dream. Hey if we can do it then, there is no magic formula, anyone can! The dream would be to write comics for a living and getting this comic published would be a HUGE step in that direction and it would get our foot in the door. Down the line we could add more titles to our back catalogue and then eventually be welcoming other creative teams to join us in founding a publishing house (but that's way down the line in fantasy land). At least you know we're not short on ambition.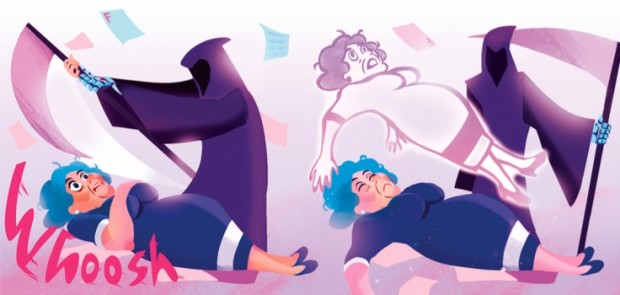 Risks & Challenges
The challenge with raising funds via Indiegogo means that if we reach our goal, once that money is gone it is gone and it will only cover producing the first issue. We do have a plan (you'll be pleased to hear) to keep the series going. If we reach our target then we will approach Indie Publisher Alterna who specialise in supporting Indie comics. It's the best of both worlds as we'll retain the freedom of an Indie venture but with the exposure and backing of a publisher. With Alterna we will still need to fund the series and we plan to do this through the monthly crowdfunding subscription service Patreon (after issue one is already in your hands).
We are already getting good feedback through social media and have even been recognised (surprisingly) by people within the comic book industry. It's a weird world we live in and it's about to get weirder. Should the first few issues require additional funding I am prepared to put in all I can to make this a success.
Other Ways You Can Help
Hey, you don't have to contribute at all. The fact you've read this far is awesome enough. Even if you can't or would rather not contribute, we would greatly appreciate you sharing this campaign with friends and family who may be interested. Spreading the world would be assistance enough and we'd send good vibes and warm hugs your way.