iCrowdNewswire - Aug 28, 2016
You're Coming Out… Right?
A short comedy film about young married life in NYC co-created by Kacie Calhoun and Miranda Plant.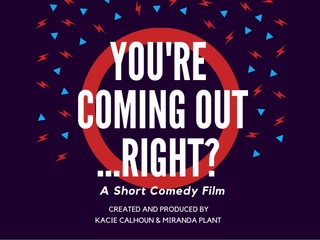 Kacie Calhoun and Miranda Plant are actresses and filmmakers in NYC. They met onset of a film, being the tallest women on the sound stage, and have been fast friends ever since. Help them finish their film by donating towards the unexpected costs that arose during production. They can't wait to share with you their female-driven comedy about a group of young women in NYC, who just happen to all be married.
You're Coming Out… Right?
This short comedy film was created and produced by Kacie Calhoun and Miranda Plant. They are both actresses in NYC, and passionate about telling stories about strong female protagonists who just don't give a f&*ck.
Miranda and Kacie met while working on a feature film, set in the 1960s. Miranda in heels, and Kacie not, the women stood at just about 6 feet tall each, and being the only two people at eye level, they became fast friends.
Kacie is from California and has a background in Film Production, having spent 7+ years working with some of the top production companies in tinsel town. Now she's an actress and filmmaker in NYC having written, produced and starred in the feature film Merryland (November 2016). She also recently appeared in the Off-Broadway production of Let Us Talk at the Roebuck Theatre. She will graduate from the William Esper Studio in 2017.
Miranda is from Toronto, Canada and just finished her MFA from the Actor's Studio Drama School. She's performed Off-Broadway in her thesis production of Vanya and Sonia and Masha and Spike, and has travelled the country to perform in regional Shakespeare productions. She is best known for her work on Pure Pwnage, a comedy web-series about video gamers in Toronto. You're Coming Out… Right? will be Miranda's first work as a film writer, director, and producer.
We wrote this piece for a number of reasons:
We wanted to tell a story that reflected the women who we are: young, passionate, smart, funny, married women. It is rare that a women is depicted as happily married as well as artistically, professionally, socially fulfilled in media
We wanted to tell a story about young women in NYC who are married, but are also strong female characters. The fact that the protagonists are married does not affect their value or status in this story
We wanted to support female comedians, and film production crew. Our cast is 90% female, and our DP is female (Imani Belser, woot woot!)
We wanted to make you laugh. This is a comedy, and you're bound to enjoy the antics that these ladies get up to throughout the course of this film
Your contributions not only go towards our outstanding costs, but they also go towards supporting women in film, and comedy. You will be participating in the change that needs to take place with the way young married women are portrayed in film and TV. Our characters are not subservient, unhappy, or embittered. They are happily married young women in NYC, who just don't give a f&*k. When was the last time you saw that on Netflix?
What We Need
We don't need you to pay for everything. We just need your help raise $1,620 to cover the costs that arose unexpectedly outside our budget. Here's what $1,620 buys us:
Liability Insurance for our 2 locations shoots: $870
Location cost: $380
Crew (DP, Sound, 1st AD): $300
Transportation (taking equipment from rental to location): $30
Wardrobe: $40
If we don't meet our goal, all of the funds raised will go towards buying Liability Insurance to insure and protect our performers and crew on the shoot.
With these funds raised we can continue on the to fun stuff: getting this film made in POST PRODUCTION!
What You Get
$10- A public thank you on Facebook
$20- A hand-written thank you card from Kacie and Miranda
$40- One 1hr Self-Tape session, unedited
$60- Two 1hr Self-Tape session, edited
$100- Thank you in the credits of the film, and an outtakes blooper reel
$500- Listed as Producer in the credits of the film, an outtakes blooper reel, and personal thank you video from Kacie and Miranda
Other Ways You Can Help
You might not have any money to spare. Trust me, I get. But if you want to help support this project:
Share on Facebook, Twitter, Instagram!
Tell a friend!
Just send a positive word or thought towards our campaign!
Share on Indiegogo!
And that's all we can ask for.
Thank you so much for staying to read the whole campaign. You're a true friend! We look forward to sharing the success of this campaign with you soon, so that we can finish this film and make you laugh.
Sincerely,
Miranda and Kacie