iCrowdNewswire - Aug 28, 2016
FLOWER IN THE DIRT: Dramatic Thriller Feature Film
Reserve your DVD and check out our other AMAZING, unique, campaign-exclusive perks and rewards!
Brian Keith Ellis
Kalispell, United States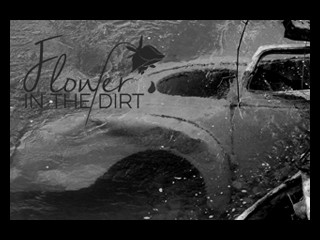 FLOWER IN THE DIRT is a powerful Dramatic Thriller that's sure to be an award winner at Festivals! And here's the best part: the movie is already shot, edited, and ready to go! Here's your chance to secure a copy of the Limited Edition DVD and score other outstanding campaign exclusives, including the opportunity to receive a Special Thanks or Executive Producer credit on the film! Peruse the perks–secure the limited quantities ASAP–and be a part of this amazing film's Festival Run!
Flower in the Dirt
A powerful dramatic thriller about innocence and collateral damage in relationships, set amongst the beauty and wide open spaces of Montana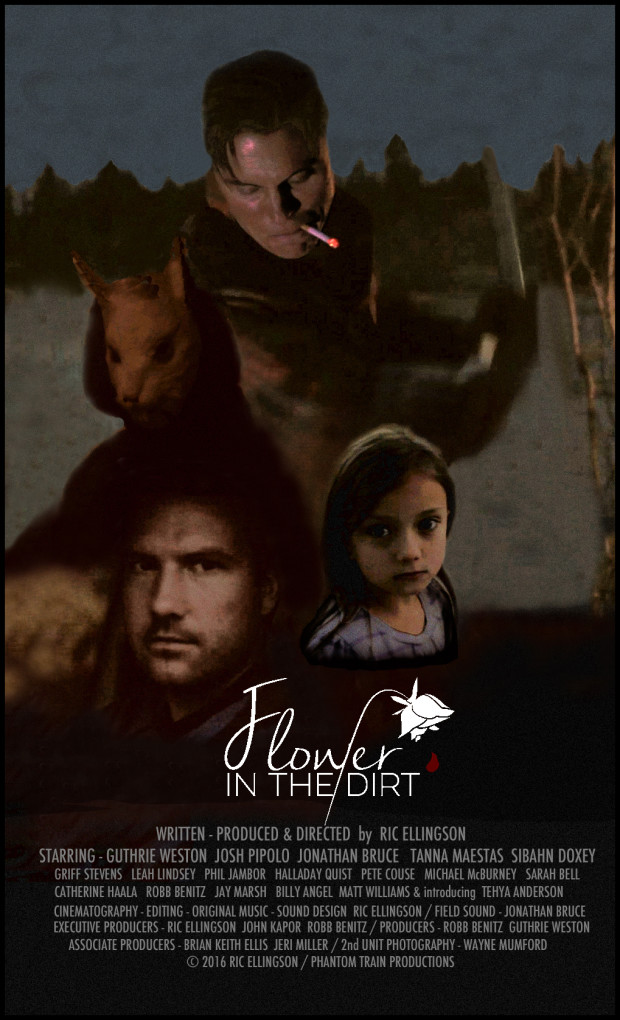 Ric Ellingson, the writer-director, was tired of seeing low-budget movies being so limited by location. He feels that a drama with one or two locations is a play, not a movie. He spent three months writing the story, custom built for the people and cinematic NW Montana he knew. He collected an enthusiastic group of locals and a few friends from New York and LA with and without movie crew and acting ability. Desire, being the main prerequisite for acceptance into the movie troop. The group he found toughed it out through a schedule of two to three evenings a week for five months to bring their collective vision of Hitchcock meets the Coen Brothers, to life.
Flower in the Dirt breaks convention from other low-budget films in multiple ways:
Multiple, fascinating locations and sets
Well-crafted, three-dimensional characters
The gorgeous backdrop of the mountains, valleys, and rivers of Montana
A personal film examining the smallest victims of strained relationships
A "charmed" film shoot that produced an amazing movie
A brilliant and moody soundtrack that becomes part of the film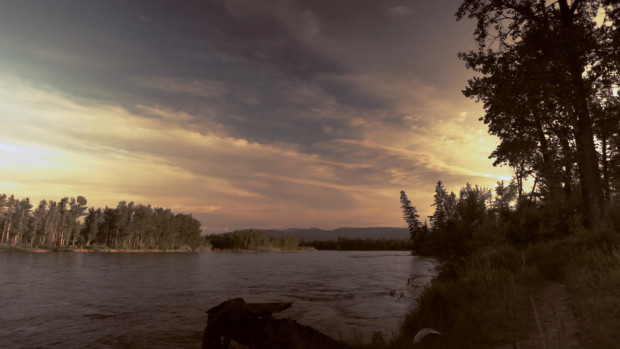 There are so many films that are made on smaller budgets these days. While that's a good thing, opening up the film world to stories that would never have been made in the past, it also allows for less than stellar end results. Flower in the Dirt is what happens when a fantastic writer and filmmaker, Ric Ellingson, directs an outstanding cast and crew through an astonishingly wonderful story, producing a truly memorable film. Help us bring this film to the wide world, so its beauty, its tension, its message, will reach as many new fans as possible. Here's what you can do and how we can THANK YOU for being a part of this historic film!
What We Need & What You Get
There is much we need, and much for you to receive in perks for your help:
We need at least $6,500 for film festival entry fees and travel expenses
This amazing film deserves the best reach we can give it–we are going after all the big festivals: Sundance, South by Southwest (SXSW), Toronto, Tribeca, Berlin, Cannes, and Venice
We will also be reaching out to as many regional festivals as possible, to give YOU and other fans the opportunity to see this film in YOUR part of the world!
We want to be able to travel people to every festival we are accepted to, so fans can meet and greet the cast, crew, or production team members in person!
If we reach our primary goal, our stretch goal is to enter more festivals and engage production funds for our next film
In the event we approach stretch goals, we reserve the right to add additional perks to our wonderful, generous supporters!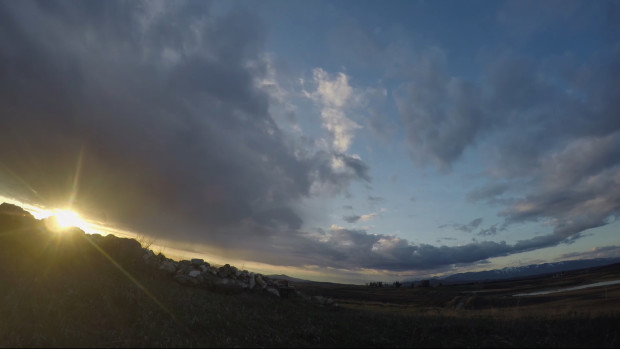 The Impact
Your help is HUGE in so many ways:
You help this important film reach a greater audience
You help independent films, in general, by showing that there is more to film that remakes and sequels
You become an indelible part of our Family–always on our minds to keep you informed of future events for us, and ways we can interact with you in person
Risks & Challenges
One of the unique things about this film and this Indiegogo campaign is that the film is already completed! Therefore, the risks and challenges that normally would be listed here are already taken care of.
Since the film is already completed, ALL perks will be guaranteed when we reach our goal–there's nothing for you to worry about as a contributor!
There's no issue with whether or not the product will ever get made and be available to you–it's already done! All that's left is to bring it to the world!
Other Ways You Can Help
Even if you can't contribute personally (although we believe we've made it so ANYONE can contribute at a level they're comfortable with), here are some other ways to help that don't cost anything:
Share our project link out on your social media pages! Facebook, Twitter, Instagram, and anywhere else you have a presence–all of these help us reach our goal and make it so that we can make more films and bring more fun items to you, our contributors!
It's EASY to share straight from Indiegogo!
Here's a look at our amazing cast and crew–expect to be seeing more of them in the future!
The Amazing Cast & Crew!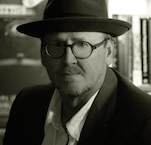 Ric Ellingson – Writer/Director
Ric is a professional photographer, videographer, writer, producer, songwriter, and director. He has worked on sets with Spielberg and DePalma, where he studied their approach to direction. Ric has produced numerous commercials and music videos and several short films. Ric was the set photographer and backstage videographer on Michael Jackson's last productions at Culver City Studios in June 2009. Recent years have found him completing numerous feature length screenplays. Flower in the Dirt is his first feature. Ric resides in northwest Montana where he draws inspiration and peace. Ric is currently in the planning stages of his next movie, Regarding Danny's Cat.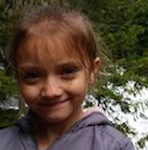 Introducing Tehya Lin Anderson as Lily
Tehya was joy on the set and amazed the cast & crew as she transformed in seconds from her smiley fun-loving self to the sad character in the movie.

Guthrie Weston as Benjamin
The son of a celebrated musician and a flight attendant, Guthrie's mother often took him on layovers and they'd pass the time with all day cinematic marathons. His first job at a theater allowed him to consume films voraciously. Later he chose to forego a starting spot on the basketball team in order to take the lead in Brigadoon. A vocal scholarship allowed him to study drama at Pepperdine University and led to a relationship with the daughter of screen legend Jeff Bridges, who became a mentor. After a decade touring with a rock group he decided to refocus on acting after a chance encounter with a psychic and undertook personal study with acting whisperer Howard Fine, landing several T.V. gigs before scoring a lead role in a feature film.

Catherine Haala as Social Worker
Catherine A. Haala was born in Sleepy Eye, Minnesota, where she grew up on a small family farm. Now living in New York City, she says, "I'm a city girl, with the country still in me!" As an actress and a model, Catherine has traveled and worked all over the world. She is the founder and president of The World is Our Neighborhood (TWION.org), a 501 C3 (no salaries) charity working with the poor, elderly, mentally and physically challenged–reaching out in multiple ways to countries around the world. Catherine is an author, and enjoys sports, singing, song writing, time with family and friends, and is an avid animal and nature lover. She includes being a cancer survivor among her accomplishments. Catherine has been active in several New York film projects.

Josh Pipolo as Frank
Josh is 100% Italian, born in Santa Cruz California – a hip town with a surf and skate culture. He moved to a rural part of Montana 22 years ago. As a youth, he was a river guide on the Yellowstone River (where he met his wife). He also packed mule trains into the Beartooth Wilderness, and spent much time exploring the wilds of Montana. He's currently a professional Firefighter Paramedic (14 years to date) with 10 years to present on a SWAT team as a entry team member and medic. Josh enjoys adventure, his family, his garden, and helping others in need. Josh has been active in community theater for many years. This is his first feature, where he 'killed' as the bad guy.

Sibahn Doxey as Claire
Sibahn Doxey brings beauty and confidence to her role as 'Claire' in Flower in the Dirt. She filmed just prior to winning and reigning as Miss Montana USA 2016. Sibahn is a signed fitness model, personal trainer, and actress. Growing up participating in her local theater's productions and winning the titles of Miss Montana Teen USA 2011 and Miss Montana USA 2016, she has always had a love for the stage. After moving to Atlanta, Sibahn was given the opportunity to be in the television shows "Drop Dead Diva" and "Burn Notice" as well as the films "Insurgent," "Hunger Games: Mockingjay Part 2," "Nice Guys," and "Furious Seven." She hopes to peruse stunt acting in the future.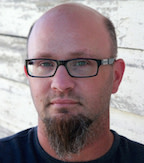 Robb Benitz – Producer
Robb, 40, grew up in the State of Alaska, and always enjoyed the escape that came with a good film. He started working in commercials when he was 13, and has worked on several film productions. He loves Writing and Producing quality films and deeply enjoys the filmmaking process. His heart is in giving people the emotional impact that comes with movies that are thoughtful and beautiful, but also contain a twist of the dark madness that is Life itself. When things go crazy on set, Robb was always there to calm the storm.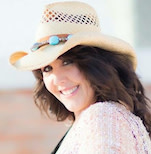 Leah Lindsey as Hollywood Agent
When Leah Lindsay began her career in radio in 1997, she had no idea she was beginning a journey that would still find her there 19 years later. Leah's voice and personality made her an instant radio favorite in the Montana. Though radio may be her biggest love, it isn't her first one. Leah has had a flair for the dramatic since her debut in 1st grade, and that love took her to the stage, where she has been student, teacher, actor, director, and producer. Leah is passionate about volunteering and lending a hand to those in her community who need one. She has an innate ability to talk to anyone and make them feel temporarily like the center of the universe.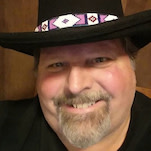 Brian Keith Ellis – Associate Producer
Brian grew up in the Northern Baja town of San Diego, California, writing from the age of six. He eventually earned degrees in both Writing and Geography. As Geography is known to lead to a career path as either a teacher or someone who overthrows small, foreign governments, he chose to pursue writing. He ditched his career as a Realtor/Karaoke Junkie and leapt into a world he had always loved, that of film and television. Brian has been involved in successful, award-winning, low-budget independent features, and currently has three television shows in development, as both a writer and a producer.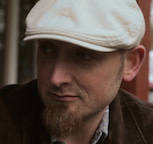 Jonathan Bruce as Leo
Jonathan Bruce, 41, has lived in the Flathead Valley in Northwest Montana for 36 years. A audio nut for as long as he can remember. He's also a singer, drummer, percussionist, and has participated in chorales, small group ensembles, musical theater, and rock bands. This has been his first movie acting experience, and to quote him "it rocked". The cast and crew was impressed not only with his natural acting ability, but his great set attitude.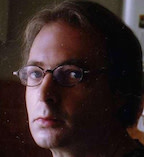 Griff Stevens as Task Force Agent/ A.J.'s Brother
Griff earned a degree in painting from the Dayton Art Institute. Additional studies at the Polish Film Institute and University of Washington. Best known as a distinctive, yet inchoate songwriter, recording artist and producer, including film, television and off-Broadway theater. A published writer of fiction. He resides on a farm near Glacier National Park, in Montana, where he received a DUI in 1998.