iCrowdNewswire - Aug 25, 2016
NEAT COLLAR: The perfect wardrobe solution
A unique fashion brand offers the ultimate accessory. Now working on a fresh new line.
NEAT COLLAR offers the perfect wardrobe solution, chic and unique collars worn as vests, Our goal is to obtain the necessary funding to create a refreshing new line – which includes unique women patterns, teen collection and even a men collection.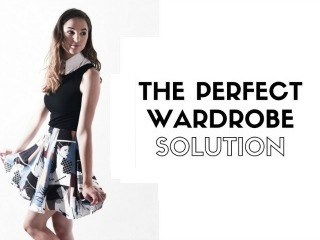 Who are we? A fashion brand founded a year ago by Hilla Yachimoviz Kadmon and Ido Kadmon.
The concept behind this Tel Avivian brand is simple: offering a solution for women who are seeking a clean, tailored look without those awkward bulky layers.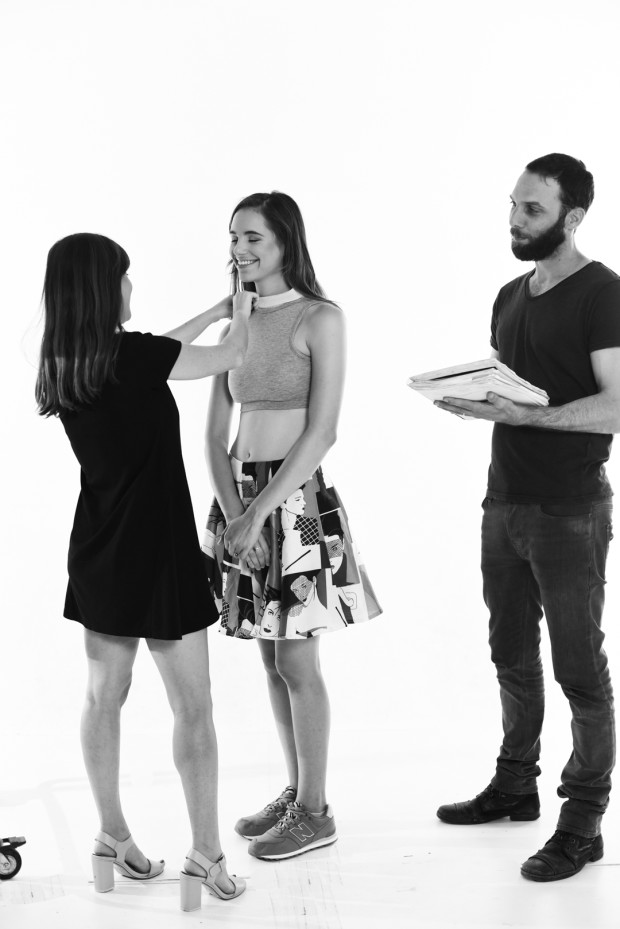 It all started when Hilla, a fashion journalist stood in front of her closet one day and thought to herself: "Girl, this wardrobe really needs a change".
As one who loves playing mix and match with her items (which fashionista doesn't?) she was looking for this little twist that will make the difference. The idea popped into her head: collars are the perfect solution – a little addition that can change the whole look, that can be very stylish yet super neat.
Hilla has started to develop this unique product, grabbing her husband Ido to walk with her in this new entrepreneurs path and be a part of the journey. As most men, he didn't quite understand what is this weird shirt that his wife insist to call "the next best thing' , but quickly he got the hang of it and became in charge of the logistics and financial departments in the venture.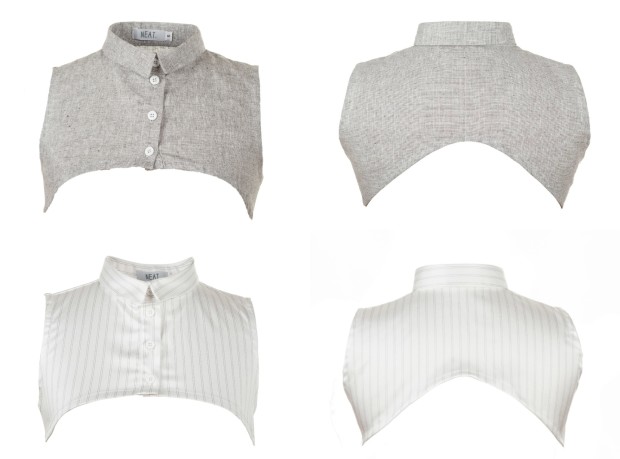 So basically, we're reinventing the Dickey. Collar bibs have been around for over 120 years, and were very popular in Europe and the US – known as detachable collar, Chemisette, and of course a Dickey.
What makes NEAT unique is the design: In the past a collar was worn like an apron, but each Neat Collar is dressed as a vest – making it the perfect fashion accessory to wear under a shirt, to combine high fashion and maximum comfort.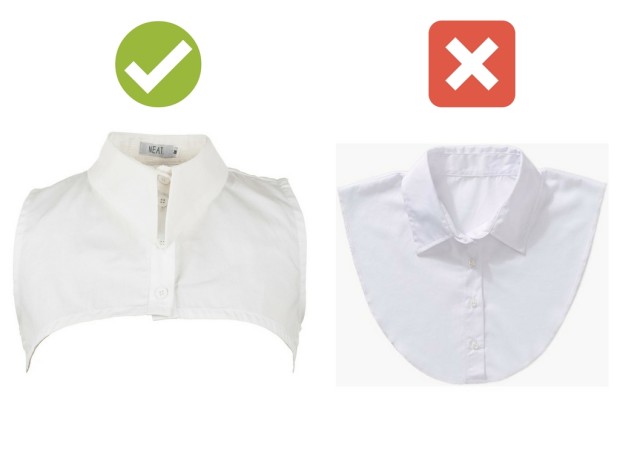 Delivered worldwide, you can find these collars on business women, lawyers, religious women and fashionistas – the one product offers different solutions to customers all around the globe.
NEW COLLECTION >>
A fresh new line of collars, to be worn like a sport bra – has three different looks that you can play with. You can wear it with or without a bra, closed, semi open or even backwards.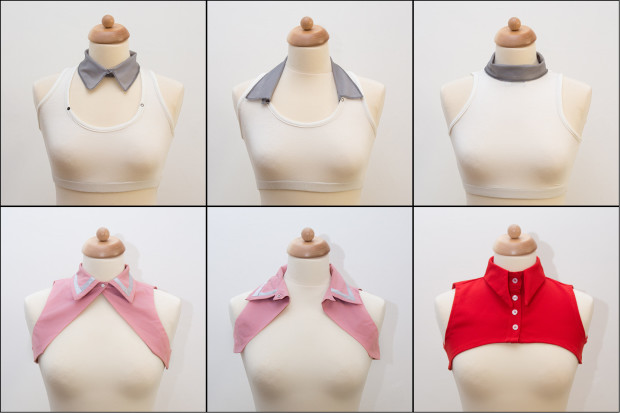 Neat is also planning to expand – designing a men collection and a teen collection.
Perks
We are proud to offer our loyal backers wholesale pricing on our collar vests.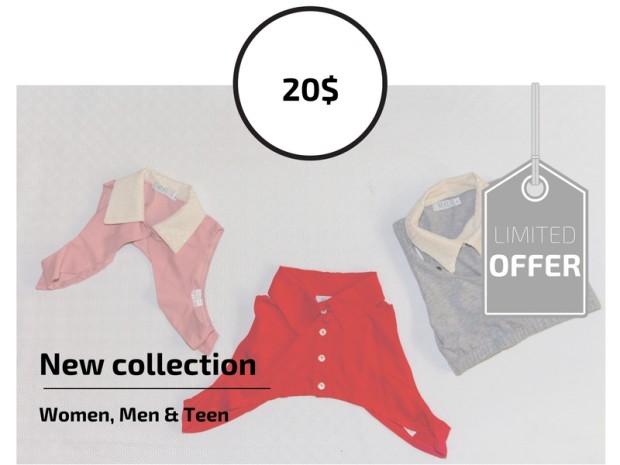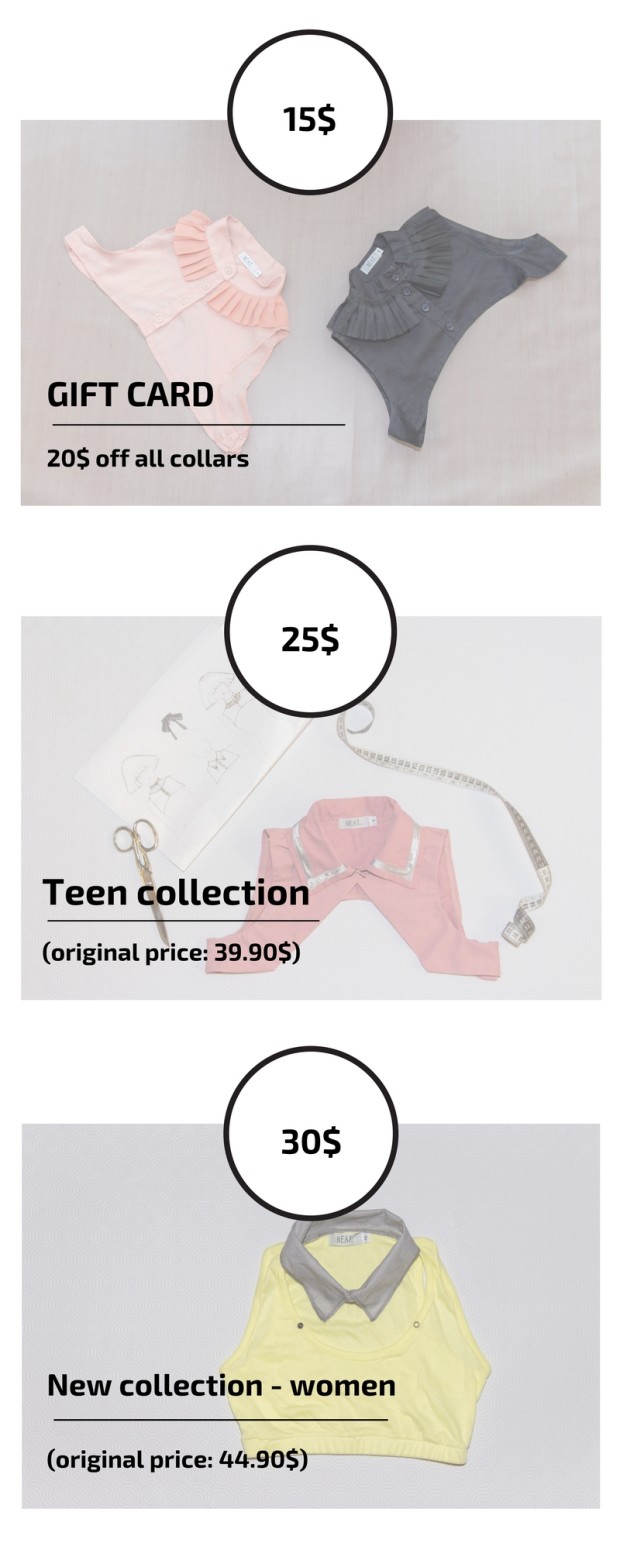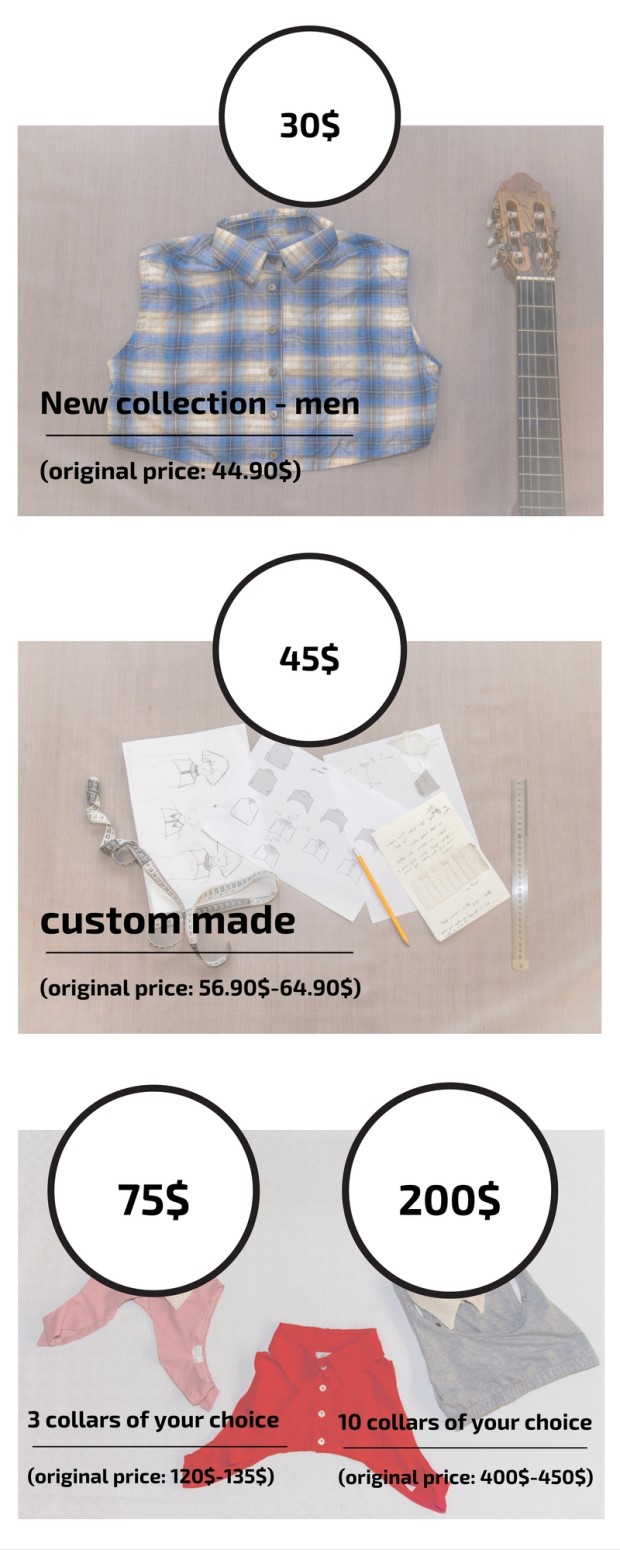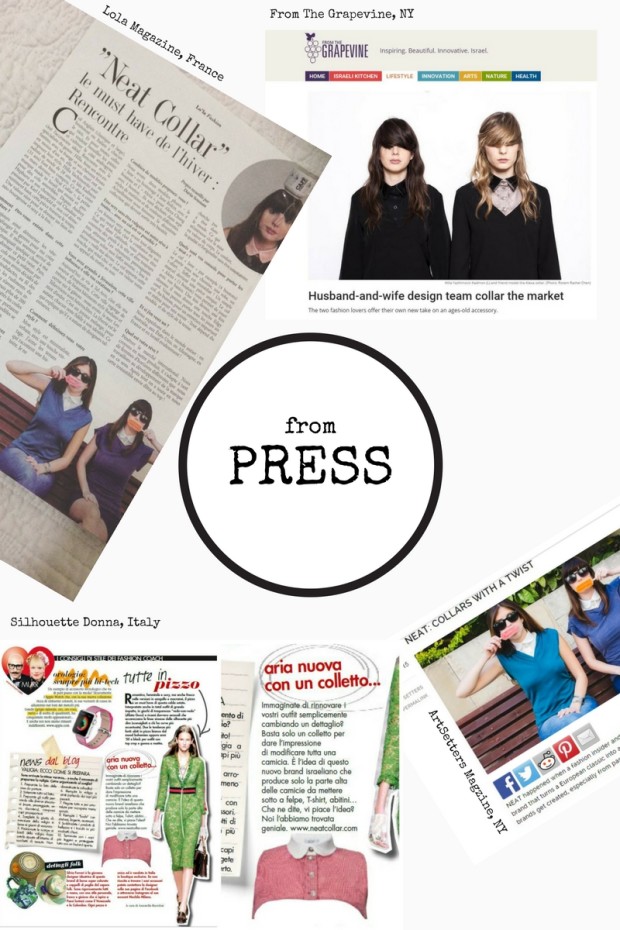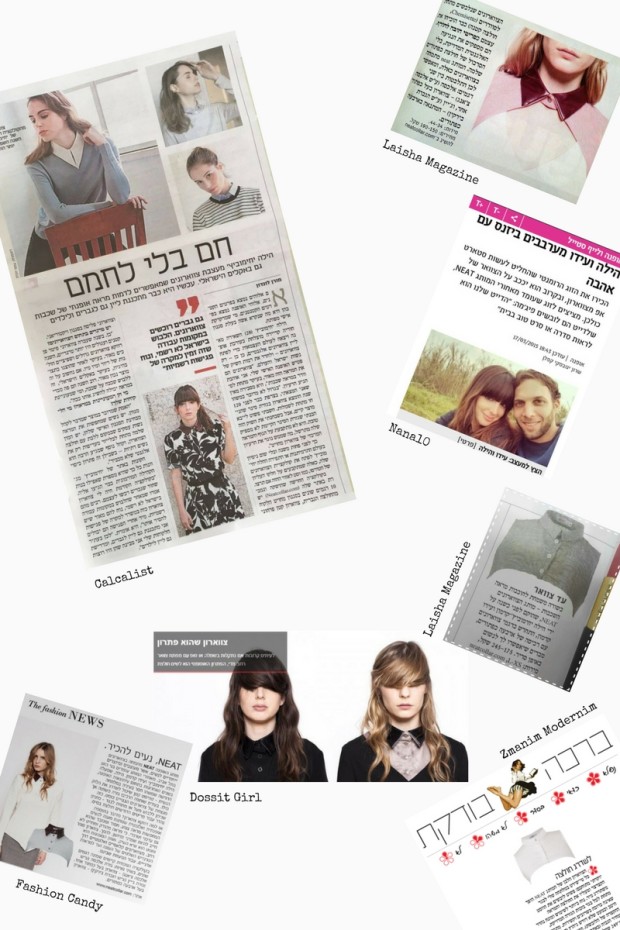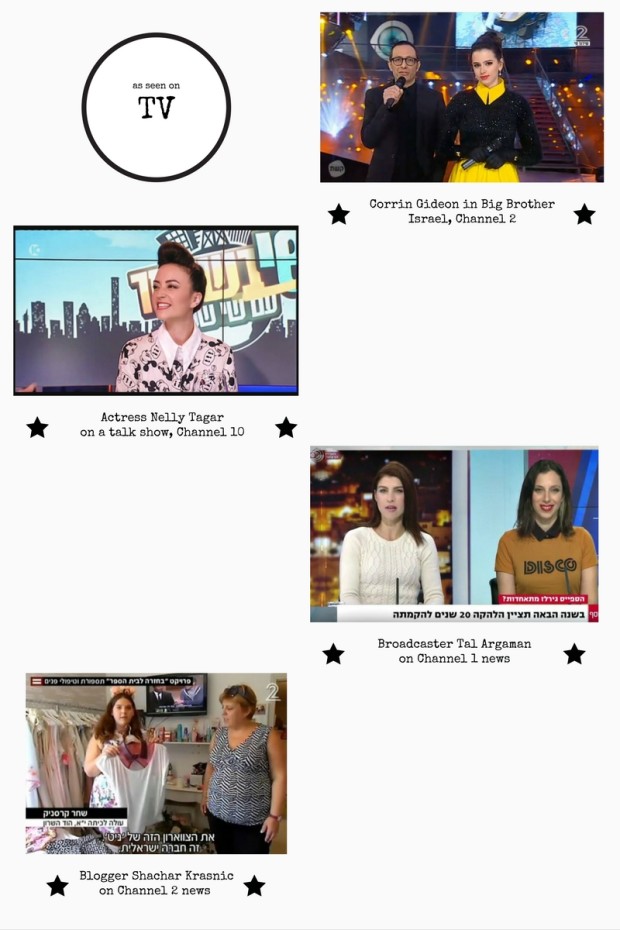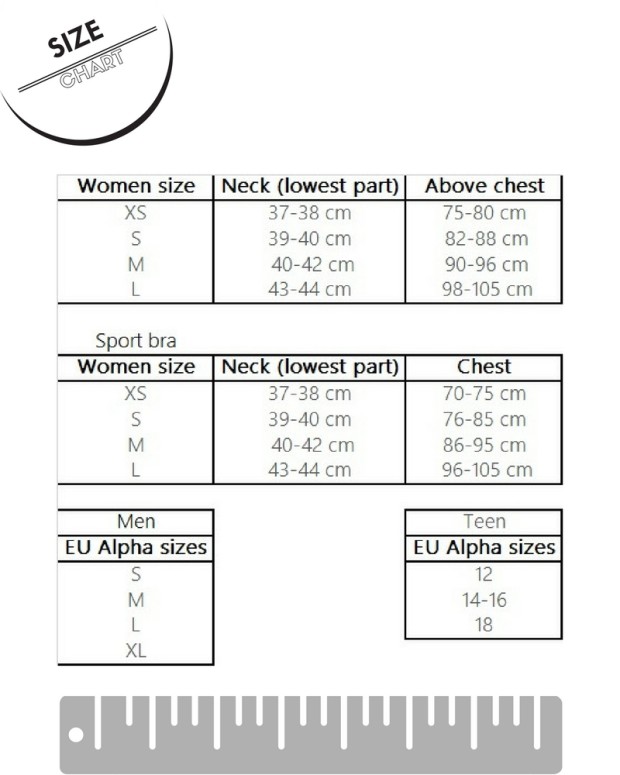 FAQ
When will I receive my Neat Collar? Assuming that the campaign will reach its goal – and we're optimistic of course, we will begin production and deliver the perks as soon as the campaign is over (September 15, 2016). Shipment will start at September 2016.
How do I specify the size and style of my Neat Collar perk?
After your purchase we will ask you via e-mail your size, color and design of your preference.
Can I get more than one perk?
Each purchase of a perk is a new transaction, so all you need to do is to click on the perk, fill in your info, and buy it. Then, go back and select the other perk you wanted, and repeat the process.
EXCHANGE POLICY
If you follow the size chart carefully, then the collars should fit you. Still, if you wish to exchange your item for any reason, we'll happily do that – you'll have to pay for the two way shipping. Please make sure the items are unworn and unwashed. Returns: You'll not get a refund on items that we're purchased on Indiegogo.