iCrowdNewswire - Aug 25, 2016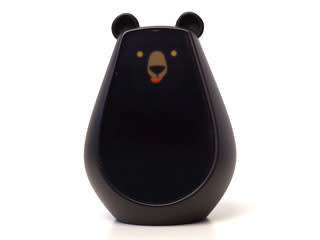 Bearbot
A lively universal remote control
Home automation is easy with Bearbot, an emotive universal remote. Once tamed, Bearbot responds immediately to each of your commands. Perfom specific gestures to teach him how to control numerous household devices. Very expressive, your companion interacts with you but can still surprise you with spontaneous behaviors (sneezing, yawning and more…). Bearbot is available for adoption as well as his cub, mini Bearbot an infrared relay.
Tame your household devices with Bearbot
Meet Bearbot, an adorable and playful companion willing to make your life easier! Bred in Luxembourg, this domestic bear is looking for a loving home to settle down in.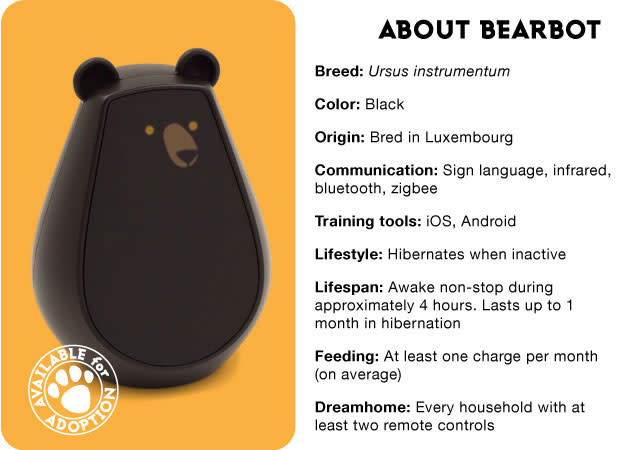 From the moment he is tamed, Bearbot responds immediately to each of your commands and becomes indispensable in the house.
Bearbot is your loyal companion!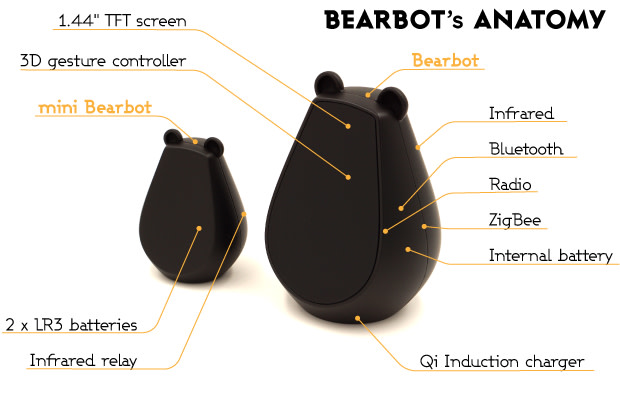 Bearbot
Bearbot is an universal remote using following protocols: infrared, bluetooth, zigbee and radio.
His virtual face livens up through his 1.44 inch TFT screen and he is able to detect your gestures thanks to a 3D gesture controller.
Bearbot completely recharges his batteries via induction (Qi system) in approximatively four hours.
Mini Bearbot
Mini​ Bearbot has no screen and is not interactive. He is a relay that enables to expand the infrared range.
The cub becomes indispensable when Bearbot stands too far from the device (more than 5 meters) or is hidden behind an obstacle.
He functions with two LR3 batteries.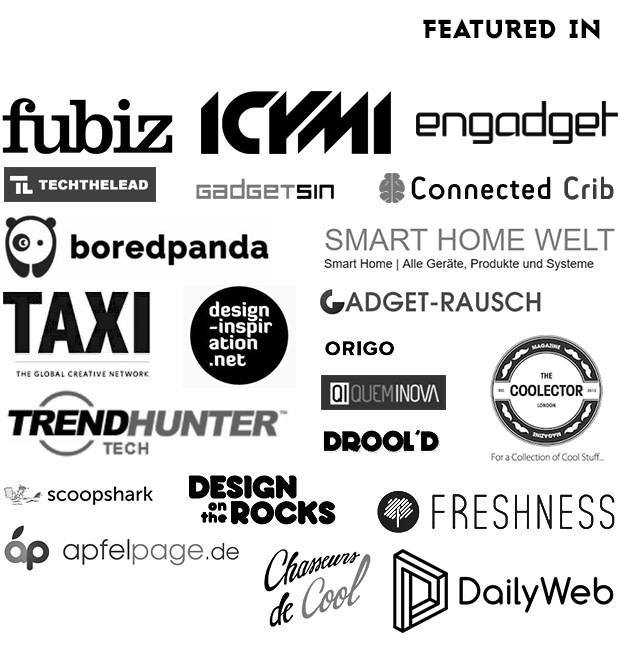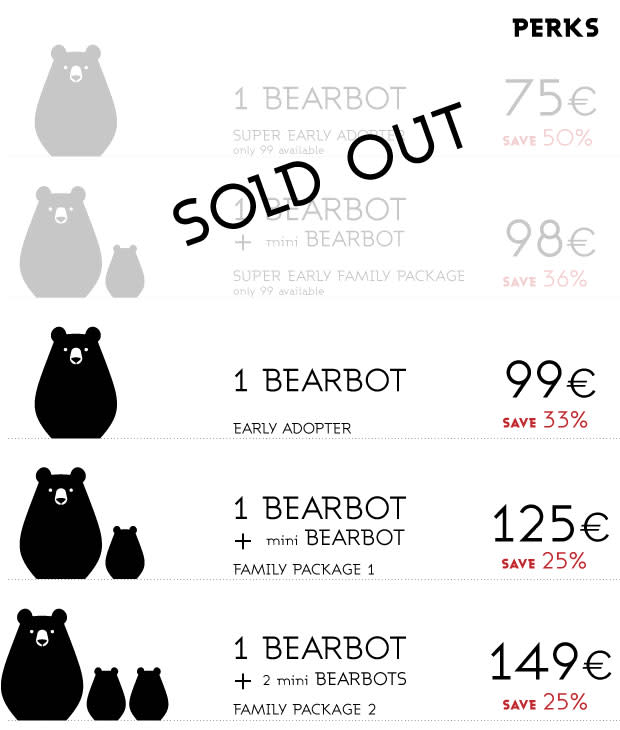 Your donation will help us starting the Bearbot breeding program.
We currently offer a significant discount for early adopters to promote our project. Once Bearbot will be available for adoption everywhere, we will sell it for at least 149€ (for one Bearbot).
Bearbot only needs to be trained once to learn the basic tricks. The mobile application tames him to identify the different remote control units: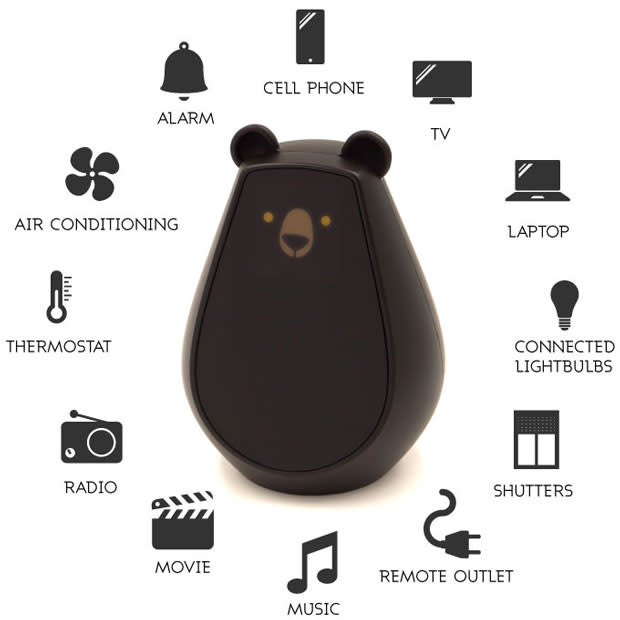 Bearbot replaces as many remotes as you wish.
It is also possible to accumulate several functions in one gesture: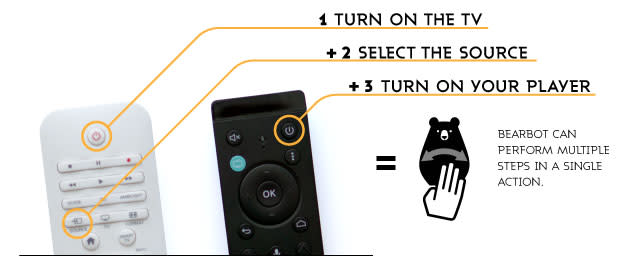 Bearbot can always learn more commands…
After his first training session, Bearbot is already tamed. Your companion pays attention to every gesture you make:
His senses allow him to detect your movements thanks to a revolutionary 3D gesture recognition sensor.
Bearbot always displays the logo of the appliance you are about to control. You can rank and modify your devices list at any time on the app to simplify your navigation.
Moving from one device to another is easy :
A gesture from up to down allows you to switch to the next device
A gesture from bottom to top allows you to switch to the previous device
Beyond your interactions, Bearbot can still surprise you with spontaneous behaviors: sneezing, dancing, falling asleep…
In order to always get his full attention, you better keep Bearbot nearby. We recommend to have Bearbot close to hand.
If he stands on the coffee table, you can use your foot but the motion should be performed accurately.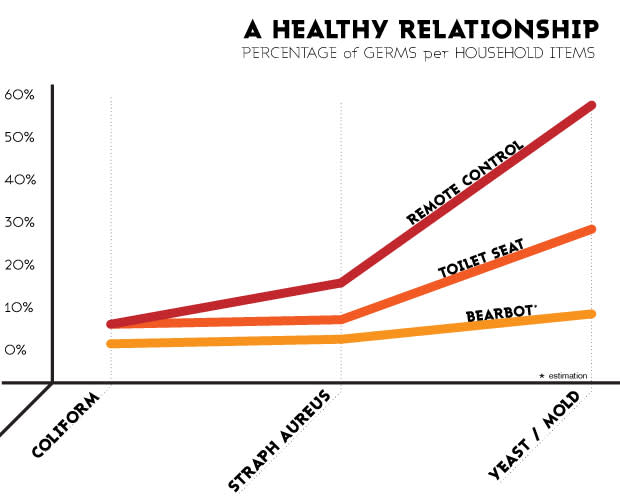 Source : NSF International Household Germ Study, 2011
According to a study conducted by NSF International, remote controls count among the top spots for bacteria at home.
Bearbot prevents from providing a breeding ground for germs: by the time he is in place you no longer have to constantly manipulate him.
When you're cooking for instance, you don't even have to wash your hands as you don't touch your companion.
Bluetooth's, ZigBee's and Radio's ranges are around 5 meters in a household environment.
In case Bearbot is too far from the device (more than 5 meters) or is hidden behind an obstacle, mini Bearbot relays the infrared information.
The mini one functions with two AAA batteries.
Bearbot's cub is also part of the adoption program.
Developing a technical product is a long process. Rewards should begin to be delivered by middle of 2017.
Established in December 2015, Mu Design imagines, develops and commercializes emotive design products. The head office is located in the Technoport of Belval, Luxembourg, an innovative business incubator.
Our human-sized company achieved its first great success on a crowdfunding platform with Ulo, a cute interactive surveillance camera.
Mu Design aims to be the most socially and environmentally responsible company:
We promote the use of recyclable materials
We favor technologies that are easy to update to avoid fast product obsolescence
We give priority to local suppliers, subcontractors and production sites
We don't employ glue, potentially toxic, while assembling our goods
We optimize our packaging to limit both raw material and energy consumption
Follow our progress on Facebook and Twitter!

You can also check our website and subscribe to our newsletter:
Help our breeding program by clicking on the share button at the top of this page.

What is the material of Bearbot?
Bearbot's shell is made of 100% recyclable plastic.
How many devices can be controlled by Bearbot?
You can replace as many remote controls as you wish. Simply add them via the training app.
Is Bearbot available in another color?
No, Bearbot isn't a polar bear. The main reason is that his screen remains black when inactive.
Where should I place Bearbot?
As a loyal companion, Bearbot should remain close to you. It's best to keep him within easy reach to capture his attention.
Which mobile devices can I use to set up and customize Bearbot?
The Bearbot's training app works with iOS and Android.
When is it necessary to use the cub?
Mini Bearbot acts as an infrared relay. You should use him when the distance between Bearbot and the device exceeds 5 linear meters or when there is an obstacle between Bearbot and the appliance itself.
Is Bearbot available in my country?
Bearbot works everywhere in the world. We will be happy to ship it to any destination.