iCrowdNewswire - Aug 24, 2016
CAPE Headphones: Indulge yourself in virtual sound
Enjoy a world of Spatial Audio under your control with the industry's most intelligent headphones.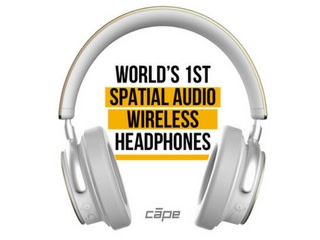 CAPE Rebellion headphones convert your stereo audio into a simulated 3D sound space, allowing you to fully experience the three-­dimensional space the sound comes from. With Rebellion's 3D sound environment, you are empowered to change the music as you see fit, moving the sounds through space in three dimensions.

The world's first Hi-Fi Spatial Audio headphones.


CAPE Rebellion is here to revolutionize the way you listen. Enjoy the most realistic sound experience with Spatial audio and Spatial-active noise cancelling technology. The detailed sound, extra accurate sound location, expanded sound eld, and consistent high quality sound transport from Bluetooth, make this, truly, the most epic listening experience you will ever have.


Music: Experience music in a whole new way
You haven't truly experienced your music until you've experienced it with spatial audio. Rebellion Headphones create a high quality audio experience so immersive and customizable you must try it to believe it.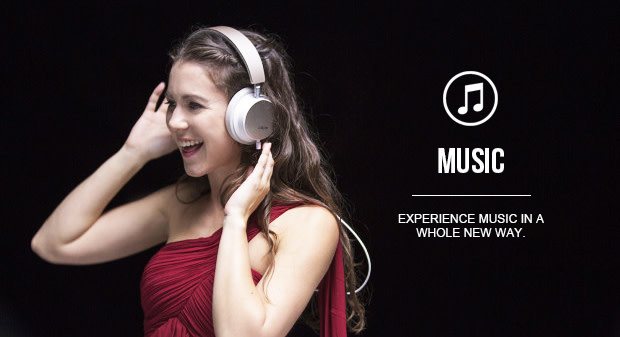 Entertainment: Like a portable home theater
Put yourself in the middle of your movies and shows with a surround sound home theater experience that you can take anywhere.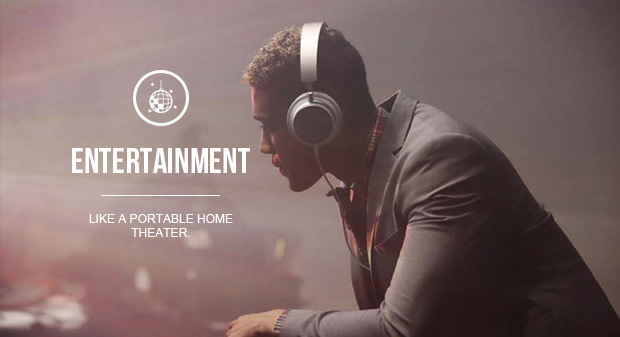 VR: Truly inhabit your VR or video games
Accurate sound orientation immerses you in the world of your game, improving your reaction time and giving you an advantage over your opponents. Ordinary gaming and VR headphones are big and bulky. After wearing them for a while, you begin to feel tired and uncomfortable. CAPE Rebellion headphones on the other hand are ultra-lightweight and utilize an amazing heat radiating system to keep you cool, comfortable, and playing all day. VR might be the future of gaming, but CAPE Rebellion headphones are the future of VR.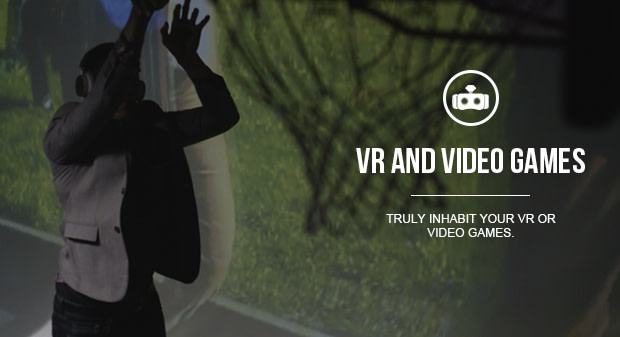 Business: Free your focus
Ergonomic on-ear design and powerful noise cancelling technology allows you to focus on your work, not your surrounds.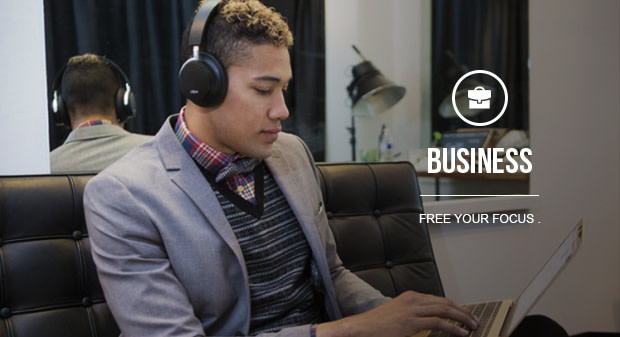 Travel: Take them with you wherever you go
Our headphones are light, comfortable, and can hold a charge for up to fifteen hours making them perfect for trips or all day wearing. With wireless mode, you can enjoy CAPE's CD-Like quality sound for fifteen hours. Even when it runs out of battery, you can also switch to CAPE's wired mode to continue listening.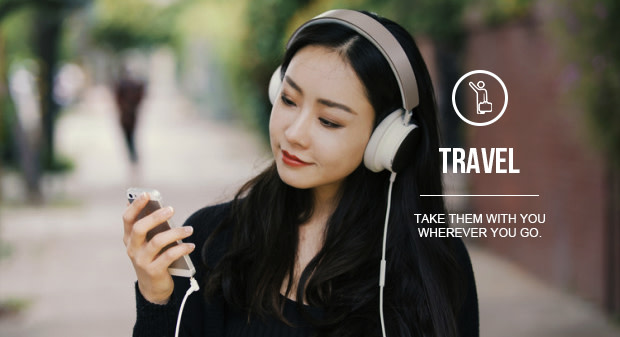 Fun: Create your own spatial music with the 3D app.
Have fun and be creative composing beautiful melodies that surround you.

Transform 2D audio into a 3-dimensional sphere of sound. Rebellion creates a beautiful environment of sound in which your audio comes at you from every direction, even behind you. This creates a listening experience like you enjoy in the real world, but have never before heard on headphones.

You will never have to sacrifice audio quality for wireless convenience ever again. Rebellion brings you the best Bluetooth audio quality through your smartphone, allowing you to enjoy wireless music with CD audio quality. With Bluetooth 4.2 and aptX™, the advanced audio coding produces a zero-damage audio experience, and also solves the problem of export delay. The result is a new level of wireless audio quality.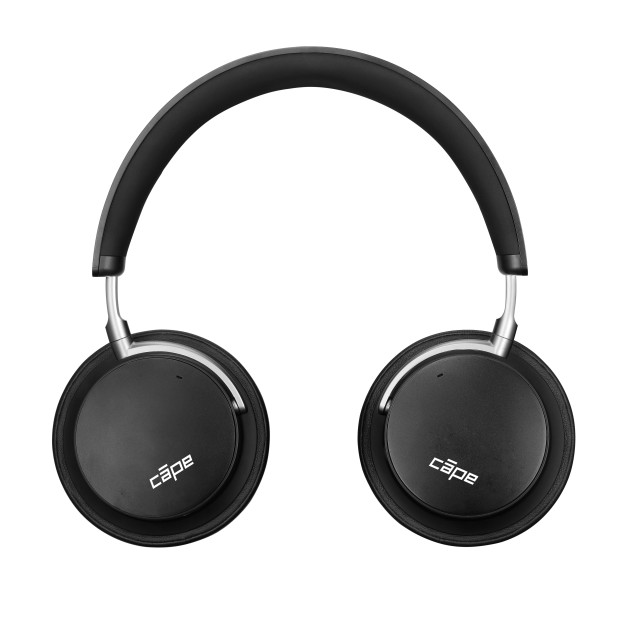 Don't let noisy crowds or howling winds interrupt your important phone calls ever again. HD Voice Calling and digital noise cancellation take care of this problem, allowing you to converse in a noise free environment.



You can wear your headphones in comfort all day long thanks to the Rebellion's thoughtful design. The tuned clamping force means your headphones will stay secure while only creating the lightest necessary pressure on your ears. The ear cup design funnels heat away from your ears to the thermoconductive outer shell of the headphones where it dissipates into the air. Hypoallergenic bicast leather cushions are smooth and soft for velvety ear-cradling goodness. You will be cool and comfortable for all day listening. 

At CAPE, we never compromising, and we don't think you should have to either. That's why all of our materials and designs have been hand-picked and tuned by expert craftsmen and leading audio experts.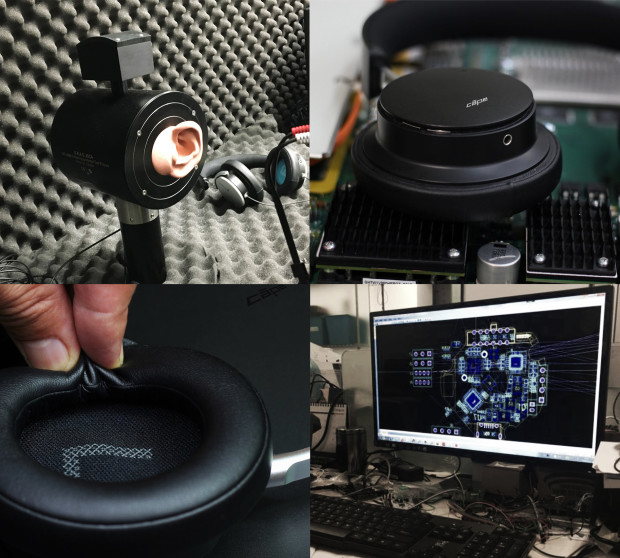 Rebellion headphones are hands free and easy to use, so you can go about your daily tasks while enjoying beautiful spatial audio.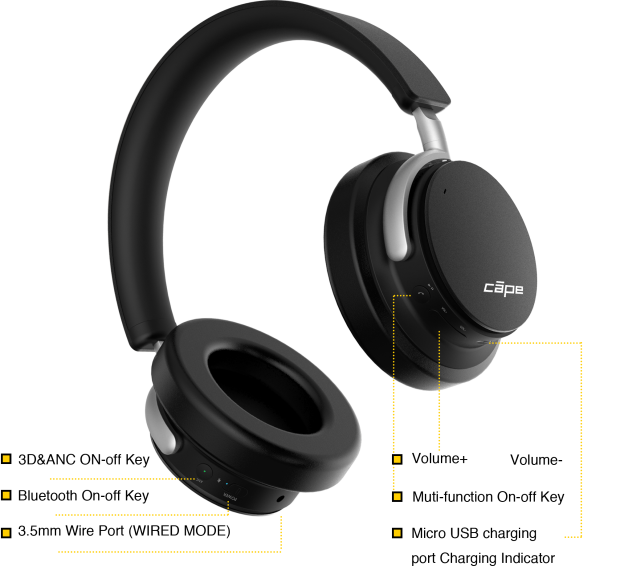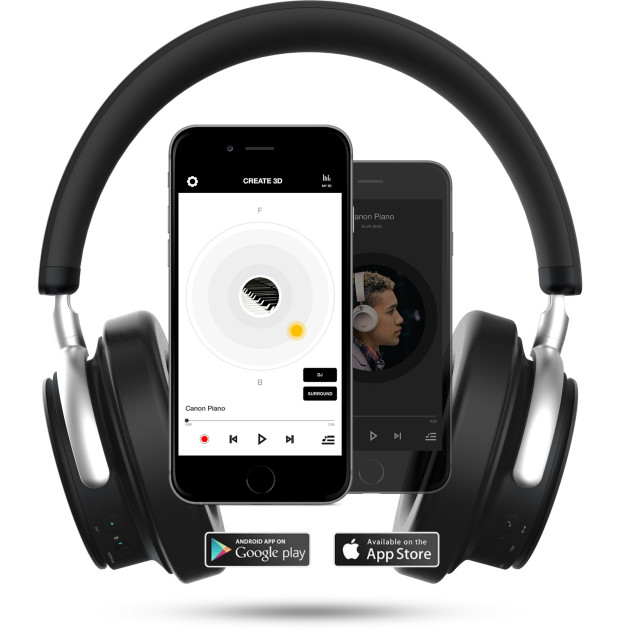 While the CAPE App is available only to CAPE Rebellion Headphone users, it is compatible with both Android and IOS devices.
-Download and install THE CAPE APP on your compatible iPhone or android smartphone.
-Put on the CAPE Rebellion headphones.
-Power up the headphones.
-Import music and adjust the listening point to create the perfect spatial audio effect.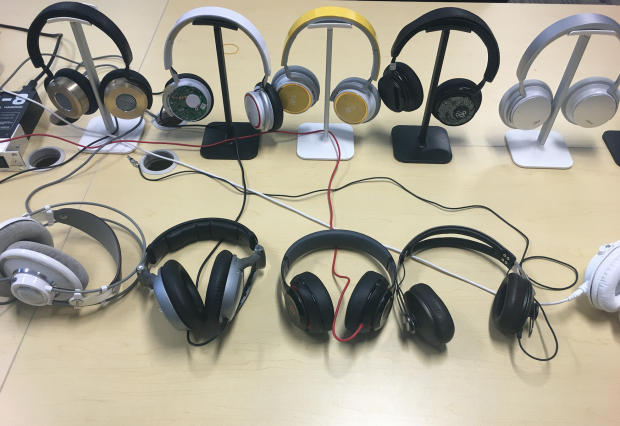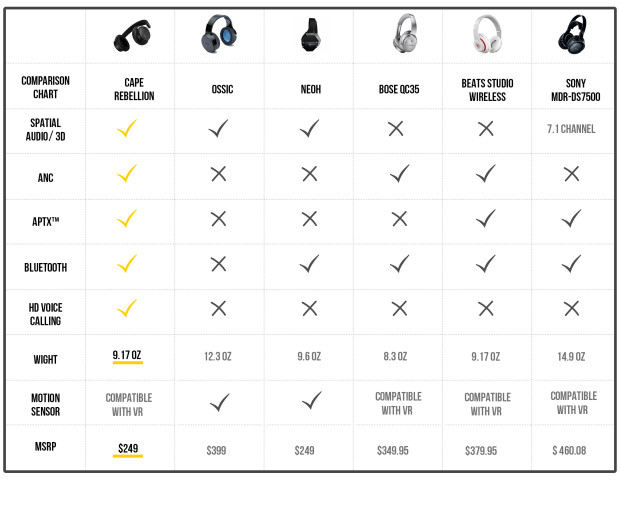 Digital signal processor

Rebellion Headphones use a 3D Digital Signal Processor chip and reverberation algorithms to create a three dimensional soundstage. This gives you the powerful, immersive experience of listening in a surround sound theater. The experience is increased by the Head Related Transfer Function that transforms two dimensional audio into a 360 degree sphere of sound. By combining the DSP chip and HRTF technology, you get to enjoy the immersive three spatial sound effect of a home theater wherever and whenever you want.
Acoustic chamber design
Lose yourself in the vastness of sound. The Acoustic Chamber is the very best platform for Spatial Audio or 3D Audio. A trademarked honeycomb design and ergonomically angled speakers combine to create the largest eld of sound possible.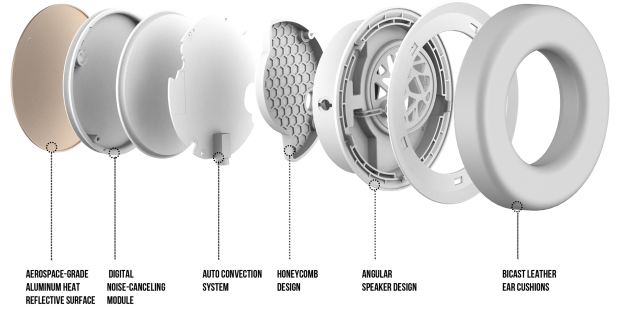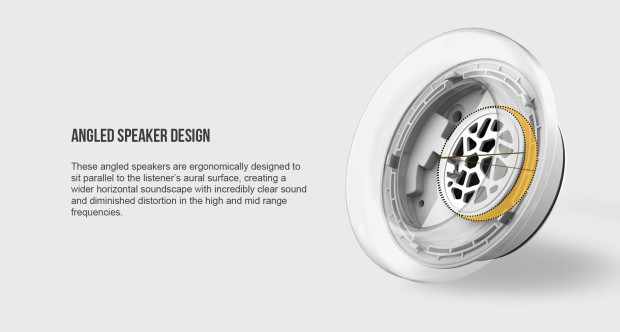 Digital-adaptive noise cancelling

Never be distracted again. ANC is able to reduce background noise by up to 30dB. The system that CAPE Rebellion headphones uses is called "real-time noise canceling," because it interprets the background noise as it hits you and neutralizes it with the existing sound waves of your audio. In this way, your Spatial Audio experience is not diminished by annoying "white noise." All you will hear is the very best audio quality.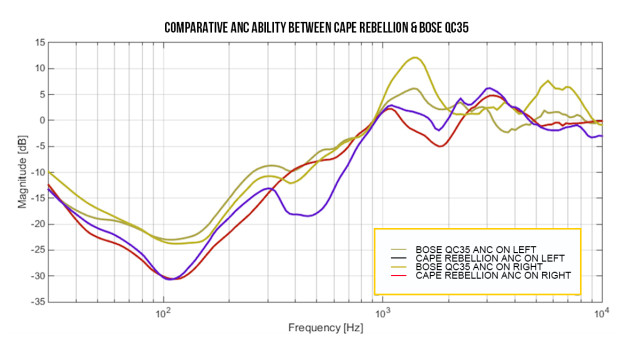 Accurate and balanced sound

Using audio adjusting and digital balancing, CAPE Rebellion headphones deliver the highest fidelity audio experience. The system improves upon traditional coil arrangements by buffering the voice coil, keeping it from vibrating against the inside of the speakers, giving you only the purest sound.


Minimalist, with no superfluous features, CAPE Headphones look sleek and elegant. Not only will you enjoy the very best personal audio experience, you will look stylish while you do it.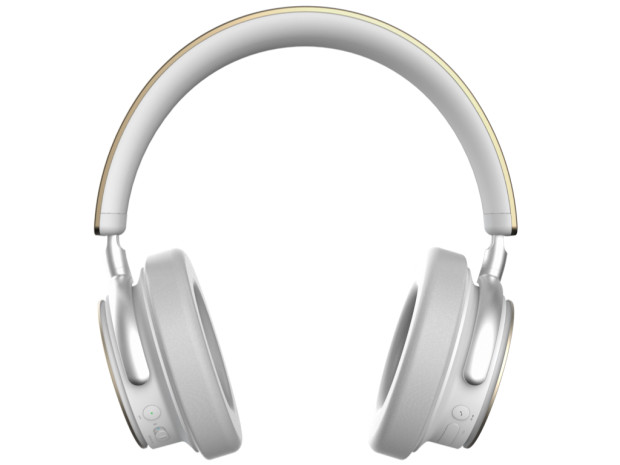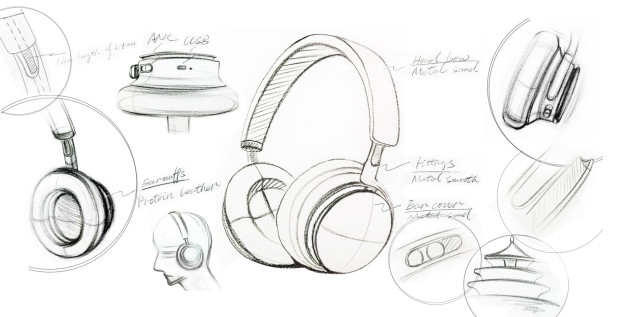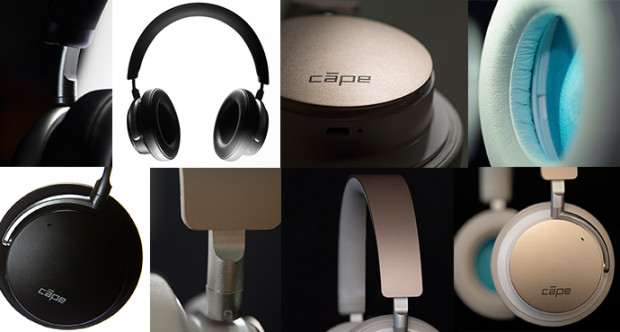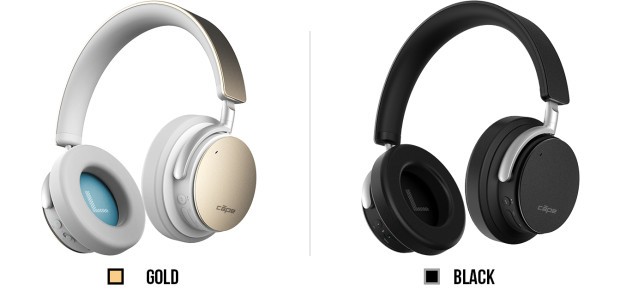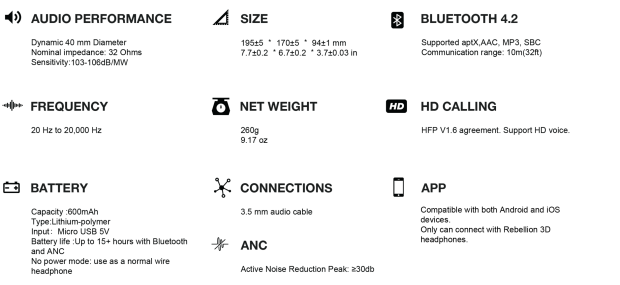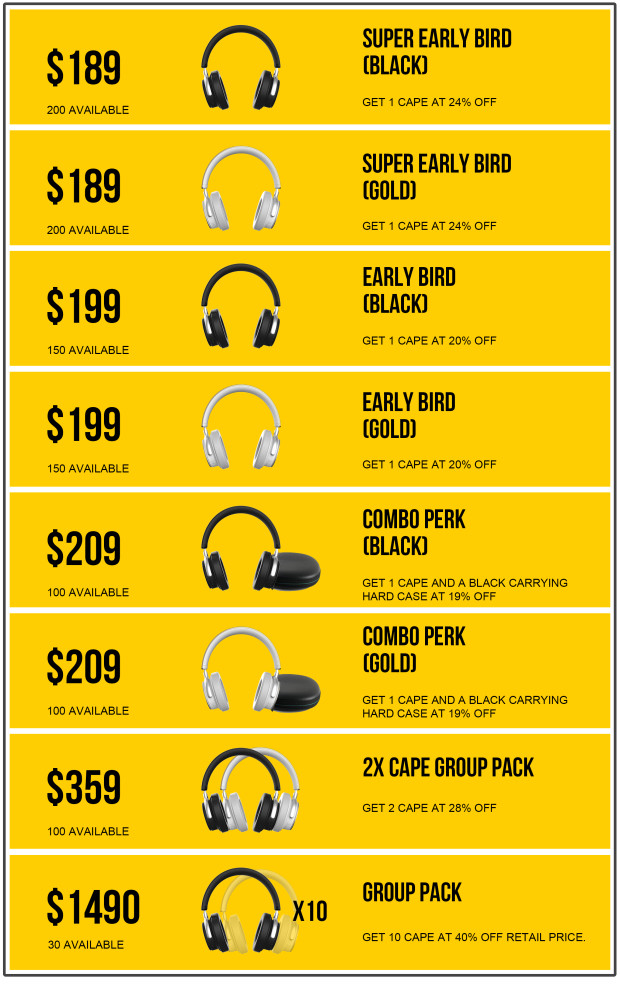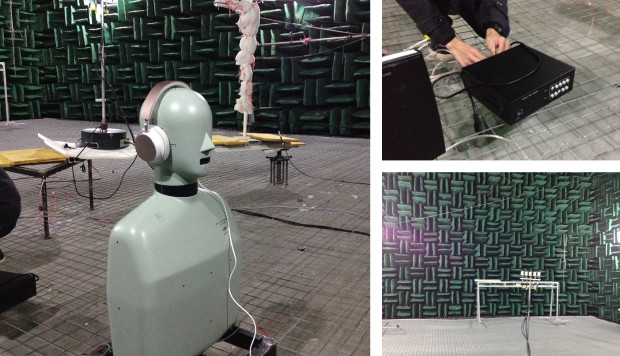 CAPE is a hardware and software solutions brand that focuses on spatial audio technology research, 3D spatial audio equipment, and acoustic algorithm development. CAPE's research and development team is made up of engineers from Foxconn, IBM and other Fortune 500 companies. More importantly, we are bunch of audiophiles who want to bring the beauty of spatial audio to the world. We look forward to sharing our passion with you.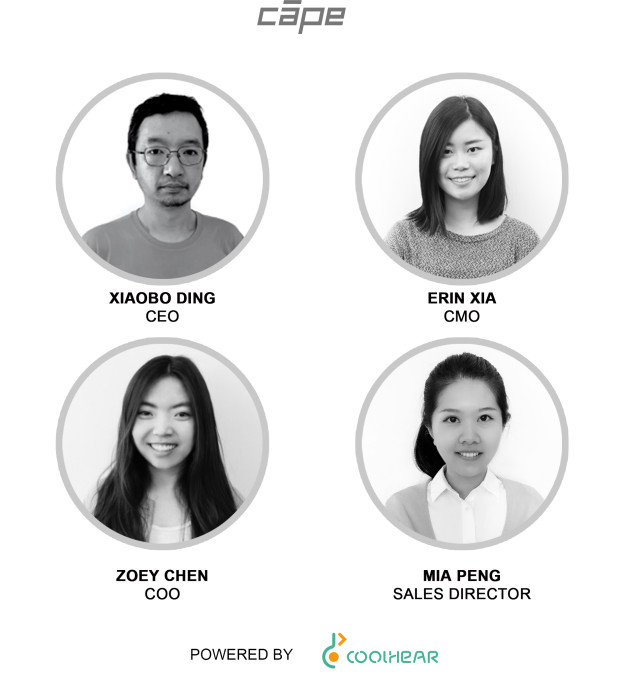 COOLHEAR is an electro-acoustic, technology oriented high-end brand that serves customers globally by providing spatial audio effect solutions. Fields that we work in include 3D music recording and play, 3D gaming and sound effects, 3D audio field interactive products, holographic sound eld dubbing, 3D TV audio effects, and next generation smart home audio.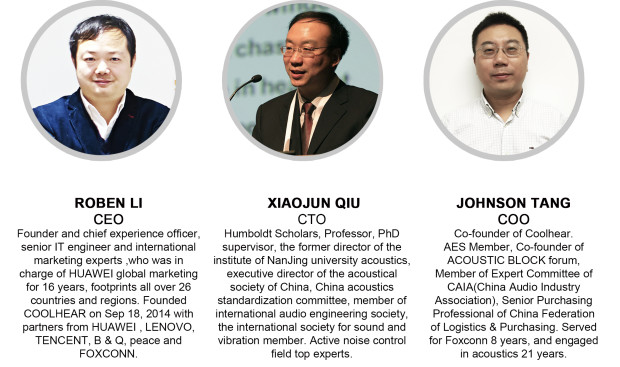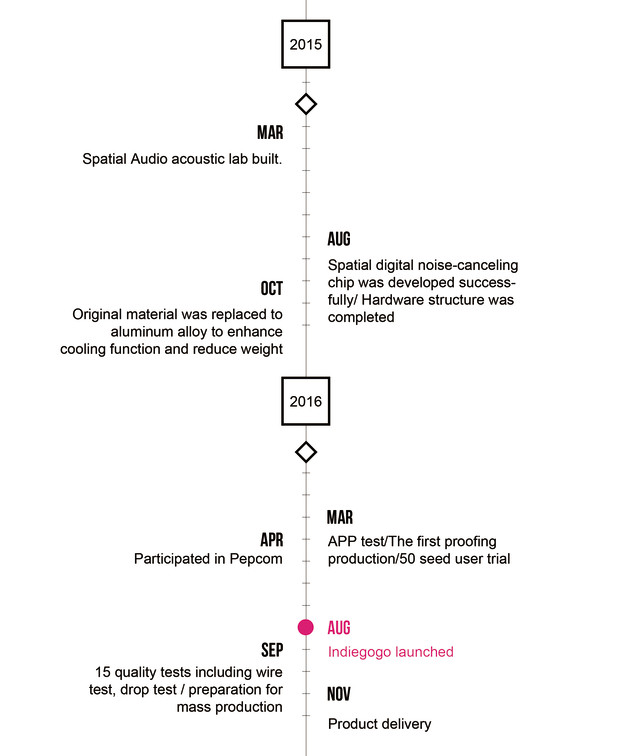 If CAPE Rebellion didn't achieve its crowdfunding goal would we get the product? 
Yes. Even if CAPE Rebellion headphones does not achieve its crowdfunding goal, we would still deliver the Rebellion headphone to every backer. We are grateful for everyone who has faith in us. Moreover, we have 100% confidence that Rebellion will be in mass production so there is no need to worry about it.
Shipping Questions:
When can I expect it to be shipped?
The first batch of CAPE for campaign backers is expected to ship around November 2016. We will keep campaign contributors updated with our progress on a regular basis.
How much does the package weigh?
CAPE:    9.17oz (260g)
Cables:0.88oz(25g)
Packaging:7.97oz (226g)
Are there any countries you cannot ship to?
Yes, unfortunately, we are not able to ship to Croatia, Iraq and Guadeloupe.
Product Questions: 
Can I use Rebellion headphones to watch movies or play VR games? 
Yes. Rebellion headphones can play all the front ends and sound sources including Dolby atmos, DTS:X or Ambeo 3D. Also, Rebellion 3D is compatible with all the players and VR platforms/ wearable devices including Oculus.
How is the audio quality? 
Rebellion headphones' audio is very balanced, producing a great sound experience. Every CAPE has been manually adjusted by audio masters, every one!
What is the difference between Rebellion about other active noise cancelling headphone? 
Rebellion headphones' adaptive noise cancelling technology can expand the headphone's field of sound, eliminate noise without making you feel dizzy, and clean the noise floor. As well, there is no obvious pressure on your ears which makes you more comfortable.
How about actual experience of Rebellion's noise cancelling function? 
Rebellion headphones' peak noise cancellation is 30dB. It can offset most low- frequency noise even in 90dB environments. In a noisy environment, you would only need half of your usual volume to listen to music or to have a call easily without screaming.
How long does it take to fully charge the headphone?
It needs around 2.5hrs to fully charge it from empty.
How long would it last after fully charged? 
One Bluetooth and ANC are turned on, the battery can last more than 15 hours.
Can I return or change the product if it has problems? 
If there is a quality issue with the headphones, or the product was damaged during shipping, we guarantee a new replacement product. However, we do not accept product returns besides for the aforementioned reasons.