iCrowdNewswire - Aug 23, 2016
Ticwatch 2: The Most Interactive Smartwatch
The Most Interactive Smartwatch. Intuitive Interaction.Unique Ticwear OS. Innovative Design.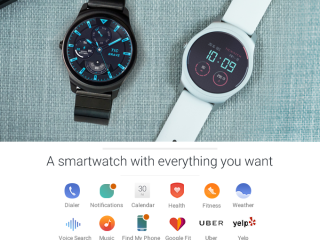 Ticwatch 2: The Most Interactive Smartwatch The Most Interactive Smartwatch. Intuitive Interaction. Lifestyle Convenience. Unique Ticwear OS. Innovative Design.
Check the weather, browse local restaurants, make phone calls, reply to messages, or call an Uber. Just say, "Ok, Tico."
Access all the things you need with just a swipe on Ticwatch 2's cubic user interface.
Signature patented side touch strip. Scroll, select, and zoom without ever covering your screen.
Innovative gesture control. Flip your wrist to make a quick phone call or activate voice interaction. Knock the watch twice to shuffle songs.
Dim the watch to stealth mode with just a press of the palm.
Health & Fitness
Ticwatch 2's powerful sensors precisely track real-time heart rate data, speed, distance, and GPS location. No need to bring your phone when going out for a run; Ticwatch 2 will save and share your activity with your phone and Google Fit! Sync with Bluetooth headphones to listen to music on the go.
Business & Notifications
With voice interaction, you can now set notifications, reminders, and calendar appointments within seconds. The days of manual entries are behind us.
Hands Free Assistance
Never put your safety in jeopardy. While driving, simply flip your wrist to answer or hang up a phone call. Play phone calls out loud with Ticwatch 2's built-in speaker. Use flip gesture to activate voice interaction and search for information on the go.
TIC – Time in Control. Our in-house developed Ticwear OS allows easy navigation through information and built-in apps, and offers connectivity with your iPhone or Android device, and features its own app store with frequent OTA updates and a growing developer community!
Apps and Features
Ticwatch 2 pre-loads a series of useful apps, including "Dialer," "Calendar," "Health," "Fitness," and many more. These apps were designed specifically for optimal smartwatch functionality. You can even use "Find my phone" to locate your phone from your watch!
Compatible with iPhone and Android
We have heard your prayers for an alternative to the apple watch. So we worked hard to bring you the Ticwatch 2, compatible with both iPhone and Android!
*System requirement: iOS 8.0 and Android 4.3+
Ticwear App Store
You can also download more Ticwear apps through the Ticwear App Store on your Android device. iOS users will gain access to more built-in apps and features through frequent OTA updates.
Write Apps for Ticwear
You can also write your own apps for Ticwear! Ticwear provides open API (mostly compatible with Android Wear API) as well as more Ticwear-specific ones, including "Tickle API," "Gesture API," "Voice API," and more. Please visit our developer website for more information.
Frequent OTA Updates
The Ticwear OS Global Edition has been refined over 5 versions since May 2016, with the continued devotion of our tester community. We are committed to listening to you, our community, and look forward to improving the OS even more with your help.
A watch should look like a watch. We forged Ticwatch 2 in collaboration with world class designers, including award-winning Scandinavian designer, Mika Nenonen. Our relentless dedication toward the perfection of every detail has allowed us to successfully combine both functionality and fashion. Our design reflects the principles that we persist: simplicity, quality, and craftsmanship.
Invisible Tickle
Tickle, inherited from Ticwatch first generation's signature design, co-designed with frog , is the side touch strip that allows users to control screens, slide app menus, zoom in and out, and control volume.
The Ticwatch 2 built on this foundation to further improve material and sensor integration. We are proud to announce the Ticwatch 2 Tickle, invisible, with a smoother touch experience.
Watch Faces For Every Occasion
Download countless more from the Ticwear App Store and even design your own.
Personalize Your Bands
No tools required, just use your fingers.
Our Team
Our team, small but full-stack, comprises of AI researchers, software developers, hardware engineers, and product to market practitioners. We've innovated in companies like Google, Microsoft, Nokia, and hail from prestigious universities around the globe (Harvard, Stanford, Oxford, Cambridge, MIT, Tsinghua, and more).
Though diverse in background, our team is unified in our vision: to bring the delight in "AI inside" to users around the world!
Building in-house, AI empowered, software and hardware is not easy, especially in such a category as new as wearables, but we know this is the only way we'll be able to deliver true innovations powered by AI technologies.
Why Kickstarter
When we launched Ticwatch first generation for the Chinese market last year, the media immediately noticed the Ticwatch for its quality and innovation. People from all around the world began asking if we could release a full English edition. That was when we made the decision to not only make an English edition, but to bring a fully localized, English Ticwear OS, with English voice interaction, to global users.
We are tremendously grateful to the members of our global tester program, who hail from all over the world. They have helped us to transform an awesome affordable Chinese watch into a fantastic global watch. Through consistent daily contact, weekly bug fixes, and monthly iterations, we saw our watch evolve.
This is why we are here: to have the best tech tester group in the world, the Kickstarter community! Join us in putting a quality product in the hands of people around the world. Join us in making people's lives more convenient, fun, and connected.
Join Ticwatch Global Community
We care about user experience and the best way to create a user friendly product is to closely work with our users. Join our Facebook group and tell us how you like it and how we can make Ticwatch 2 better!
Ways to contact us
1. Back us and leave a comment on our Kickstarter page
2. Send a direct message to us on Kickstarter
3. Join our Ticwatch 2 Facebook Group.
Press Kit
If you are a member of the press and need more resources, please download our press kit or reach us at pr@mobvoi.com
The Fine Print
We're proud to have Ticwatch fans in over 150 countries. We will ship Ticwatch 2 worldwide where our logistic partners can ship to, with the exception of Saudi Arabia, Peru, Ecuador, Macedonia, Kosovo, Cuba, Iran, Iraq, Lebanon, Libya, Somalia, Sudan, North Korea, Syria, Yemen.
Please note that you will be responsible for any customs fees, duties, VAT, import taxes, special delivery fees administered by your government, and brokerage fees. These are not included in the cost of shipping or handling of your order, and we are unable to estimate those fees for you.
Estimated Delivery All rewards are expected to ship in September/October 2016. While we do not expect any changes in delivery dates, there is still a possibility. This is the first Ticwatch Global Edition, we are prepared to ship internationally while there might be uncertainty in custom and logistic in certain countries. However, we are very committed to being transparent and will update our backers should there be shipment date changes.
Disclaimers
Notifications and phone calls: Ticwatch 2 can only receive notifications and make phone calls when connected via Bluetooth to a smartphone (please refer to FAQ "Does Ticwatch 2 work with both iOS and Android?" for supported device) with valid call and internet plan.
Heart rate monitor: Ticwatch 2 is not designed as medical device and you should not rely on the accuracy of heart rate data for any purpose, especially for medical or health purposes.
Battery life: Your actual battery life will vary according to your personal settings, your rate and duration of use.
Uber: You must have your Uber account linked to Ticwear companion app to be able to use it with your Ticwatch 2. Use of third party services is subject to the service's own terms and conditions.
Volcanic charger stand: Every Ticwatch 2 package will have a standard magnetic wireless charging dock inside. However, volcanic charger stand is only provided in Ticwatch 2 Onyx.
Water Resistant: Ticwatch 2 has a IP rating of 65 which means it is protected from total dust ingress and low pressure water jets from any direction. Putting your watch under hot water and submerging your watch in liquid (e.g. swimming or shower) is strongly discouraged.
Strap: The Strap of Ticwatch 2 is made from liquid silicon rubber for Charcoal and Snow, genuine leather for Oak and steel for Onyx. We can not guarantee that our watch strap will not cause any skin allergy. It is recommended that you consult with your doctors if you are skin-sensitive.
Flip & Knock: You need to enable gestures in Ticwatch 2 settings (settings->gestures ) to use Flip & Knock