iCrowdNewswire - Aug 22, 2016
Hotel in Eden – A New Play by Jackson K. Hanks
A bold new dark comedy by Jackson K. Hanks will premiere at Thespis Festival on 10/3. Help us out!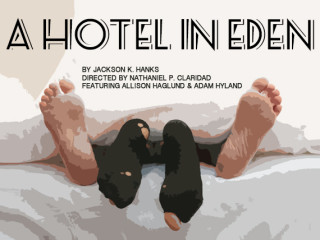 "When the fate of humanity depends on two unlikely survivors of the apocalypse, they are faced with the daunting task of repopulating the earth. Their efforts to become pregnant bring up some of Life's big questions, and it's little questions, too. Humanity might go on, but utopia is a long way off from a Hotel in Eden." Selected as a participant for Thespis Festival 2016, this new play will perform on October 3rd, 5th & 8th. This campaign is to raise the necessary funds to produce the show.
A HOTEL IN EDEN, both as a play and as a production, is a story of individuals from vastly different backgrounds uniting for a common quest.
In the play, two individuals are thrown together in impossible circumstances, and are tasked with the unreal responsibility of rebuilding humanity. In life, this production started as a conversation between two coworkers on break. Now, the production has grown from an idea to a world premier production at one of the well known theatre festivals in New York City. As the day of opening approaches, our production company humbly asks friends, family and colleagues for assistance in seeing this play come to life onstage in October. First, we would like to tell you a bit more about ourselves, and the play itself.
We believe it is important to produce this play because it examines the world we have created for ourselves, and the way we live our lives today. It is an investigation into what we hold dear, how we interact with those we meet and who we are when nobody is looking. The play speaks to the spirit of society today, and addresses the society we are creating for tomorrow.
CAST OF CHARACTERS
Jackson K. Hanks (Playwright) – Jackson K. Hanks was born in Moscow, Idaho and raised in Kingman, Arizona. He began his life in theatre in a humble production of A Hillbilly Christmas Carol – a simple western parody of the famous story that was only fitting for a simple western town. He continued all throughout high school and eventually left Arizona to attend the American Academy of Dramatic Arts in New York City, where he has been ever since. Though he is trained for acting, he is excited to make his debut as a writer.
Nathaniel P. Claridad (Director) – Nathaniel is a Manhattan based director and actor. NYC: The Trojan Women (Oppressed in Heels), Man. Kind (Working Theater),The Breasts of Tiresias (Peculiar Works Project); with Wagon Wheel Arts: Triassic Parq, Dustin Lance Black's "8" featuring Jose Llana and Gavin Creel (Co-producer/Assistant Director, Playmakers Repertory Company, University of North Carolina, Chapel Hill); the annual event Broadway Twisted, benefitting North Carolina AIDS Action Network & BC/EFA (Co-producer/Director). Regionally: Our Town (Assistant Director, Two River Theater), It's a Wonderful Life (Assistant Director, Playmakers Reportory Company). For UNC: Eurydice, Tender Napalm, Shakespeare's R & J. As actor: Off-Broadway/NYC include: Here Lies Love (The Public Theater), The Awesome 80's Prom, Titus Andronicus (New York Shakespeare Exchange), as well as NYMF, PS1222, and National Asian Artists Project. National Tour: Alice (The Kennedy Center); Regional includes the Kennedy Center, PlayMakers Repertory Company, Folger Theatre, Shakespeare Theatre Company of DC, Cape Fear Regional, Imagination Stage, Hangar Theatre, and Barrington Stage Company. Other: Drama League Artist-in-Residence 2015/2016; The Civilians' Field Research Team 2014/2015. MFA: University of North Carolina, Chapel Hill.
Sean Hinckle (Producer) – Sean Hinckle is a Kansas City native and New York transplant. He has worked as both an actor and teaching artist in Chicago, Kansas City, Oklahoma, Florida and now New York. Most recently seen in the New York Shakespeare Exchange production of Shakespeare's, Hamlet.
THE STORY
Jackson had been writing throughout school, and decided to steer his efforts and energy completely toward writing after graduation. Jackson's world collided with Sean's, when they worked together at a little wine bar in Murray Hill. After realizing their common interest in new plays, they began to discuss Jackson's work. Soon after reading A Hotel in Eden, the two decided to produce it.
Almost as soon as the decision to produce this new play was made, it was selected as a participant in the upcoming Thespis Festival. Thespis Festival is a wonderful opportunity for new works to see the stage for the first time, and hopefully launch to larger venues. Needless to say, Sean and Jackson leapt at the opportunity to participate. What seemed like moments later, Nathaniel P. Claridad was attached as the director. Thus, the triumvirate was born.
Since its inception, A Hotel in Eden has been in development in preparation for the festival performance dates. It saw a staged reading at Shetler Studios in June, and has been reworked and refined since. Now, the development is picking up momentum as the company inches ever nearer the first rehearsal date, and eventual opening.
THE FESTIVAL
Thespis Festival is a long-running independent New York theatre festival that has been the birthplace of many incredible new plays and musicals. The festival itself draws thousands of spectators from many different mediums of live performance.A Hotel in Eden will be presented as part of the festival on October 3rd and 5th at 9PM, and on October 8th at 3:30PM. All performances will take place at the Hudson Guild Theatre at 441 W. 26th Street.
Tickets can be purchased through Brown Paper Tickets at: http://www.brownpapertickets.com/event/2582682
We are seeking $1,000 for our production fund, so this play can be introduced to the public in the proper way. As a team, we are devoted to paying our artists for their efforts. This is the majority of our production cost. Outside of that, paying for rehearsal spaces in New York is a challenge we continue to face. Finally, the funds will be used to promote the show and the festival to the people of New York City.