iCrowdNewswire - Aug 20, 2016
COURAGE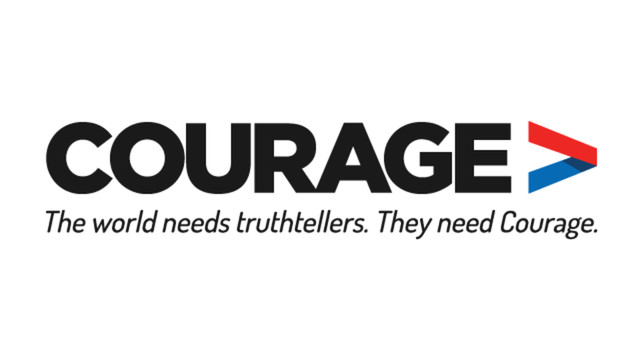 Courage (couragefound.org) raises funds for the legal and public defence of those who risk life or liberty to make significant contributions to the historical record. Courage runs the official legal defence fund for Edward Snowden, as we will for others in the future who expose and document wrongdoing. We campaign for the protection of truthtellers and the public's right to know, internationally.

This fund is for Courage's work of whistleblower protection and advocacy worldwide. If you wish to donate to Edward Snowden's legal defence directly please go here.
Your contribution will make a real difference to our work supporting the truthtellers of today and the courageous whistleblowers of tomorrow. We're establishing a network that will serve long-term as a safety net for whistleblowers in peril, present and future.
We need to finance legal teams, as few can afford to finance a legal defence against state prosecution on their own.
We also need to resource public defence campaigns that draw attention to the issues individual truthtellers have disclosed, making their cases in the media and building support teams around the world. Donating is the easiest, fastest, and most tangible way you can support Courage now. If you are donating with a credit card or PayPal, please click on the big orange "CONTRIBUTE" button at the top of the page.
OTHER WAYS TO DONATE 


Bank Transfers or EFT (for details on how to donate by cheque and how to donate by Bitcoin please scroll to the end)
You can give EU-wide tax deductible donations via Wau Holland Foundation [Stiftung] using credit card or PayPal – http://www.wauland.de/en/projects/07.html


You can make a EU-wide tax-deductible donation by bank transfer to Wau Holland Foundation [Stuftung] . Please ensure to put "Snowden" as a reference to the transaction:
Wau Holland Stiftung Commerzbank Kassel
Königsplatz 32-34
34117 Kassel / Germany
BIC/Swift: COBADEFF520
IBAN: DE62 5204 0021 0277 2812 07
Reference: Snowden
You can donate by bank transfer (not tax deductible) from all over the world using the following details:
FROM USA 


Bank: Lloyds TSB Bank

Name of Account: "DR&Co – Courage" 

Account number: 30807160

Sort code: 30-94-57

BIC/Swift code LOYDGB21158 

IBAN: GB73 LOYD 309457 30807160 

Subject / Reference: "Courage"

Bank Address: Lloyds TSB, 19-20 Upper Street, London, N1 0PJ, United Kingdom

Recipient address: Derek Rothera & Company, Chartered Accountants, Units 15 & 16, 7 Wenlock Road, London N1 7SL, United Kingdom

FROM EUROPE


Bank: Lloyds TSB Bank

Name of Account: "DR&Co – Courage" 

Account number: 30807160

Sort code: 30-94-57

BIC/Swift code LOYDGB21158 
IBAN: GB73 LOYD 309457 30807160
Subject / Reference: "Courage"
Bank Address: Lloyds TSB, 19-20 Upper Street, London, N1 0PJ, United Kingdom

Recipient address: Derek Rothera & Company, Chartered Accountants, Units 15 & 16, 7 Wenlock Road, London N1 7SL, United Kingdom



FROM THE UNITED KINGDOM


Bank: Lloyds TSB Bank

Name of Account: "DR&Co – Courage" 

Account number: 30807160

Sort code: 30-94-57

Subject / Reference: "Courage"

Bank Address: Lloyds TSB, 19-20 Upper Street, London, N1 0PJ, United Kingdom

Recipient address: Derek Rothera & Company, Chartered Accountants, Units 15 & 16, 7 Wenlock Road, London N1 7SL, United Kingdom
FROM EVERYWHERE ELSE


Bank: Lloyds TSB Bank

Name of Account: "DR&Co re Courage"

Account number: 30807160

Sort code: 30-94-57

BIC/Swift code LOYDGB21158

IBAN: GB73 LOYD 309457 30807160

Subject / Reference: "Courage"

Bank Address: Lloyds TSB, 19-20 Upper Street, London, N1 0PJ, United Kingdom

Recipient address: Derek Rothera & Company, Chartered Accountants, Units 15 & 16, 7 Wenlock Road, London N1 7SL, United Kingdom

CHEQUES


Alternatively you can donate by cheque made payable to "Courage DR&Co" which can be sent to:


Derek Rothera & Company 
Chartered Accountants

Units 15 & 16 
7 Wenlock Road

London N1 7SL

United Kingdom


BITCOIN


You can send BTC to the following address for Courage :

1courAa6zrLRM43t8p98baSx6inPxhigc