iCrowdNewswire - Aug 20, 2016
Chasing The Elements
Seven personalities. Seven sports. Seven perspectives. One big passion.
Share our strong bond to nature, and inspire people to feel the same way. We believe that this relationship to nature is a necessary foundation in the process of implementing solutions to environmental issues. To highlight this issue and facilitate new connections we will document a creative journey along the Norwegian North coast, starting at the border of the Arctic circle and finishing at the Russian border. We are one crew that shares a big passion but has different ways of expressing it.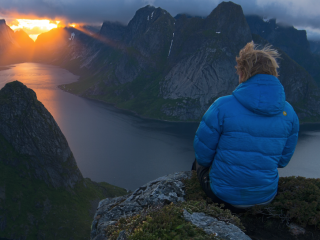 Background
"One of the most amazing things you can do in life, is to follow your heart and pursue your dream. The only thing greater than that is if you can pursue your dream and manage to help and inspire other people along the way."
Our passion lies in exploring nature and its elements to the fullest, and in getting as close to Mother Nature's incredible forces in every way possible. This has lead us to develop a strong connection to nature, so we naturally want to give back by nurturing and caring for our environment.
Vision
We want to inspire people to push the boundaries of their outdoor comfort zone in order to further explore and strengthen their relationship with nature. We believe that this relationship is a necessary foundation in the process of implementing solutions to environmental issues. If we can inspire more people to get outdoors, it is our hope more people will develop the same connection as we have, and start implementing some environmental nurturing habits.
Impact
Our belief is that if we can inspire people to get outdoors and experience the wonders nature has to offer. By getting more people out into nature, we are opening the possibility of developing a similar connection to what we have with our environment. It is this connection where people begin to feel happier and healthier whilst in the outdoors. It is also the start of developing nurturing habits, habits that in turn contribute to sustaining our environment for future generations.
Risks & Challenges
We will be traveling in the roughest, rawest part of Europe during a stormy season. Being exposed to such weather adds to the challenge, but it also allows us to express our respect and admiration for an environment that we cannot control.
Enduring the bad weather makes you appreciate the good weather, but it also draws on our passion and drive to push past these hardships. These hardships will make it more of an exciting story to follow, creating drama and suspense along the journey.