iCrowdNewswire - Aug 19, 2016
SunChek – No more sun in your eyes when driving
Shade eyes & face from direct sun – drive relaxed & comfortable – keep eyes & face young and healthy
SunChek is one of those things – once you have it, you don't understand how you managed without it ! !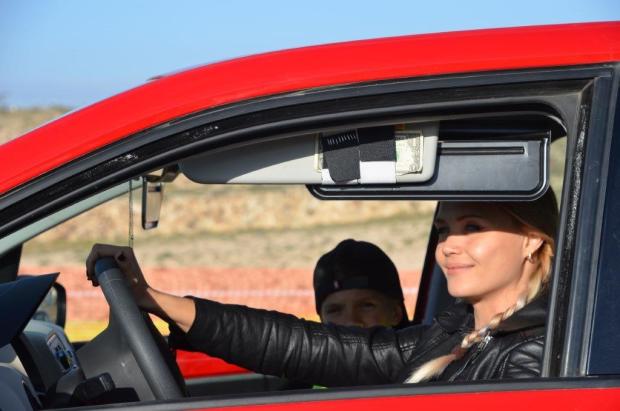 Do you also drive frequently with direct sun at your eyes and on your face – mostly from front and left – too low or sideways that the visor cannot shade ?
Are you also tired of wiggling and extending your neck to avoid the sun in your eyes, so you can still see cleary as you drive ?
Have you also wished you had a light, simple, easy to move visor extender, that can reach any point you need to shade your eyes & face from direct sun ?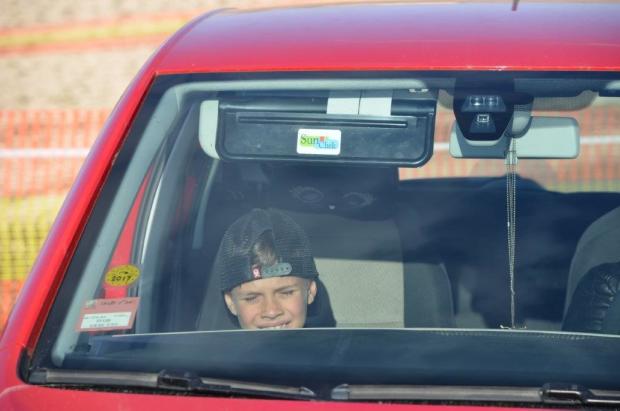 WELL now, with SunChek it finally looks like your wish is coming true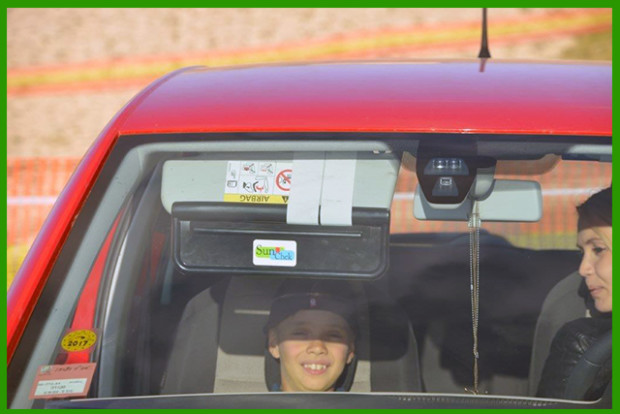 Safe, fun driving with SunChek shading from direct sun, much beyond the car visor's range – sideways and down, easily and friendly. With SunChek on your visors, driving is safer, pleasant & relaxed again. And – your eyes and face are protected, and kept younger and healthier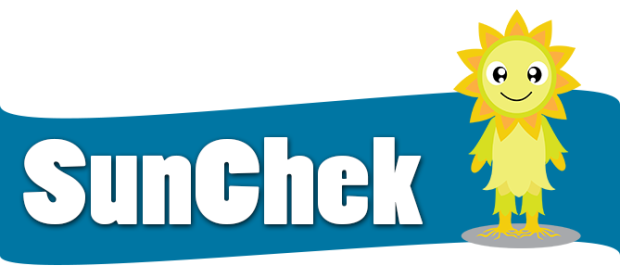 SunChek is a light, simple board, shaped and dimensioned much like your car's visor. It is attached to the visor by two close, flexible bands, wrapped around the visor and the top part only of SunChek. There are products on the market, that can move sideways to block the sun where the visor ends, but none like SunChek. Here is the little big difference –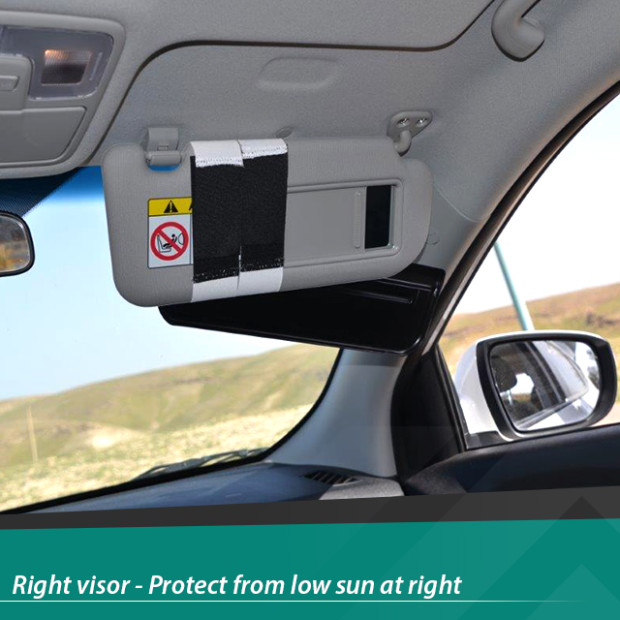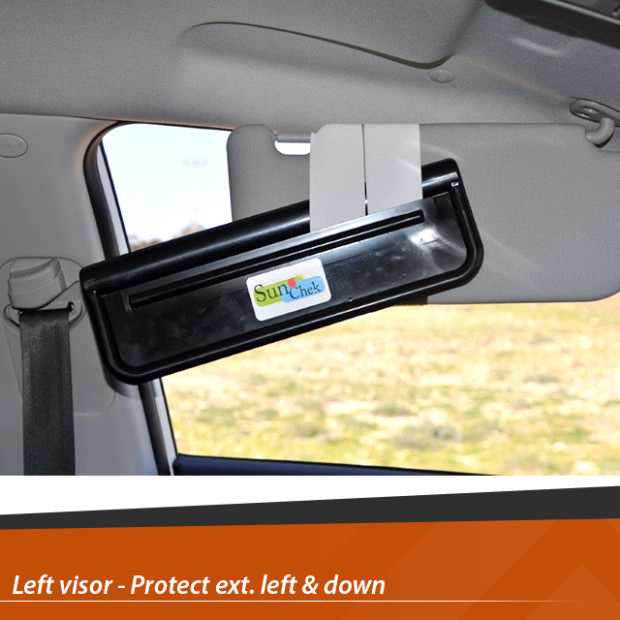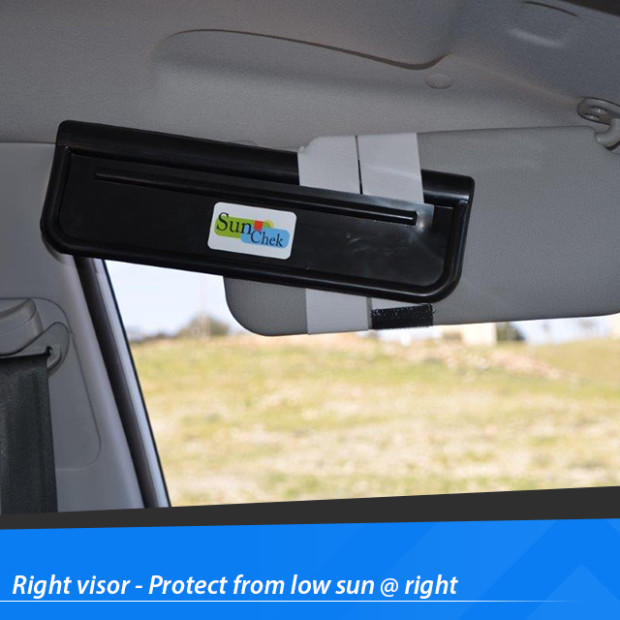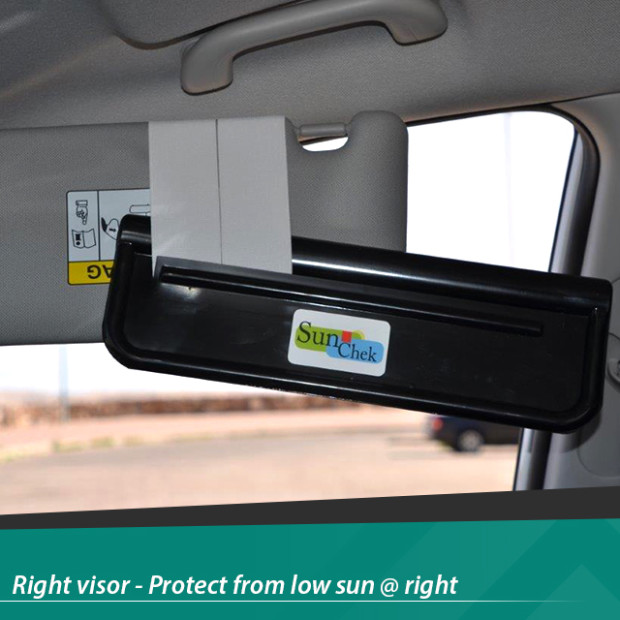 The SunChek bands only wrap around the top part of SunChek, separated from its bottom part by a long, narrow slot – which is the secret to its ability to move in all directions and angles – simultaneously ! !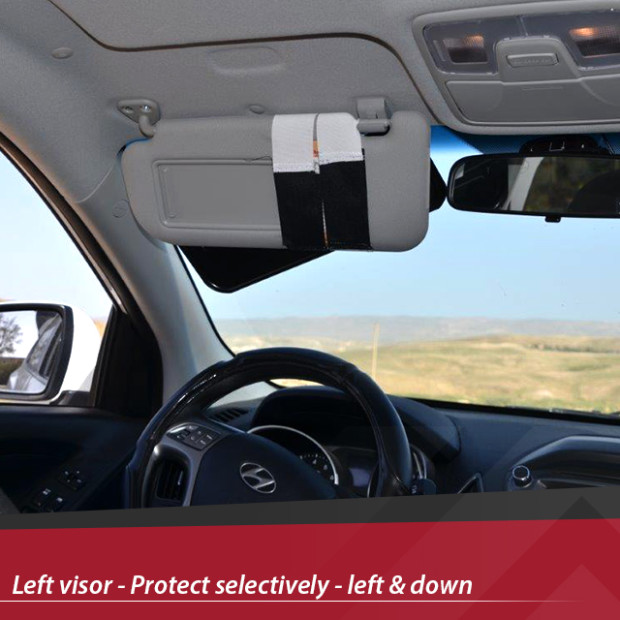 The slot extends almost the length of SunChek, leaving only one connection point at each end between top & bottom, so you can move SunChek simultaneously sideways and downwards, and in any desired angle – to protect against low and sideways sun, much beyond the car visor's range, and selectively – such as hiding the sun up front, while leaving the traffic light ahead in plain, clear view ! !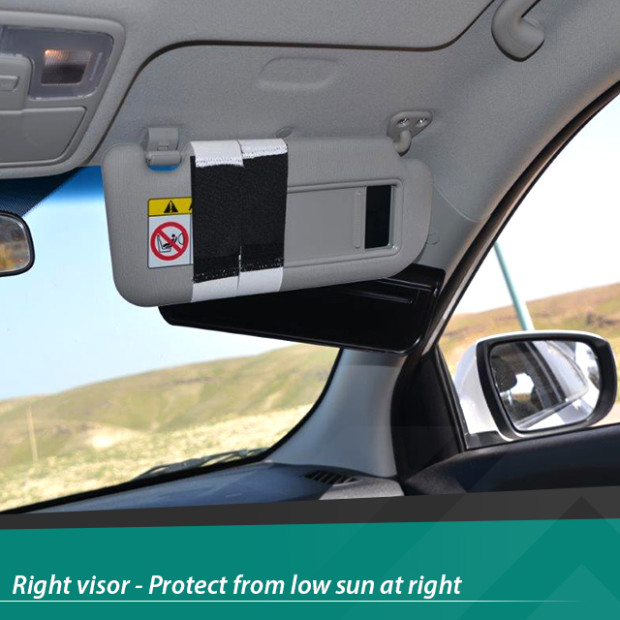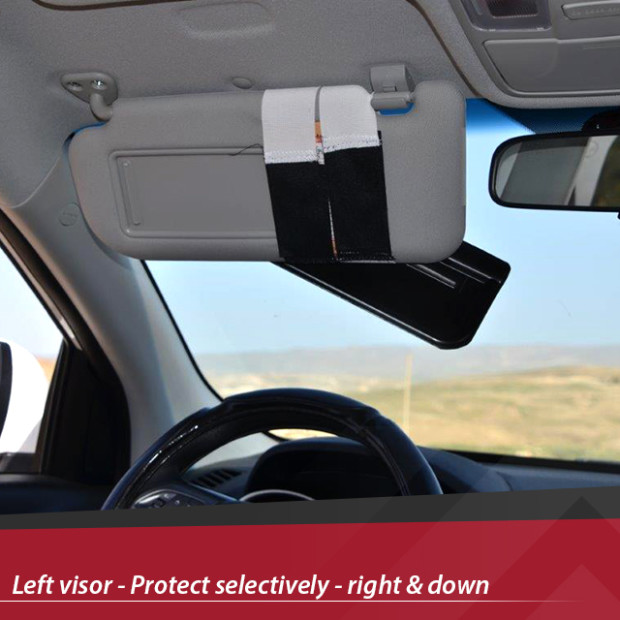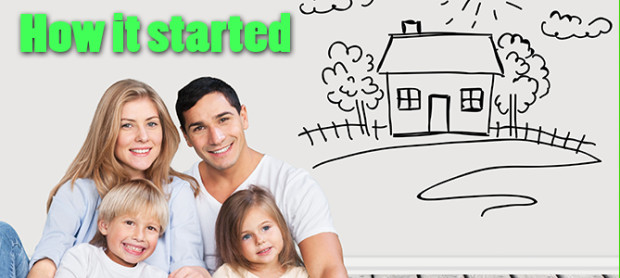 Like most of us, I drove years with the occasional direct sun at my eyes & face (where the visors could not cover), and its damaging consequenses, and just waited it out each time – until my present job for the last year or so.
I now drive daily an hour to work – south bound, with low sun at left and sometimes up front. Driving back home its north bound – with low sun again at left and sometimes up front. So the sun hit my eyes frequently from left and front – although I used the visors – as it left the visor area. Also when driving very early to work or very late back home, the sun hit my eyes from below the visor too, forcing me to narrow my eyes, wrinkle my face and wiggle to avoid direct sun and keep clear sight of the road. All this – day in and day out – made driving to and from work an unacceptable nuisance, with degraded safety of driving, and frankly – direct sun did no good for my eyes and face, either.
Looking for a solution to extend visor shaded area, I found marketed visor shade extenders to be too cumbersome to install and use, and leave vital open areas around the visor, unprotected from the sun.
I then tried to make a shade extender that's light and simple, without elaborate guide ways, clips and the like, simultaneously movable sideways, down, and in an angle – beyond the visor area, but be no wider than the visor itself when folded back. And take up no usable space when not in use. And – with range as large as possible, when extended.
I toyed with different shapes of shade extenders made of available material, rubber strapped to the visor, until it hit me – for the shade extender to move in all directions simultaneously, it must be held by its top only so it can be lowered below the visor, and have a horizontal slot between top &bottom so it can simultaneously move laterally without the strap/s stopping it.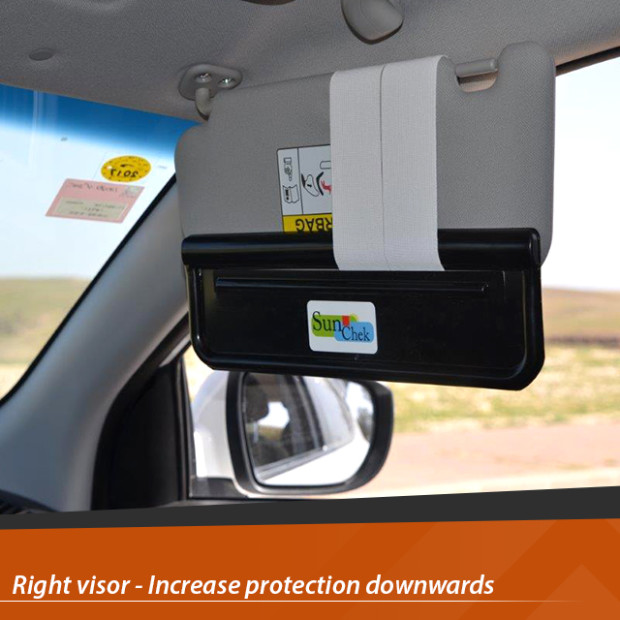 With the slot applied – it worked like a charm. I made ones for my car, and for the wife, then was asked to make two each for each of our best friends' cars, and it keeps on and on since. Especially content were the kids, who always get hit first by "below visor" sun.
Everyone using SunChek nowadays is hilarious about it, and report they find more use for it daily – even just extra shading both windows at hot sun for enjoyable, tireless driving, and shading the sun from angles & spots they never thought possible. Most importantly – they all report safer, more comfortable & relaxed driving all over, with SunChek on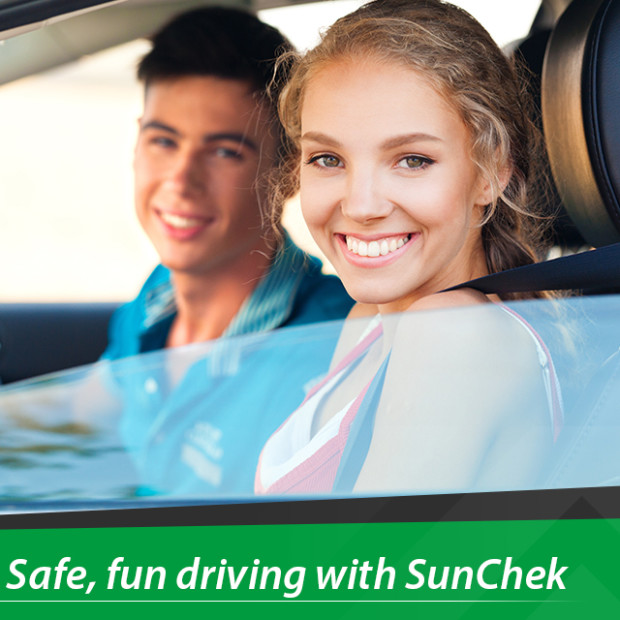 We then decided to share SunChek with everybody to enjoy safer, healthier and more enjoyable driving. We had SunChek patented, made prototypes and mass production patterns, and put this campaign on Indiegogo for you, your family and friends to join & enjoy.

for you and the passenger beside you – for a pleasant, relaxed and safe ride, and protect your eyes and face while at it ! !

Beauty and Health
To keep your eyes and face healthy and young looking for years ahead, you need to protect them from direct sun. Its more than just sun UV rays that age your skin directly – it also makes you wrinkle your face without noticing.
So when driving under direct sun, this means first and foremost – use your car's visors, even if you are wearing sun glasses (recommended too !). In fact, best use the visors anytime you drive under hot sun, even if not facing direct sun. Indirect, strong sun radiation can also be damaging to your eyes and face, and this also has an accumulating effect. Control it, and your eyes and face will be and look younger for much longer.
Note – when facing direct sun you instinctively strain your face to narrow your eyes. The "hotter" the sun, the more you strain your face, even without noticing. Over time, this strain creates small, permanent wrinkles. These can make your face look older than it really is. Use the visors and keep your face younger and healthier!
How hot is "hot sun" for you to use the visors ? Your eyes and face will tell you. Just flip down the visors upon feeling the slightest inconvenience with the sun at the time, and at any need to narrow your eyes.
But since the visor's size cannot offer protection from the sun beyond its perimeter, apply SunChek to each visor, and use it extensively ! ! This way you get the most protection available to your eyes and face from damaging sun radiation.
In fact, use SunChek to shade as much of your face as is practical, beyond just hiding the sun from your eyes. Besides making for a safer, more relaxed and comfortable driving, it directly protects your face and keeps it younger.
Test this way to feel the difference –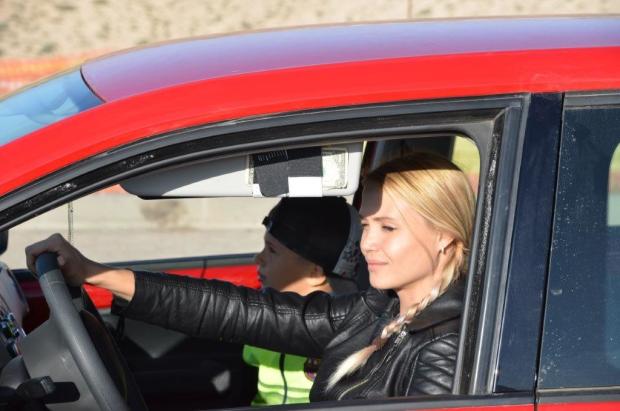 a) Drive regulary with the visor folded up, and the sun shines (even if not hitting your eyes directly). Now flip the visor down. Feel how your face relaxes and your eyes widen ? This is exactly what will keep your face wrinkle free, healthy & young looking.
b) With the visor down against direct sun, when you reach a strech of the road such that the visor cannot protect your eyes from direct sun anymore – move yourSunChek to hide the sun from your eyes, and better yet your face also.
Feel how much more comfortable and relaxed your face and driving becomes ? ! Now it's not only protected eyes and face – it's plain old driving safety for you and your loved ones, and the other drivers sharing the road with you




How to use SunCheck
Whenever you feel the sun radiation makes you a bit uncomfortable, first flip down the visor, and turn it to the sun side. If still feeling uncomfortable with too much light or heat, or if the sun still hits your eyes – even from an angle – slide yourSunChek far enough so as to hide the sun, shade your face and restore comfortable, relaxed and fun driving
when you need to only hide one part of the scene that's sunny, while leaving the rest exposed – Such as when both the sun and a traffic light are ahead – just angle and lower one corner of your SunChek to hide the sun, leaving the traffic light in plain sight.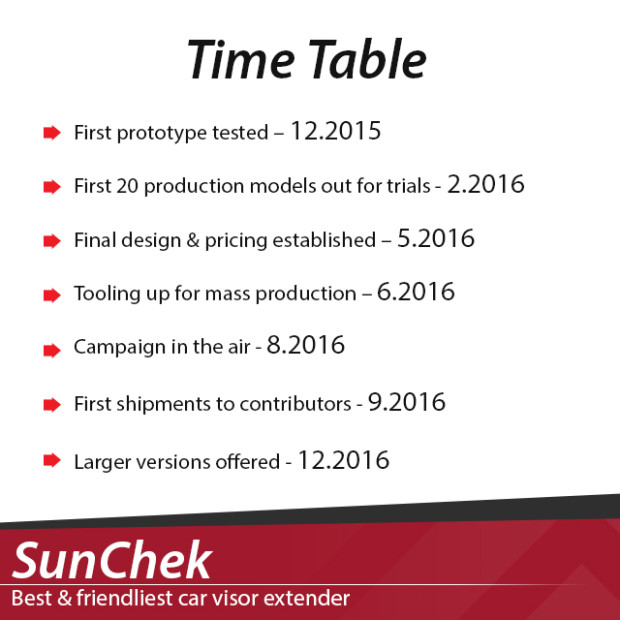 SunChek is presently made in only one size, which serves well for most cars, and measures 122mmX366mm = 4.80″X14.41″ across. It is formed from opaque plastic, enhanced with carbon black for better sun resistance.
Each band is 50mm=0.98″ wide and approximately 380mm=15″ long. Its middle, white section if flexible, fabric protected rubber, and it has two opposing (male/female) velkro ends, coloured black, one shorter and one longer.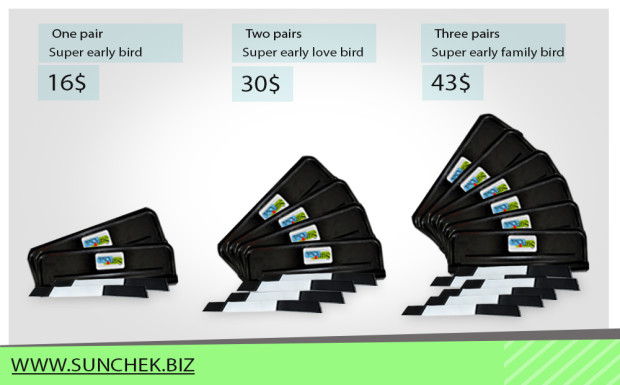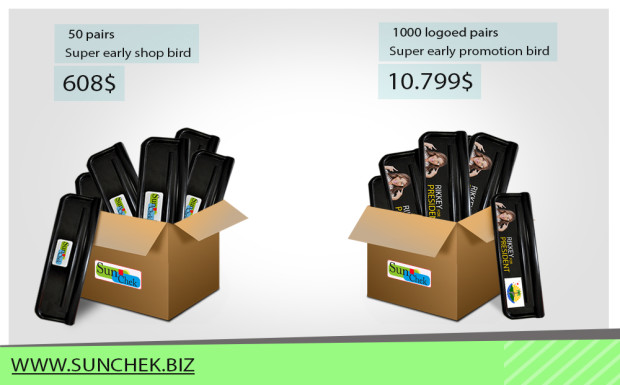 SunChek Logo is attached to each SunChek in the middle. This leaves room for two 50X100mm=2″X4″ stickers of your choice on each side – so you can promote your preferred project, candidate, firm, or flag – see SUPER EARLY PROMOTION BIRD perk. Send us the graphics – we will post your stickers on each SunChek – See example below –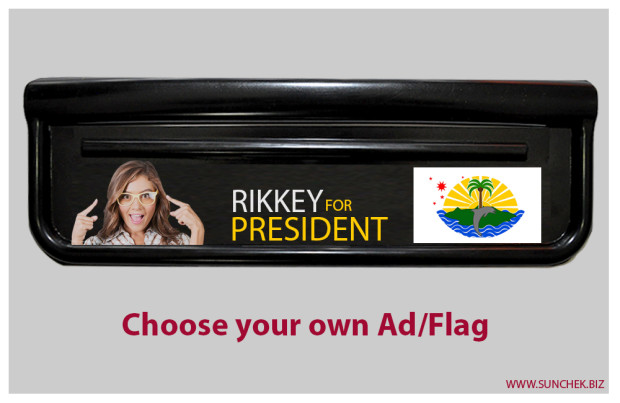 Our team

Haya Karni, campaign manager
Mother of two, grandmother of six, managing engineering firm

Amit Karni, inventor & developer, projects manager, weekends yard carpenter

Gil Aizenman, graphics & media , one and only graphics ninja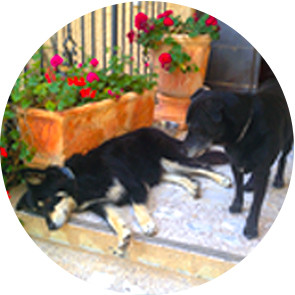 Cookie & Bugs, support team
In charge of mental & general support of our team, which can be very tiring at times. Cookie (right) and Bugs (left) after a demanding work day
What will the money raised be used for
The initial capital required for producing the design, patenting, first prototypes' production and testing, and tooling up for mass production, was raised by the campaign team out of pocket. In fact, we can start shipping as soon as this Indiegogo campaign goal is reached, or even earlier !
Most of the money now raised at the campaign, will be used to finance purchasing of materials, components and services, for mass production of SunChek units and shipment to contributors.
The funds raised will also be used to develop more versions of SunChek – such as larger sizes for trucks and pickups, with yet even wider coverage range, and some more applications which will be revealed when the time comes. You are more than welcome to suggest your desirable development directions for us to take on, based on your own field experience. This is the kind of advice we appreciate the most!

for you and the passenger beside you, have a pleasant & safe drive, and keep your eyes & face healthier and younger ! Join & Enjoy