iCrowdNewswire - Aug 19, 2016
MATE. The coolest and most affordable eBike EVER
Experience the ultimate in cycling versatility. Save up to 70% off MSRP when you back our campaign.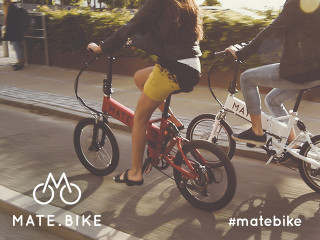 Direct from the world's cycling capital, Copenhagen, comes the MATE eBike: the world's most affordable foldable electric bike. Experience the ultimate in cycling versatility. Designed in Denmark and packed full of features, MATE is the perfect bike for any rider and any given situation.
Introducing MATE.

The MATE eBike is a foldable electric bike that is a dream to ride. With front andrear suspension, a set of 2 carbon disc brakes and an ultra comfortable saddle, MATE takes you from A to B in comfort and style.
The 3-Step Folding system means you can take it with you anywhere: in a bus or train for faster commuting, the trunk of your car for longer road trips or even pack it under the stairs for easier storage.
We designed MATE with versatility in mind. Of course you can ride it as a normal bike with the 7 speed Shimano gears. But the real joy comes from the 350kw electric hub motor (MATE S).
As you cruise through your neighbourhood at up to 20 mph / 35 km/h without even breaking a sweat, you'll be convinced. And with up to 55 miles / 80 km on just a single charge, MATE takes you further and makes your commute a breeze.
We've also included an easy-access USB charger so you can keep your devices charged up as you ride.
——————————————————————————————
Why get a new best MATE?
Colours to match your style
We know everyone has different tastes, which is why we've MATE available in 4 distinct colours: Army Green, Matte Black, Metallic Red or Shiny White. So pick your favourite colour!

After pledging for MATE on Indiegogo, we will contact you by email to ask which colour your MATE should be.
Take MATE with you anywhere
The 3 step fold system makes it easy to take MATE with you wherever you go. Simply fold the frame and the stem and adjust the seat post – done! When it's time to go, just grab the handy carry handle and take your MATE with you.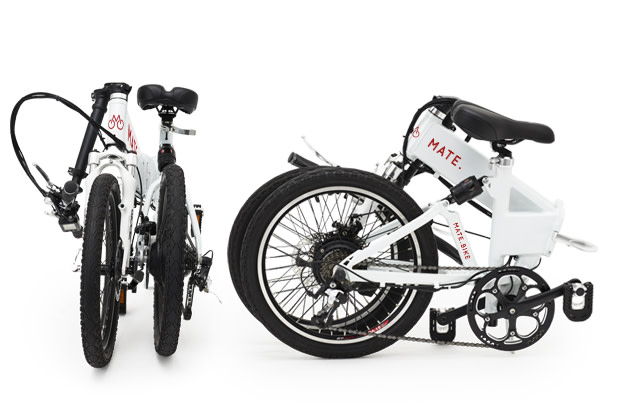 Experience a ride like no other
MATE comes with high quality carbon disc brakes, front and rear disc brakes, and front and rear suspension for a safe and smooth ride. And with versatile all-terrain tires, the ride is always smooth, even over rough cobbled stone streets.

Ride or glide – you choose
The 350w or 250w hub motor lets you glide through city streets without breaking a sweat. The thumb throttle (MATE S only), or 6 speed computer (MATE City / City+) gives you the option of varying levels of pedal assist. When you wish to ride it like a regular bike, the 7 speed Shimano gears give you the control you need.
Power up your ride
The high quality Samsung Lithium Ion battery is tucked neatly into the frame and kept safe with a sturdy lock mechanism. You can remove the battery easily and charge it, or plug the bike directly to your convenient power outlet. With just a 2-hour quick charge* you are powered up and ready to roll again.

*with the speed charger, offered as one of our perks
Technology for your ride
MATE comes with an intelligent 6-speed computer and an LCD backlit display. This waterproof and dust proof display shows you the battery life, time and distance of travel, so you are always in the know. The built-in USB charger lets you charge your smartphone and other devices on the go, so you never run out of battery again!

——————————————————————————————
Tech Specs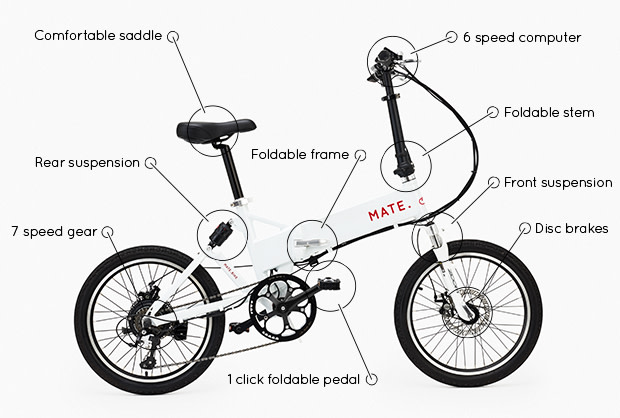 MATE S. comes with thumb throttle, not displayed on the illustration above.
CONVENIENCE


Optimised storage ability
Foldable in 3 easy steps
Frame designed with integrated carrying handle
Pedals fold in and out with a click Integrated footstand keeps bike upright when folded
Integrated USB charger for mobile devices
BATTERY


Standard version 36V 10.4 AmpH
Upgraded version 36V 13 AmpH
Charge time 3 to 5 h
SAMSUNG high quality lithium-ion battery
Long lasting performance for maximum range
Easily removable from frame with discreet hook
Option for faster charge with speed charger (2-3 hours)
Locking mechanism to secure battery
Key input in bottom of frame
FRAME


20" frame
Aluminium Alloy Gade 6061
4 colour options: army green, matte black, metallic red or shiny white.
6-SPEED COMPUTER


From 0 (no assist) to 5 (full assist)
Easy, on-the-go speed adjustment
Configurable for personal settings
Backlit LCD screen
Displays battery time, speed and distance
Water- and dust-proof
PERFORMANCE & COMFORT

Powerful motor hub for uphill performance
Front suspension with adjustable preload and mechanical lock-out
Back suspension for maximum comfort
Adjustable seat, steering wheel and handlebar for perfect fit
Safe grip rubber handlebars with added support
7-SPEED GEAR CASSETTE

Shimano external gear
Single-handed gear operation

THROTTLE


MATE S (US-approved) comes with thumb throttle to assist you or go full electric
WHEEL SPECS

Tyre Size: 20 x 1.5"
28H Black
All-terrain tires
High quality disc brakes front and back
——————————————————————————————
Our perks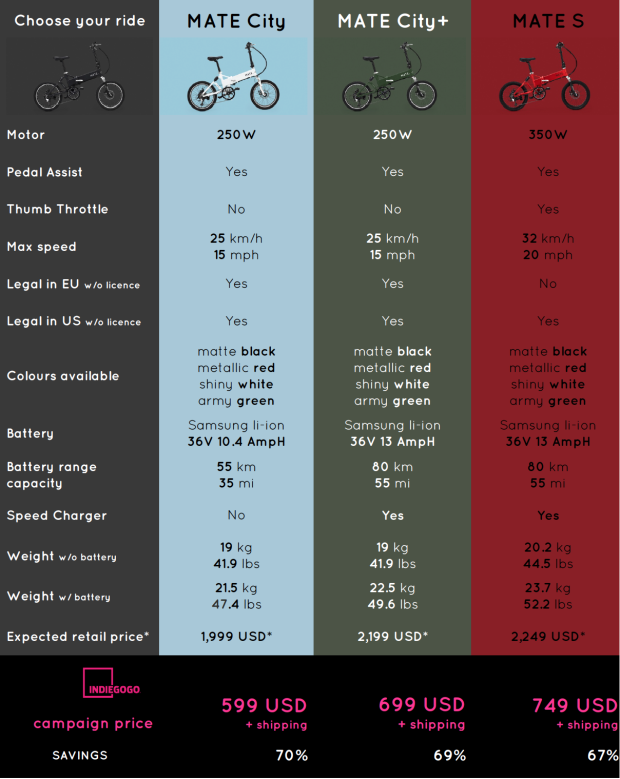 * expected retail price may vary from country to country
——————————————————————————————
What we need
Our goal is to make bikes the transport of choice for people across the globe. And we believe MATE can help us reach that goal – an affordable, versatile eBike that is fun to ride. Biking is fun, convenient, good for both your health and the environment.. also something we are deeply passionate about.
We've put a lot of work into making the perfect MATE. We've got our prototypes ready and with your help, we can go into production and share it with the world. With $80,000 USD we can hit the minimum order quantity to go into production. The more we sell, the more affordable we can make the bike in the future, which is our ultimate goal.
As a special offer for supporters of our launch campaign, you will get a massive 70% off our final MSRP! This means for only $599 (MATE City) or $749 (for an upgraded MATE S) you can get your very own MATE at less than half off the retail price.
This is a strictly limited offer as a reward for those who support our vision and product.All campaign supporters will also become MATE VIPs and are entitled to exclusive early bird offers and discounts on future accessories.
Back this project now and get 70% off MSRP
——————————————————————————————
The MATE manifesto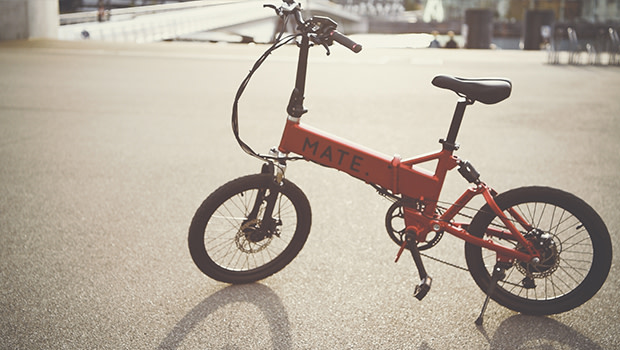 To us, cycling is more than a hobby. It's a way of life! It gives you speed, exercise, flexibility and freedom. We set out to create a bike that would make you want to leave the car at home and take your bike instead. A bike that is perfect for any rider and any situation – affordable, versatile and fun to ride.
——————————————————————————————
The MATE story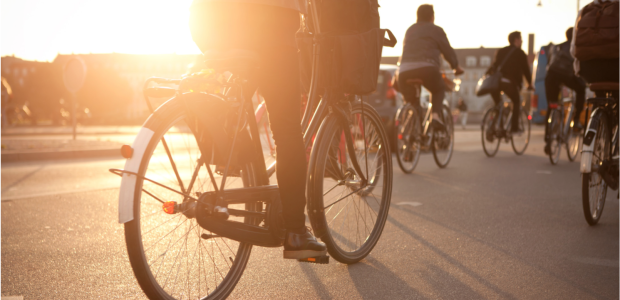 Do you know why Copenhagen has been called the happiest city on Earth? BIKING!
Riding a bike gives you exercise, allows you to move freely and is the greenest form of transportation. But why aren't there more people biking everyday then?
We realised that in some countries or places, biking is not as easy as "riding a bike" and there can be many obstacles along the way that prevent you to even consider bike as an option in your journeys.
We think people would be happier on a bike that could actually remove all the downsides of biking. That's why we created MATE: to show the world how fun, convenient and rewarding riding a bike can be. So you have freedom and a constant reward of doing the right thing: for yourself, for others, for the planet.
——————————————————————————————
You're in good hands
MATE is brought to you from Denmark with love by brother and sister team Christian Adel Michael and Julie Kronstrøm Carton.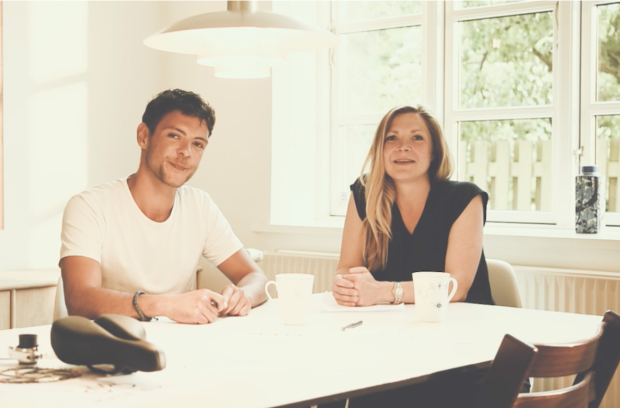 Christian Adel Michael, 27
Christian is a natural born entrepreneur with years of experience in the manufacturing industry.
With close relationships to factories across the world, he has organised the production and distribution of products within tight deadlines. Together with Julie, they run a company that distributes and sells consumer goods all over Northern Europe. Last Christmas they produced and delivered 10,000 electric hair-brushes across Scandinavia within 2 months.
MATE is the result of his long term passion for design, technology and innovative mobility solutions. After gaining success with a ladies eBike in 2014, Christian decided to reboot the project from the ground up, and so MATE was born. His experience with manufacturing, import and logistics is a vital asset for this project – making sure that you will get a great MATE. He knows how to tackle obstacles and turn challenges into opportunities.
Julie Kronstrøm Carton, 38
Julie is a business and project development expert and quintessential problem solver. She is the driving force behind the high level of service and assistance you will receive from the MATE team. As a mother of 3 boys and avid biker, she believes the world would be a better place with more people biking daily. Her hope is that MATE can make it a reality.
——————————————————————————————
Frequently Asked Questions
Q:The price is very low for an e-bike. Why is that?
A: Our dream is to make cycling accessible to everyone. We have worked long and hard to create an eBike that is not only affordable, but also made of quality components; a quality eBike that is made to last you through the years. To help bring MATE to life, we are offering an exclusive 70% discount off MSRP to those who support our campaign.
Q: How can you ensure such a low price?
A: We have extensive experience in sourcing and manufacturing products and components. This is a key factor that enables us to maintain a low units cost based on volume. With increased sales and production volume, we are confident that we can ensure a low price, even after the campaign has ended.
Q: How is MATE manufactured?
A: We have spent lots of time finding the right suppliers and manufacturers for MATE. Our many years experience dealing directly with sourcing companies, factories and shipping companies have helped us a great deal to be able to offer high quality product for the lowest price possible.
Crowdfunding helps us to keep the costs down as we can work together with the factory to produce the right amount of units, without dealing with high storage costs and other related costs.
Q: How confident are you that you can deliver on time?
A: Because of our close relationships with our manufacturing partners and the extensive testing that has already been performed, we are confident in our ability to meet the timeline. Although unforeseen obstacles can arise during any manufacturing process, we intend to run everything efficiently, transparently, and on-time to over-deliver on the expectations of our backers, just like MATE has done from Day 1.
Q: How much weight can MATE handle?
A: MATE is build strong and can handle riders up to 125 kg with ease.
Q: Doest MATE come in different sizes?
A: MATE is designed to fit all. Meaning that the seat height and front handle can be adjusted according to your needs.
Q: I can't see the battery – where is it?
A: Batteries are not something you should be spending your time looking at – so it is well hidden in within the middle frame, protected by a locking mechanism.
Q: How much does MATE weigh?
A: MATE City weighs approximately 19 kg (42 lbs) without the battery and 21,5 kgs with the battery. MATE City+ weighs approximately 19 kg (42 lbs) without the battery and 22,5 kgs with the battery. MATE S weighs approximately 20,2 kg (44 lbs) without the battery and 23,7 kgs with the battery. But it's carrying handle in the middle of the frame makes it easy to lift.
Q: How long does the MATE battery last?
A: The battery inside MATE City is built to last on average up to 50 km (30 mi) with the pedal assist. With the upgraded battery found in MATE City+ and MATE S, you can get up to 80 km (55 mi). The battery takes around 5-6 hours charge or 2-3 hours with the added speed charger perk.
Q: Can I still bike on MATE if the battery runs out of power?
A: Of course! If you run out of power, you can cycle as you would do with a regular bicycle. Even without an engine – it still feels like a dream to ride.
Q: Can I charge the battery by pedalling?
A: At the moment, MATE primarily gets its power from the charger that is provided with the bike upon purchase. However, this is a feature we are currently looking into.
Q: Can the battery be removed?
A: Yes. The battery is designed in such a way that you can change it or replace with 2 easy steps that takes less than a minute. Simply fold the middle frame, pull out the battery and you're done.
Q: How is MATE delivered and is it easy to assemble?
A: MATE comes delivered with instructions in safely packed box and requires minimal assembly. However, if you don't have much experience with bikes, we recommend that you visit your local bike shop to get all parts tightened and thoroughly checked.
Q: How much does shipping cost?
A: Shipping is set to $200 USD due to the fact that we ship worldwide directly from our factory. It is also one of the reasons MATEs price is so low, as there are no intermediary between you and the factory #MATEaffordable.
Q: What kind of warranty do you offer?
A: All MATE bikes and batteries come with a 2 year manufacturer's warranty. Should you encounter some production related default in that timeframe, we will simply contact our customer support and we will take care of it. As many elements of a bike may get damaged due to normal cycling use, we do not offer warranty on parts such as tires, disc brakes, chain etc.
Q: What kind of accessories do you currently have or can I expect in the near future?
A: We currently offer an upgraded battery on offer already for MATE City+ and Mate S, but are regularly working to develop more accessories and modifications. Stay tuned for more information. Feel free to let us know what kind of accessories you'd be most interested in seeing.
Q: What about spare parts? Can any bike shop assist me?
A: The MATE battery is custom built for our frame and spare batteries will be able to buy from us at a reasonable price (estimated at $150 to $299 USD). The rest of the components are fairly standard, meaning that you can upgrade/customise your bike as you desire with other parts either from us or your local bike shop.
Q: Do I need a licence to ride MATE?
A: No. Our bikes are made 100% street legal. We offer two distinctive versions of MATE: MATE City / City+, with a 250W motor which is legal in the EU, and MATE S, with a 350W motor for the US.
MATE City and MATE City+, with its 250W motor, is by default limited according to EN15194 to the top speed of 25 km/h (15,5 mph). This means that the motor will only help you up to 25km/h. MATE S, with its 350W motor, is limited to 20 mph (32 km/h), which is the legal limit in US. It will be possible to change these settings with some reprogramming which we will make available after the campaign through MATE.community.
Q: Who is responsible for any additional taxes, duties or VAT?
A: The backer is responsible, please check your country's import duties before purchasing. It is 0% in the US and varies internationally. You can check this comprehensive list to get started.
Q: Can I test ride a MATE bike?
A: At this stage test rides are only available in Copenhagen. Contact us by email for a test ride.