iCrowdNewswire - Aug 18, 2016
Help Fortify Cafe to Survive & Thrive – Campaign 2
Help our 100% plant based eatery to survive and thrive!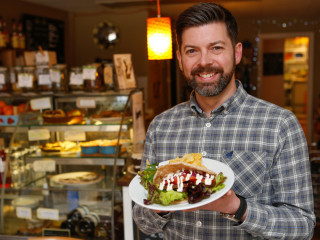 We're relaunching our campaign! Thank you to everyone who contributed to our recent first campaign and we're very encouraged by the amount of support we've received. In hindsight, we now realise that some people only just heard about our campaign and didn't have an opportunity to contribute. Due to the popularity and amount of views we had at the last minute, we realise there are more people out there willing to support us who we hadn't yet reached.
Help Fortify Café, our beautiful independent 100% plant based business to survive and thrive.
I'm James, the founder of Fortify Café – the only eatery in Maidstone's local area with 100% plant based food cooked from scratch.
https://www.facebook.com/Fortify-Cafe-Vegan-Eatery-67605413089/
Vegans and non vegans love our quirky warm vibe and the chance to eat healthy, delicious food with a large selection of meals to choose from no matter what their food sensitivities.
We need your help now in order to survive. After much personal investment, to realise my dream of providing a healthy, fun café and community hub, we need an injection of funds. Our café is hugely popular but our limited space means we can't generate the money needed to fill the hole in our foundational finances and develop the space and resources for growth.
We've already overcome many obstacles since 2009
Opening the business at the start of a recession
Being the only vegetarian/vegan business in the town and proving the naysayers wrong
Trade disrupting road works for 6 months (twice)
We've been open 7 years which means we're one of the 50% of business that have succeeded beyond the first 5 years
Raising these essential funds would mean we can continue to provide employment, help keep the High Street vibrant and carry on cooking great plant based meals which we love doing.
Fortify Café has the potential to become so much more and I have big dreams of what else we could achieve! Given some space to breathe, we'd love to start offering cookery lessons, hosting pop up events, documentary screenings and even write that cookery book that people keep asking us for!
Short term goals:
Settle the building costs and secure future lease
Partially remodel kitchen for greater efficiently
Partially remodel counter area providing more seating
Update our technology to provide a faster service
Long term goals:
Increase the café capacity by fitting out other areas of the building e.g. basement and potentially the flat above
Increase business profit (by increasing covers) in order to secure a platform for growth
Further develop the retail and menu offer to support awareness of the plant based movement by showcasing great food and products
Expand across the UK!
1st phase of funding
building/lease costs £22,000
2nd phase of funding
Cafe remodel – relocate/rebuild counter and serve over fridge area, banquette seating install, electronic point of sale £5,500
Kitchen remodel – install space saving fitted counters and shelving, replace flooring, wall repairs and tiling, install extraction fan £8,200
3rd phase of funding
Cafe remodel – space optimising tables and chairs, ceiling and lighting repair, replace flooring, redecoration and complete CCTV installation £5,500
Exterior – repair/replace signage, redecoration, install barriers / plants / umbrellas £1,500
If you donate £50 or more, we have a limited number of exclusive Fortify Café mugs or t-shirts to give away when you opt in to receive a perk.
This is a flexible funding campaign. If we reach 50% of our goal, we can secure the lease and continue as we are for the time being (1st phase of funding only). If the whole funding target is reached, the short term goals will be achieved (1st, 2nd & 3rd phase of funding).
Remember, sharing is caring – please let others know about our campaign and get in touch if you have any questions.
Our inspiration:
http://www.nationearth.com/earthlings-1/