iCrowdNewswire - Aug 16, 2016
Who Knows? A One-of-a-Kind Short Film
A misanthropic millionaire becomes unhinged when his furniture comes to life and runs away.
Who Knows? is a one-of-a-kind film made by remarkable professionals stretching the limits of their crafts. Live actors, puppets, miniatures and projections tell a near-impossible story you need to hear.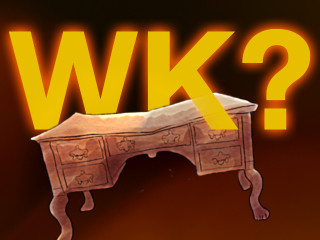 Who?!
Kevin Townley (writer, star, co-director) and Alex Basco Koch (co-director, production designer) are making a film!
What?!
We're shooting the script Kevin adapted from Guy de Maupassant's short story "Qui sait?" (Who Knows?), in which a man (played by Kevin) relates the bizarre, supernatural events which erode his tenuous grip on reality.
We need to raise $30,000 to fully fund the production of our film. The money will go towards our paying our cast and crew, camera rentals, location fees (we're shooting on a small sound stage!), materials for puppets, miniatures, costumes…and then there's insurance, transportation, and snacks (gotta eat…).
No joke, our gratitude for your help is endless, but we can commemorate it with some nifty incentives! We've got memorabilia from the shoot, signed scripts, and a lot of weirdness to spare.
If we fall short of our goal we'll most likely keep haranguing folks for funds, but, rest assured, every penny you put into the pot now will go towards the production.
Why?!
Your contributions will make up the whole production budget! This is a crowd-funded collaboration.
We've helped bring amazing productions to fruition as writers, performers, designers; this is a chance for us to realize our own unique vision; to create a world, rich and strange, constructed in collaboration with the amazing artists we call colleagues and friends.
The directors are combining their twenty-something years experience of putting together one-of-a-kind, weird and wonderful visual feasts. Working with beloved collaborators who lead in their respective fields we'll be able to put on film some of the strange tales that haunt our dreams. BEWARE!
We're already building; tiny furniture puppets are being constructed; a miniature (French estate) house; costumes are being stitched up as we type.
Principal photography is scheduled to take place at the gorgeous Actors' Fund Theatre in downtown Brooklyn, with an additional location shoot at a former convent in upstate NY.
Shooting will happen (and be completed) over the course of five days in late August. Then we jump immediately into post production!
Other Ways You Can Help
We understand that not everyone can contribute financially. If you'd still like to help out, you can donate your time and talents! You can lend a hand on set, be a driver, or a part of the craft services team by preparing or serving food on the set. Please let us know if that interests you, we would love that!
If you're not able to chip in, but know someone who can, please feel free to share this campaign with them via thelinks!
And that's all there is to it.