iCrowdNewswire - Aug 16, 2016
Fluffy Home Cloud
Absolutely new type of home cloud with NO monthly fees!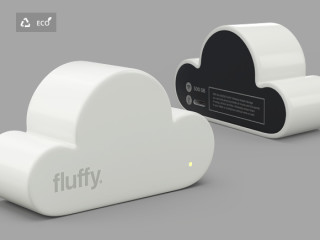 Fluffy is important to us, it's a new way to store and share secure any type of information that you want to, even if you are not at home.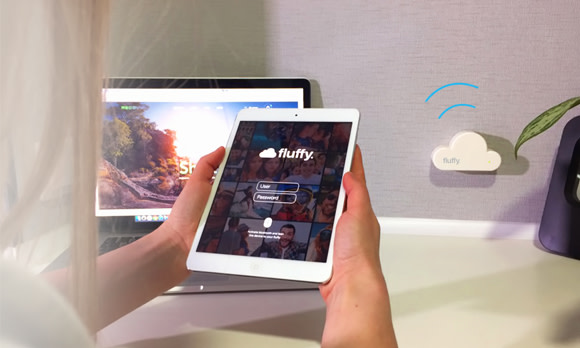 Fluffy – small, light, sublime.
Thanks to fluffy you will always be able to easily store your photos, videos, music and other files directly from your phone, tablet, notebook or desktop pc. Storage space on your devices is not an issue anymore. Fluffy is equiped with an outstanding fast hard drive up to 512 GB with enhanced wireless transfer tecnology. Its speed and compact dimensions outmatch all market available external HDD's. Fluffy is not just smaller, lighter, faster and more attractive than its competitors, it allows you to store your files in a brand new way.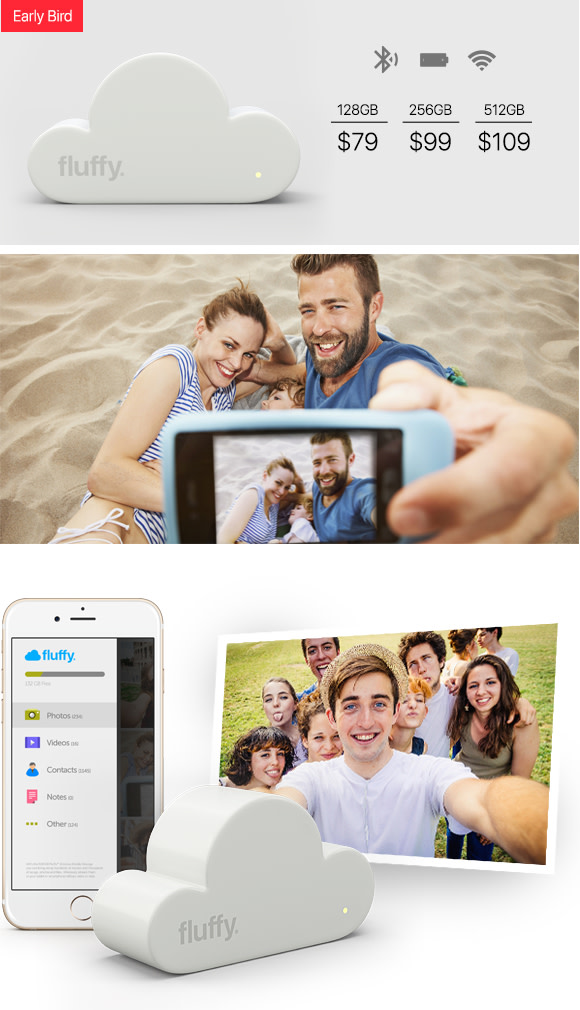 Up to 1.5 million photos in one small fluffy
Fluffy outperforms almost all other available external HDD's in terms of speed and dimensions. Working with files has never been as easy and fast. As a result of an upgraded software installed on your phone you can easily transfer files from your device to fluffy and the other way arround. Hence, even the largest video files are processed extremely fast. More over, thanks to the automatic sync function all you need to do is connect to your home network and fluffy will do everything for you.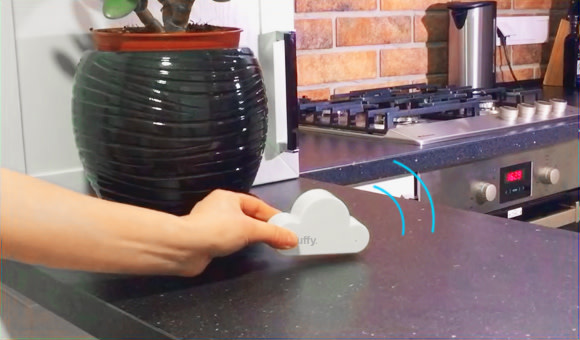 More experience each day
Fluffy mobile app – is the most impeccable, intuitive and safe app for file management. Its capabilities fully engage fluffy without diverting you from your other tasks. This app is designed exactly for this purpose.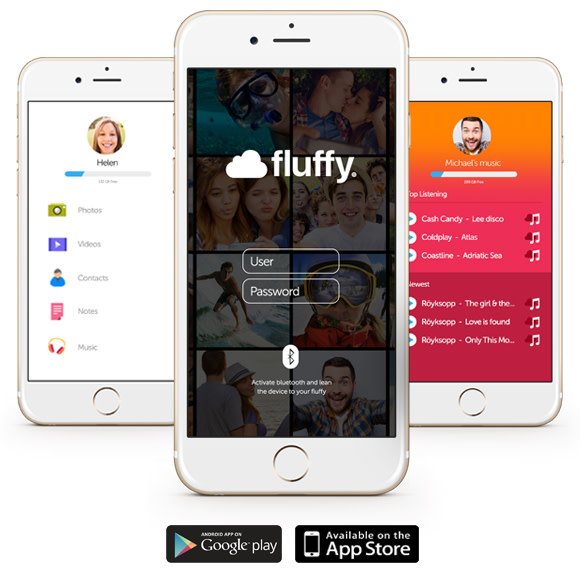 Music and videos are always handy and don't occupy much space
Fluffy helps you store up to 180000 songs or 365 video hours. You can now store and share your music with your family without using your phone's or tablet's storage space. Your family travel videos will always be safe and sound. You can also download music and other files from the internet straight to fluffy. Theese are everlasting memories.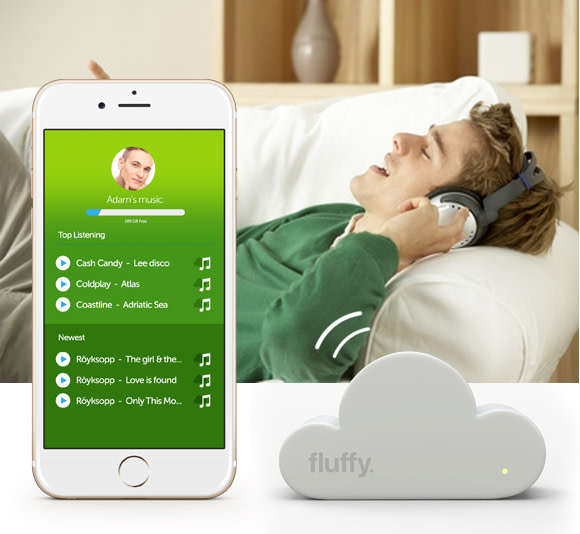 Design
Despite its incredible performance, fluffy is unbelievably small and lightweight. It fits any interior, whether it is a bedroom, your guestroom or office. Due to its design it can be installed on your desk, shelf or any vertical surface. Considering fluffy's high performance it naturaly complements your life style. No more wires, only wireless transfer. Additionaly, it is made of fine, tactile pleasant materials and works soundlessly.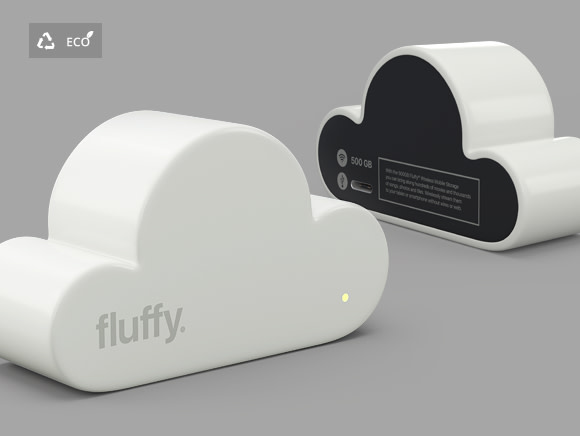 Private account and safety
Fluffy will amaze you with its absolutely new approach to file storage. Watching videos or listening to music from an external home cloud has never been so exciting and safe. As a result of the multiple user system mobile app, you can keep your photos away from other users. Just create your private account and get unlimited access to your files. No one will ever be able to see your pictures unless you allow them to. Additionaly, you can make your photos public if you want at any time.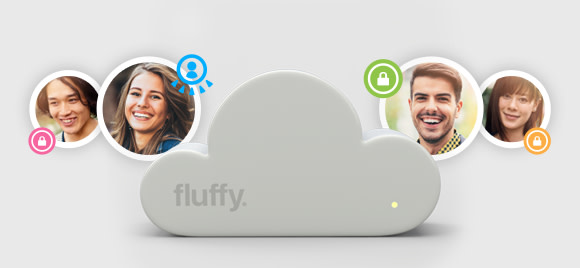 Completely free and no subscriptions at all!
Use fluffy and fluffy mobile app absolutely free of charge. It does not require additional subscriptions or expenses. The mobile app is also free of charge! Connect it to your home wifi network and start storing anything you please.

Home and office use
Use fluffy as a home cloud storage for family videos and photos, or use it as a collaborative office device for document transfer or presentations for your colleagues right from your working environment.

Features
Multiple connections (more than 2 connections to one device at the same time)

Connection notification (if any third party person will attempt to access device the owner will receive a notification)

IP restriction (owner may allow access to Fluffy only from restricted IP addresses)
Editable files
Erase all files with no recovery option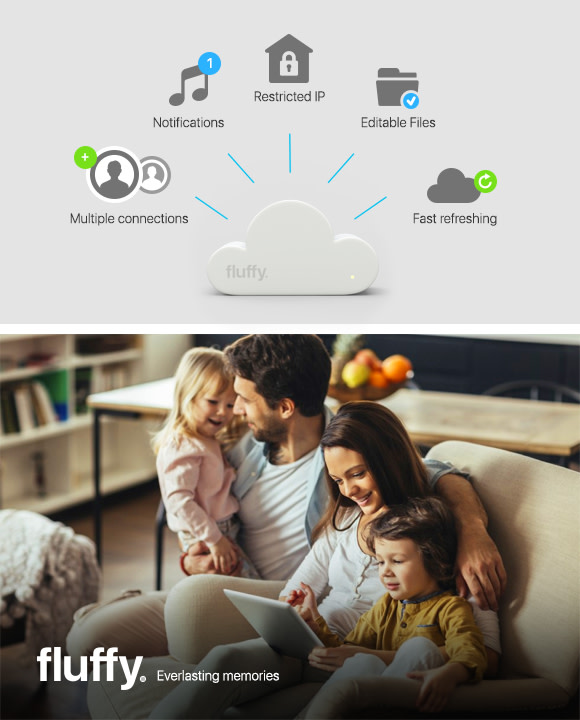 Perks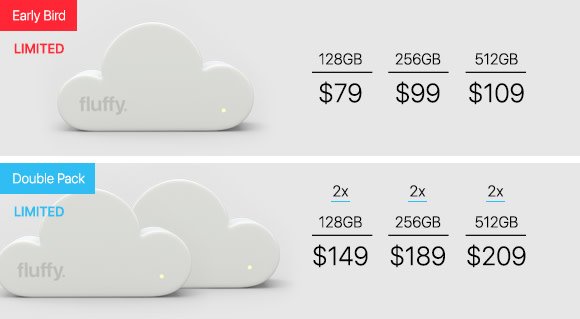 Team
There are 2 things in common to all individuals bellow: They are all exceptional in what they do. They joined, because they believe it and really like it.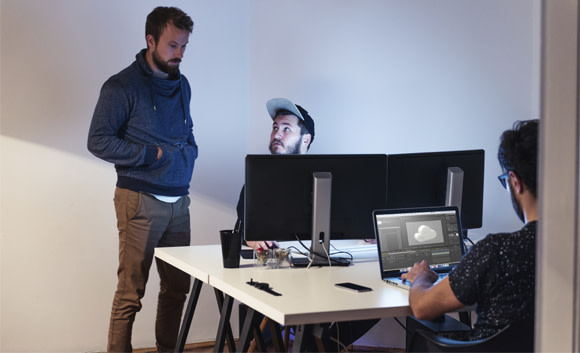 A big thank you to all those who invested their time and skills to making it a reality.

Time line and where funds go

FAQ
If you have any additional question please contact us anytime, we will be glad to answer them