iCrowdNewswire - Aug 15, 2016
vitafun: His & Her Smart Interactive Sex Toys
Experience pleasure like never before with remotely connected Aris for him and Ishtar for her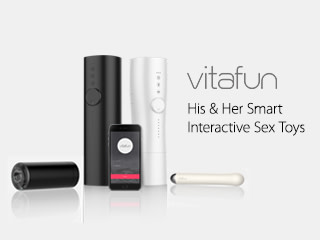 vitafun: Physical Touch with Smart Tech and Anonymous Global Connectivity – Aris Stroking Male Masturbator for Him, Ishtar Thrusting Vibrator for Her or Him. Aris Masturbator has 380g super soft, silicone layers – creating a realistic, flesh-like feel. Ishtar Thrusting Vibrator imitates human movement with 3 motors & temperature-controlled vibrations. Use solo, with a remote partner, or anonymously with other vitafun users.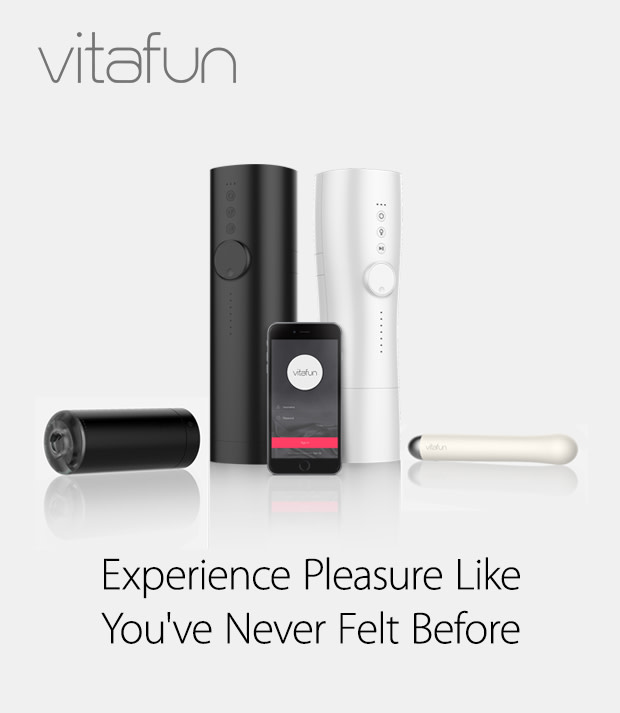 vitafun is stand-alone or smartphone-controlled, interactive sex toys, Aris and Ishtar, with thrusting and stroking motions for mind-blowing orgasms over and over.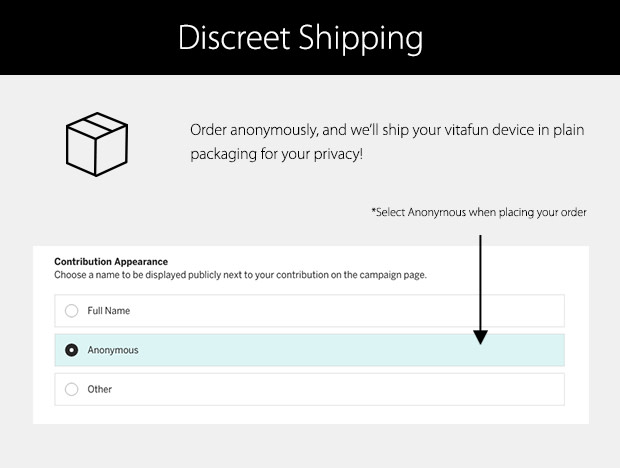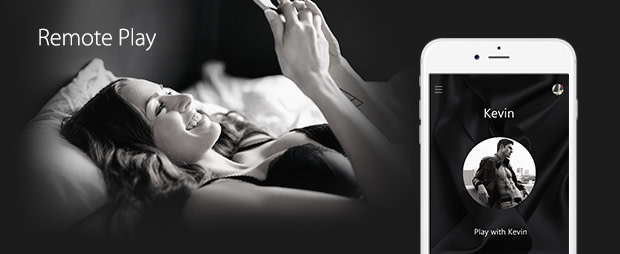 Make new connections (anonymously or not) through the vitafun app. Sync up to see & feel your partner's movements in real time.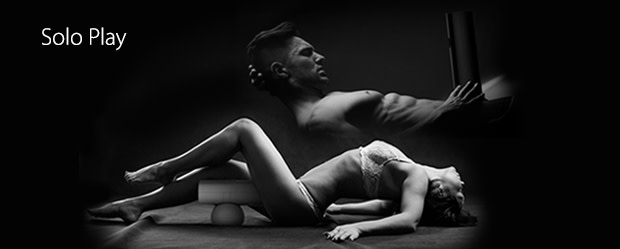 Get off quickly and easily or draw it out for a long lasting ride. Experience automatic satisfaction either way.

Your long-distance partner is just a stroke away. Connect from anywhere in the world to control your partner's device manually, or sync up devices to stroke at the same time.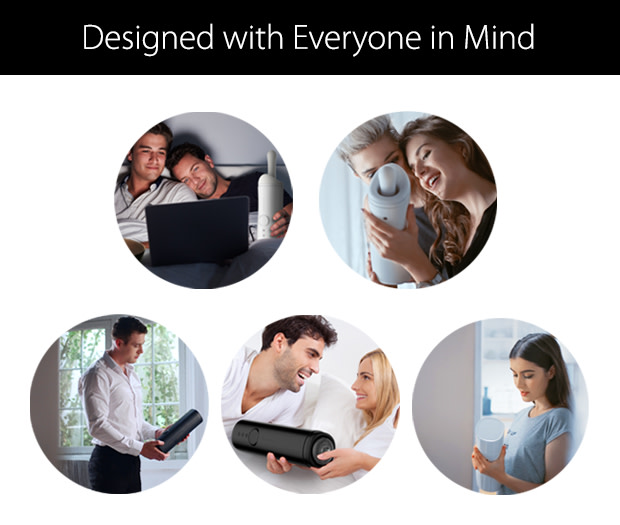 Unique STEP motor strokes or thrusts to provide a toe-curling experience.

Circle pad control strength for up to 7 different levels.

Built in rechargeable 2900 mAh battery allows for long lasting pleasure on the go.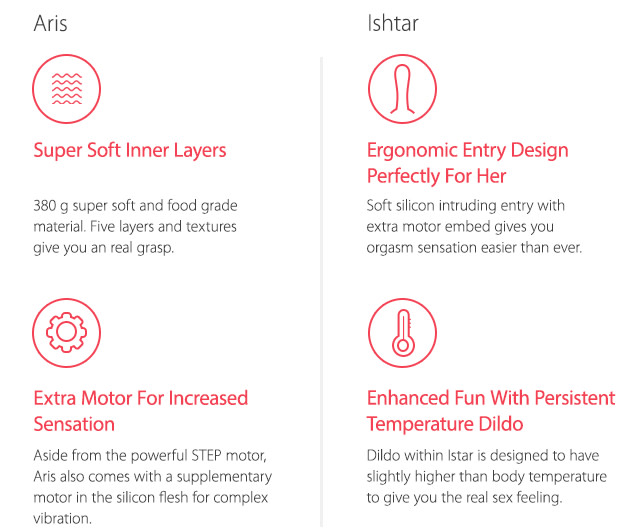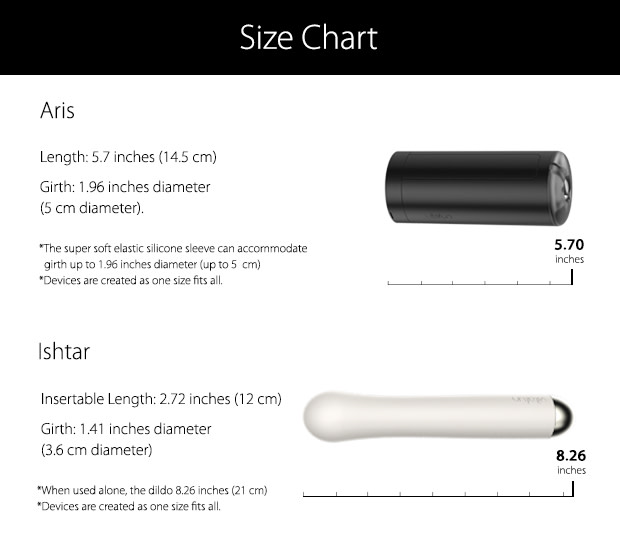 "A revolutionary designed sex toy that will forever change the way sex toy should be played."
Chris Wu – Intelligent person of sex toy/ Sex therapist/ Radio Host (Mdernsky.com)
"vitafun is completely waterproof, rechargeable, and made with industry stargard motor with body safe silicone. Given the price point of vitafun, you can't find other sex toys that have this much to offer! "
Vicky Gao – Sex toys opinion leaders/ Honey's Room CEO
"The design of vitafun is very simple, stylish. It's simply the Apple of the intelligent sex toys."
Sam Zhao – CEO of yummy (A female forum/ community)/ Founder of the only China LGBT magazines "Les +"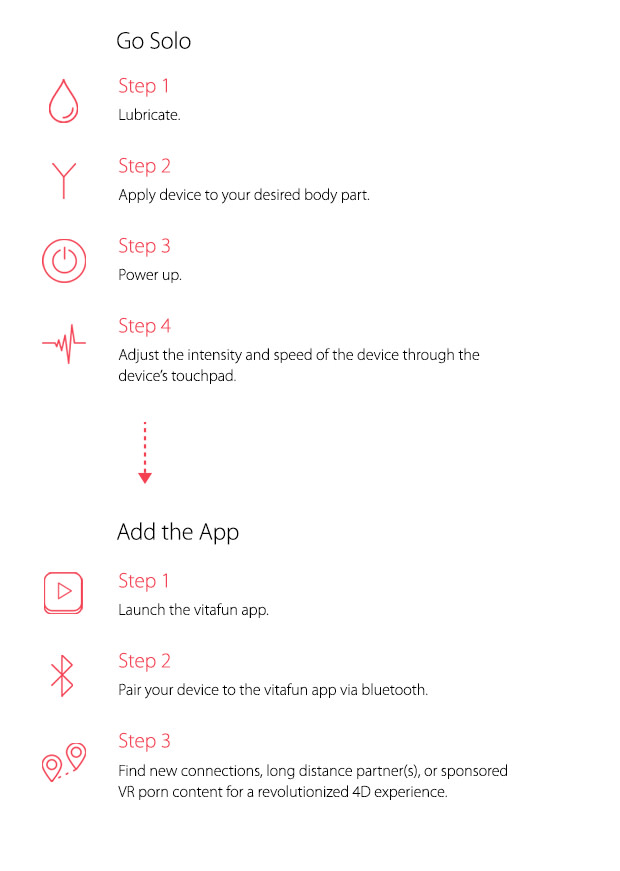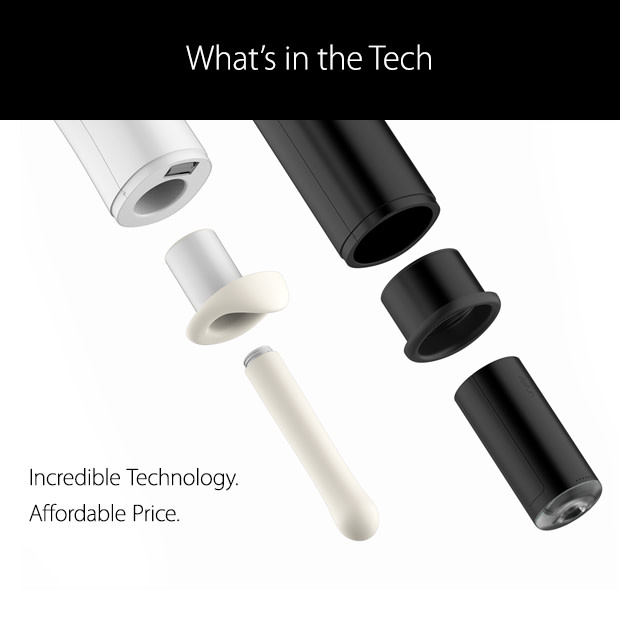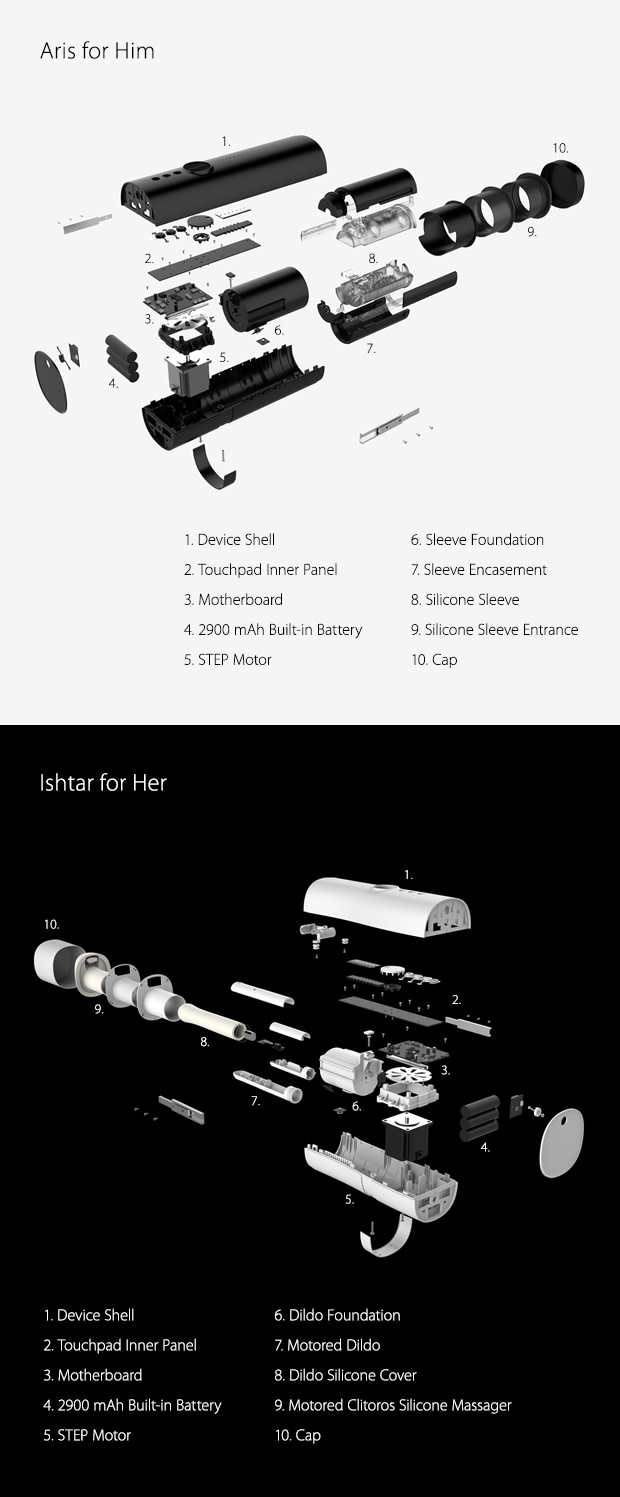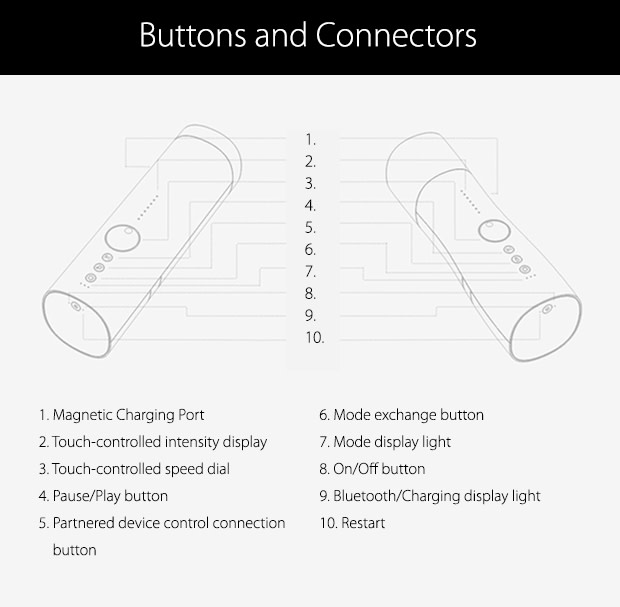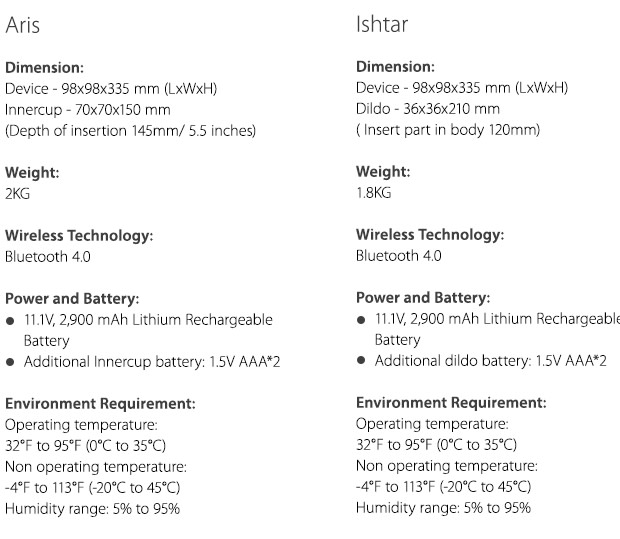 With a separate built-in motor on both the Aris sleeve and the Ishtar dildo, you can use the two pieces as smaller, stand-alone devices or connect them to the core Aris and Ishtar shells.
*1.5V AAA battery*2 required for both Aris Sleeve and Ishtar Dildo.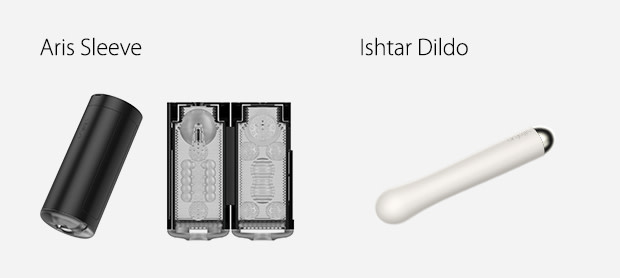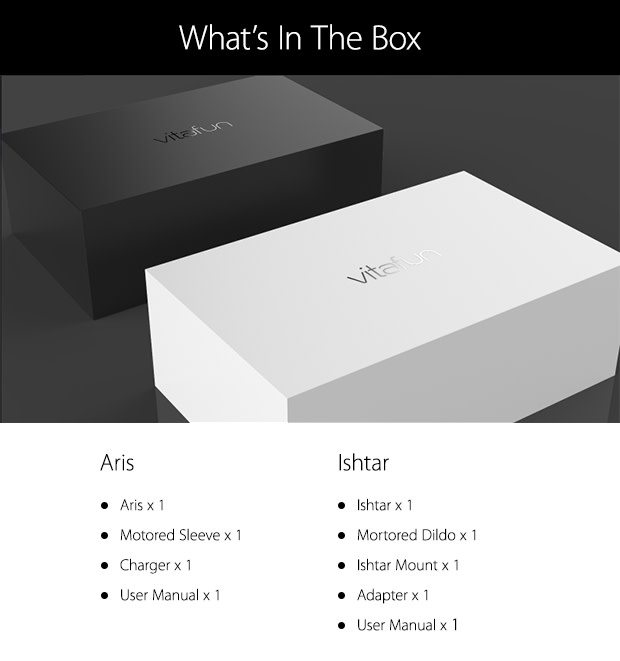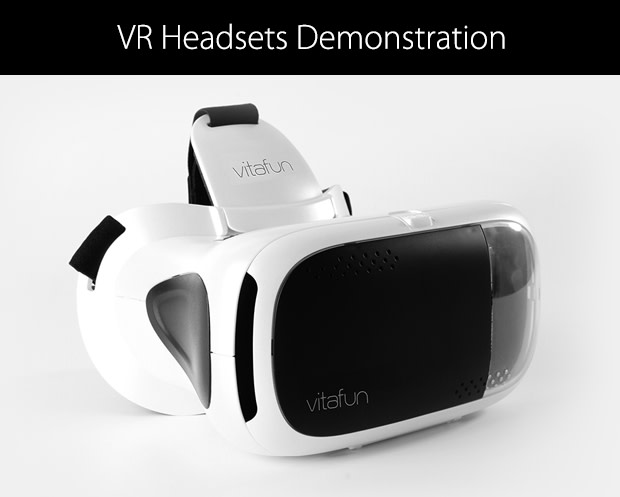 You'll get access to free, customized pornographic videos that sync with your device for a complete 4D experience with the vitafun VR headset.
adjustable object lens

500 degrees of myopia with naked eye viewing

Interpupillary distance adjustable by 58-68mm

Professional optical lens module with a 96 degree market angle
Mobile device compatibility
Resolution: 1080P and above recommended

Screen size: 4.7-6 inch screen

Hardware: Apple phone or Android (CPU 4 core, 2GB RAM, or above)
*VR headsets will be available for free once specific vitafun campaign milestone is reached
*Final VR Headset appearance subject to change.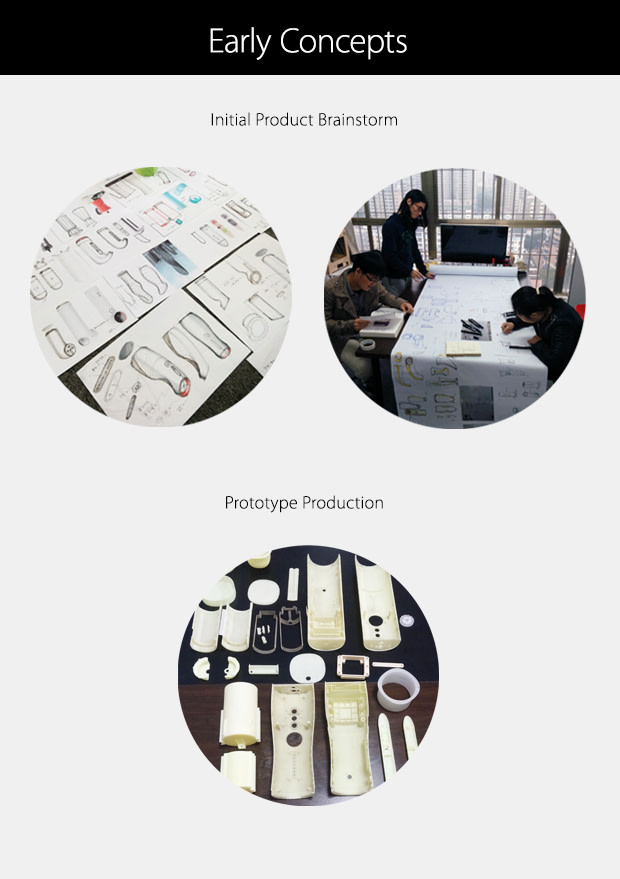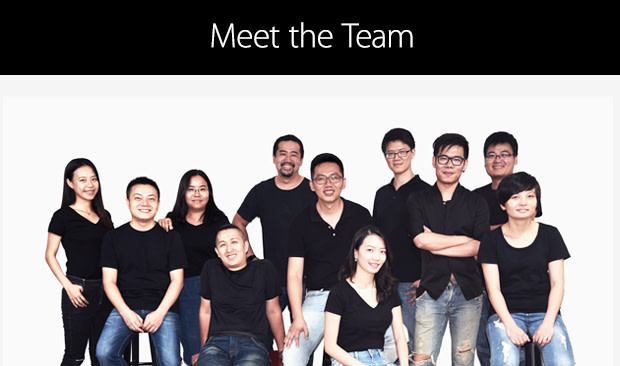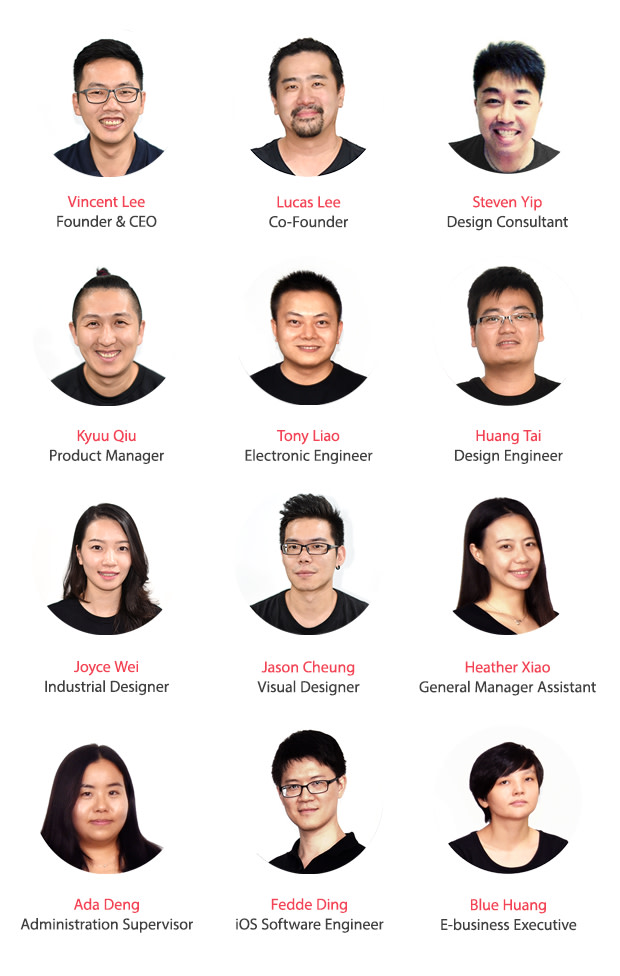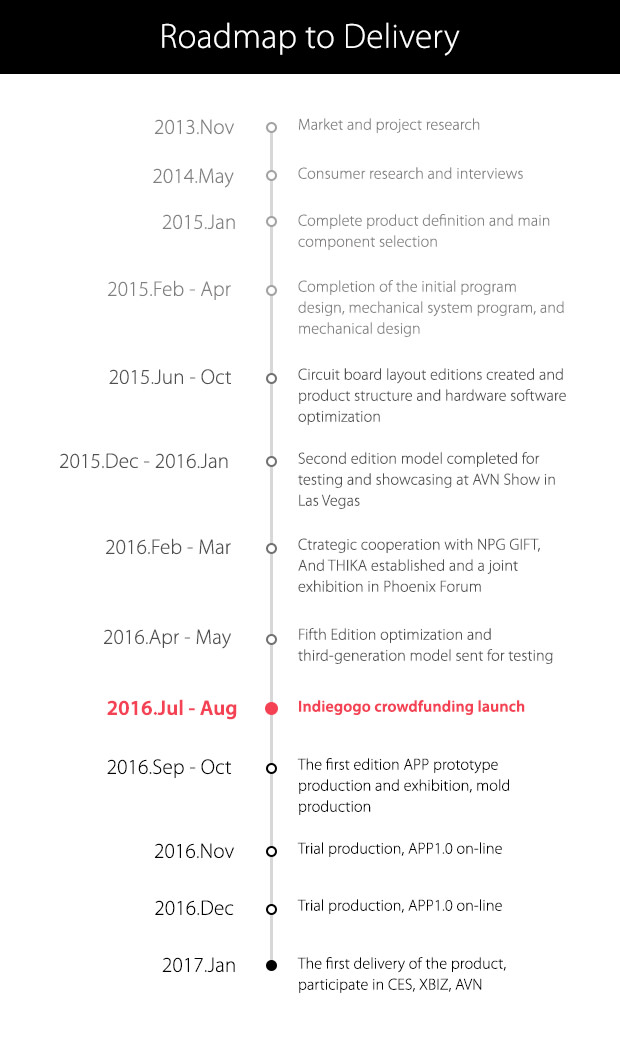 The vitafun is available for shipping worldwide. Please see the FAQ section for shipping costs.

Orders placed now will begin shipping in January 2017.
*Actual ship dates will vary depending on your country, your location, and when you placed your order. The vitafun team will keep you up to date on every step of the process.

We will process shipments in the order that we receive them. Backers who pre-order first through this campaign, will receive their vitafun from our very first production batches that have been fully tested and prepared for mass production.
We are offering incredible discounts on all pre-orders of the vitafun in return for your support.
You will never find Aris and Ishtar at these low prices again!

If you need to update your address, be sure to follow these steps on Indiegogo.


ABOUT
FEATURES
TECH
SETUP AND MAINTENANCE
SAFETY AND REGULATION
SHIPPING
CUSTOMER SERVICE
Please contact
support@vitafun.cc
with any questions or requests for changes in your order.

| | |
| --- | --- |
| What is vitafun? | vitafun consists of smart masturbators for him and her. Aris, the male masturbator cup, is designed to simulate the motions of real sex. Internally, the device is comprised of 380 g super soft, silicone layers for an exceptionally realistic, flesh-like texture. The inner cup features a vibrating motor, but can also be used manually. The cup is washable, and easy to install and take apart. Ishtar, the female masturbator, accurately imitates human movement with a temperature-controlled vibrator that not only pulsates, but simulates a thrusting motion. Using a high performance motor, Ishtar's pumping motion can be adjusted to move as slow or fast as desired, with a maximum range of 60 mm and a maximum pumping speed of up to 300 RPM. Ishtar also includes a vibrating motor positioned at the base of the device for clitoral stimulation, enabling users to quickly reach an orgasm. Like Aris, Ishtar is washable, as well as easy to install and take apart. |
| Who created it? | Aris and Ishtar were created by the vitafun team after two years of independent research, product tests, and development. Our team's mission is to reinvent sex toys – with vitafun, you can integrate them with your smartphone and the vitafun app. Say goodbye to traditional toys – smart masturbators are all the rage now. |
| Why should we use it? | vitafun is a stand alone or smart phone controlled, interactive pair of thrusting masturbators for realistic pleasures. It can be used alone, by long distance partners, and with others on the internet through the vitafun app. |
| How much does it cost? | Retail price is $500 for a single device (Aris or Ishtar) and you can get the super early bird deal at $199 (60% off) NOW – only on Indiegogo! |
| Where can we buy it? | Right here, right now on Indiegogo. |
| How can I back the campaign anonymously? | Yes, before completing the order, you will have the option to back the campaign anonymously. Once selected, your order information will only be available to the campaigner. |
| What do we get when we order? | Aris comes with: Aris *1, Innercup *1, Battery Box *1, Adapter *1, Silicone ring *1, and User Manual *1. As for Ishtar, it comes with: Ishtar *1, Mortored Dildo *1, Ishtar Mount*1, Battery Box *1, Adapter *1, Silicone ring *1, and User Manual *1 |
| Why are you crowdfunding? | We have completed the hardware development, and produced seven prototypes. Some have been sent to Japan for testing by professional toy testers and porn stars. We are working on APP development, and are ready to start production. However, due to the complexity of our products, the mold cost is very high and we need the funds to start production. Crowdfunding is the top channel to bring such technology to the masses. |

| | |
| --- | --- |
| What features are available? | Shared features for both Aris and Ishtar include powerful STEP motors, intuitive control panels for up to 7 difference levels, and built in 2,900 mAh batteries. Features exclusive to Aris are the 380g super soft silicone layers wrapped around the extra motors for a flesh-like texture and realistic feel. Features exclusive to Ishtar include 2 extra vibrating dildos, a clitoris motor (besides the STEP motor) and body temperature dildo to mimic the most realistic pleasures for her. |
| What colors do you offer? | "Aris- black Ishtar- white" |
| What sizes do you offer? | One size for all |
| Is it comfortable? | Yes, very! Aris uses TPE softness to 0 Shore A. With specially designed textures and five different stimulation options, he's guaranteed to experience the utmost comfort and pleasure. Ishtar's heating function for clitoral stimulation was also designed for maximum comfort. |
| Which option is best for me? | Aris and Ishtar are suitable for everyone. |

| | |
| --- | --- |
| What is the uniqueness of the technology? | We use a high-performance STEP motor as the engine for both Aris and Ishtar, which you can't find else where in the sex toy space. |
| What is the battery life? | Aris and Ishtar use Sanyo lithium-ion batteries, with a battery life of more than 800 times. When fully charged, it can work for more than 50 minutes. Using magnetic connectors, charging time is approximately 3 hours. |
| What are the dimensions and weight? | Dimension: 98x98x335 mm. Weight: ARIS-2kg ISHTAR-1.8kg. |
| Will there be app updates in the future? | Will there be app updates in the future? |
| How does it integrate with other connected devices? | Connect the phone via Bluetooth, and then connect to the network by phone. |
| Is it waterproof? | The sleeve of Aris is waterproof. The dildo of Ishtar and the battery case is waterproof, but the hosts of Aris and Ishtar are not. |
| Where is it manufactured? | Shenzhen, China |
| Does it have an app? Which phones does it work with? | Available both on Apple and Android. |
| When will the app be available? | Nov. 2016 |
| How does the device connect to the app? | Bluetooth 4.0 |
| What can we expect from the app? | The vitafun app allows you to find people nearby to connect with. You can record and play your vitafun experience with the community, or share the vibration patterns for others to download. You can also post and comment within the vitafun community and take advantage of the live remote interaction and video sync mode features. The option to go anonymous/invisible secures your privacy. |
| Will there be updates available through the app? | Yes. |

| | |
| --- | --- |
| How do I set it up? | Host itself does not require any settings, but some features are set by APP. |
| How do I turn it on and off? | Press the power button for 3 seconds to start up or turn off the device. After the light of the touch slide flashes, release the button. |
| How do I control it? | "For speed adjustment, dial the dial pad. For amplitude adjustment, press the dial pad. For position adjustment, touch the touch slider to suit your comfort and desires." |
| What is the care and cleaning of it? | Twist the dildo until it is out of the casing. It can be cleaned by a wet towel after putting on the battery box. The silicone cup rim can be washed by water if necessary. |
| Is it dishwasher safe / machine washable? | No. |

| | |
| --- | --- |
| What are the recommend ages? | 16-45 |
| Where can I use it? | Places you feel comfortable in. Do not use in the bathroom or other damp places for your safety. |
| What certifications do you have? | CE Rosh FCC. |
| How durable is it? | With normal use, more than three years. |
| Is it safe? Are there any risks associated with use? | We went through many rounds of testing and it's 100% safe to use. |

| | |
| --- | --- |
| When does shipping begin? | Within four months after the end of the crowdfunding. |
| When can we expect vitafun to reach our doorsteps? | All Indiegogo units are expected by Junuary, 2017 |
| Where does it ship? How much is shipping? | Worldwide. Shipping rates vary depending on your country. $10 US, Canada, Mexico, China, and HK. $30 for the rest of the world. |
| Who should I contact if I'm interested in a distribution partnership? | Please email us at support@vitafun.cc if you're a retailer interested in distribution. |
| Who should I contact if I'm interested in purchasing in bulk? | Please email us at support@vitafun.cc if you're a retailer interested in distribution. |
| Do I have to pay VAT / GST? | Yes – for countries outside the US, depending on your location, you may have to pay VAT/GST. |
| What are the risks & challenges of getting the device today? | We are using Indiegogo as a way to validate our product. All of the numbers are real, and the backers are real. We want your help to keep us and our team accountable at every step of the way. If there is anything you need to change or update, just reach out to us at support@vitafun.cc! There are risks with production at every step of the way, but luckily for you, we've done all the hard work of getting a product through the tooling process and getting ready for scale. Now, we just want your help to scale the production process and get all vitafun masturbators ready to ship. |

Is there a warranty?
vitafun has a one year warranty. If it stops working, you simply ship it back within a one year window and you will receive a new unit.
What is your refund policy during the Indiegogo campaign?
See these steps on How to Request a Refund. During the Indiegogo campaign, you can process the refund at any time by contacting support@indiegogo.com. or searching their help center. Refunds are processed on a case-by-case basis; at some point we will need to lock refunds in order to go into production & shipment. We will not be able to refund orders once they've shipped.
What is your return / exchange policy after the Indiegogo campaign is over?
If you received your product and you aren't satisfied, you may exchange it for a new one within 30 days, less shipping & handling fees. Indiegogo does process refunds during the campaign. If you would like a refund, we're sorry to see you go. Please see here for How to Request a Refund.
What is a perk?
A Perk is Indiegogo's reward for your contribution. We give full details that you'll be pre-ordering vitafun (Aris and Ishtar), and not just making a contribution.
How can I check the status of my pre-order?
By pre-ordering through Indiegogo, you automatically have an account created. Log back into Indiegogo using the email you pre-ordered, to verify your information.
If I have other questions, who should I contact?
Press: press@vitafun.cc.
Support: support@vitafun.cc.
Just to Say Hi: hello@vitafun.cc.