iCrowdNewswire - Aug 15, 2016
Elizabeth Anna's The Unconventional Edible Garden
Help Elizabeth Anna print her long-awaited month-by-month edible gardening guide for North Texas!
Help Elizabeth Anna Self-Publish Her Long-Awaited Gardening Book!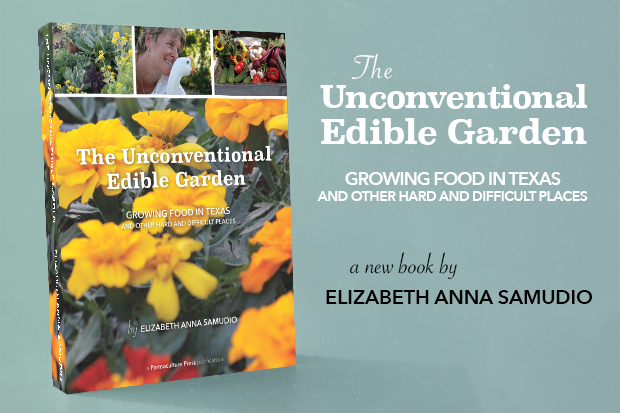 The Unconventional Edible Garden:
Growing Food in Texas and Other Hard and Difficult Places
The Unconventional Edible Garden is an 8×10″, softcover, 155-page month-by-month growing guide with concise monthly to-do lists, planting instructions, permaculture musings, and personal memoirs. There are no other books on the market for our climate like this and it will be a treasure for so many gardeners!
Click on "Gallery" for a peek inside the book!
Elizabeth Samudio, Certified Permaculture Designer and owner of Elizabeth Anna Urban Farm & Market, has spent many years compiling the best of her expert gardening advice into a month-by-month guide, tailored for North Texas.
Elizabeth, a transplant, brought her commitment of green living to North Texas over ten years ago when she filled an earthen container with herbs, blooms, and edibles in front of Starbucks. It's no surprise, since her roots go deep into the fertile culture of the Pacific Northwest.
Her love for nature and beauty has grown into an all-organic, eco-friendly farm, garden, and landscape business, as well as a grocery and produce shop. She teaches classes at the farm, but until now, her wisdom of applying permaculture principles to our specific climate has been difficult to sum up.
Elizabeth had written most of her book many years ago, but had let it sit untouched for a while. Then last year, while unable to work outdoors due to ovarian cancer, she found herself with plenty of time to put the finishing touches on her masterpiece.
So we are thrilled to announce that the book you have been hearing about and waiting for these past several years is finally ready for the public! We will use the results of this fundraiser to help make the final printing decisions.
Book credits:
Cover photos and full-page photos by Rachel Marek
All other photos by James and Elizabeth Samudio
Copy editing and graphic design by Tina Arons and Kimberly Briley
What We Need
We will be honest: we do not have the capital necessary to order a whole run of books. With $1,500 to $2,500, we can order at least 100 books, but the printing quality may suffer at the lower end of the budget. Any less than $1,500 and we will have to order a smaller run of books at a more expensive per-unit cost.
Frankly, we are hoping to order more than 100, maybe many more, which of course, would require more funds.
We are currently shopping around for the best price and quality, but we know this is the general range needed.
Our goal is to have the books printed and shipped by the end of September, just in time for cooler gardening weather!
What You Get
Rewards for this campaign include The Unconventional Edible Garden in print, a digital ebook, and various in-person permaculture classes at the shop with Elizabeth or her helpers, depending on her health at the time. Also available is a personal consultation at your property, where Elizabeth's husband will outline the potentials of your land.
Risks & Challenges
We have had a lot of interest in this book already, but honestly, we are not sure the realistic demand there will be for copies! This fundraiser will help us get a clearer picture of how many books we should be ordering, so we don't under-order and have to buy more later at a higher rate.
Other Ways You Can Help
Share this page so we can raise enough funds to order the book in time for fall!
In the off-chance that you have connections with a book printing company and can cut us a deal, well, that would be helpful. 🙂
Help Elizabeth achieve her dream of seeing this book published, and help countless home gardeners learn confidence in themselves through a better understanding of nature!