iCrowdNewswire - Aug 15, 2016
i-mmersive: 360 VR Live Streaming & Monetization
A complete system for creatives to record, stream and monetize exceptional 4K quality 360° video.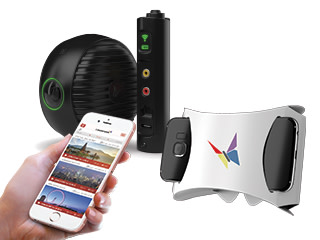 The i-mmersive system offers the first fully spherical, 4K, 360° camera that can live stream with no stitching or post processing, is compatible with all devices and platforms, and empowers creatives with an easy monetization feature.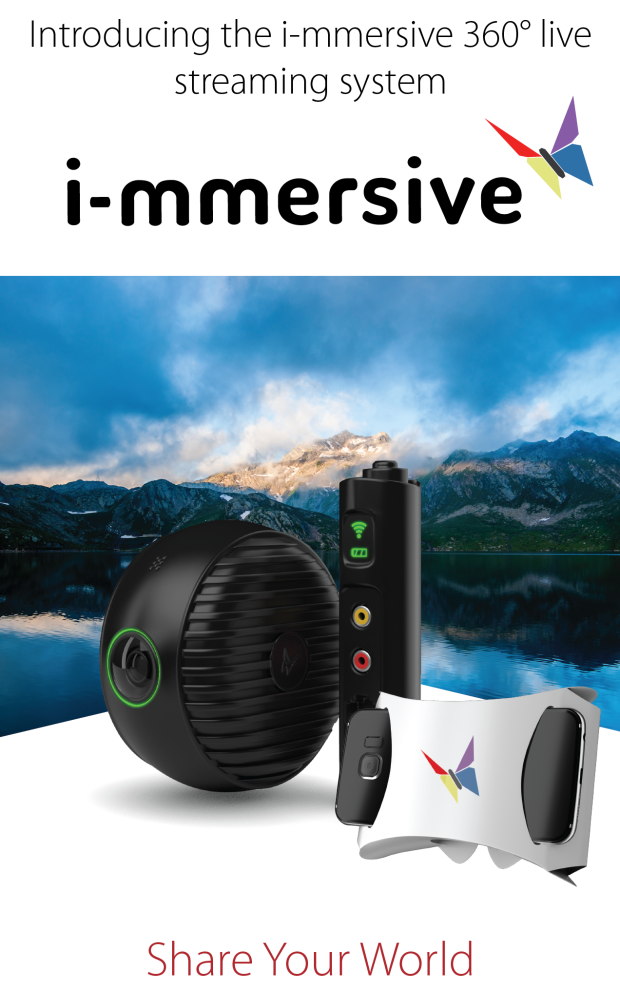 i-mmersive's VEYE 360° camera provides instant live streaming to any device, with no stitching or post production necessary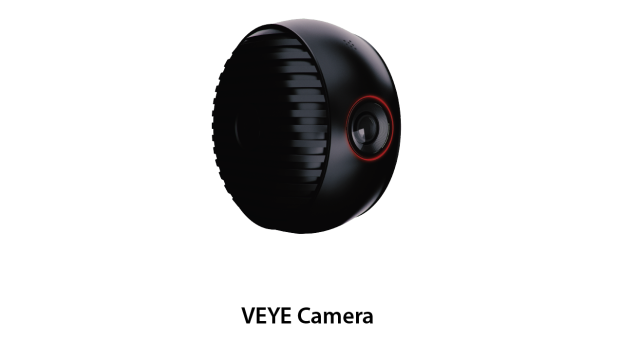 Incredible 4K quality 360° video
The VEYE camera is built of premium components including advanced 1/1.8 Sony sensors, high-grade aluminum, and our own top spec encoding software. Two 220° fish eye lenses create a fully spherical 360° field of view, while built in microphones add to the immersion. A built-in server connection allows instant live streaming, and the camera can be powered by a direct power cable, USB connection with your computer, or even a USB C cable plugged into your smartphone. Both the VEYE and Base Stand are equipped with standard tripod mounts.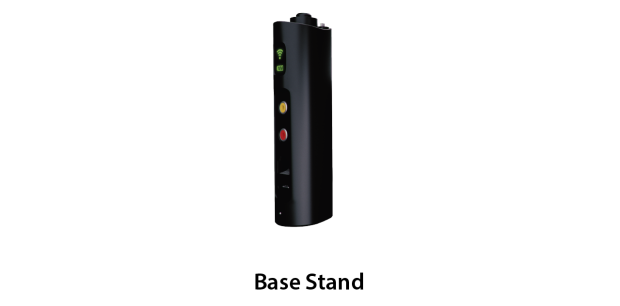 Expert connectors, expanded capabilites
The Base stand takes the VEYE's impressive capabilities, and kicks them up a notch. The combination of a more powerful WiFi antenna and an integrated battery good for four hours of shooting time means you can take your show anywhere, cable free. We're even working on adding 4G LTE connectivity for ultimate mobility. A full spectrum of professional ports lets you add high quality microphones and other peripherals to the equation.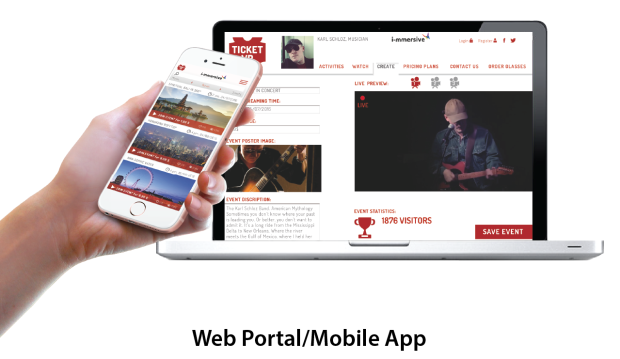 A full ecosystem for creating, sharing, and consuming LIVE 360° content
Our web portal and mobile app mean you can control your VEYE, create your stream, and consume content from practically any web-connected device. Cloud storage, monetization, and curated event recommendations add up to a full-fledged, creator focused ecosystem.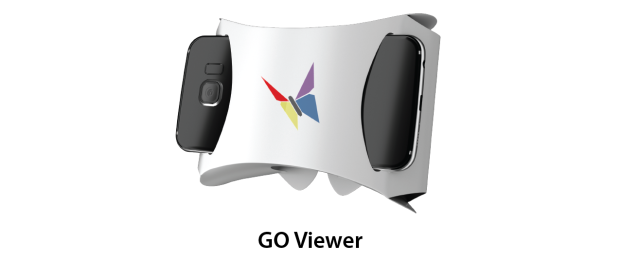 The perfect solution for VR on the GO
The cardboard GO viewer is a cheap, foldable solution for easy mobile VR. You can send our standard viewers to ticket holders for your live events. You can even order custom branded viewers unique to your stream through our app, for an extra fee.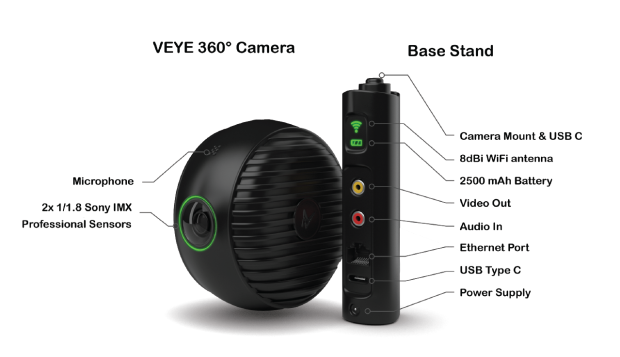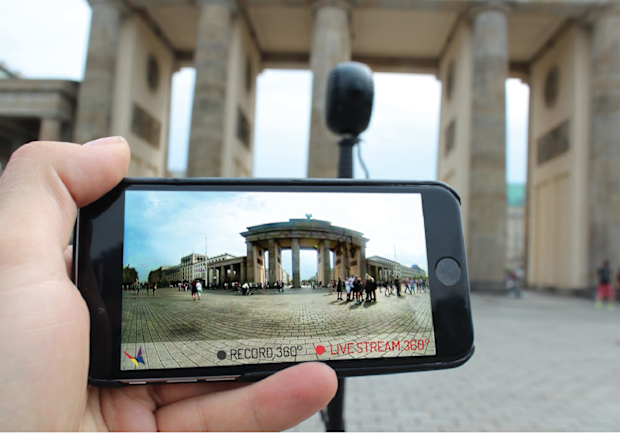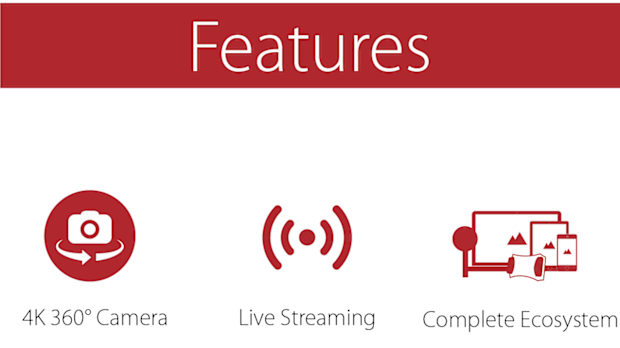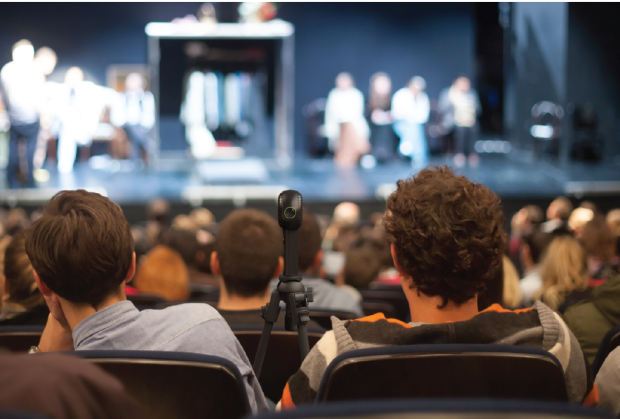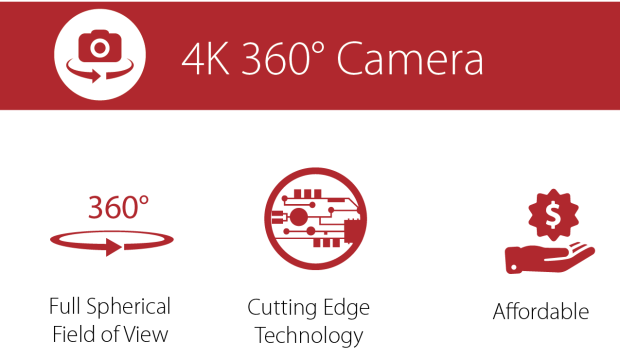 Experience the ultimate in immersive LIVE video
Our VEYE camera boasts two lenses and sensors from Sony, for a complete, 4K, 360° spherical field of view and excellent low-light shooting. Two microphones deliver crystal clear sound. Our mobile app is compatible with all VR viewers, and we are developing apps for the HTC Vive and Oculus Rift.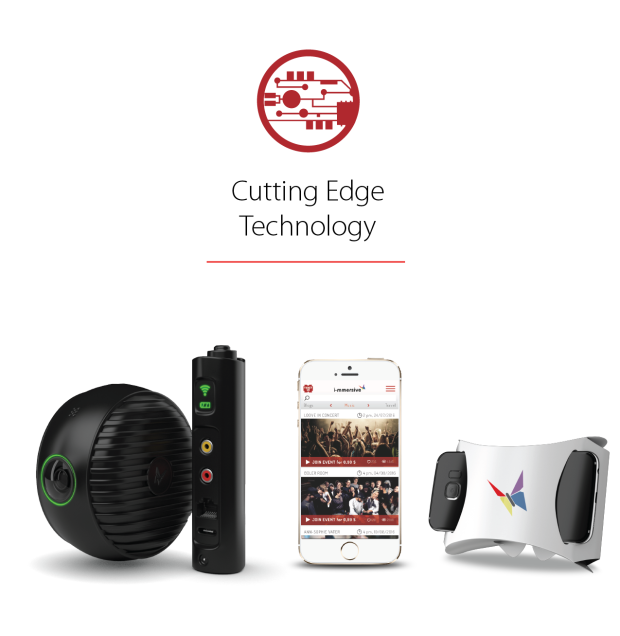 Professional quality components
i-mmersive is on the bleeding edge of 360° video technology. Our proprietary software allows real time streaming without any stitching, post production, or additional hardware. Our incredible Base Stand peripheral adds up to 4 hours of built-in battery life, a stronger WiFi antenna, and a full suite of professional quality connection ports – allowing for completely untethered 360° shooting. You can control your VEYE camera from any smartphone, tablet, or computer.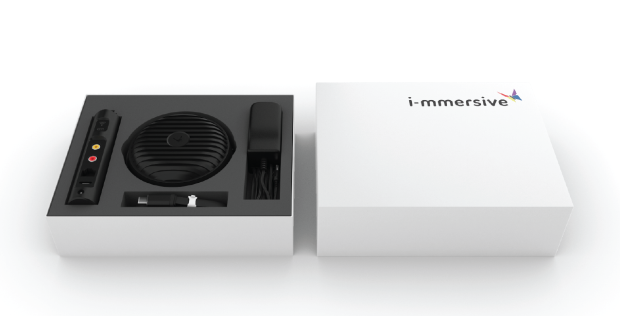 Live 360° video for all
The i-mmersive system outstrips the competition on both performance and price. Comparable devices cost thousands of dollars, and can't match the instant streaming capabilities of the i-mmersive system. You can start streaming 4K quality 360° video for as low as $249. Expand your reach to a massive, worldwide audience without breaking the bank.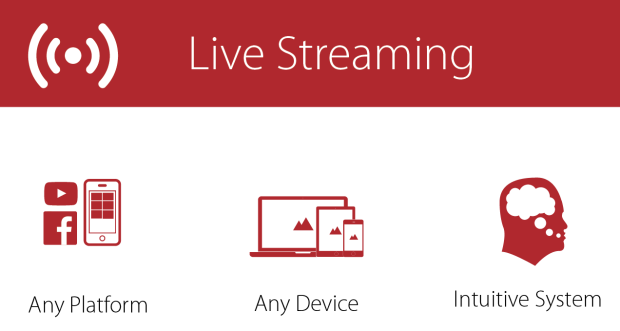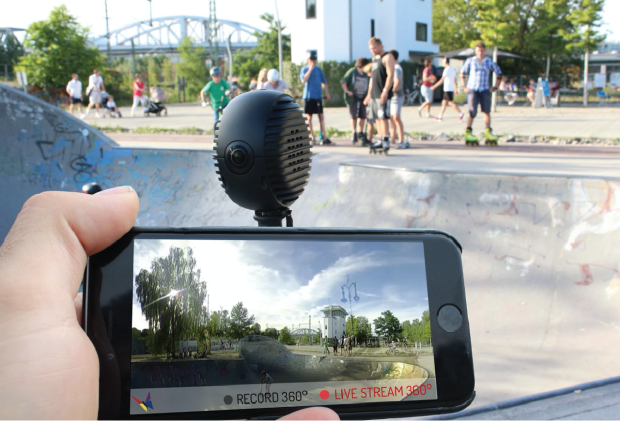 Stream to YouTube, Facebook, or our app
i-mmersive system offers incredible versatility. Thanks to the VEYE camera's direct server connection, you can share live or recorded video with the world via our app, Facebook, or YouTube. Just connect your camera to our app or web portal, generate your unique stream address, and start sharing!

Works with any internet connected device
Whether you are a creator or a consumer, the i-mmersive system is compatible with any mobile device, tablet or computer. View our streams on any device in 360° mode, or select VR mode in our mobile app and slide your phone into one of our GO cardboard viewers for a fully immersive experience. You will even be able to use the Oculus Rift and HTC Vive.

Simple set up and curated events
With the i-mmersive system, you can set up your stream in seconds. Viewers can select from a curated list of attractive events, or you can choose to send your stream straight to YouTube or Facebook using their own systems.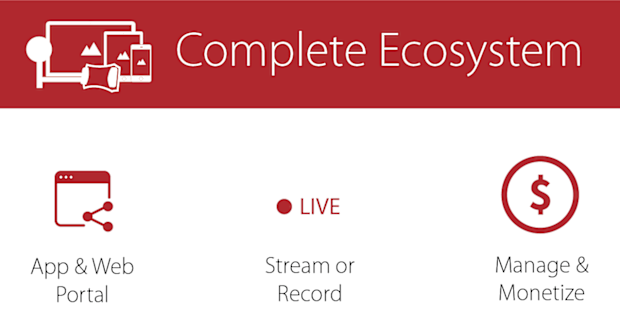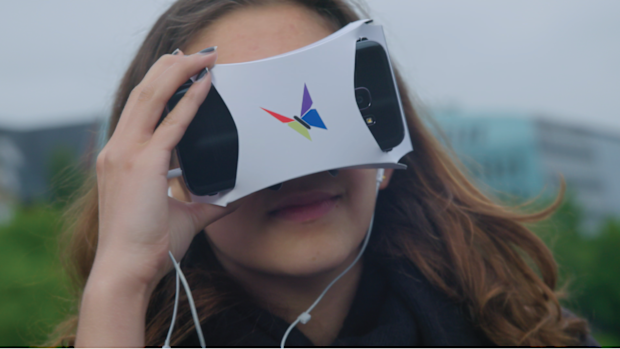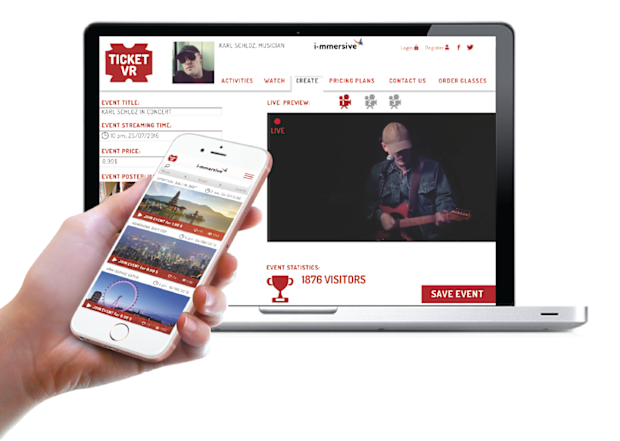 Intuitive controls, all in one place
The app and web portal give you all the tools you need to set up an amazing live stream. Create events, set up ticketing, control your live stream and switch between cameras, or let viewers decide what they want to watch. With our innovative automatic mode, viewers can even sit back and let the app direct the show for recorded events, based on aggregated data from every viewer before them.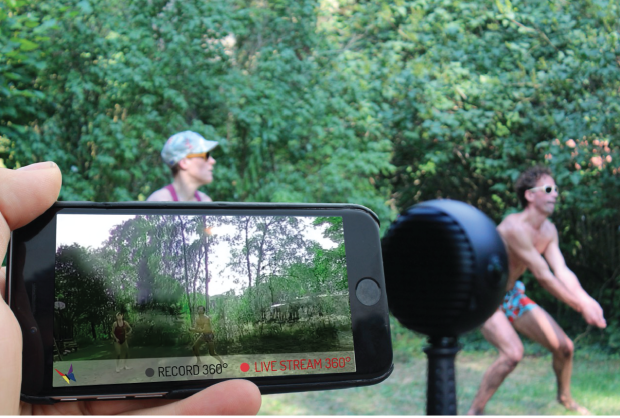 You choose how to share your content
Our 360° live streaming system is revolutionary, yes, but some content is just so good that you'll want to save it to be viewed again and again. i-mmersive offers 5GB of cloud storage for creators to store their content, or you can save your videos directly to an SD card slot expandable up to 256GB.

Make money doing what you love
Our Ticket VR system makes it easy to add a revenue stream to your live stream. Simply set a price when setting up your event, and you'll receive a PayPal payment from every viewer. Consumers can purchase a ticket online or on the app, with a unique one-time-use code to access your stream.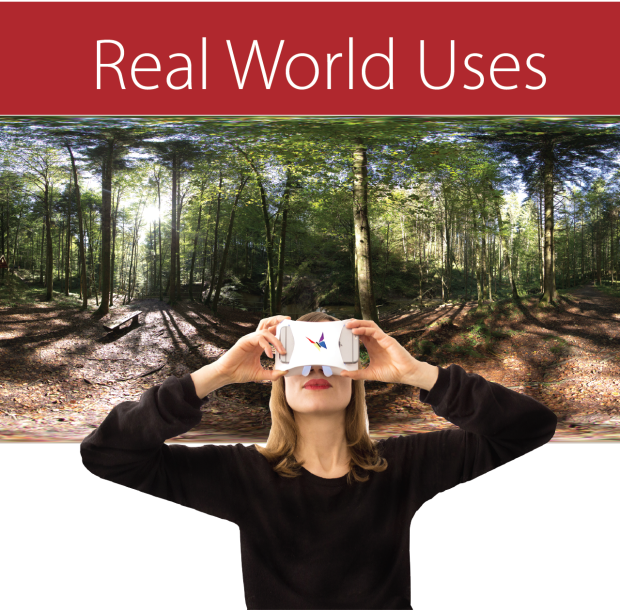 Share your thoughts, creative work, and more​
Connect with your existing audience, or find new viewers. Give your viewers the full picture with our 4K quality 360° video.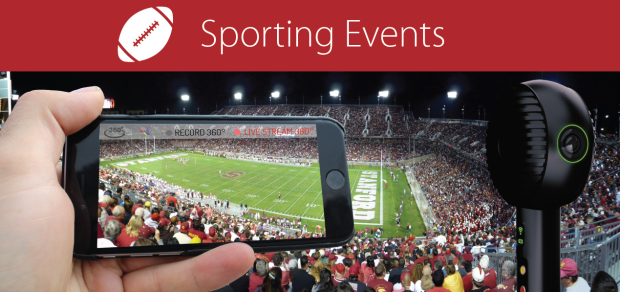 Immerse yourself in your favorite sports like never before
The i-mmersive system is perfect for sharing games with their fans. They'll feel like they are really there, cheering on their favorite team!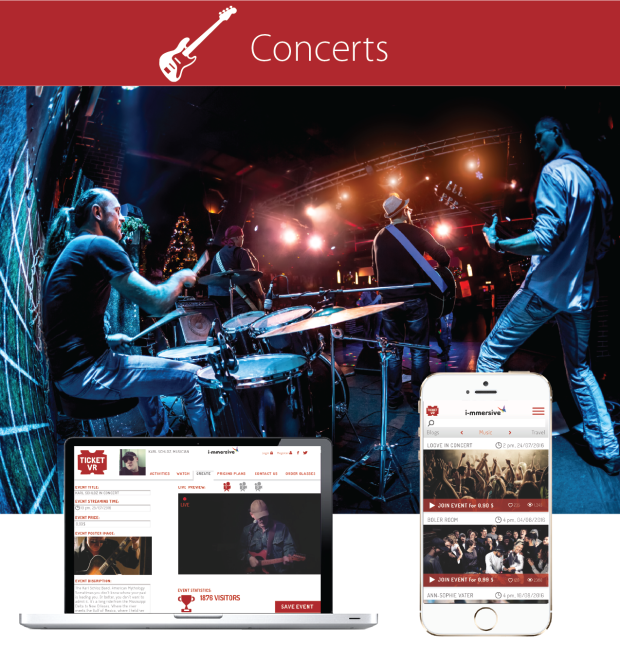 Never miss a show again
If your favorite band has a VEYE camera set up, you'll always be able to see their shows. Especially in VR mode, it's like you're at the venue singing along to your favorite songs.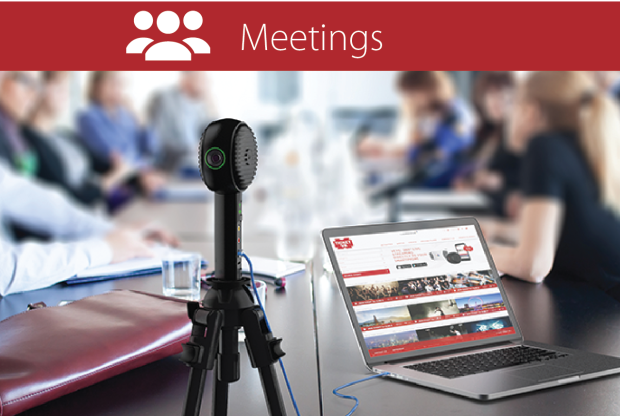 Help remote co-workers and clients get involved
If you've got staff who can't make it in to the office, or clients spread across the world, the i-mmersive system is the perfect way to share your presentations.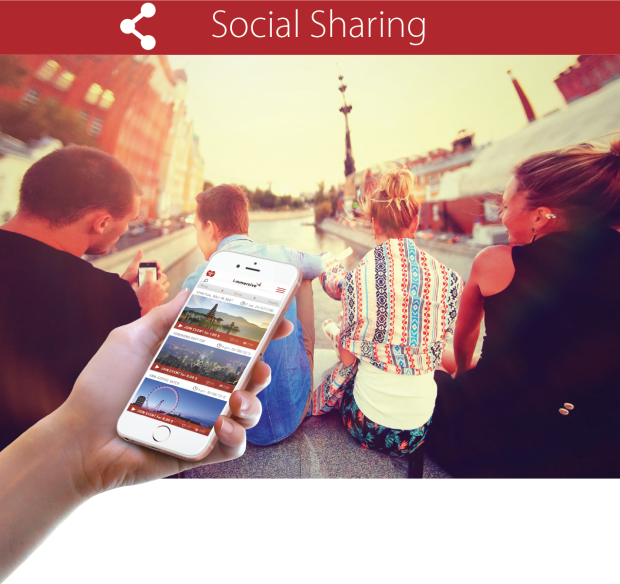 Share your favorite moments in real time
Whether you're just going out for a night on the town or experiencing life milestones like getting married, i-mmersive offers the perfect way to invite all your friends and family.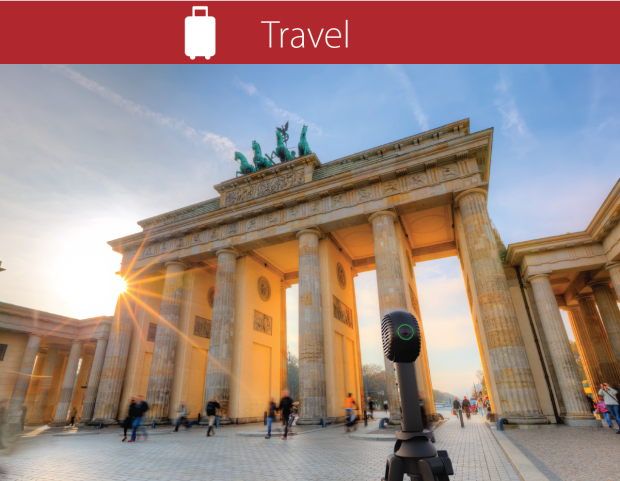 Give others a taste of your amazing adventures
Whether you are a full time travel blogger or just going on a vacation, i-mmersive can help your viewers feel like they are right there with you, as it is happening.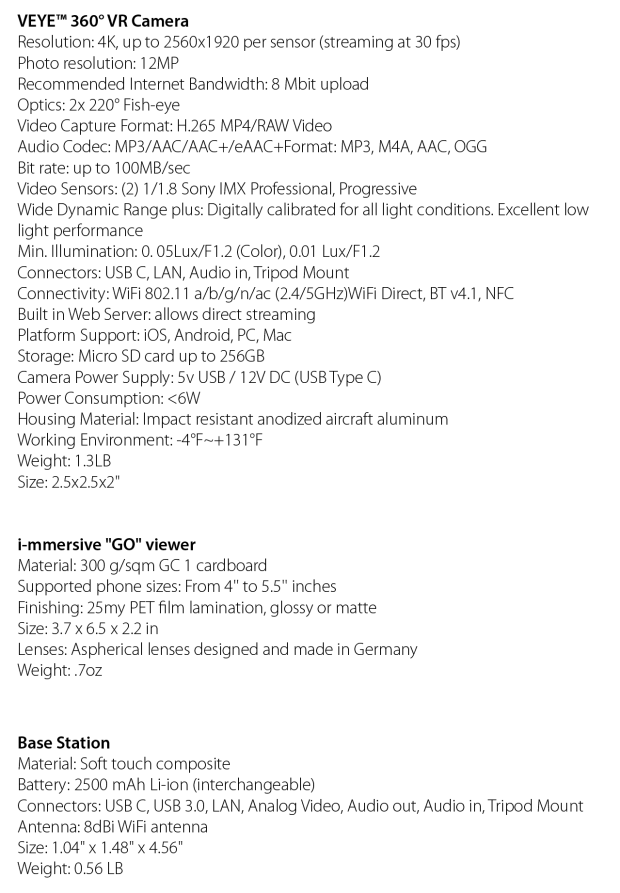 The team at i-mmersive loves going to live concerts. Berlin is full of live music, and there are many shows we are not able to attend. We also have a deep love of VR and 360° video. We started to think about live streaming a concert directly to someone's home via VR. And why just concerts? Why not all types of events and creative content?
This led us to the i-mmersive system; a full solution for monetized, live streaming, 360° video content. From day one our aim has been to deliver an easy to use, complete system for any consumer or creator. Load up the app, select and event, and enjoy, or plug in your camera, open the web portal on your computer, and start streaming. It's that simple.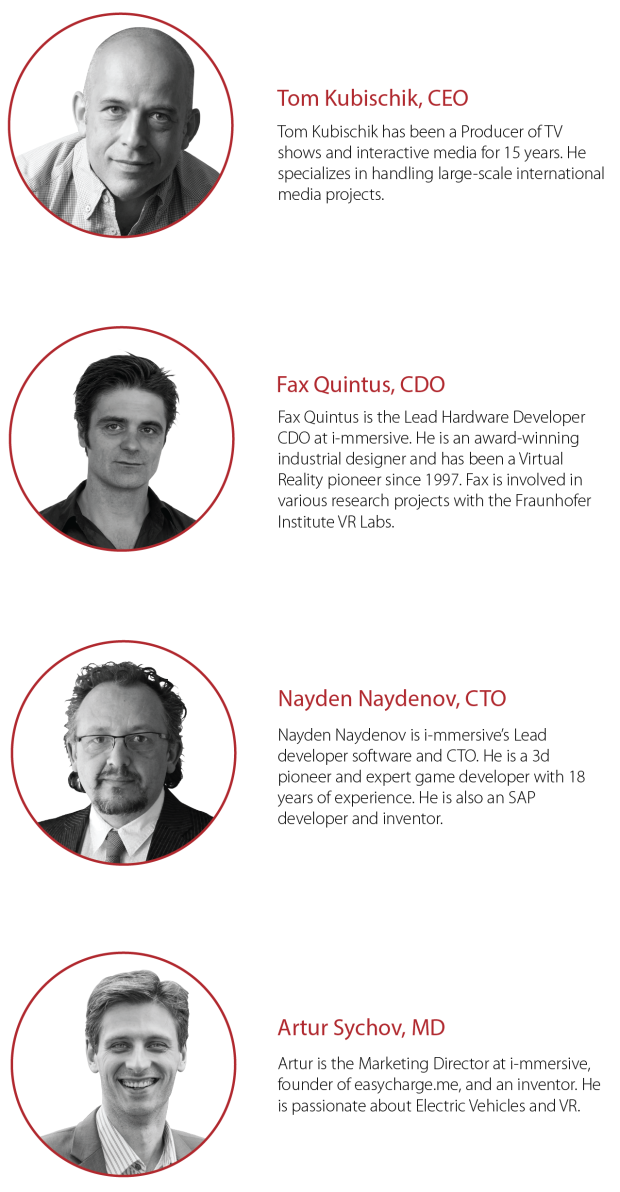 We have built an incredible piece of technology with unique capabilities. We could have sold our patents and ideas to major companies, but we know that Virtual Reality will play a major role in people's lives over the next 20 years. We want to ensure that our vision for free, quick and affordable live VR video will be carried out. So we turn to you, to help us keep control of our company before we bring to you our envisioned products and let you start creating amazing things with it. Support us, and we won't let you down!

Q: Can I make 360° photos with VEYE?
A: Yes you can. You will be able to take 12 MP photos.
Q: Does your camera have an internal battery?
A: No, our VEYE camera does not have an internal battery. But there are several great options how you can power our camera. For example you can use our Base Station, with its 2500 mAh internal battery, or you can power the whole camera with Ethernet or USB cables, which will provide both sufficient power and data transfer capabilities. And there is a standard DC power cable as well.
Q: Where can I store my photos and videos?
Every VEYE camera comes with a micro SD card slot, capable of storing up to 256 GB. You may also store all footage on your mobile device. While streaming video through our mobile or PC apps, you may store your content on our servers for further on demand availability to your audience.
Q: What kind of devices can I use to watch live streaming video from VEYE?
A: All smart phones, tablets, PC's, Mac's or simply anything that has an internet connection.
Q: Can I watch VR content recorded by VEYE in Oculus Rift or HTC Vive?
A: Yes. You will be able to through our proprietary platform. We have tested our live streams with both devices and they worked well.
Q: What is the Warranty?
A: We provide a one (1) year limited warranty. We guarantee you will receive your product free of manufacturing defects. We will have 100% inspection at all levels of manufacturing.
Q: Can I connect the VEYE camera through USB Type C to my phone or laptop to power it?
A: Yes you can. The Type C connector port on the VEYE camera can be used either to connect to our Base Station or to any other device for power and fast data transfer.
Q: When will I be able to start using your mobile and PC apps?
A: We will be releasing our alpha and beta version of the app and PC portal in the course of 2016.
Q: How long will the Base Station's internal battery last?
A: With our tests and calculation so far we are aiming at 4 hours of live streaming.
Q: Do VEYE and the Base Station have a standard tripod connector?
A: Yes they do! Our camera and our base station each have a standard tripod connection point so that you can use them with existing accessories and devices.
Q: Can I use your camera while it lies flat on its side?
A: We are working hard to deliver this feature, and we believe it will be possible.
Q: Can I stream live to Facebook and YouTube?
A: Yes you can. VEYE ™ is connected by i-mmersive's portal to a streaming service. The User sets up the Facebook app where he needs to enter his personal i-mmersive streaming url. After that he can stream directly to Facebook or YouTube.
Q: Will time-lapse videos be available?
A: Most probably yes. Our hardware is already capable of creating time-lapse videos, and we are working hard on the software side to provide this functionality at launch.
Q: Can I shoot in dark environments (e.g. a bar)?
A: Yes you can! We have been working hard to optimize and enhance our Wide Dynamic Range technology. We call it WDR plus. It works great at night and has little to no visual noise in very dark environments. This is a very important aspect of our camera since many concerts, shows and other events tend to occur in dark venues.
Q: How many microphones does each VEYE have?
A: Two. 1 microphone from each side.
Q: With what devices will the "GO" cardboard VR viewer be compatible?
A: Our "GO" cardboard viewers are compatible with all smartphones with displays ranging from 4.7 – 5.5 inches.
Q: How will performers or venues make money from the i-mmersive app?
A: Every performer, creative, or vlogger can set up an event and determine a ticket price to charge viewers. On top of that, some content creators will be able to offer a monthly subscription plan so that their fans can pay a fixed amount per month and access all of their videos and live events.
Q: How will performers receive their money?
A: We will try to support all major payment systems available today. Immersive will take a percentage of each ticket sold by content creators. The rest will paid out to performers based on their payment preferences, with the primary available method being PayPal.
Q: How does the app work?
A: App users will be presented with a UX optimized, easy-to use interface that lets them select from all their favorite events. They will be able to filter live events by category, price, duration and even location. Of course they will also be able to browse through genres, search by artist names and much more! Once a user has selected an event they wish to view and paid for their ticket, they simply have to slip their phone into their "GO" viewer, sit back, and enjoy!
Q: How much will Virtual Tickets cost?
A: That fully depends on the event host. It is up to you to decide what your performance or event is worth. Nevertheless our software will be able to recommend a price based on the number of followers you have, your number of past streams, your social media activity and much more.
Q: Can viewers stream video from anywhere in the world?
A: Yes. Whenever they have an internet connection they can simply start streaming.
Q: How much weight can the Base Stand support?
A: The Base Station is designed to hold our VEYE camera's weight. Please refer to technical specification table to see exact parameters.
Q: What kinds of events will the i-mmersive system be good for?
A: Anything you can imagine and create! The limit is simply your creativity and imagination.
Q: How will I control the VEYE camera and switch between streams?
A: You can control all your cameras through any connected mobile device or computer using our app or web portal.
Q: Will there be a fee for hosting content?
A: We will offer both yearly subscription fees, and one time fees for single hosted videos. Every backer on Indiegogo who buys one of our VEYE packages will receive two years of this subscription with their chosen perk!
Q: How do I set up an event?
A: Log in to the creator section of the app or web portal with your credentials and merchant information. Then it's just a matter of selecting "create an event," choosing your start and end times, setting a price (free, or whatever price you would like!), adding short and long descriptions and a preview image. You can even send customized GO viewers to your ticket buyers!
Q: How will the app recommend events?
A: The home page of the app will show a selection of curated events. The event list will be sortable by a variety of genres, and completely searchable. As viewers watch more events, the app will learn their preferences and recommend events they will be interested in!