iCrowdNewswire - Aug 15, 2016
Colby Valve Emergency Tire Valve System
An emergency tire valve that can be installed in minutes without tools or removing the tire.
Colby Valve is the only tool-free solution for replacing tire valve stems on-location in 5 minutes or less. No tire removal. No tools. No problems. Help fund the manufacturing so we can bring this to market before the end of the year. In doing so, you'll be one of the first to receive a Colby Valve, get a discount, have a hand in making this dream a reality, and be prepared for the next time you break a valve stem. Patent Pending.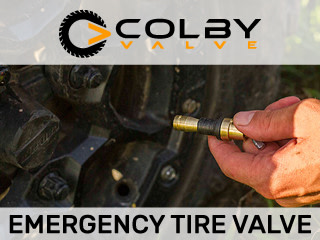 If you ride off-road, at some point your cheap tire valve stem is going to break.Current valve stems require special tools and removal of your tire to replace the valve. That usually means driving back to camp and ruining the tire and sometimes the wheel in the process.
The patent pending Colby Valve is the only tool-free solution for replacing tire valve stems on-location in 5 minutes or less. No tire removal. No tools. No problems.
It's a cheap insurance policy that every off-road rider should have.

The Colby Valve is a small mechanical device that replaces your current valve stem in the case of leaking or breakage.
When your valve stem fails, simply pull it out or push it into the tire cavity. Then take the Colby Valve and insert it into the valve stem hole until the rubber gasket sits flush. Hand tighten the spacer until it stops, and you're done. The Colby Valve will create a super strong air-tight seal that can then be inflated with any Schrader compatible pump.
Not only can you get back to civilization, you can keep going and enjoy your adventure or finish your work. The Colby Valve is 20X stronger than then the common valve stem, so you're good to go.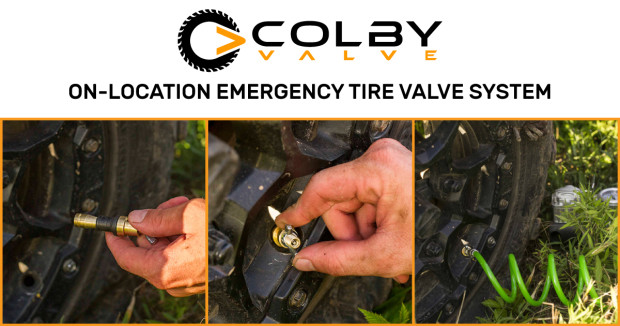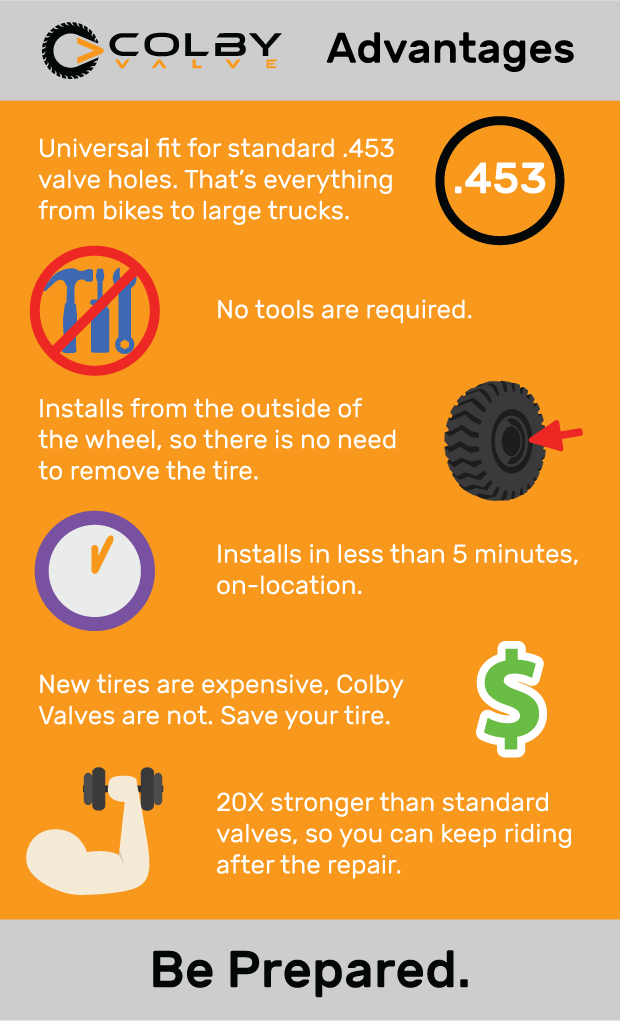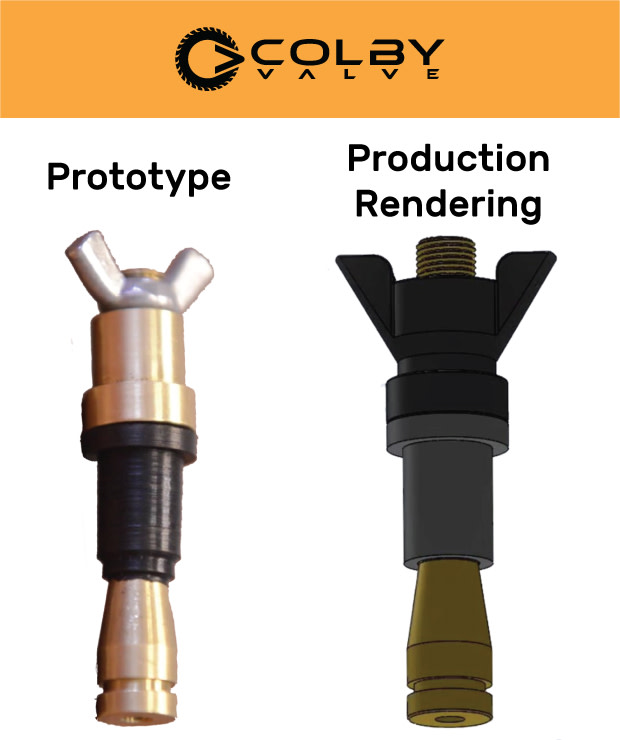 If you ride off-road, eventually you're going to break a valve stem. Unfortunately, it happened to Colby the day of a race. The result? A ruined tire and a disappointing weekend.
When Colby headed to his grandfather's shop to fix his RZR, his grandfather, Neil, had an idea. What if he could make a replacement valve stem that could be inserted from the outside of the wheel without removing the tire? You'd no longer need special equipment and valve issues wouldn't ruin your fun. Well, he did just that and Colby Valve was invented.
Neil started by building his valve and spacer concept from brass bar stock on a small lathe at his shop. He then reached out to a local rubber molder and had a few seals made. After tapping the valve to work with a simple wing nut, he had a working prototype.
Neil started showing the prototype to a few friends. Not only did they think it was a good idea, many asked to buy one. Others were so excited that they tried to invest money in the idea. With this feedback, Neil decided he should give this idea more focus.
As Neil asked around for marketing help, he kept running across the same name: John Scott Bull. JS worked at a global manufacturing company in sales and marketing, and had a history of start-ups. Neil stopped by JS's office and showed him the prototype. JS saw the potential and partnered with Neil to bring the idea to market.
While they worked to find manufacturing sources and finalize a design, Neil made some additional prototypes. Colby and his friends received the first few.
Ironically, the weekend Colby got his prototype, he was climbing up a creek bed in his RZR and heard a hissing noise. One of his valves had hit something and was leaking air. He pulled onto some flat ground and used the Colby Valve. In just a few minutes, he was ready to roll. Instead of having to replace a second tire in a matter of weeks, he was back on the trail riding just like he was before.
A couple of weeks later, he and his friends were riding at White Rock in Arkansas. They came upon a broken down buggy on the trail. The rider had busted a valve stem on a large rock and had no idea how to get off of the trail without ruining the tire. Colby pulled out the Colby Valve and once again, in a matter of minutes, the rider was good to go.
Since that time, about 20 prototypes have been passed out and Neil decided to put his money where his mouth is and installed it on his Ford F-150 King Ranch. In every instance, the Colby Valve has performed perfectly, and without issue.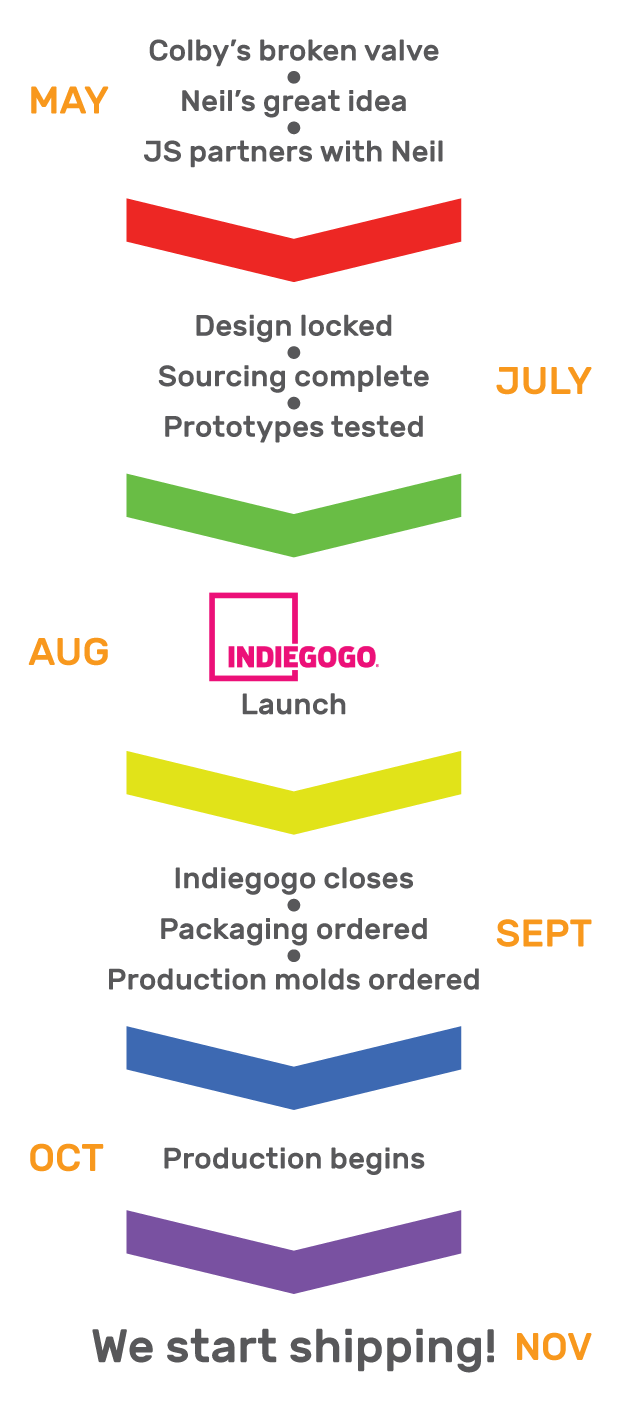 While we've already built prototypes and proven that Colby Valve is the strongest, easiest tire valve replacement, we have a few more steps to make it happen. We need to invest in machine tooling and injection molds. Since we've already identified our domestic sources, we know what this will cost. Also, the more supporters we have here, the easier it will be to work with banks to get a line of credit to fund our production.
But enough about us. Here are a few reasons why YOU should back us now:
Big discount. You'll save up to 33% on your Colby Valve compared to what they will be priced in the market.
Get it first. Our Indiegogo supporters will get the first production units. If we are successful, it will still take a few months to get these out through distributors, so the way to get it quickly is to back us here.
Make it happen. Raising this capital is critical for us to be able to reach production capability. If we don't get the backing we need, you may not have another chance to buy a Colby Valve.

Here is why this campaign is SUPER low risk for you!
We already have the design perfected and tested. We know it works.
We have identified our suppliers and we know what it costs to make.
We have a short lead-time to market, so we'll be shipping by the end of this year.
Since our custom parts are all made in the USA, we don't run risks associated with foreign sourcing.
Our team has decades of engineering and manufacturing experience. We've done this as a manufacturer for other companies for years, so we know how to make a great product.
We have our patent already pending, so our design is secure.

When you're dealing with wheels, safety is paramount. This is why we are making Colby Valve more than 20X stronger than most valves on the market. In fact, it's likely that your wheel will give out before the Colby Valve does. However, we aren't DOT approved (yet), so for now let's keep the Colby Valve off of the pavement.

Can't contribute at this time? No problem. As long as we get to market, you'll have a chance to get a Colby Valve when the time is right. To get to market, we need to hit our goal. Help us do that by:
Telling your friends
Posting on social media
Asking your local stores if they know about us. If stores pre-order from us here, we'll hit our goal in no time, and they'll be the first to be able to offer it to their customers.