iCrowdNewswire - Aug 15, 2016
Autonomous Alloys – Live-fire Targets Evolved
Magnetic resetting live-fire targets offering an unmatched and definitive multi-sensory feedback.
Exclusive magnetic resetting targets – Definitive multi-sensory feedback unmatched by over 100 years of shooting targets. Designed to work with virtually an unlimited number of targets for classic FPS game modes including zombies, advanced training scenarios like hostage, shoot/no shoot, double-tap, and more.

SHOOTING TARGETS REIMAGINED
SMART AND CAPABLE – THESE TARGETS USE A.I. TO LEVEL UP YOUR FIREARMS TRAINING AND PLINKING FUN BY MASSIVE ORDERS OF MAGNITUDE
Originally created as a fun plinking target for our own family outings, it didn't take long before we knew the world would want to participate in this. This much fun HAD to be shared. So we spent the last 15 months in R&D perfecting the world's first magnetic reset, as well as the world's first shooter facing LEDs for a high information range system.
We didn't want to just make expensive targets suited just for military contracts. We wanted to make a target platform affordable for the guys and girls just like us – the everyday sport shooting enthusiast.
With your contribution, you're helping us introduce this target system to the world. Now that the R&D for the hardware is behind us, we can now focus more on perfecting the user experience. This includes wrapping up 20+ social and competitive games for you and your friends, and keeping everyone connected to the leaderboards with their mobile devices.
Is there more software development to go? There sure is. And that is where software updates come in. DLC packs will be released to bring ranges, backyard plinkers and competitive shooters together in an unprecedented way. Do you want to virtually compete with
22plinkster
or your favorite competitive shooter? We can't wait to bring that to you and show you how much fun this system is.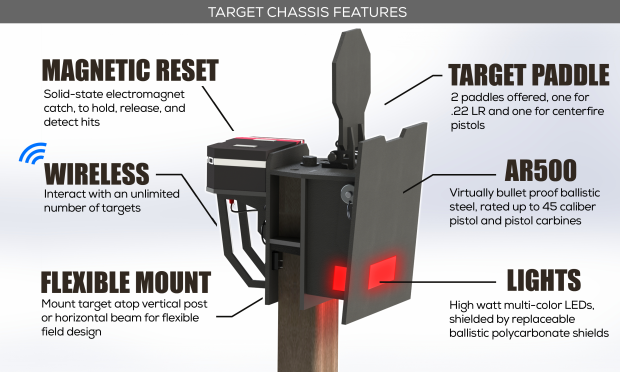 TARGET FEATURES
MR-22 and MR-45 both come equipped with the following
Our exclusive Magnetic Resetting technology
Multi-color LED light pack with polycarbonate shield protection
Wirelessly enabled
Designed to mount vertically or horizontally to a 2×4 post
Hardened AR500 deflector plate and target plate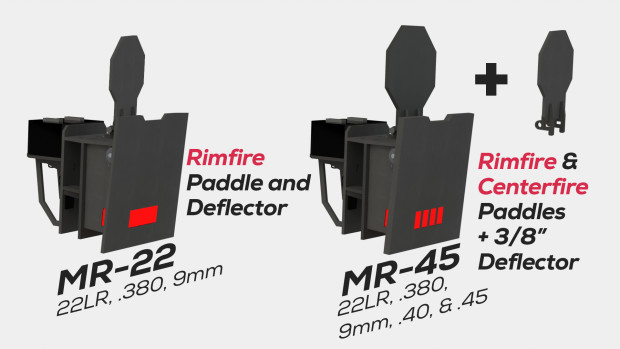 MR-22 Specs
The MR-22 is designed for .22 LR and other lighter loads like .380. This target chassis is rated for a maximum of 200 ft-lb of energy. The target plate is 4 inches across.
MR-45 Specs
The MR-45 target chassis is designed to take centerfire loads from pistols and pistol carbines for everything from 9mm, .40 and 45 caliber. This chassis comes equipped with a thicker deflector plate and 6 inch target plate and has a maximum of 500 ft-lb of energy. Most range ammo for these calibers are less than 500 ft-lb. Be sure to look up the ballistics of your ammo if you are unsure.
TARGET STAND FEATURES
The ultimate in portability and flexible range design
Our targets come in three flavors. First a beam stand to mount 6-8 targets horizontally. A single stand for spreading out your targets. Also a Dual Stand for setting up special scenarios. Also keep in mind, you can make your own stands. These targets are setup to mount vertically or horizontally on just a 2×4.

TECH SPECS
2200 mAh lithium polymer battery which will last 5-6 hours on a full charge
Mobile app will record your games

Check out 22plinkster's experience on his range!
FOUNDERS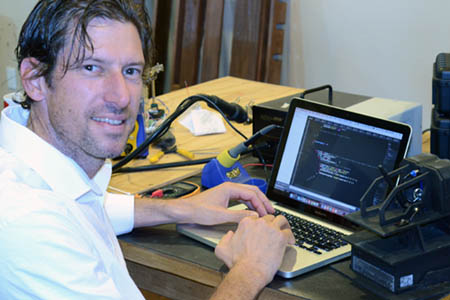 Mark Campbell – Co-Founder – Software Engineer
An avid FPS gamer as well as a sport shooting enthusiest, Mark developed the concept of magnetic resetting targets to bring a new technology to shooting targets. That path led the two brothers through a year of testing many dozen electromagnet designs as well as introducing custom sensors for millisecond hit detection. Mark holds a B.S. in Computer Science from California State University Northridge.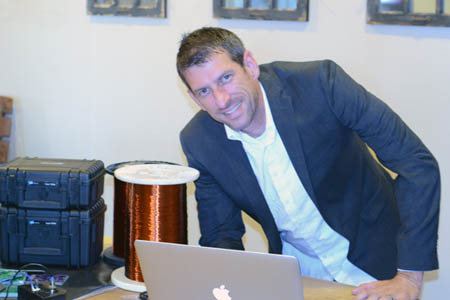 Michael Campbell – Co-Founder – Hardware Engineer
Also a long time shooter and video game enthusiast, Michael is passionate about integrating technology with life and has participated in several startups. In an effort to enhance Mark's magnetic reset approach to smart targets and replicate the magic of video-game mechanics in the real world, Michael pushed shooter-facing lights through 6 months of grueling R&D to achieve optimum shielding with maximum LED light transmission. Michael holds a B.S. in Business from Pepperdine University.
FAQ
Have a question? Let us know. We'll answer those questions and post them here.
RISKS AND CHALLENGES
We have spent 12 months in R&D with 5 beta models produced. The first four models were mainly proofs of concept. We produced 20 targets on the fifth model. The last 3 months were spent on hardening, flushing out the software and demo-ing to private groups. We are now in the middle of creating our first pre-production run of 50 targets with several but minor changes from the fifth model. 10 of these targets will go to our local SWAT team's shooting range for durability testing. We are expecting one more pre-production iteration to handle any final issues.