iCrowdNewswire - Aug 15, 2016
ALQUIMIA – Breastfeeding Fashion
Clothes to accomplish extended breastfeeding while being free to carry out an exciting life.
The World Health Organisation recommends for all mothers to breastfeed their babies for at least 2 years. We are going to help all mothers accomplish that and feel beautiful and free to live an exciting life! We hope that the next generation of humans coming into this world live happier and love more with each love connection experienced in breastfeeding.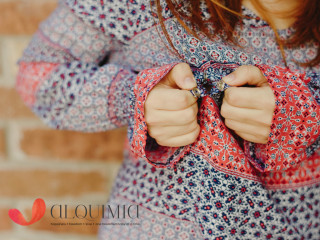 In ALQUIMIA we are committed to make the world a better place by empowering mothers through convenient clothing to accomplish extended breastfeeding while being free to carry out an exciting life.
As we started to prepare for the arrival of our first baby, we wanted to learn everything that we could about how to better raise our child. During that process we found that breastfeeding was a crucial part of the process, We also faced the problems that mothers all around the world face.
There was no clothing line that offers the mothers the possibility of comfortably feed their baby without sacrificing style.
With your help, we will launch a clothing line specifically designed to make the experience of breastfeeding as positive as possible while allowing the mothers to shine with style.
What We Need & What You Get
We need funding to launch our first production batch at economical costs. We have so far produced a few prototypes, but in order to buy the materials (fabrics, buttons and accessories), start the shop where we will be manufacturing and arrange the logistics of delivery to the USA, we need a minimum batch size.
By funding ALQUIMIA through Indiegogo, you will receive the product of your choosing from our site. Funders can choose multiple types of Perks. There are small perks like our stickers and water bottles that will highlight their support of the breastfeeding effort of mothers all around the world. Funders can also request specific clothing items and they can also order packages in order to prepare or help a loved one to get ready for the breastfeeding life.
We are 100% committed to make ALQUIMIA a reality that will eventually support millions of moms to have a more satisfying nursing experience. That is why if we do not reach our target on this campaign, we will make sure all funders receive their perks.

The Impact
Breastfeeding is the most valuable gift any one human can give to another one… and it happens at a massively large global scale. However, in many parts of the developed world, conditions are starting to push mothers towards importantly deficient alternatives.
We want to put a dent into this trend by changing the conditions. We want to allow the convenience tradeoffs for mothers to be reduced so they are more likely to follow the beautiful love path of breastfeeding.
We found that this is the best way to put our team´s business management and marketing experience into making a difference for the generations of the future that are just now arriving to this world.
Risks & Challenges
There are always plenty of risks to manage when starting a small business. Every process of the company may present hidden challenges that did not come up during the initial planning stages.
Knowing this and being certain that we are not perfect, we have discussed our business plan and our operational process with industry experts in order to discover the "unkown unknowns". We have dig deep into the process of fabric procurement, fashion design, manufacturing, distribution, online retail and online marketing.
The complete list of the risks associated is longer than this whole document, however we can highlight the main risks and briefly mention the containment plan for each:
Product and branding design not fitting with target
We have talked to dozens of mothers interested in breastfeeding about the design principles and styles. The indiegogo campaign will be the first test of fire to see if there is acceptance of the designs outside of our semi-immediate social circle.
Demand uncertainty
Starting through indiegogo will allow us to control and plan for the demand in advance. We will closely monitor the campaign statistics and in that way we will be able to better predict how much production will be required by the end of it. If demand is higher than expected, we will be able to limit the amount of request for any given model; if demand is small, we will be able to produce a small production batch so we do not end up deep in the red.
Manufacturing quality
It is crucial for us that ALQUIMIA clothes are of the highest quality. We have carefully selected the people that will handle the manufacturing based on their professional reputation and sample products. We have worked with them in several rounds of prototype productions to make sure that the quality are in every detail of every item so that we do not encounter problems in the first production run.
Other Ways You Can Help
If for some reason you cannot fund at this moment, you can still do plenty to help the breastfeeding cause we are supporting. Please get the word out about what we are doing by:
Sharing via social media Sharing via social media
Sharing this site via social media.
Recommending this personally to people that might be interested in ALQUIMIA.
Thank you! We send you all of our love!
Special thanks to:
Make up
Marian Aguilar
Video Postproductión
Jesus Varela for Nautilus
Director, Producer & Colorgrading
Juan Van Dusen Beristain for Nautilus
juan.vandusen@gmail.com
Photography
Fer Juaristi. Wedding Photographer http://ferjuaristi.com/
Photogarage by Ale Menchaca
Location
Sophia Pan & Bistro