iCrowdNewswire - Aug 12, 2016
Hi – Full Body Massager
A device that will give you an orgasm within a couple of minutes, while fully-dressed.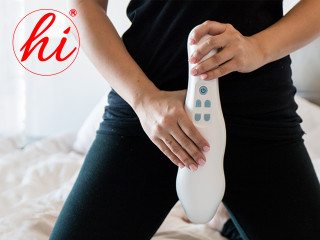 Created by clinical sexologists with backgrounds in neuroscience, the device uses a patented stimulation method for use over the lower abdomen area that allows for a "g-spot" like orgasm without having to take off any clothing. Various nerves respond to different types and frequencies of stimulation and the device works to trigger these points both internally and externally to quickly bring the user to climax AND give one great massage.
A device that will give you an orgasm within a couple of minutes, while fully-dressed. No penetration required.
Finally, one device that will help alleviate cramps, pain and migraines caused by PMS and menopause, give you a quick orgasm and act as a massager for both men and women.
We're calling it a full body massager and we mean that quite literally. Not only does the device relieve stress it will also help you achieve orgasm within a few short minutes all while your clothes are still on. Seriously.

What makes the hi® different from your "wand" or "bunny" is that it started by accident. The device was created to help alleviate post-surgery c-section pain and once testing began we quickly realized that the hi® was giving the test subjects orgasms through their clothing.
 That's about when we realized we were truly onto something. Fast forward through 7 years prototyping and testing and we're ready for manufacturing.
MIRACLE
The hi® was an accidental discovery created by a man trying to help his wife after 5 years of trying to get pregnant, the miracle finally occurred for (creator) Dr. Steve and Wendy McGough. Tragically, in the last few months of the pregnancy Wendy was exposed to an antibiotic resistant bacteria. Complications forced her to have an emergency c-section. Sadly their son Lucas only lived a day.

TRAGIC LOSS
Not only was Wendy left with the pain of losing a child but also the physical pain from the surgery. Steve being a "problem solver" by nature started working on how he could help her and created a massage technique that significantly reduced her pain.

SOLVE THE PROBLEM
Steve then got to working on a physical prototype that could copy the technique and the hi® was born. It wasn't until later that Wendy realized it had an unexpected benefit. One where she could orgasm while fully clothed and in just a few short minutes.

HELPING CLITORAL CIRCUMCISION VICTIMS
Over 130 million women are victims of this horrific practice. Due to the unique way hi® works, there's great interest in using it to help women who are victims of clitoral circumcision (genital mutilation, or FGM). The hope is that if these women can experience orgasm and healthy sexuality, they will refuse to allow it to be done to their daughters and break this chain of oppression. As part of our stretch goals we plan to donate hi® systems, and other support to Clitoraid, an international group working to help FGM victims. hi® is a potential non surgical solution for millions of female victims. Beyond this we are in planning for donating hi® systems for numerous women's health research areas.
We lead busy lives, many times we're exhausted and not in the mood for intimacy when our partner is. hi® includes a full body massage routine you'll love. Since you stay clothed it can be done almost anywhere. The first part of the routine targets pressure points and areas in a specific sequence that will totally relax, and arouse you. The second part allows most women to experience multiple orgasms, and as a result strongly desire to be with their partner. Some men have said hi® gives them "Super Powers". One woman said it was "emotional Viagra®" for her husband. hi® helps you reconnect and re-discover each other.
WHAT SEXOLIGISTS
ARE SAYING
FAQs
What is hi®?
hi® is a unique personal massager that is used fully clothed. It helps men and women relax amazingly fast, and gives women some of the most intense orgasms of their life.
What can hi® be used for?
While hi® is optimized for women's bodies and provides amazing orgasms, it can be used by both men and women for a full body massage. It's also great for pressure point and deep tissue massage. Two training courses are included with hi® so women can use hi® for their needs, and their partner can give them an easy 20 minute massage for that will totally relax her, and if she wants have multiple orgasms – all fully clothed.
How does hi® work?
First of all, hi® works through your clothing. Yes, it can give you an intense orgasm while fully clothed. It combines percussive massage with vibration in a way that has never been done before. The two percussive massage heads also range from gentle – to more intense than you can imagine. The percussive heads transfer massage deep into tissue. The vibration ranges from mild to wild. hi® is powered directly from your wall with a 9' cable and can run on both US and EU/Asian power. This means you can use hi® on your partner first and then they can give you the massage of your life, without worrying the battery will run out.
Does hi® really work through clothing?
YES! hi® was created to work through even heavy clothing (as long a it's loose). Most women can also use it with feminine napkins during that time of the month, or if they have urinary incontinence leakage.
Can hi® be used without your clothing?
hi® was designed to be used over clothing, it's water resistant – but not water proof. So we only recommend it over clothing. That being said, most wand massagers aren't even water proof.
Can my partner use hi® on me?
Absolutely – in fact it's more fun that way. A training program for our 20 minute massage routine is included. This teaches your partner how to get you totally relaxed and if you want give you several orgasms. Plus once your partner realizes the Super Powers hi® can give them, and how appreciative you'll be in return, odds are you'll be getting a lot of amazing massages.
Can hi® be used on men?
hi® is WONDERFUL for massaging men – but be warned – don't massage his crotch where hi® will touch the testicles. WE REPEAT, LEAVE THE TESTICLES ALONE.
Why did you name it hi®?
Since our company focused on wellness, we didn't want an "adult" sounding name. Our parent company is "Human Innovations" and the name hi® seemed like a nice fit.
hi® is also jokingly an abbreviation for "Hysteria Inhibitor".
The reason we found that abbreviation amusing is female "hysteria" was actually considered a disease by the American Medical Association until 1954 (no joke). It was believed that women needed regular external vulva massage to "calm the uterus". Otherwise women might become anxious, restless and generally troublesome. "Hysteria" became a catch all reason for anything men thought women might not be happy about.
While we know that "disease" didn't actually exist and instead was part of a sexist culture — in hindsight the benefits of this regular therapy may not have been such a bad idea. Particularly since women didn't find anything embarrassing or wrong with it.
In the early 1900's electric vibrators were among the best selling items in Sears catalog in the USA. Sadly, in 1918 a movie was made showing a woman using a vibrator while watching a young man (instead of for it's "medical" purpose). Within 10 years all vibrators were off the market and it was now an embarrassing topic. Wendy McGough noticed that soon after vibrators went away, the great depression hit sending the world into economic chaos.
So maybe we should bring hysteria back – but this time acknowledge it's a healthy part of the human condition, and nothing to be embarrassed about. Perhaps that would be the best stimulus package for our economy?
How much will hi® cost?
Retail price, including the two online training programs is $349.95
However indiegogo buyers can purchase it for $199.95
Early bird, and bulk purchase specials will be even less
What makes the hi® device different than the competition?
hi® by itself is an amazing full body massager. But what makes it completely different is the way it can be used for a very special women's abdominal and pelvic massage. It's unique method gives most women orgasms through their clothing, very quickly. Many women can enjoy multiple orgasms very quickly, using hi®. In testing over the years, a large number of women who were anorgasmic have been able to achieve orgasm using hi®.
Both the – method – and related devices for hi® are patented in the United States and Australia, and are in final review for grant in the European Union and Canada.
This method is a new discovery and a big interest for many women's health researchers. In fact, while we're making no medical claims about hi®, several medical researchers are planning studies on possible benefits from using it.
How is Women and Couples Wellness different from other companies?
Human Innovations develops highly effective and enjoyable solutions to help busy people improve both their health and quality of life. They bring experience in wellness, Asian health modalities, neuroscience, and IT areas.
The team at Women and Couples Wellness includes people with backgrounds in clinical sexology, software engineering, neuroscience and nutrition research. We are actively involved in ongoing research and product development. You've only seen the tip of the iceberg for what's coming!
We also have extensive experience and access to our parent company's software and fulfillment infrastructure.
Most "sex toy" companies simply focus on marketing and branding, and then either outsource their products, or buy them off the shelf.
We develop patented innovative technologies based on science, and then manufacture them ourselves in China. Since our co-owner owns their own hardware R&D facility and manufacture plant in China we have a huge advantage of an actual presence there. Most companies rely on a third party middleman to outsource their manufacture.
* Please note that hi® is solely for relaxation and wellness purposes. hi® has not been evaluated by the Food and Drug Administration. No medical claims are being made. The hi® product, and or any any statements made by this site as well as any associated video, audio, or written content therein, are not intended to diagnose, prevent, treat, or cure any disease.
The method and related devices used by hi® are patented in the United States and Australia, and patent pending in Canada and the European Union.
Note: Viagra® is a registered trademark of Pfizer, Inc. and is in not affiliated with Women and Couples Wellness, LLC